Chicago Cubs:

2012 Season Preview
April, 4, 2012
4/04/12
7:09
PM CT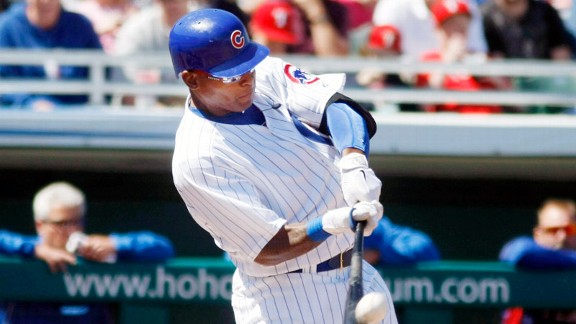 Rick Scuteri/US PresswireWith rookie Brett Jackson on the way, Marlon Byrd might not finish the season with the Cubs.
»
2012 Cubs Fantasy Projections
:
Starters
|
Relievers
|
Infielders
|
Catchers
|
Outfielders
The old veterans of the
Chicago Cubs
roster all reside in the outfield where
Alfonso Soriano
,
Marlon Byrd
and
David DeJesus
patrol the expansive real estate.
Soriano will still be swinging the big piece of lumber he has always taken to the plate, but that doesn't mean he isn't making concessions to his advancing age (he turned 36 in January). He did manage to quiet the front leg kick he used as a trigger to his swing, and it seemed to help quicken his bat.
Soriano started fast and remained one of the Cactus League's home run leaders all spring. Manager Dale Sveum backed off using Soriano in the leadoff spot, instead choosing to use him in the heart of the order this season.
[+] Enlarge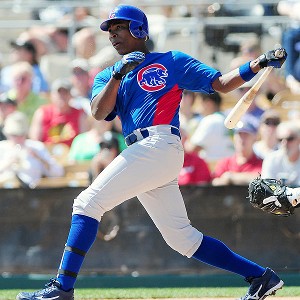 Jennifer Hilderbrand/US PresswireBuried in the lineup at the seventh spot for much of last season, Alfonso Soriano will have to play a bigger role in the lineup this season.
Soriano will open the season as the No. 5 hitter, strategically placed as the right-handed hitting buffer between left-handed hitters
Bryan LaHair
and
Ian Stewart
.
With Brett Jackson looking like he's about to burst upon the scene, Byrd's days appear to be numbered. But ideally, the Cubs front office would like Jackson to play a full year at Triple-A before he is recalled, and he only has 48 games of experience there so far.
A realistic arrival time for Jackson will be around midseason. Everybody loves a dynamic young player, and Jackson was as good as anybody this spring, but the Cubs are in no hurry to rush him to the major leagues and damage his confidence in any way.
Byrd was the subject of trade rumors as the spring came to a close, with the
Atlanta Braves
being named predominately as a possible suitor.
After a disappointing 2011 season, due in large part to getting hit in the face with a pitch and missing a month and a half, Byrd dedicated himself to a fitness and diet program this offseason and lost an estimated 20 pounds. His goal is to avoid the late-season lull that affected him in each of his first two seasons with the Cubs.
DeJesus is embracing his return to the leadoff spot that he was so familiar with during his days with the
Kansas City Royals
. Last season at Oakland he was rarely used at the top of the order. DeJesus played a solid right field during the spring but never got on a run offensively.
Joe Mather
and
Reed Johnson
will fight for playing time as backup outfielders. Mather had the best offensive performance of anybody in a Cubs uniform this spring, but maintaining that consistency while playing once or twice a week will be difficult.
3 KEYS TO SUCCESS
• Nobody expects Soriano to hit 40 home runs again and drive in 100 runs, but he showed last season that he does have some life in him. An 88-RBI season was his best in a Cubs uniform and his spring showed that he could be ready to do it again, if not add to that total.
• DeJesus is one of the few Cubs players who has the potential to offer a decent on-base percentage. The next best option for a leadoff hitter is possibly
Darwin Barney
and on-base percentage isn't one of the strengths of his game. If he doesn't get off to a hot start offensively, DeJesus must, at the very least, play solid defense and work counts.
• Byrd says that in the weight room he is lifting more than ever, a nice combination with the weight loss. The Cubs could use more than the 21 combined home runs he delivered in the last two seasons. He hit 20 home runs in his final season at Texas in 2009.
April, 4, 2012
4/04/12
5:32
PM CT

By Bruce Levine
ESPNChicago.com
Archive
CHICAGO -- The difference between the Mike Quade-run
Chicago Cubs
and Dale Sveum's group might be in preparation.
This season's team got used to extra fielding and hitting practice after Cactus League games early in March.
"This manager and coaching staff made us work much harder this spring," outfielder
Alfonso Soriano
said Wednesday during a workout at Wrigley Field before the Cubs open the season against the
Washington Nationals
on Thursday. "They are very honest with you and treat each player with a lot of respect, I really like that style."
April, 4, 2012
4/04/12
9:00
AM CT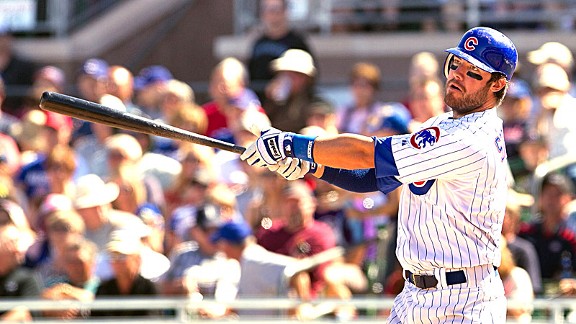 Allan Henry/US PresswireIan Stewart hopes to fill a big production gap at third base created by the departure of Aramis Ramirez.
»
2012 Cubs Fantasy Projections
:
Starters
|
Relievers
|
Infielders
|
Catchers
|
Outfielders
MESA, Ariz. -- Welcome to a full season in Chicago,
Bryan LaHair
and
Ian Stewart
. The chances of a consistent offense have somehow been put in your hands.
OK, that might be a bit too much expectation on a pair of newcomers, but none other than manager Dale Sveum has said that if LaHair and Stewart can produce, the offense will be better off for it.
It won't be easy, of course, as the 29-year-old LaHair will be in his first full major league season and Stewart, while posting impressive run-production numbers from his days in Colorado, is coming off a lost season when he was plagued by a pair of injuries (hamstring, wrist).
The one thing that does seem certain is that Stewart will provide better defense at third base when compared to
Aramis Ramirez
. LaHair, though, will be hard pressed to equal what
Carlos Pena
did with the glove at first base last season.
[+] Enlarge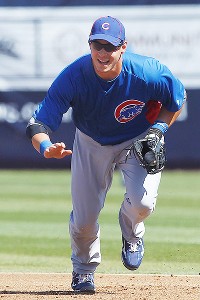 AP Photo/Chris CarlsonBryan LaHair can't match the defensive prowess of Carlos Pena at first base, but he can make up for it with his power.
Starlin Castro
is the real star of the infield, of course. He has already had plenty of one-on-one sessions with Sveum, who was also a middle infielder in his playing days. Sveum has not only offered tips at the plate, positioning around the bag has been a big topic of discussion between the two.
Castro was an All-Star last season, but Sveum's work seems to suggest that there is enough talent in there to pull out an MVP-type season in the very near future. Castro's biggest area of development could come on defense where he hasn't necessarily looked spectacular this spring but has been steady.
While not a prototypical No. 3 hitter, Castro handles the bat well enough to get a shot there. It isn't hard to argue that he is the best hitter on the team. Until he establishes himself in one particular spot, Castro could find himself drifting all around the top spots in the order.
Darwin Barney
is the one that has made huge strides this spring. The second baseman continues to grow at his new position (he grew up a shortstop) and has looked stronger and more aggressive at the plate. Barney is going to need to avoid hitting a physical wall like he did in the second half last season when he batted .238 after the All-Star break.
Nobody expects Barney to start 162 games at second base, but he can show progress if he starts more than the 128 games he started there last year. A new workout program and an emphasis on proper calorie intake could help avoid the weight loss he went through in 2011.
The fact that Barney is also the backup shortstop is a bit awkward, but the Cubs have solid backup options at all other infield positions with bench guys
Jeff Baker
,
Blake DeWitt
and
Joe Mather
.
Catcher
Geovany Soto
seems to be on his game every other season. Guess what? He's due to produce again after batting .228 with a .721 OPS last season.
Steve Clevenger
is that rare backup catcher who is also young. He might get more playing time than the average catching sub in order to not completely stunt his development.
3 KEYS TO SUCCESS
• With all apologies to Sveum's focus on Stewart and LaHair, Castro can lead this crew with his talent. He might not be outspoken, but his ability already inspires awe from teammates and reaching a new level this season will do wonders.
• Barney is no longer trying to flip balls to the opposite field but is now driving them into the gaps. Batting second, in front of Castro should help him to get even more pitches to hit.
• LaHair underwent an unexpected power outage this spring but nobody expects him to stray from the 38-homer formula he showed last season at Triple-A Iowa. If he doesn't force it, the power will come, but that seemed to be the idea in the spring too and the long balls were hard to come by.
April, 3, 2012
4/03/12
5:15
PM CT
MESA, Ariz. -- Theo Epstein did not sugar coat it when it came to describing the talent in the
Chicago Cubs
' minor league system.
[+] Enlarge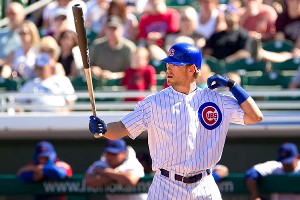 Allan Henry/US PresswireTheo Epstein wants to stockpile his minor league system with more 'impact talent' such as outfielder Brett Jackson.
"We need more talent; we lack impact talent," Epstein said. "We have a number of interesting guys, especially at the lower levels, but every organization has a number of interesting guys at the lower level."
It was obvious that the Cubs were extremely interested in the players from Cuba who were recently available. They missed on outfielder
Yoenis Cespedes
, who signed with the
Oakland Athletics
, but landed left-handed pitcher Gerardo Concepcion.
They also are reported to be extremely interested in Cuban outfield prospect Jorge Soler, who has yet to be granted free agency. Some reports have even said the Cubs have already come to contract terms with Soler, but general manager Jed Hoyer sternly denied that.
Looking at what is on hand, outfielder Brett Jackson would fit into that dynamic prospect mold that Epstein talked about, and so would first baseman
Anthony Rizzo
, whom Epstein and Hoyer acquired from the
San Diego Padres
this winter.
Although there are arms at Triple-A Iowa with major-league experience such as
Randy Wells
and
Travis Wood
, a hard-throwing, late-inning bullpen prospect -- or three -- is on the wish list.
"We need some more impact talent, and we need some guys who have ability and can break through," Epstein said. "It would be really nice to get a breakthrough player this year and have somebody move from that interesting prospect category to that potentially impact category. So we'll see. There's a lot of work to do."
April, 3, 2012
4/03/12
5:00
PM CT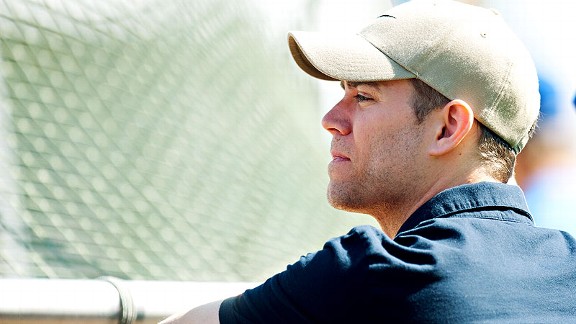 Rob Tringali/Getty ImagesJust like there was a "Red Sox Way", Theo Epstein has tried to institute a "Cubs Way" in his short tenure as Cubs president.
MESA, Ariz. -- Scream and yell, rant and rave all you want
Chicago Cubs
fans, the team's new front office will hear you, it just might not be listening all that closely.
President Theo Epstein knows how these expectation things work. He worked for the
Boston Red Sox
… before they won a pair of World Series titles.
So while Epstein encourages fans -- and even the media to some extent -- to voice their opinions about the team, even if it is negative, he seemed to suggest recently that the sky-is-falling rants are just the price of doing business in a town that is passionate about its baseball team.
[+] Enlarge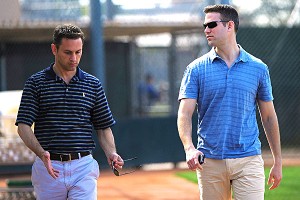 Kyle Terada/US PresswireTheo Epstein hired a trusted confidant in general manager Jed Hoyer.
"I think it's important to just focus on what we're doing internally and understand that everything outside, no offense, is just noise whether it comes from [the media] or even comes from some fans who are deservedly upset at a given point," Epstein said. "It's really just noise, and if we let it affect our decision making, shame on us."
Epstein then went on to quote Bill Parcells.
"If you listen to the fans in the stands, pretty soon you'll be one of them," Epstein said with a slight chuckle.
Sometimes Epstein sounds like the guy with two World Series titles in his back pocket so he doesn't need anybody telling him what needs to be done. But he also sounds like somebody who knows what happens to those who react too quickly in an effort to quell the uprising.
"I was lucky that growing up in Boston, I knew the nature of it, and I think what was part of the Red Sox's problem for many, many decades was focusing too much on the next day's sports section on what people thought and focusing too much on the Yankees and other factors and not focusing on just building something and keeping a real consistent focus on just progress and building," Epstein said.
April, 3, 2012
4/03/12
8:36
AM CT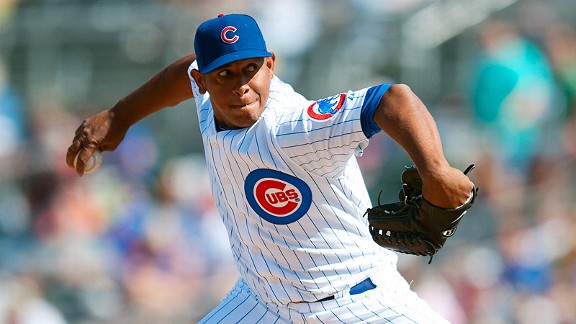 Rob Tringali/Getty ImagesComing off 10 blown saves last season, Carlos Marmol had an inconsistent spring.
»
2012 Cubs Fantasy Projections
:
Starters
|
Relievers
|
Infielders
|
Catchers
|
Outfielders
While the
Chicago Cubs
rotation is where the new front office made some additions, the bullpen is where some serious subtraction took place.
Sean Marshall
is gone and so is
Jeff Samardzija
, who has moved into the rotation.
Andrew Cashner
could have been moved to the bullpen, but not after he was moved to the
San Diego Padres
first.
What remains are a lot of question marks, starting with closer
Carlos Marmol
, who had an inconsistent spring after blowing a baseball-high 10 save opportunities last season. He blew leads in consecutive outings early in the spring and that was before he missed nearly a week after leaving a game because of a cramp in his throwing hand.
Fan favorite
Kerry Wood
is also back, but at age 35 in June and already held to a limited schedule in the spring, the setup man's workload will have to be managed. Wood basically rolled his eyes when reporters asked about his low number of Cactus League appearances, essentially saying it was a non-issue.
[+] Enlarge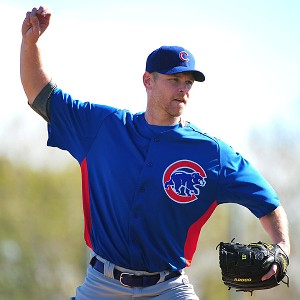 Kyle Terada/US PresswireCubs reliever Kerry Wood didn't see much game action during spring training.
The facts are that Wood is coming off arthroscopy knee surgery this offseason and an unspecified back issue that cropped up early in camp. He's ready to go now but if he has any more health issues, the Cubs are at a loss for anybody who can fill in and pitch at the right-hander's level.
More questions remain down the line, including the fact that
James Russell
is the only left-hander and
Rafael Dolis
has pitched in just one game above the Double-A level.
If Marmol struggles early, his replacement figures to be a closer-by-committee situation since it's possible that Wood wouldn't be able to absorb all the innings the job would require. Not an ideal scenario by any means.
There seems to be no way the Cubs don't end up making a trade at some point to help reinforce this group.
Expect Russell to be the workhorse with somewhere in the neighborhood of 80 appearances. He delivered a solid spring and seemed to only get better as the Cactus league schedule progressed.
Randy Wells
could have been the long man in this group, and his dejection over getting sent down to Triple-A showed that he would have preferred it over the assignment he received. But the Cubs' staff essentially decided he would be more valuable starting at Iowa and being prepared to join the major-league rotation if needed over picking up random innings in relief in Chicago.
Three keys to success
•Wood is the obvious steadying force in this group and it would do the bullpen wonders if he came out firing to start the season.
• Marmol has the pitches to have success again and showed them during stretches in the spring. If control issues can be managed and he has an early run of success it can only help his confidence.
• Russell can't handle all the left-handed scenarios on his own so a right-hander will have to step up and show they can get out hitters from both sides of the plate. A trade for a left-hander seems logical at some point.
April, 2, 2012
4/02/12
10:26
AM CT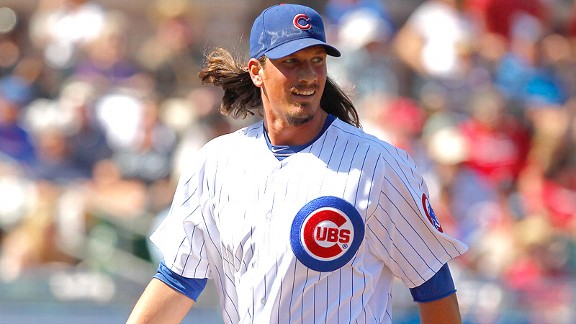 Debby Wong/US PresswireJeff Samardzija made the most of his opportunity to win a spot in the rotation this spring.
»
2012 Cubs Fantasy Projections
:
Starters
|
Relievers
|
Infielders
|
Catchers
|
Outfielders
The
Chicago Cubs
did more than put together a starting rotation this spring, they put Phase 1 of their reconstruction project front and center.
Team president Theo Epstein and general manager Jed Hoyer went out this winter and grabbed some young arms that are valuable not only because they are under club contract control for a few seasons. It didn't hurt that they also got a reliever from last season to step up and pitch like his life depended on it.
[+] Enlarge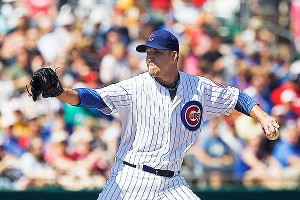 AP Photo/Chris CarlsonNew Cub Paul Maholm had a 1.84 ERA in 14 2/3 innings this spring.
Ryan Dempster
and
Matt Garza
are the holdover anchors of the rotation, but new guys
Chris Volstad
and
Paul Maholm
will join them, along with
Jeff Samardzija
, who was one of the better stories of the spring.
Getting his third, and possibly last, chance to earn a spot in the starting rotation, Samardzija seized the moment. He arrived in Arizona in November to attack the project and was raising eyebrows from the opening day of camp. He accomplished his goal with six shutout innings against the
Cleveland Indians
just a week before camp broke.
Maholm, who signed a one-year, $4.25 million deal this offseason, was the steadiest Cubs starter this spring. He will pitch out of the No. 5 spot in the rotation only because he fell behind early in camp with a nasty flu bug and the fifth spot gives him as much time to prepare as possible.
Volstad grew up in Florida and has been property of the
Miami Marlins
for his entire professional career. Leaving the comforts of home seems to be agreeing with him as he easily grabbed the No. 4 spot in the rotation.
The staff looks solid, but there will still be a wait-and-see approach. The Cubs' starting staff also looked solid leaving Arizona last season and things blew up on the group quickly.
Three keys to success
• Dempster will get the Opening Day start for the second consecutive season, but must avoid the April collapse he experienced in 2011. By the time he recovered the Cubs were in a hole they would never emerge from.
• Garza might be the No. 2 starter, but he has the best chance of pitching like a staff ace. Will trade rumors or talks of a contract extension throw his focus out of whack? His spring was mediocre but he focused more on preparation and his approach rather than the results.
• Samardzija seems to be the biggest mystery among this group. Will it be a long adjustment period to his new role? Will he embrace it and be off and running from the beginning? Will he ultimately collapse under the weight of a starter's workload? His biggest lesson this spring seemed to come when he tried to overpower the Rockies and was crushed in the process. He came back in his next outing changing speeds effectively and pitched six shutout innings.