Chicago Cubs:

2013 Season Preview
July, 7, 2013
7/07/13
1:44
PM CT

By Doug Padilla
ESPNChicago.com
Archive
CHICAGO -- One day after
Chicago Cubs
top prospect Javier Baez hit a home run on his first Double-A swing, the moment was still a topic of conversation at Wrigley Field.
Manager Dale Sveum, though, was keeping it all in perspective, saying he had yet to see the Baez drive in Tennessee's eventual 8-2 defeat to Huntsville.
"It's always nice for anybody to go to another league and your first swing is a home run," Sveum said. "But these guys still have to develop. It's not just home runs we're talking about. It's getting ready and be completely developed to play at this level."
March, 31, 2013
3/31/13
7:21
PM CT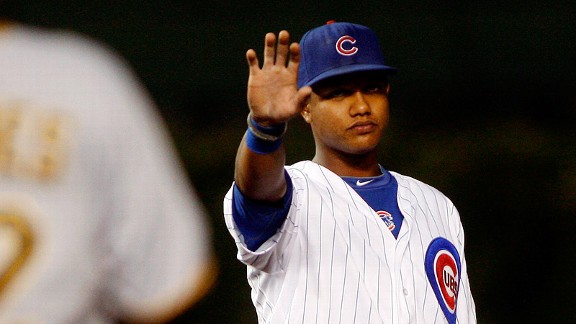 Jerry Lai/US PresswireHow much longer until Starlin Castro and the Cubs end the team's futility?
PITTSBURGH -- Amidst the tiring back-and-forth of the Wrigley Field renovation project (including a silly dalliance with the city of Rosemont), a greater interest in their minor leaguers and the promise of the upcoming No. 2 overall pick in the draft, the
Chicago Cubs
have a season to play.
It starts Monday in Pittsburgh in case your attention was elsewhere, maybe on the back fields of Fitch Park in Mesa, Ariz. where most of the future hangs out.
Come October it's more than likely -- heck, it's nearly a guarantee -- that the Cubs will be a half decade into a second century of futility. One hundred and five years will have gone by without a championship. The good news is they should be a year closer.
March, 30, 2013
3/30/13
11:00
AM CT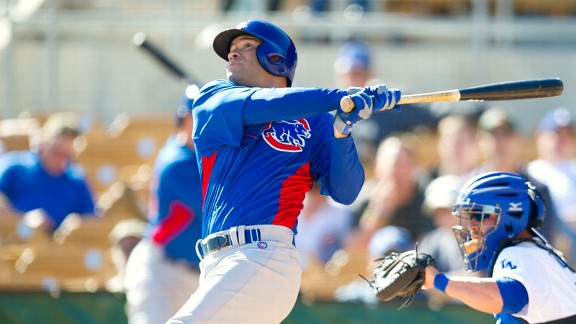 Rob Tringali/Getty ImagesScott Hairston hit hit 20 home runs in 377 at-bats last season.
The
Chicago Cubs
could actually have a very productive bench in 2013. Final roster guys who will only get limited at-bats are never a sure bet, but considering the Cubs could employ up to two platoons (in right field and third base) it means the non-starter that day will be a little more ready than most teams who employ the same nine nearly every day.
So when
Scott Hairston
and
Brent Lillibridge
, for example, do pinch hit they should be expected to do more than the league average off the bench because they will be also getting at-bats as a starter. Hairston is more of a long-ball threat with nine home runs in 199 plate appearances as a pinch hitter, including three last season, but his overall average (.182) off the bench is nothing special.
Coming over from the American League, Lillibridge has had fewer opportunities for straight pinch-hitting duties. His value is in double switches and considering he played all positions on the diamond this spring save pitcher and catcher, Lillibridge will come in handy.
The real pop off the bench comes in the form of lefty
Steve Clevenger
and righty
Dave Sappelt
. "Mighty Mite" as Sappelt is known can pack a wallop against left-handed pitching. He's a .345 hitter with a .410 on-base percentage against southpaws in his short career, but those numbers come way down against right-handed pitching.
Clevenger was a monster off the bench this spring. He hit everything in sight the final couple of weeks and he did a lot of it in dramatic fashion: in the seventh inning or later when the Cubs needed an RBI or a base-runner.
It's unknown if back-up catcher
Dioner Navarro
can hit as he did this spring when he led the Cubs in RBIs (16) and was second with four home runs, but he's the only real veteran catcher on the team so his value is there more than anywhere. By all accounts he calls a pretty good game.
3 KEYS TO SUCCESS
Lillibridge might see action in some form or another nearly every game. He'll start some at third base and when coming off the bench -- if he can handle any of the outfield positions along with helping out when Starlin Castro or Darwin Barney need a breather -- his value rises even more. He has to play sound defense first and foremost and then anything he gives the Cubs at the plate is a bonus.



Sappelt is the next best option in centerfield if David DeJesus comes out of the game, but more important is what Sappelt means against left-handed pitching. The Cubs are a very left-handed team which means opposing managers will bring in their specialists to negate the advantage -- that's when Sappelt comes in. And he'll get his chances against righties too, so improvement against them is vital. But when he rakes against a lefty he can do some damage.



Hairston is flying under the radar right now as manager Dale Sveum insists Nate Schierholtz is going to mostly be the starter in right field, even against many left-handers. But what Hairston did last season can't be overlooked. He hit 20 home runs in 377 at-bats. The Cubs need all the power they can get, so if Schierholtz is struggling Hairston might become a more prominent player.
March, 29, 2013
3/29/13
1:57
PM CT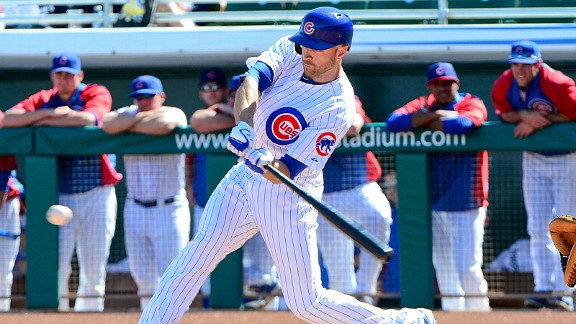 Matt Kartozian/USA TODAY SportsNate Schierholtz likely will the bulk of the playing time in right field this season.
The
Chicago Cubs
outfield is where things could come up short for the team this season. There is some hope out there but even if
Alfonso Soriano
,
David DeJesus
and
Nate Schierholtz
reasonably max out, they don't compare to other outfields around the league. Only Soriano provides any power.
The good news is all three had relatively good springs at the plate and in the field. DeJesus, especially, was locked in from Day 1 until the very end. And his switch to center was a smooth transition. Schierholtz has deceptive gap power which will be needed at Wrigley Field. And Soriano hasn't lost bat speed nor strength being a year older.
Backups and/or platoon players
Scott Hairston
and
Dave Sappelt
do provide some pop from the right side but mostly if a left-hander is pitching.
Soriano's defense last season gives hope that the starting trio can at least hold its own if not overwhelm the opposition tracking down balls. Schierholtz will need to learn how to play right in Wrigley, it's the trickiest of the three positions. And DeJesus will need to cover for Soriano who's knees can always slow him down.
3 KEYS TO SUCCESS
• Schierholtz is a key because of where he bats in the lineup. He'll occupy the No. 5 hole most of the time which means hitting behind the likes of
Starlin Castro
,
Anthony Rizzo
and Soriano. That means plenty of RBI opportunities and for a guy who has never been a full-time starter it's a huge spot for him.
• DeJesus may not have had a bad at-bat all spring. He was on everything. But that's the spring, and the regular season is another story. If his on-base percentage can creep closer to .360 -- last year it was .350 -- then he'll be extremely valuable hitting in front of the big three. Between leading off and now playing center field DeJesus is important, at least until prospect
Brett Jackson
takes over.
• Soriano's health is a key since his bat will be so important in the middle of the lineup. If he can repeat his 2012 of 32 home runs and 108 RBIs as well as decent outfield play, then the Cubs might actually be getting value near the end of his contract. Even if he dips some from those numbers he'll still be a key to the offense.
March, 28, 2013
3/28/13
3:54
PM CT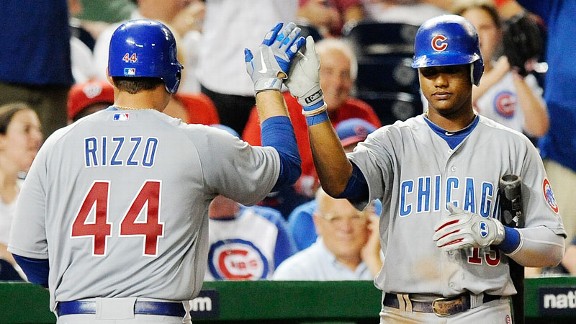 Patrick McDermott/Getty ImagesThe Cubs' infield -- like the team itself -- will rely on young building blocks Starlin Castro and Anthony Rizzo.
The
Chicago Cubs
' infield could be one of the better ones in the National League -- at least on defense.
Manager Dale Sveum truly believes that, and with a Gold Glove winner at second base in
Darwin Barney
and a two-time All-Star at shortstop in
Starlin Castro
, it would be hard to argue with him.
Anthony Rizzo
is more than capable at first base and although
Ian Stewart
is a natural third baseman, his replacement for now,
Luis Valbuena
, showed last season he could play the position.
Welington Castillo
is the X factor as a first time starting catcher.
The questions come on offense. Can Barney be better? And will Rizzo do it for a full year as most expect? Castro remains the centerpiece. He has all the abilities to put together a breakout year and should be a bigger threat with his speed and power. Castillo has pop but hit under .200 in spring training.
March, 27, 2013
3/27/13
4:18
PM CT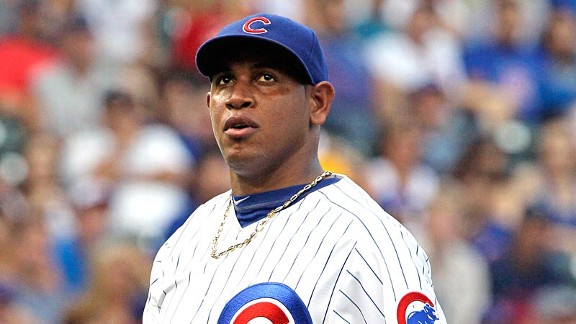 AP Photo/Nam Y. HuhAn effective Carlos Marmol would go a long way in solidifying the Cubs bullpen.
Though a few roles are still being worked out, the bullpen could be a strength for the
Chicago Cubs
this season.
It wasn't bad last season and the addition of Japanese import
Kyuji Fujikawa
could solidify it even more -- that is if
Carlos Marmol
can do his job as a closer. And that's a big "if."
Fujikawa takes over the set-up role which should take some pressure off lefty
James Russell
and righty
Shawn Camp
. Both were at the top of the NL in appearances last season and a repeat of that kind of use could be dangerous in terms of their health and effectiveness.
Michael Bowden
is capable enough as a middle man, and if the Cubs add
Hisanori Takahashi
to the mix that gives them two lefties which is never a bad thing unless he simply can't get people out.
The problem -- until Wednesday -- was with
Carlos Villanueva
in the starting rotation, the Cubs didn't have a long reliever to eat up innings. But they picked up
Guillermo Moscoso
off waivers from Toronto on Wednesday, and now he's in the mix for Villanueva's old role.
March, 26, 2013
3/26/13
1:57
PM CT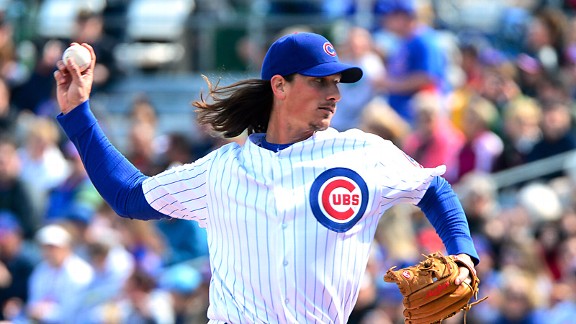 Matt Kartozian/USA TODAY SportsJeff Samardzija has looked like a man on a mission, which is good for the Cubs.
The
Chicago Cubs
' starting rotation looked a lot better on the first day of spring training than on the last. Injuries to
Matt Garza
and
Scott Baker
have put major stress on the five who will begin the season starting games on the mound.
Jeff Samardzija
,
Edwin Jackson
,
Travis Wood
,
Scott Feldman
and
Carlos Villanueva
are the starting five right now with the latter three basically winning their jobs by default.