Chicago Cubs:

2013 Season Review
October, 7, 2013
10/07/13
12:37
PM CT
Jesse Rogers recaps the Cubs by position and looks at what changes might be in store for 2014.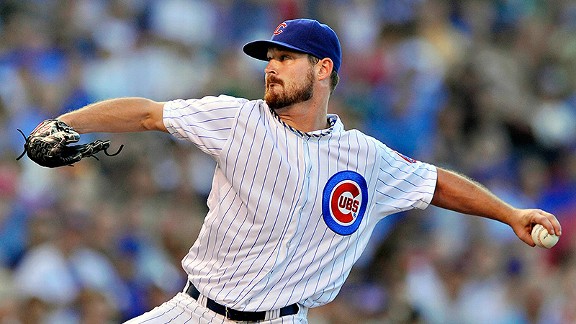 AP Photo/Paul BeatyTravis Wood was impressive in 2013, throwing 200 innings.
Simply put, the starting rotation kept the
Chicago Cubs
from being a complete embarrassment in 2013. They're the one group who earned their paychecks, to the tune of 91 quality starts, fifth most in the National League. Their win totals weren't very high but that was because the offense and bullpen failed them. And even though their ERA rose throughout the year, some of that was due to the trades of
Scott Feldman
and
Matt Garza
. Both were pitching very well, which led them to be dealt to needy contenders. Overall, the Cubs rotation was the strength of the team.
The good:
It has to start with
Travis Wood
. He developed into the ace of the staff, finishing the year in the top 10 in several categories league wide, including batting average against (.222), ranking sixth among NL starters who took the mound at least 20 times. His ability to work both sides of the plate made him dangerous against lefties and righties. And his athleticism helped him at the plate, on the basepaths and most important, to make 32 starts while throwing exactly 200 innings. If not for giving up three runs in his final inning of the year his ERA would have finished below 3.00, a feat for any pitcher. The rest of the staff had its moments as well, whether it was Garza coming back from an injury to pitch well or Feldman coming out of nowhere to facilitate his trade.
Jeff Samardzija
pitched well in some big games (Opening Day, the White Sox) while fill-ins
Carlos Villanueva
,
Chris Rusin
and
Jake Arrieta
all showed flashes.
The bad:
It's no secret
Edwin Jackson
had a bad year after signing a $52 million deal last offseason. It's hard to pinpoint why things went wrong as more often than not he simply didn't give his team a chance to win, getting hit hard and walking the opposition at the most inopportune of moments. His 18 losses were the most since
Steve Trachsel
in 1999 and most of them had nothing to do with a bad bullpen or anemic offense. It was on him. Ironically, the player signed to be an innings-eater barely made it to 175. Unlike Wood, Samardzija didn't always keep his team in the game either, badly giving up leads or simply not minimizing damage. Instead of a one- or two-run inning, Samardzija would give up a crooked number and the Cubs would be hopelessly out of the game. His high ERA (4.34) was a result of bad innings not necessarily overall bad outings -- though those isolated innings led to a shorter stints than he would have liked.
Who's next:
The Cubs won't be dipping into the minor leagues for their starting staff for 2014. By season's end they had the in-house candidates for next year already on the roster. The most intriguing is righty Jake Arrieta. He was acquired for Feldman mid-season and immediately showed he has elite stuff. Now he just needs to harness it. Assuming no one is traded from the staff, expect Samardzija, Jackson and Wood to return with Arrieta as the No. 4 starter to begin the year. Villanueva is under contract as is Rusin so either of them could be the No.5 man.
Scott Baker
returned admirably from Tommy John surgery but is a free agent. Expect the Cubs to add an arm or two for depth.
2014 outlook:
It still might be a rotation in flux in 2014, but the upside is starting to show. Samardzija is a big key. He needs to get to where Wood is in his progression. There's the assumption that Jackson will rebound as the back of his baseball card shows better numbers than he displayed in 2013. Arrieta is the other key at the back end of the rotation. If he develops, he won't be a No. 4 starter for long. His stuff is that good.
October, 4, 2013
10/04/13
11:30
AM CT
Jesse Rogers recaps the Cubs by position and looks at what changes might be in store for 2014.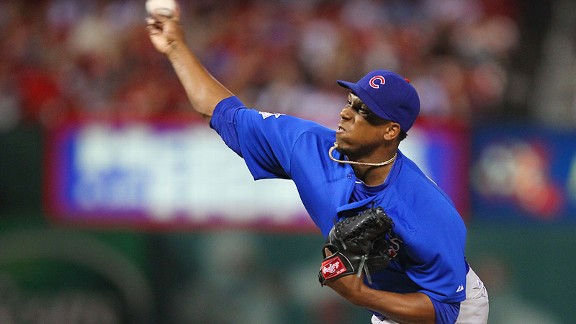 Dilip Vishwanat/Getty ImagesPedro Strop showed potential after coming to Chicago and could be the closer next season.
Talk about an upside down aspect of the Cubs in 2013, the bullpen would qualify. Just two members from Opening Day --
James Russell
and
Hector Rondon
-- made it through the season unscathed. Injuries and ineffectiveness were the norm but there were bright spots, especially after the first couple of months.
Kevin Gregg
solidified the ninth inning, at least for a while, and a few other names emerged with potential for next season and beyond.
The good:
Let's start with Gregg. No matter what you thought of him at season's close or his mouthing off about his role in the final weeks, Gregg was a savior in the middle months of the season. He was 12 for 12 in save chances to begin his second stint as a Cub and finished with 33 for the season. Not bad for a guy who was picked up off the scrap heap. His pinpoint control -- especially with his fastball -- was his signature. Juxtaposed against the first few weeks of
Carlos Marmol
and
Kyuji Fujikawa
, Gregg looked even better.
Pedro Strop
might be the heir apparent for that role as his arm was electric at times after coming over in a mid-season trade with Baltimore. Meanwhile, Rondon improved as the season went on and might be in line for a set-up role. Russell was just OK after a stellar 2012 but remained a mainstay through some tough times.
Justin Grimm
,
Matt Guerrier
and
Blake Parker
all had moments in the second half that could give them a leg up come 2014, if healthy.
The bad:
The Cubs went through relievers in 2013 like they've gone through managers over the years. Starting the season with Marmol as the closer was a big mistake. It didn't help when Fujikawa went down with a season-ending injury as the Cubs went on to blow 26 saves.
Shawn Camp
was predictably ineffective due to his workload the season before and
Hisanori Takahashi
failed as a second lefty in the pen.
Michael Bowden
,
Kameron Loe
,
Brooks Raley
,
Alberto Cabrera
and
Eduardo Sanchez
are among those with ERAs north of 4.30. Even though Rondon came on late he finished with an ERA of 4.77. If not for the expansion of rosters in September, the Cubs would have overused Russell as they had no other competent lefty in the bullpen all season. That's on the front office.
Who's next:
Going outside the organization for a reliever or two is a distinct possibility but there's a good chance the Cubs will also look from within to fill some roles. It's doubtful Gregg will be back which means Strop could be the man to close games with Fujikawa, if healthy, helping out. Rondon, Russell and Parker should have jobs, if none are moved, along with
Carlos Villanueva
, assuming he's not starting. Another left-hander could be essential as the appearances start to pile up for Russell. Raley or Zach Rosscup will have to show they are ready for prime time.
2014 outlook:
When you're in the cellar there's only one way to go: up. The Cubs' bullpen ranked 25th in baseball in ERA (4.04) in 2013 and blew those 26 saves, second worst in the National League. Better decisions out of spring training are needed with another veteran arm or two to solidify things. By year's end the 'pen wasn't bad so picking up where they left off won't be the worst thing. If Strop becomes a legitimate closer, 2014 might be deemed a success for that alone.
October, 3, 2013
10/03/13
11:44
AM CT
Jesse Rogers recaps the Cubs by position and looks at what changes might be in store for 2014.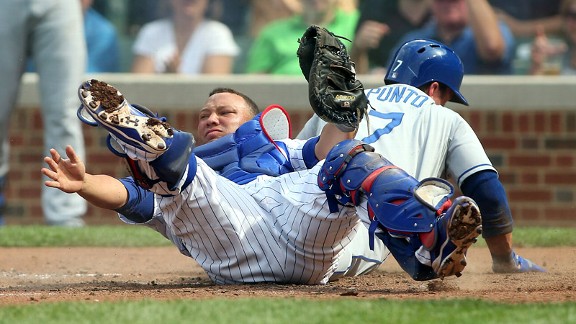 Jerry Lai/USA TODAY SportsCubs catcher Welington Castillo showed improvement behind the plate.
It's simple. Catching turned into a strength for the
Chicago Cubs
in 2013.
Welington Castillo
took major steps, while backup
Dioner Navarro
revitalized his career. The Cubs brought in Navarro as a mentor to push Castillo and it could not have worked out better. Navarro had a career year on offense while Castillo excelled defensively and improved at the plate over the course of the second half.
The good:
Castillo became one of the best in the game at blocking pitches in the dirt. Scouts say he's right behind the Cardinals'
Yadier Molina
in this category, and Castillo's defensive WAR (2.8) ranks first in all of baseball. At the plate his walk percentage increased significantly in the second half to the point where he finished the season with a more-than-respectable .349 OBP. Navarro was simply deadly at the plate. He proved himself from both sides with power off the bench as well as in spot starts. He set a career highs in batting average, on-base percentage and home runs despite his backup status.
The bad:
Though Castillo has a strong arm, base runners weren't scared to run on him, and his 29.5 caught-stealing percentage is middle of the pack, though a lot of that has to do with Cubs pitching. The team could use a little more power from Castillo, who hit just eight home runs on the season. Navarro wasn't nearly as dynamic defensively and it hurt the Cubs a few times with some errant throws or missed balls in the dirt.
Who's next?:
The Cubs have very little in their system at the catching position, in fact they're going to try to convert a few players from other positions this fall and winter. It means Castillo is entrenched as the starter, but Navarro is no sure thing to return. If he does leave, expect the Cubs to simply fill his spot with another veteran free agent. There are a host of catchers who will be available.
2014 outlook:
Castillo took some steps on defense, now he needs to take another one on offense and build off his second half. His walk total will be critical as he showed pop when he swung at good pitches. With catching thin around the league, he should be in line for a longer-term contract. As for his backup in 2014, Navarro may have played himself into a bigger deal elsewhere. If he stays he'll be one of the higher-paid backups in the league. But his value to Castillo and the Cubs might be worth it.
October, 2, 2013
10/02/13
12:51
PM CT
Jesse Rogers recaps the Cubs by position and looks at what changes might be in store for 2014.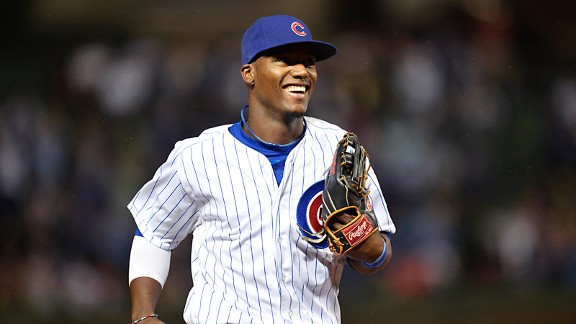 Brian D. Kersey/Getty ImagesJunior Lake showed enough in his debut to be penciled in as a starter next season.
The Cubs outfield is a work in progress as two of the starters on opening day 2013 were traded before season's end. But their replacements,
Junior Lake
and the combination of
Ryan Sweeney
and
Brian Bogusevic
, provided some intrigue in the final months of the year.
Nate Schierholtz
was a scouting success as the Cubs found the perfect left-handed gap hitter for Wrigley Field -- at least at their price point.
Alfonso Soriano
and
David DeJesus
did their jobs well enough that other teams sought them out and the Cubs were able to cash in via trade by saving money.
The good:
Soriano was finally tradeable, thanks to a hot finish to the first half of the season. As usual, when the weather warmed up so did Soriano -- and he stole a few bases along the way to prove his health. DeJesus was the Cubs' best at battling the opposing pitcher and drawing a walk, or at least a decent at-bat. By leaving, they opened the door for Lake who showed all the tools of being a good player and an unselfishness any manager would admire. His ability to hit the ball out of the park and then lay down a bunt, while still learning to play in the outfield, gives hope for his future. Schierholtz hit 21 home runs in his first year as a near full-time starter while Bogusevic remains an intriguing player since converting from pitcher. His ceiling might be higher than that of the better-known Sweeney.
The bad:
Soriano's start helped doom the Cubs offense as it has in the past. He hit .263 with one home run and two RBIs in April. DeJesus slowed down after an injury, forcing the Cubs into a salary dump instead of getting something back in a trade, while Schierholtz also finished the season quietly, hitting .177 in September with just one home run. Lake made some defensive mistakes in left field but was better when he played center.
Who's next?:
Lake seems entrenched for now but Jorge Soler and Albert Almora are seemingly the next two major names that could make their way to Wrigley Field. That won't be next year, however. There's always a chance former No. 1 draft pick
Brett Jackson
rebounds from some tough times, but unless Kris Bryant makes the move to the outfield full time, Almora and Soler have jobs waiting for them when they're ready.
2014 outlook:
Since some of the Cubs prospects won't be ready in 2014 expect another transition year in the outfield with Lake becoming a mainstay if he can handle the everyday grind of a major league season. Lake showed more than enough to win a job out of spring training in left or center field. Schierholtz is unsigned, but Cubs property, so expect him back in right. Sweeney or Schierholtz could return as a backup but the Cubs might hit the free-agent market for a middle-of-the-road starter. A return of DeJesus via free agency isn't out of the question, simply because he's the type of hitter the Cubs like having around younger players. Lake is the key, though. Is he destined for a long career at Wrigley Field and how good can he be?
October, 1, 2013
10/01/13
3:43
PM CT
Jesse Rogers recaps the Cubs by position and looks at what changes might be in store for 2014.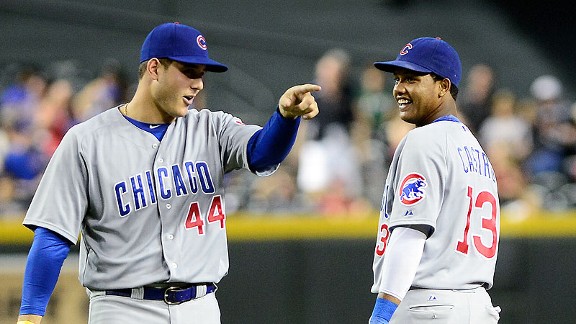 Jennifer Stewart/USA TODAY SportsAnthony Rizzo and Starlin Castro regressed in 2013, creating two big question marks for 2014.
As expected the
Chicago Cubs
were solid on defense in the infield but a mixed bag at the plate in 2013. In a strange way, third base -- the biggest question mark coming into the season -- was the most reliable position. The Cubs have their first baseman --
Anthony Rizzo
-- and shortstop –
Starlin Castro
-- of the present and future in place but they both went through growing pains although they might end up being good growing pains.
The good:
It's not that
Cody Ransom
,
Luis Valbuena
and
Donnie Murphy
set the world on fire -- although Murphy was a pleasant surprise -- but each contributed more than anyone could have expected at third base, especially on offense. The hot corner ranked second in the National League with 30 home runs and a fielding percentage in the middle of the pack. Castro got better defensively as the season wore on while
Darwin Barney
and Rizzo are Gold Glove candidates. Barney actually showed some pop despite a low average, and he battled pitchers, even if the result wasn't always there. Castro's best days were toward the end of the season when he vowed to return to "being himself" at the plate while batting leadoff.
The bad:
Not one player around the infield had a career year. Or anywhere close. Simply put, their batting averages stunk. And in most cases so did their on-base percentage. Barney regressed after offseason changes to his swing and Castro had the worst season of his career. At one point Castro, Rizzo and Barney were all in danger of hitting below .240 for the season.
Who's next:
There's little doubt the Cubs are waiting for a couple of prospects to take over at third and possibly second base. the bat of Kris Bryant, the No. 2 pick in the June draft, might get him to the big leagues sooner rather than later, but not at the start of next season. Third baseman
Mike Olt
, acquired in the
Matt Garza
trade, might get a shot if he can return to the form that made him a top prospect in Texas. At second base, Javier Baez could make a position change or Double-A infielder Arismendy Alcantara might force the issue there. The Cubs could also look at
Logan Watkins
, who had a .365 on-base percentage over six minor league seasons. He'll play some winter ball to stay sharp because he didn't get enough plate appearances at the major league level to be judged.
2014 outlook:
There's a good possibility that both Castro and Rizzo bottomed out in 2013, at least at the plate. If Castro's average and on-base percentage don't rise next season then there should be some real concerns. Even if Castro's power doesn't develop, he needs to get on base more, especially if he remains in the lead-off hole. Rizzo only struggled when he tried to do too much. He has to go to left more, using the entire field to bring up that average. Unless Olt wins the job in spring training, expect a platoon situation to start the season at third base, possibly with Murphy and Valbuena again. Barney is the question mark. His glove might let him keep his job, but he might not finish there if a prospect is ready to take over.