Chicago Cubs:

2013 spring training preview
February, 18, 2014
Feb 18
5:15
PM CT
MESA, Ariz. -- New
Chicago Cubs
manager Rick Renteria will address his team for the first time Wednesday as full squad workouts are set to begin. He says his speech won't be that different than the one he gave to pitchers and catchers last week: eliminate the distractions and do the work at hand.
"Many of the things that I'll say, I'll say over and over the course of the spring, over the course of the season," Renteria said Tuesday. "It will be redundant but what we're trying to do is change the way we think and do things."
The bottom line is that without championship-ready talent, the Cubs have to rely on doing things the right way. If they can take care of the little things, when the talent catches up to the attitude, they might just have a winner.
"You shouldn't fear having high expectations," Renteria continued. "A lot of times guys worry about creating this ceiling because how are they going to feel if they don't attain it."
Creating false expectations probably isn't the Cubs problem -- no player is promising anything for himself or the team right now. Still, Renteria wants nothing to stand in the Cubs way of playing the game the right way, not their record or what the date on the calendar is.
February, 8, 2013
2/08/13
7:24
PM CT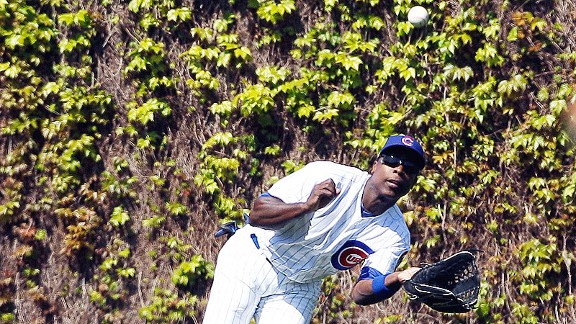 AP Photo/Nam Y. HuhAlfonso Soriano had one of his best seasons as a Cub in 2012.
Jesse Rogers previews the Cubs by position in the days leading up to pitchers and catchers reporting for spring training on Sunday.
The
Chicago Cubs
outfield of 2013 isn't exactly the sexiest part of the team. There are holdovers and newcomers, but none are considered the next best thing on the horizon. Here's a look at the outfield:
David DeJesus, CF:
Ticketed for center field, DeJesus is certainly reliable, but not spectacular. He's still considered a transition player for the Cubs while
Brett Jackson
is figuring things out in the minors. The best thing about DeJesus at the plate is his ability to get on base despite not being much of a power threat. His 61 walks last season helped contribute to his 76 runs scored, second only to
Starlin Castro
on the team. It's not a Hall of Fame stat, but any player with less than 10 home runs (he had nine) and more than 500 at-bats needs to be contributing in some way. A solid center field and a repeat of his .350 on-base percentage is how DeJesus can accomplish that.
February, 7, 2013
2/07/13
5:50
PM CT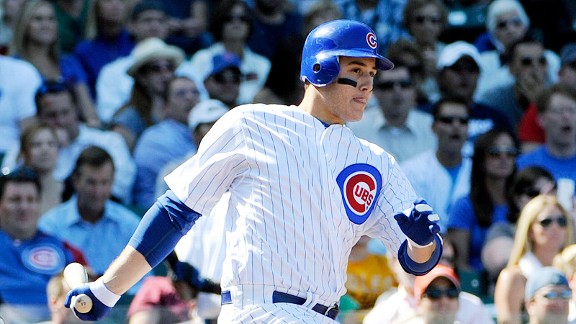 David Banks/Getty ImagesWhat kind of numbers can Anthony Rizzo produce in his first full major league season?
Jesse Rogers previews the Cubs by position in the days leading up to pitchers and catchers reporting for spring training on Sunday.
This could be the year of the infield if all goes right for the
Chicago Cubs
. There are no newcomers to the starting four though not all four were there for the entire 2012 season. All have legitimate shots at improving or even taking a big next step.
Here's a look at the infield:
[+] Enlarge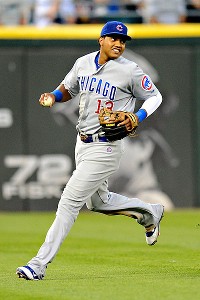 Mike DiNovo/US PresswireThe Cubs are hoping for fewer mental lapses in the field from Starlin Castro.
Starlin Castro, SS:
Now a seasoned veteran of three years -- though just 22 -- it's time for Castro to take that next step. And that's saying something considering he already is a two-time All-Star. Everything that would have held him back is in the past, the biggest of which is his contract situation. He's signed for long term and his family is well taken care of -- both were admittedly on his mind a year ago. Castro will even have a little more protection in the lineup having
Anthony Rizzo
around for a full season. At the plate, Castro needs to cut down on the strikeouts (100) and increase the walks (36) while keeping his head in the game for a full nine innings. He can do everything, now he just needs to do it all for a full season.
Anthony Rizzo, 1B:
To date, this is Theo Epstein and Co.'s best showing that they know how to scout. They drafted him in Boston and GM Jed Hoyer traded for him in San Diego before bringing him to the Cubs last offseason. The move paid off after Rizzo came up from the minors for half the season in 2012. Left-handed power is so essential at Wrigley Field, making Rizzo, who batted .285 with 15 home runs and 48 RBIs last season, even more valuable. He has a sweet swing along with a great attitude. Barring injuries or a reversal in his progression, he's destined to be the next fan favorite on the North Side, if he isn't already. He appears to be the real deal and it will be interesting to see how he produces over a full season.
Darwin Barney, 2B:
He's almost a throw-back considering his good-glove, no-bat reputation. The Cubs are trying to change that as a .299 on-base percentage in 2012 isn't going to cut it. If Barney wants to be considered a core player along with Castro and Rizzo, he'll have to make major strides at the plate. That's not to undermine his defense as his Gold Glove was most deserving, but it's not enough. If Barney doesn't improve his offense the Cubs might be looking elsewhere.
Ian Stewart, 3B:
There was some debate if Stewart would be back with the Cubs when they non-tendered him, making him a free agent this offseason. But Stewart eventually signed -- with no guarantees -- and now has to prove himself all over again. Spring games could go a long way to doing that while showing he's fully healed from his wrist issues that made his 2012 season forgettable. He played in just 55 games, batting .201 with five home runs and 46 strikeouts in 179 at-bats. The good news is his defense was never an issue. If Stewart returns to his form in Colorado when he hit 43 home runs over two seasons, it would be a huge boost to a team wondering if
Josh Vitters
is still a viable prospect at third base.
The bench:
The Cubs are a little thin on the bench in terms of proven infielders who might be able to help in a pinch. Luis Valbunea provides some insurance at third base, but non-roster invitee
Brent Lillibridge
might be the next best option on the roster.
Alberto Gonzalez
was signed in the offseason as a minor-league free agent who can play up the middle. He's spent time with the Yankees, Nationals, Padres and Rangers and will probably back up Barney and Castro. Rizzo won't get much of a break as there is no experience behind him at first base.
OUTLOOK:
Defense won't be an issue for the infield as they are strong all around the diamond. Castro and Barney should be that much better as a combination after a couple of years together while Rizzo and Stewart are looking for a full year at their respective positions.
February, 6, 2013
2/06/13
1:10
PM CT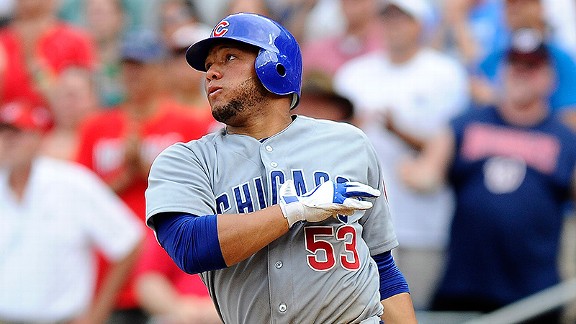 Brad Mills/USA TODAY SportsWelington Castillo batted .265 in 170 at-bats with the Cubs last season.
Jesse Rogers previews the Cubs by position in the days leading up to pitchers and catchers reporting for spring training on Sunday.
There was a hole behind the plate for the
Chicago Cubs
last season after
Geovany Soto
was traded to the
Texas Rangers
.
Steve Clevenger
and
Welington Castillo
saw time with Castillo emerging as a player deserving of further consideration. Here's a breakdown of what 2013 holds for the Cubs behind the plate:
Welington Castillo:
The 25-year-old Castillo, who batted .265 with five home runs and 22 RBIs in 170 at-bats, will get a chance to prove he belongs in the majors as an everyday starter. He showed improvement late last season, batting .294 in August and September, and he had a .390 on-base percentage over the final full month of the season. That matched his percentage in the minors last year as Castillo's plate discipline showed the kind of improvement the Cubs must like. Castillo's issues will be calling a game, and he improved late in the year in that area as well. He has an above-average arm to go along with some pop in his bat. He gets first dibs on the starting position as long as he handles the pitching staff effectively.
Dioner Navarro:
At 28, Navarro becomes the elder statesman for the Cubs behind the plate. He might mentor and help Castillo, but he'll also look to take his job. He appeared in just 24 games for the
Cincinnati Reds
last season, and he starts 2013 with his fourth team in four years. An All-Star with the Rays in 2008, Navarro's experience might come in handy as Castillo is still learning the ropes. Many within the Cubs have raved about Navarro's professionalism, including
Matt Garza
, who played with him in Tampa Bay. His switch-hitting ability can only be a plus coming off the bench.
Steve Clevenger:
He is the odd man out right now but played in 69 games and had 199 at-bats for the Cubs last season. He'll get a recall if one of the top two catchers gets injured. But in the meantime Clevenger needs to improve at the plate. His .201 batting average, .260 on-base percentage and .276 slugging percentage isn't going to cut it at the big-league level.
OUTLOOK:
It's hard to judge Castillo's upside. He showed flashes at the plate but to consider him a core player right now is a reach. Without a top prospect coming up at catcher, Castillo has a chance to keep the job for as long as he can. Catching may not start the season as a major strength for the Cubs, but Castillo could make it one before season's end. That would be quite the story with this being Castillo's eighth pro season with the organization after signing as a non-drafted free-agent. If Castillo doesn't pan out, the Cubs will turn to Navarro to keep the pitching staff together, and they'll take what they can at the plate.
ESPNChicago.com's Bruce Levine contributed to this report.
February, 5, 2013
2/05/13
4:41
PM CT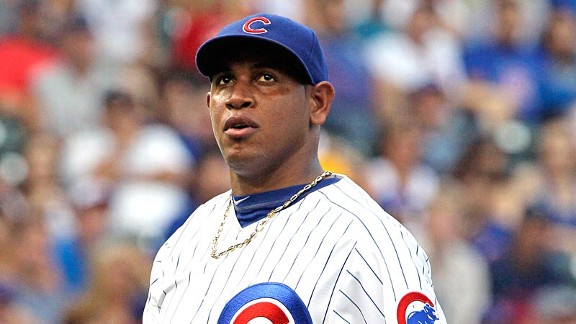 AP Photo/Nam Y. HuhWill Carlos Marmol last the season as the Cubs closer, or will he find a new baseball home?
Jesse Rogers previews the Cubs by position in the days leading up to pitchers and catchers reporting for spring training on Sunday.
If the
Chicago Cubs
had a strength in 2012 it likely was their bullpen. They were used plenty -- not surprising for a 101-loss team -- but they didn't embarrass themselves and actually won their share of games.
As usual for any pen, it can be hit or miss. There are holdovers and newcomers and a question mark at the end of the game.
Carlos Marmol:
He's still here despite a near offseason trade to the
Los Angeles Angels
which means the Cubs might not have the utmost confidence in the incumbent closer. They've said all the right things about his second half last season in which he pitched more confidently after some early struggles. But reading between the lines, it wouldn't be a shock if Marmol isn't the closer in September or in fact much sooner. The bottom line is he nibbles with his slider while newcomer
Kyuji Fujikawa
comes after hitters. The Cubs might prefer the latter.
Kyuji Fujikawa:
At 32 he'll be an old rookie, but after 12 seasons in Japan as a closer, Fujikawa comes to the Cubs as a set-up man. At least for now. General manager Jed Hoyer praised his fastball and his style of going after hitters which is what the Cubs mostly want out of their bullpen pitchers. Can he handle closing games at Wrigley Field though? Maybe that's why he'll start his major league career in the seventh and eighth inning instead of the ninth. One of the few newcomers signed for more than a year, Fujikawa should be a major part of the bullpen.
February, 4, 2013
2/04/13
4:33
PM CT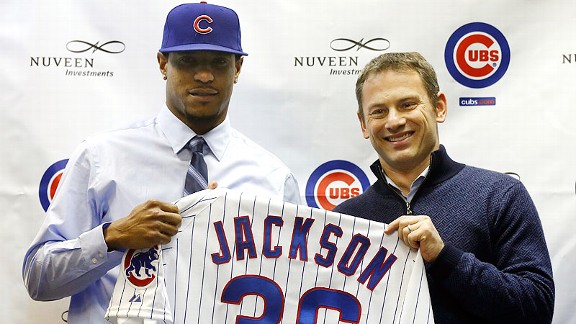 AP Photo/Charles Rex ArbogastNew starter Edwin Jackson should give the Cubs plenty of innings this season.
Jesse Rogers previews the Cubs by position in the days leading up to pitchers and catchers reporting for spring training on Sunday.
The
Chicago Cubs
' starting staff had a solid start last season, but injuries to
Matt Garza
and
Ryan Dempster
and trades of Dempster and
Paul Maholm
decimated the staff. The Cubs had zero depth so the likes of minor leaguers such as
Brooks Raley
and
Chris Rusin
were called upon well before they were ready, and the results were not good.
This offseason the Cubs added depth and got healthy. On paper, it means they should be better. But that's only on paper.
1. Matt Garza, RHP:
Barring a new injury or his old one (elbow), Garza should be the Cubs' Opening Day starter. Until last season he was a workhorse throughout his career but has yet to have that signature season which would point to him being a true ace. He's been consistent enough, sporting a career 3.84 ERA and a WHIP of 1.29 although he's been better than those numbers in recent years. A 17-win season should be the goal for Garza as he enters his final year before free agency. He's never had more than 15.
[+] Enlarge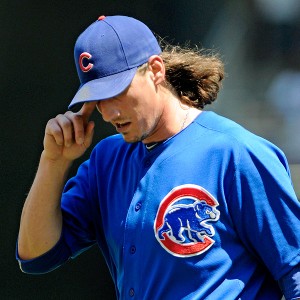 AP Photo/Jim MoneJeff Samardzija might end up starting Opening Day if Matt Garza is not ready.
2. Jeff Samardzija, RHP:
Samardzija made strides as a starter, and if he wants to work his way into being a No.1 pitcher, this is the year he needs to stay healthy and win 10-plus games. Garza could be gone after 2013 which further opens the door for Samardzija's growth. His stuff isn't the problem; putting it all together is. Although he was shut down last year after pitching 188 innings, it was nearly 100 more than he had thrown previously at the big-league level. Samardzija is still young, motivated and seasoned enough to have a true breakout season. His 9-13 record last season should reverse itself, assuming he receives some run support, and he pitches to his abilities. It wouldn't be a complete shock if Samardzija started Opening Day if Garza isn't ready.
3. Edwin Jackson, RHP:
Jackson actually has the experience and know-how to be a No. 2 pitcher, but he fits better at the middle or back-end of the rotation. On this Cubs team he's a solid No. 3. On a contender he's probably better suited as a No. 4, though he's getting handsomely paid either way ($52 million over four years). That's mostly due to his durability which is the best thing about Jackson. He's been at or near the 200 innings range for most of his career as a big-league starter. That bodes well for a team that has been short on pitching and could trade Garza for more prospects at any moment. In the end, Jackson should be part of the transition from the Cubs being pretenders to contenders over the next few seasons. He'll do it with 10- to 15-win seasons, but it's doubtful he'll take any big step in his career. He is what he is.
4, 5: Scott Baker, RHP; Scott Feldman, RHP; Travis Wood, LHP; Carlos Villanueva, RHP:
These four pitchers should battle for the final two starting spots assuming Baker is ready to return from Tommy John surgery. Feldman is a former 17-game winner with the
Texas Rangers
and Wood took strides last season but also struggled just when it looked like he might be turning a corner. Villanueva should be the consummate part-time starter, part-time reliever as he's done for much of his career. Wood has an advantage as a left-hander and a year with manager Dale Sveum, but Feldman and Baker were brought in with the intention of giving them a chance to start. Health and spring training games should sort the back-end of the rotation out. Look for the incumbent Wood and newcomer Feldman to be starting in early April unless Baker is ready to go.
OUTLOOK:
There's little doubt the Cubs will be deeper in their rotation than last season though it would be hard not to be. But will they be better? Ryan Dempster was lights out before and after his injury but then was traded, and when Garza went down the Cubs were left with little on the mound. Assuming Garza is healthy -- and with Samardzija fully transformed into a starter -- the top three pitchers for the Cubs should eat up a lot of innings and win enough games along the way to keep them afloat longer than last year. The bottom end of the rotation will be a work in progress with Wood potentially being a key. If he takes the next step and holds down the No.4 spot then mixing and matching at No. 5 won't be the worst thing. The bottom line is the starting pitching should be better, that is until the Cubs start making trades or injuries occur. However, this season they're more equipped to handle that adversity which means they should be more respectable for the long haul.