Chicago Cubs:

2014 Countdown to Camp
February, 14, 2014
Feb 14
10:00
AM CT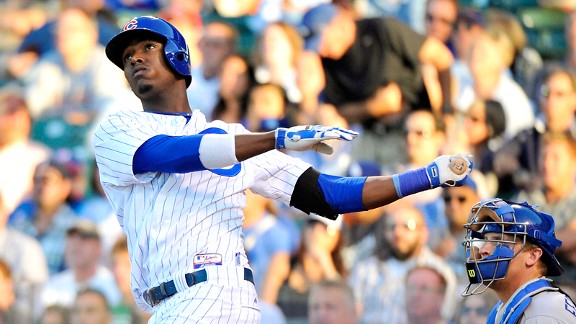 Rob Grabowski/USA TODAY SportsJunior Lake will have to prove this season that he can be a long-term answer for the Cubs.
MESA, Ariz. -- The biggest question facing the
Chicago Cubs
this season is how many young players can make their way into the core group.
In a very best-case scenario, prospects Javier Baez, Kris Bryant,
Arismendy Alcantara
,
Mike Olt
, Kyle Hendricks and possibly even
Jorge Soler
will be knocking on the door. Not all will make it to Chicago in 2014, and not all will be locks as long-term answers, but the Cubs don't need them all to be -- just a few. At the major league level, all eyes will be on
Junior Lake
in left field. Will he be a long-term answer, as well?

This question even supersedes the need for
Starlin Castro
and
Anthony Rizzo
to have big years. The next two seasons are critical for the Cubs' overall plan to work. These young position players have to start to make it to the big leagues and establish themselves or the plan is stuck in mud. At the same time, the Cubs need to find more pitching. It might come with the No. 4 pick in the draft this June, or it might come in the form of some pitching currently in the lower levels of the minor leagues.
Coming off a stellar 2013 (13-4, 2.00 ERA), Hendricks is next up among the starters. Without devastating stuff, he has to rely on his know-how, and for the Dartmouth graduate, it might be enough. But he still has question marks attached to his future, as do most of the Cubs prospects on the mound.
A best-case scenario has Olt producing right away at third base, Lake in left and Baez coming up to play second base with a rejuvenated Castro at shortstop. Or maybe Alcantara finds his way into the lineup. Then next year, the outfielders come in the form of Soler and Bryant -- assuming he switches position because of Olt's success -- followed by Albert Almora. Again, not all will make it, but at least the Cubs have several options at multiple positions. That's the key. Let competition among players help decide the future.
These are the big questions for 2014 (and 2015), but there aren't enough answers on the mound right now. Off the field, it's something the front office has to address. On the field, how the position player core shapes up is the biggest question mark.
And a fun one to watch.
February, 13, 2014
Feb 13
9:00
AM CT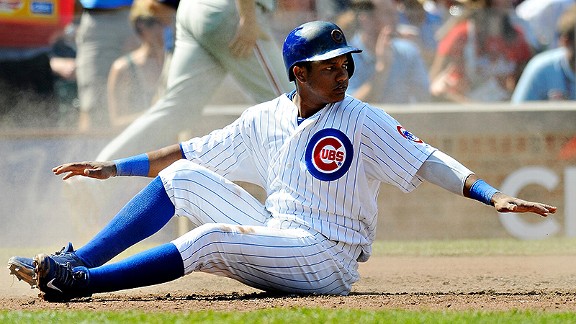 Reid Compton/USA TODAY SportsStarlin Castro had career lows in batting average, on-base percentage and RBIs in 2013.
MESA, Ariz. -- There is little doubt the
Chicago Cubs
need shortstop
Starlin Castro
to have a big year -- more so than anyone else on the roster.
And it has nothing to do with wins and losses.
If Castro can return to All-Star form, it settles a lot of issues and puts the Cubs in a good position moving forward. Especially in the infield.

Castro's natural talent speaks for itself. In 2011, when he was 21, he had 207 hits. That doesn't happen by accident. But his batting average has slid the past two years, from .307 that year to .283 in 2012 to .245 last season.
The Cubs are hoping a managerial change gets Castro back to being Castro. He's a free swinger, but one who made good contact in achieving back-to-back All-Star appearances his first two full years in the league.
The Cubs have a slew of infield prospects getting close to making it to the major leagues. None is closer than 2011 first-round pick Javier Baez. He plays shortstop as well. If Castro struggles again, it leaves the Cubs in a position of deciding what exactly to do in the middle of the infield.
A solid Castro opens the door for a position change for Baez and the potential for a deadly infield. Otherwise, the Cubs would be starting over at shortstop. It's simply the last thing anyone wants to see.
If Baez takes over there, the Cubs would be hard-pressed to move Castro to somewhere else on the diamond. It would mean he's struggling and the potential to lose him for good would be high. His trade value would be lower than ever and the Cubs will have simply wasted years developing him. Plus, the weight of the world then falls on Baez, who is still developing his own game. This is all a worst case scenario that's not likely to happen.
A big year out of Castro restores his confidence and the confidence from the Cubs and the fan base. It sets up the infield with cornerstones at shortstop and first base as the Cubs envisioned heading into last season. And it opens the door for heavy competition at third and second base.
First, it's about Castro but then it's about the rest of the team. Either way, he needs a big year.
February, 12, 2014
Feb 12
10:00
AM CT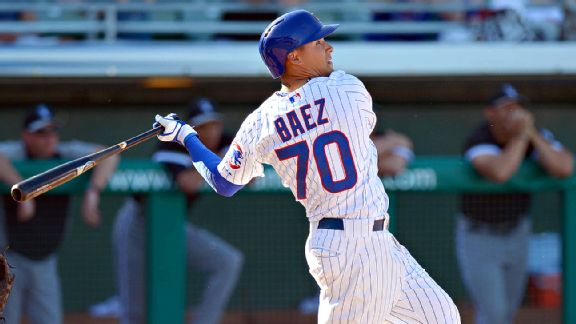 Jake Roth/USA TODAY SportsJavier Baez showed plate discipline as he moved up in he minor leagues last season.
With Chicago Cubs spring training set to begin Friday in Mesa, Ariz., we're taking an early look around the diamond.
Prospect candidates: INF Javier Baez,
Christian Villanueva
,
Arismendy Alcantara
,
Mike Olt
, C Rafael Lopez, P Kyle Hendricks,
Dallas Beeler
, OF
Brett Jackson
,
Josh Vitters
,
Jorge Soler
Best Bets: Baez, Alcantara, Hendricks

One thing is clear about the slew of prospects the Cubs should be seeing make it to the big leagues in the coming years: They won't be coming based on the needs of the major league club at that moment. The front office has repeated the notion that prospects need to dominate the level at which they're playing before any promotions occur. They also need to meet certain goals established by the club.
While it's doubtful any prospects who didn't play in the big leagues last season are expected to make the club out of spring training -- except perhaps Mike Olt -- there's a very good chance the Cubs will promote several throughout the season. And a few of them are considered elite names.
None are bigger than 2011 first-round pick Javier Baez.
After a monster season (37 home runs, 111 RBIs) at Single-A and Double-A in 2013, Baez is poised to see Wrigley Field for the first time by the end of 2014 -- if not sooner. He'll have to maintain the plate discipline he showed after being promoted last year, and considering his already violent and damaging swing, there's a good chance he could be in Chicago by late June. But the Cubs have been erring on the side of caution with their prospects so there's no guarantee. Then again, if he dominates at Triple-A Iowa they won't have a choice but to promote him.
There's also the issue of service time as the Cubs will probably follow the
Anthony Rizzo
timeline if a particular prospect doesn't make it out of spring training. It prevents them from having "Super Two" status and an earlier chance at arbitration. Rizzo came up from the minors on June 26, 2012.
Infielder Arismendy Alcantara is another candidate to come up midseason. His stock has risen as much as anyone's over the last 12 months or so. But unlike Baez, Alcantara might need a near full season at Triple-A before he gets his chance. Same goes for pitcher Kyle Hendricks. Like Baez, Hendricks also had a huge year in 2013 (13-4, 2.00 ERA) between Double-A and Triple-A. Those three players are next up to make it to the Cubs.
It still leaves others an opportunity if they indeed dominate. Infielder Christian Villanueva will play alongside Baez and Alcantara at Triple-A and there's always a chance former first-rounder Josh Vitters or even Brett Jackson find their groove.
Then there is the No. 2 overall pick of last year, Kris Bryant. He'll most likely start at Double-A Tennessee, but it might not take until mid-June to see him move up again. After all, he spent very little time at the Single-A level last year where he dominated, and then won Arizona Fall League MVP honors. If Bryant makes it to Iowa by June, there's a chance he's at Wrigley Field before season's end. It's not likely due to the Cubs conservative approach, but either way Bryant could be just one year away from being a big-league starter.
Jorge Soler is in the same boat as Bryant but might need more playing time as his 2013 season was cut short because of injuries.
All this is predicated on performance. Baez is the best bet because of his raw talent and his development when he moved up to Double-A last season. His plate discipline actually got better at the higher level. That's what the Cubs want to see. At the very least Hendricks and Alcantara should be September call-ups unless their performance dictates otherwise.
Olt remains a wild card because of his vision problems of last year -- though it was only two seasons ago he was considered untouchable within the
Texas Rangers
organization.
The Cubs are in the midst of transitioning from an older team to a much younger one. It started with
Junior Lake
in the second half of last season and it should continue with the eventual promotion of Baez.
And more are on their way.
February, 11, 2014
Feb 11
10:00
AM CT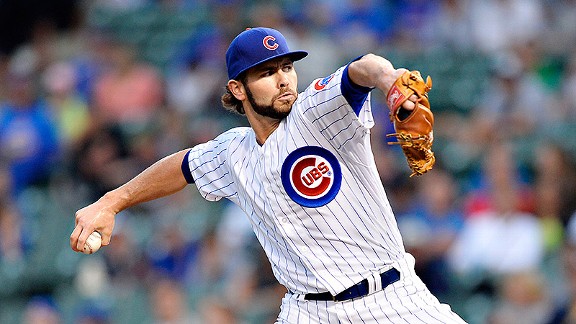 Brian Kersey/Getty ImagesThe Cubs hope to see Jake Arrieta make the most of his stuff in 2014.
With Chicago Cubs spring training set to begin Feb. 14 in Mesa, Ariz., we're taking an early look around the diamond.
The "breakout year" candidates:
Junior Lake
,
Ryan Sweeney
,
Justin Ruggiano
,
Mike Olt
, Javier Baez,
Jake Arrieta
,
Pedro Strop
,
Justin Grimm

Our pick:
Arrieta
Analysis:
All eyes will be on Lake when the Cubs break camp in April and then Baez if he makes it to the majors later this year, but Arrieta might be the guy that impresses the most.
Coming over from Baltimore last season could prove to be exactly what Arrieta needed as he professed to have issues with how he was being coached there. Now slotted later in the rotation and free of high expectations, the right-hander might finally find a home for his devastating array of pitches. His curveball is as good as they come and he has a plus-fastball to go along with it. His problem has been his control, but that's mostly because he started thinking too much on the mound instead of just pitching. At the end of last season, he said he learned what he needs to do in 2014 to max out on his abilities. At 28-years-old by opening day, it's more than time for Arrieta to have that breakthrough year.
Baez could be an obvious choice for this award (and maybe he walks away with it next season) but we'll assume he'll have a few growing pains if and when he comes up from the minors -- to go along with some flashes of greatness of course. Lake is an overachiever and might get to another level after getting a taste of the big leagues last season, but he'll have to prove he can handle all the pitchers' adjustments coming his way. And he needs to improve his defense in the outfield as well.
Olt was on the rise a couple years ago in the Texas system, but until he proves his eye troubles are behind him it would be a stretch to claim he'll have a breakthrough year right now.
Arrieta is the underdog choice with Lake and Baez potentially breathing down his neck. The Cubs are entering a phase where every year over the next several there will be good candidates for breakout seasons. Most will come from among the position players, so if Arrieta can breakout from the pitcher's mound it will be a huge boost to the team. He's a former opening day starter (2012) for an eventual playoff team (Baltimore) and if his head can catch up to his arm the Cubs will have a very good pitcher just entering his prime.
February, 10, 2014
Feb 10
9:27
AM CT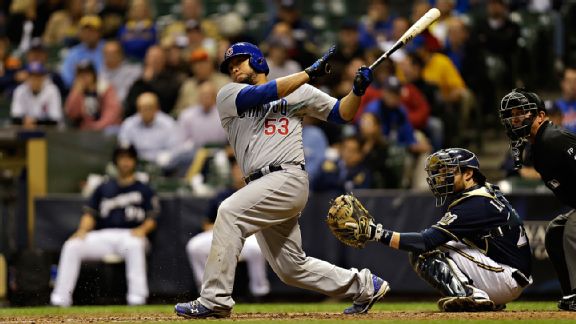 Mike McGinnis/Getty ImagesThe Cubs remain hopeful that Welington Castillo's offense can catch up with his defense.
With Chicago Cubs spring training set to begin Feb. 14 in Mesa, Ariz., we're taking an early look around the diamond.
Major additions since Opening Day 2013:
George Kottaras
Subtractions:
Dioner Navarro
,
Steve Clevenger
,
J.C. Boscan
Holdovers:
Welington Castillo

Analysis:
Only one player who saw time at catcher returns for 2014, but that's the entrenched starter, Castillo. He's the only one that matters right now as the Cubs try to work him into being their franchise man behind the plate. Castillo made huge strides on defense in 2013 and showed improvement on offense in the second half. For example, after walking sparingly in the first half Castillo's plate discipline improved considerably after the All-Star break. His on-base percentage went from .324 to .349 at season's end. One home run in the first half ballooned to seven for the year despite playing on a bum knee which ended his season prematurely.
Best of all, Castillo was a monster behind the plate, ranking at the top of the league in defensive WAR (2.8). His seven throwing errors, however, were too many for a player with a plus arm. Kottaras won't replace Navarro at the plate but should be better behind it. Catching is the thinnest position in the Cubs system aand they've invited three non-roster invitees to camp, including
John Baker
and
Eli Whiteside
. Double-A catcher Rafael Lopez could be a help at the major league level if his improvement continues.
Outlook:
If Castillo is healthy expect him to play in more than the career high of 113 games he achieved last season. He's a rock behind the plate and is only getting better defensively. The question is whether he can take his offense to another level. More pop to go along with his rising on-base percentage of the second half last season would be ideal. The Cubs have a good coach for Castillo in Mike Borzello, who was one of the few survivors from the previous coaching staff. He's key to Castillo's development.
Kottaras simply hasn't shown the offense the Cubs could use off the bench, but overall the combination should be better defensively. It's doubtful the twosome of catchers will rival the job done by Castillo and the departed Navarro last season, but the only thing that really matters for the future of the Cubs is the steps Castillo takes. He should be coming into his own in 2014.
February, 7, 2014
Feb 7
10:00
AM CT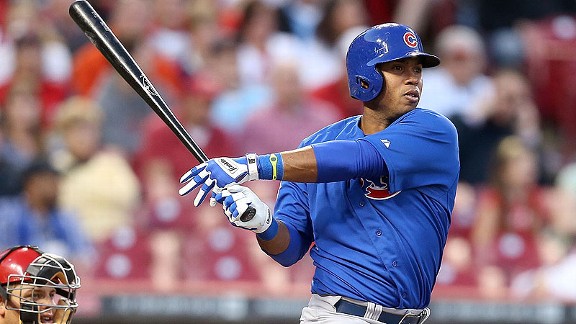 Andy Lyons/Getty ImagesLuis Valbuena is the Cubs' lone returning bench player.
With Chicago Cubs spring training set to begin Feb. 14 in Mesa, Ariz., we're taking an early look around the diamond.
Major additions since Opening Day 2013:
Donnie Murphy
,
Ryan Sweeney
,
Justin Ruggiano
,
George Kottaras
Subtractions:
Dioner Navarro
,
Cody Ransom
,
Brent Lillibridge
,
Alberto Gonzalez
,
Scott Hairston
,
Dave Sappelt
Holdovers:
Luis Valbuena

Analysis:
The problem with the Cubs bench is it's intertwined with the starters. Murphy saw a lot of action last year in the final two months and could again this season. Same goes for Valbuena. On contending teams these are purely role players. In the outfield the left-handed Sweeney provides some versatility and can hit lefties and he will also get a good amount of starts. Ruggiano could come off the bench when a right-hander is on the mound and will spell
Nate Schierholtz
against tough lefties if manager Rick Renteria starts Sweeney alongside him.
If
Mike Olt
or Javier Baez eventually take a starting spot it will strengthen the Cubs bench by leaving the above players for pinch-hitting and spot duty. In all, Valbuena, Murphy and Sweeney were more productive than not in 2013 so the Cubs do have some decent role players. Based on last season, the biggest loss will be Navarro. He had a huge year at the plate and was a good mentor for starting catcher
Welington Castillo
.
Outlook:
Kottaras has big shoes to fill after hitting just .180 in 100 at-bats last season for Kansas City. His career high in home runs is only nine while he's never hit higher than .252, although he does take his share of walks. It probably won't be enough to replace Navarro's production. Expect him to get far less playing time than his predecessor. Besides that drop off, the bench doesn't look bad for the Cubs, depending on who gets the majority of starts in the outfield and at third base. It's unclear what new manager Renteria will do in terms of resting
Anthony Rizzo
and
Starlin Castro
. Dale Sveum didn't believe in it until he was forced to as both players slumped in 2013. Will Renteria be more proactive and rest those players before the major slumps occur? Expect Murphy to spell both players at shortstop and first base.
February, 6, 2014
Feb 6
10:00
AM CT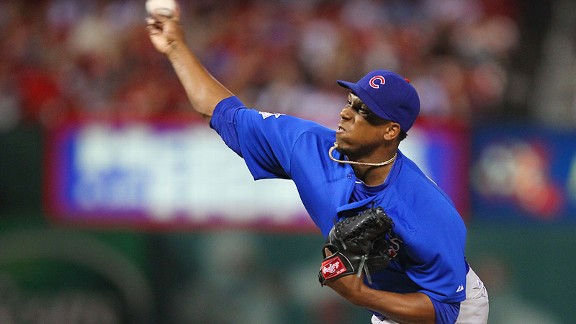 Dilip Vishwanat/Getty ImagesPedro Strop figures to be an important component of the Cubs' bullpen this season.
With Chicago Cubs spring training set to begin Feb. 14 in Mesa, Ariz., we're taking an early look around the diamond.
Major additions since Opening Day 2013:
Pedro Strop
,
Blake Parker
,
Justin Grimm
,
Jose Veras
,
Wesley Wright
Subtractions:
Shawn Camp
,
Carlos Marmol
,
Kevin Gregg
,
Michael Bowden
Holdovers:
James Russell
,
Hector Rondon
, Carlos Villanueva,
Kyuji Fujikawa
(injured)

Analysis:
Turnover was the norm for the Cubs bullpen in 2013 as it was the weak spot of the team from the opening days of the season. Giving Marmol the closer's job out of spring training was a mistake eventually fixed when the Cubs signed Gregg, but by that time the entire bullpen was suffering. Camp was ineffective after a heavy workload in 2012 and Fujikawa's Tommy John surgery combined with Marmol's struggles doomed the Cubs in the opening months.
Slowly but surely the front office revamped the relief corps and heading into 2014 it looks to be a better group. It can't be much worse after blowing 26 saves and producing a 4.04 ERA. Strop showed he has a live arm and Rondon was quietly effective as was Parker when he got an opportunity. Russell may have struggled some because of overuse but his workload lightened up when the Cubs added another lefty in the bullpen late in the season. He should be better with help.
Outlook:
The Cubs admitted they didn't address the bullpen enough last offseason, hence the ensuing turnover. It should be a better and deeper group. Villanueva began last season as a starter but will be the veteran leader of the group in the pen as the Rondon, 25, and Strop, 28, will be called upon in more important innings as the season moves on. Veras is a decent if not overwhelming choice to close games while lefty Wright takes some pressure off of Russell.
If Veras gets moved midseason, Strop will take over as the closer and has a chance to stick with the Cubs longer term. At some point the Cubs could count on righty
Arodys Vizcaino
to provide some help after two years of injuries. He's still considered a good prospect. Last year, the Cubs had just one left-hander in the bullpen, relied on Marmol too much and were either too young or injured to be effective. Some of those negatives have been eliminated so it's not a stretch to think the bullpen can do a better job this time around. It needs to.
February, 5, 2014
Feb 5
10:00
AM CT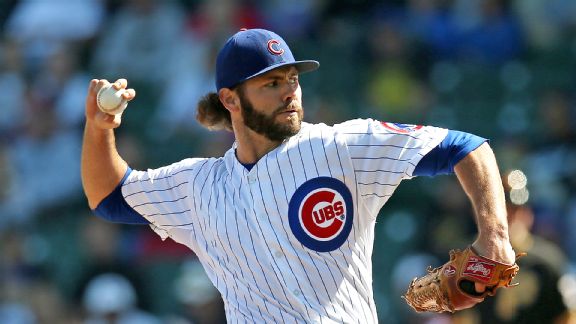 Jonathan Daniel/Getty ImagesJake Arrieta posted a 3.66 ERA in nine starts with the Cubs last season.
With Chicago Cubs spring training set to begin Feb. 14 in Mesa, Ariz., we're taking an early look around the diamond.
Major additions since Opening Day 2013:
Jason Hammel
,
Jake Arrieta
Subtractions:
Scott Feldman
,
Matt Garza
Holdovers:
Jeff Samardzija
,
Travis Wood
,
Edwin Jackson
,
Chris Rusin
,
Carlos Villanueva

Analysis:
The Cubs starting staff would be hard-pressed to pitch much better than it did early last season. Ranking ninth in the National League in ERA (3.97) for the year is misleading. It rose as the season went on and the Cubs traded 40 percent of their staff in Feldman and Garza. Wood emerged as the ace and pitched his way into being a core player. Samardzija had his moments, but as the team fell way out of contention, so did his game as evidenced by an ERA over 5.00 for the second half.
Jackson needs a mulligan (8-18, 4.98) for 2013 or else he risks being one of the worst free-agent signings in recent memory. Villanueva and Rusin filled in nicely when needed, but they aren't starters on a contending team. Jackson might not be either, and if the Cubs trade Samardzija, then they'll be even thinner. But there is hope in Arrieta. At 28, his best days might be ahead of him. He has devastating stuff, but he has to start realizing his potential. Hammel is a reclamation project in the same way Feldman was in rebounding from two injury-plagued seasons.
Outlook:
There's no reason not to believe Wood can repeat or even improve on his 2013 season. After that, it's a bit of a crapshoot. Samardzija has proved he can win a big game, but unless there's movement in contract negotiations, there's little chance of him finishing the season as a Cub. Jackson can't be worse than last season, so even a small uptick in performance will be a welcome sign. Hammel could end up doing exactly what Feldman did: pitch his way onto another team and get the Cubs a decent return.
The X factor is Arrieta. If nothing else happens for the starting staff other than Arrieta becoming a mainstay, then it will be a productive season. An improving Wood, a more consistent Jackson and Samardzija -- as long as he's here -- and the emergence of Arrieta are things to look for from the starting rotation if things go well. Waiting in the wings is recent Dartmouth graduate Kyle Hendricks. Not considered by many as a top prospect, he had a monster (13-4, 2.00) minor league season in 2013 and was named the organization's minor league pitcher of the year. He'll start at Triple-A Iowa, but don't be surprised if he's at Wrigley Field later this season.
February, 4, 2014
Feb 4
12:00
PM CT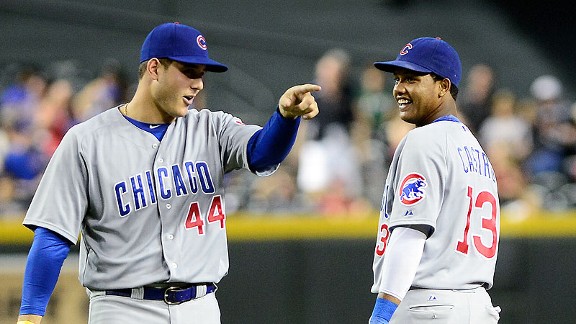 Jennifer Stewart/USA TODAY SportsAnthony Rizzo and Starlin Castro regressed in 2013, creating two big question marks for 2014.
With Chicago Cubs spring training set to begin Feb. 14 in Mesa, Ariz., we're taking an early look around the diamond.
Major additions since Opening Day 2013:
Mike Olt
,
Donnie Murphy
,
Logan Watkins
Subtractions:
Ian Stewart
Holdovers:
Darwin Barney
,
Starlin Castro
,
Anthony Rizzo
,
Luis Valbuena

Analysis:
Barring a major trade, we know half of the infield will remain the same for many years. Castro needs to rebound from an off year in 2013, which saw him watching hittable fastballs go past him -- though he did improve in the field as the year went on. A successful final couple of months in the leadoff role gave hope for a better 2014; a change in managers could be the key for him. If Rizzo brings up his batting average he'll turn into a very good all-around player. Second and third base are the places to watch, as prospects will push incumbents Barney and the combination of Murphy/Valbuena. Barney had a classic all-field, no-hit kind of season in 2013. He'll get a chance to improve at the plate -- and he'll need to take advantage.
Arismendy Alcantara
and Javier Baez are nearing completion of their minor league careers, while Olt, the newcomer from Texas, is a bit of an X factor.
Outlook:
There is so much competition coming in the infield it can only be a good thing for the Cubs. Castro might be hearing Baez's name more and more, and Barney is certain to feel the heat from a few places. Valbuena and Murphy were more than admirable in their production, but Baez and even Olt -- if he recovers from eye issues -- have much higher ceilings. There's a very good chance whoever starts on Opening Day at second and third won't be the starter in the season finale. Half the infield is set with long-term deals; the other half is up for grabs.
February, 3, 2014
Feb 3
12:00
PM CT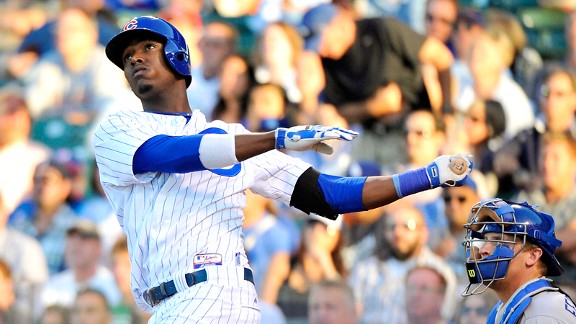 Rob Grabowski/USA TODAY SportsAfter batting .295 through August, Junior Lake trailed off in September, batting .254.
With Chicago Cubs spring training set to begin Feb. 14 in Mesa, Ariz., we're taking an early look around the diamond.
Major additions since Opening Day 2013:
Junior Lake
,
Ryan Sweeney
,
Justin Ruggiano
Subtractions:
David DeJesus
,
Alfonso Soriano
Holdovers:
Nate Schierholtz

Analysis:
Going into spring training, the Cubs have four players for three starting spots in the outfield, with Lake, Sweeney, Schierholtz and Ruggiano set to get the bulk of the playing time. Lake is the player to watch. He burst onto the scene in the second half of 2013, giving the Cubs an intriguing option as a potential power guy who still likes to lay down a bunt and take off on the bases. He tailed off some as the league got to know him, striking out 68 times in 64 games. Still, he opened some eyes as a potential overachiever, and now he'll get a full spring to learn the outfield after years as an infielder. He likes center field more than left, but he'll probably start in the latter spot. And he'll get the chance to play himself into the core of the team with little competition forcing him out of the lineup. Ruggiano is valuable simply because he has right-handed pop -- he hit 18 home runs last season, which is something the Cubs lacked after moving Soriano. The Cubs still have veteran
Darnell McDonald
kicking around, and former No. 3 overall pick
Josh Vitters
has moved from infield to outfield.
Outlook:
New manager Rick Renteria will have an easier time rotating the outfield than Dale Sveum did a season ago because the Cubs are more balanced. Expect the left-handed Sweeney and Ruggiano to split time in center while Lake and Schierholtz will get the occasional day off in left and right field as well. Schierholtz set career highs in several offensive categories in 2013, and if he comes close to repeating those numbers he'll be traded midseason before he becomes a free agent. Again, Lake is the one to watch in the outfield. Can he get to the next level as an everyday starter?