Chicago Cubs:

5 for 14: Season preview
March, 30, 2014
Mar 30
10:00
AM CT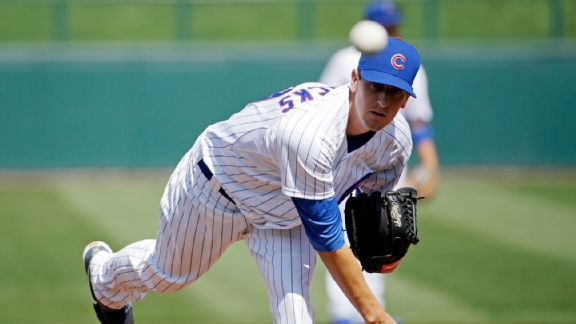 AP Photo/Morry GashCubs spring instructor Rick Sutcliffe described Kyle Hendricks as having the "it" factor.
The surprise of the 2014
Chicago Cubs
isn't even on the roster yet. And, no, it's not top prospect Javier Baez. Baez is no surprise anyway, but a player who doesn't make any of the top prospects lists does qualify.
Right-handed pitcher Kyle Hendricks flies under the radar around the baseball world but not with the Cubs. Recently, Cubs spring instructor Rick Sutcliffe described him as having the "it" factor for a pitcher. While that wasn't very specific, it said a lot. The guy knows how to pitch.
He should know a lot. He went back to school this offseason and graduated from Dartmouth where he threw from 2009-2011. He went 15-12 with a career 4.87 ERA before being drafted in the eighth round by the
Texas Rangers
. There was really nothing special about Hendricks at the time. He didn't throw particularly hard and didn't exactly have a true out pitch. But he had success anyway. The Cubs traded for him when they sent
Ryan Dempster
to the Rangers in July of 2012.
He blossomed with the Cubs last year at Double and Triple-A. His 13-4, 2.00 ERA combined at Tennessee and Iowa was impressive. He gave up just 142 hits in 166 innings pitched. He walked just 34 batters all season. But that was in the minors. Can the change-of-pace hurler do it in the majors? Even after his fantastic 2013 season, he still didn't make the top 10 of Cubs prospects heading into this year. It only put a chip on his shoulder.
He's not a perfect pitcher, but here's the thing to like about him: he learns and gets better. He's done that everywhere he's been. Even in spring training he started a little slow. He was uncharacteristically wild in his first start with nerves getting them best of him. But he learned and adjusted. By the time his spring ended with the major league team, he was gutting the mighty
Los Angeles Dodgers
regular lineup with a beauty of a three-inning stint. Three innings in the spring don't make a career but they are a sign.
It's unclear when Hendricks will make his Cubs debut, but pitching is such a wild card that a need could arise for him to be called up at any time. Even if it's for one start.
Expect Hendricks in Chicago before season's end. When he gets here, he might never leave if the Cubs allow him more than a chance token start. Then, he might finally make one of those prospects lists. But it will be too late to be called a prospect. He'll be a major league pitcher and the surprise of 2014.
March, 29, 2014
Mar 29
10:00
AM CT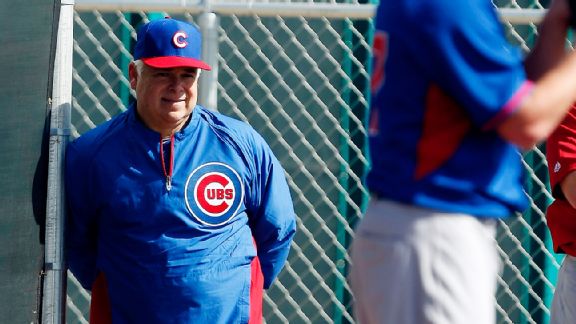 Rick Scuteri/USA TODAY SportsRick Renteria likes to keep things positive, but how will that play in the clubhouse when things aren't going well?
The job in front of new
Chicago Cubs
manager Rick Renteria is even tougher than what his predecessor, Dale Sveum, faced. And as we know, it didn't work out well for Sveum, who was dismissed after two years in charge.
The ever-optimistic nature of Renteria will be challenged. He might never waver, but the people who help pay his salary -- the average Cubs fan -- might want to hear more than, "We'll get 'em tomorrow" when things are going bad.
Renteria almost believes there was a higher order at work in directing his career to the Cubs. Maybe he's right. The bilingual manager is known for his communication and teaching skills, especially with young players. Could there ever be a better job description for the current situation the Cubs face? They have young talents all over the organization, many of whom speak Spanish.
But as manager now, and not just a coach, Renteria might be tempted to fall into the trap of winning at all costs over development. If
Mike Olt
struggles, will he be given second and third chances? What about
Junior Lake
? This is the time to find out about those players, and it's Renteria's job to get the most out of them -- not to mention what he has to get out of
Starlin Castro
and
Anthony Rizzo
.
Renteria's upbeat nature will come in handy if the Cubs fall out of the race. His goal will be to make every game count for his players as if they are a contending team. All spring he could be seen clapping and encouraging and cheerleading as much as possible. It's a fine line between doing that just enough at the major league level and overdoing it. It's the combination of his one-on-one communication and his public persona that will determine how his players feel and respect him. In short, is he being real?
But it can't just be all about the positive when things are going wrong. At least not when fans want some real answers. So far in spring, the positive has been reinforced, which makes sense considering what time of year it is. But, soon enough, Renteria is going to have to be realistic about what he sees if it isn't very good. That's when we'll start to know if he's a manager for the long run. Does he have the nuance to navigate through this important transition year?
His predecessor did not. But that was at a time when the Cubs were working on gutting the organization of its aging and expensive veterans. Now, Renteria's task is much more important. As Olt, Javier Baez, Lake and others start their major league careers, it will be on Renteria to max out their considerable talent.
With a lineup that could change every day, the possibility of Triple-A call-ups throughout the season and trades that will undoubtedly take place before the July deadline, Renteria will have a lot on his plate. But he really has only one task: get the best out of his core players and allow new ones to emerge. If he does that, it's a successful start to his managing career.
March, 28, 2014
Mar 28
10:00
AM CT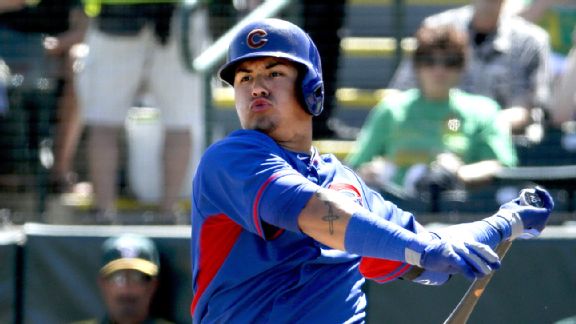 AP Photo/Chris CarlsonTop prospect Javier Baez could join the Cubs by June.
MESA, Ariz. -- All the losing the
Chicago Cubs
have endured over the past few seasons is about to pay off. At least in a small way.
If all goes right in 2014, fans should finally be able to see some of the team's heralded prospects, some of whom have vaulted the farm system into the top five in all of baseball. By being out of the playoff race by midseason, the front office has been able to focus on the future by trading aging veterans for younger players, and to pick high in the annual June draft.
And now some of those young players are nearly ready for prime time.
The Cubs have a "big four" of position player prospects in No. 1 draft choices Javier Baez, Albert Almora and Kris Bryant to go along with Cuban-born outfielder Jorge Soler. But the first of the major names to make it to Wrigley Field may not be any of those players.
Right-handed starter Kyle Hendricks (13-4, 2.00 ERA in 2013) could arrive quicker than any of them, while reliever
Arodys Vizcaino
is also waiting in the wings. They'll start the season at Triple-A Iowa just like Baez. Hendricks was acquired for
Ryan Dempster
in 2012, while Vizcaino came for
Paul Maholm
while Vizcaino was still recovering from Tommy John surgery. Now healthy, Vizcaino can get near 100 mph with his fastball; he impressed observers in the first bullpen sessions he threw this spring. Hendricks is your classic thinker on the mound.
Pitchers rather than position players are more likely to come up for an appearance or two if they're needed. While the Cubs want to make sure Baez is ready at the plate and in the field, guys like Hendricks and Vizcaino along with rising prospect Eric Jokisch could be at Wrigley Field anytime.
But when Baez shows up, people will take notice. After hitting 37 home runs at Class A and Double-A last season, he came into Cubs camp and put on a show. He crushed the ball to the opposite field and made adjustments at the plate he wasn't always doing previously. He also got a taste of playing second base since he'll have to play somewhere besides shortstop when he's called up with
Starlin Castro
entrenched there.
But Baez has to prove he's matured as a hitter for longer than a few weeks during spring training. The Cubs can also save some long-term money by waiting to bring him up until late June or July. When they do, pitchers beware. His swing is as vicious as they come.
The other major names are at the lower levels of the minor leagues, but all can make big jumps. Bryant could finish the season at Triple-A Iowa, as could Soler. Almora is a baseball rat and should make major leaps from Class A, if he stays healthy.
But first up probably are the pitchers, and then Baez. There could be a surprise or two, as well -- infielder Arismendy Alcantara is getting close and outfielder Matt Szczur played great defense this spring. They're both in Triple-A. The good news is that the wait to see these players in the major leagues is nearly over.
President of baseball operations Theo Epstein promised that the Cubs wouldn't rush their prospects but would call them up when they're ready.
They're almost ready.
March, 27, 2014
Mar 27
10:00
AM CT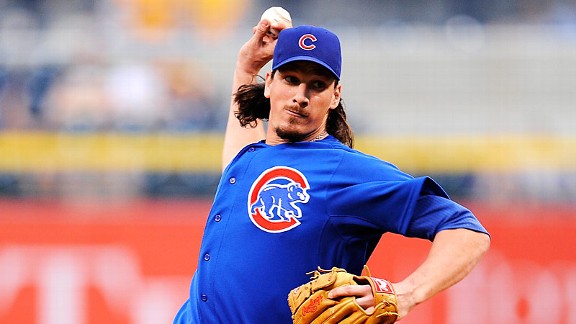 Joe Sargent/Getty ImagesWhat the Cubs decide to do with Jeff Samardzija will heavily impact their rebuilding process.
MESA, Ariz. -- It's the question that keeps getting asked, but soon enough it's going to have to have an answer. In some ways we're already in extra innings, as
Jeff Samardzija
could have been traded by now considering there's been no movement in contract extension talks for over a year.
None. No new offers, no new strategies.
Neither side will budge, continuing to leave Samardzija squarely on the trade block. Every day he's not signed to a multiyear deal is a day closer to free agency for him, which means he's a day closer to being traded. The Cubs will never let him walk after the 2015 season. Samardzija is currently on a one-year deal.
Things might be different if the Cubs had a chance to win something this year, but the front office believes they can get younger and perhaps better pitching for him if they move Samardzija. It will certainly be cheaper with him wanting No. 1-type money, though the club hasn't seen him pitch like an ace just yet. Samardzija's career ERA is 4.19 and he's coming off a second half in which it was over 5.00. Bad team or not, it's probably hard for a front office to pull the trigger on a huge contract for a player with those results.
The Samardzija saga, while both old and ongoing, has major implications for the Cubs' rebuilding plans. Moving him means replacing him, both for his skill as well as his leadership. Signing him at his cost means using up a slotted salary for a No. 1 pitcher. It's money they might want to use elsewhere. Simply put, Samardzija doesn't want to be paid like
Edwin Jackson
(four years, $52 million); he wants to be paid more like
Homer Bailey
(six years, $105 million).
At this point, the notion of who's right or wrong is becoming moot because it's not "if" he'll be traded, rather "when." What's interesting is that the Cubs don't necessarily believe he's an ace but are holding out hope they can get a potential ace in exchange for him. They've done an incredible job -– at least on paper -– in acquiring talent for their veteran pitchers, especially during the annual July trading period. Kyle Hendricks, C.J. Edwards,
Arodys Vizcaino
,
Jake Arrieta
and
Pedro Strop
are just a few of the players that have become Cubs over the last few years. That's a good collection of arms. So expect the Cubs to do well for Samardzija as teams get desperate in the coming months.
Unless there is a change of heart from either side, of course.
That would probably have to come from the Cubs, because Samardzija has the ultimate confidence in his health and ability to play things out until he becomes a free agent and gets his big payday on the open market. It doesn't help that the Cubs are only about halfway done with their rebuilding efforts, so there's no incentive for Samardzija to sign and then wait around in order to pitch in the playoffs.
The timing of a deal just doesn't seem to be coming together. When asked on Wednesday if he would negotiate once the season starts, Samardzija quickly responded with a "no comment."
It might not matter if neither side moves off their current position.
It's bad news for the Cubs since they are already thin in major league pitching and have no guarantees that their young arms are going to develop into top-of-the-rotation guys. It could stall the rebuilding process or even set it back. It's that critical of a decision, and so it looks like the Valparaiso, Ind. native's days are numbered with the organization he's been a part of the past seven years.
March, 26, 2014
Mar 26
10:00
AM CT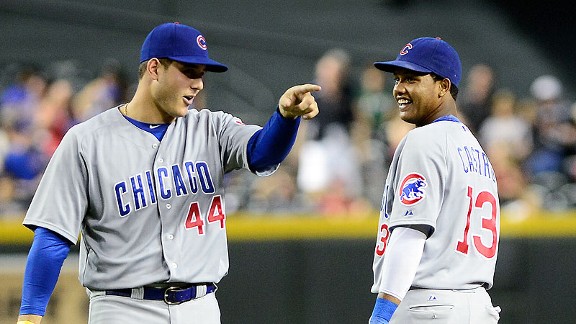 Jennifer Stewart/USA TODAY SportsBounce-back seasons from Anthony Rizzo and Starlin Castro would go a long way in the Cubs taking a big step in their development in 2014.
MESA, Ariz. -- They return as the cornerstones of the
Chicago Cubs
' rebuilding strategy.
Anthony Rizzo
and
Starlin Castro
are the faces of the major league team now more than ever.
Most of the veterans have been dismissed in recent years in favor of younger replacements yet to see their potential. And pitcher
Jeff Samardzija
might be next to go -- putting even more of the spotlight on Castro and Rizzo.
Both had their issues last year. And if they're going to lead the Cubs from here on out, they first have to lead on the field.
Missing most of spring training is the last thing Castro needed. Not when he's trying to erase the bad memories of 2013. Career lows in batting average (.245) and on-base percentage (.284) and a career-high 129 strikeouts tell the story: It was an awful year.
A new bilingual manager was hired and a trainer was sent to the Dominican Republic to get Castro in better shape. The Cubs were taking no chances. They were going to put him in the best position to succeed at any cost.
Then the injury happened. At first, Castro's right hamstring strain seemed less serious than a year ago when he hurt his left one in the spring. He was on crutches back then, while this time he was projected to be out only seven to 10 days. That was on March 2 and he still hasn't played in a Cactus League game going into last night.
Castro so wanted to be locked in as March came to a close. He looked sharp in early drills and went 2-for-2 in the opening game of spring, when most hitters are way behind the pitchers. Not Castro. He's a creature of habit when it comes to the game. He wants to play every day, as he mostly did when he became a two-time All-Star.
But that was several years ago and now doubts about his ability have crept in among baseball observers. Maybe he has a few doubts of his own. It's hard to imagine Castro having a good start to this season. Conventional wisdom says he'll need April to be his spring training. But as good an athlete as he is, he might surprise people. And even if he gets locked in when May rolls around, that could still equate to five months of good Castro. But he has to prove it before people will believe in him again.

The good news is the Cubs are telling him to get back to being his old self. And manager Rick Renteria is reinforcing what he says to him in English by repeating it in Spanish, just to be sure. Without the injury it would be easier to predict a huge year from Castro. Now? Who knows for sure.
As for Rizzo, he was maligned for his 2013 season more than he should have been. But after hitting just .191 with runners in scoring position -- the same year he signed a $44 million deal -- criticism is bound to find you. There are a lot of things to like about Rizzo's game, including his defense, as he became a Gold Glove finalist after a slow start. And consider his power, which produced 23 home runs in his first full year in the big leagues. But the Cubs and their fan base want more.
Rizzo is from Florida but has a relaxed, California-like attitude about him. "See the ball, hit the ball," is his most common analysis of batting. And, no, he's not a stats guy. But he thinks he's a better hitter than his .233 batting average of a year ago. If this spring is any indication, he just might be.
Going into Tuesday night's contest against the
San Diego Padres
, he was hitting .366, including a smooth 6-for-13 against lefties this spring. He's driving the ball to the opposite field and could make teams rethink the shift they employ. But none of that matters until he starts to do it next week -- and in clutch situations. Last year wasn't bad, but there's plenty to improve on.
The talent is there for Castro and Rizzo. Now the steps have to be taken or the rebuild simply stalls. And the unthinkable could happen. The Cubs might have to go in another direction -- especially at shortstop -- where hot-shot prospect Javier Baez waits in the wings.
First things first: Castro and Rizzo get 2014 to prove themselves all over again.