June, 16, 2011
6/16/11
2:41
PM CT

By Bruce Levine
ESPNChicago.com
Archive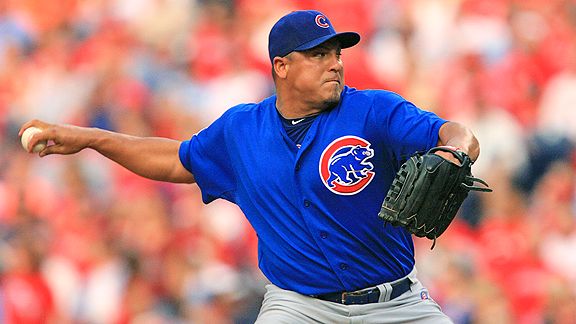 Hunter Martin/Getty ImagesCarlos Zambrano said he wants to stay in Chicago, but would he be open to N.Y.?
CHICAGO -- With the
New York Yankees
coming to town, it's only normal that some
Chicago Cubs
players will be under the microscope of baseball scouts and media with the trading deadline only six weeks away.
The one name that keeps coming up in baseball circles is Carlos Zambrano. Yankees scouts watched him pitch on the Cubs' recent 10-game road trip. These were not advance scouts who prepare teams for the next series, because the Yankees do video work on the next opponent instead of using scouts. These were top advisers to Yankees general manager Brian Cashman.


Zambrano, who has a full no-trade clause, has said on numerous occasions he wants to stay with the Cubs until his deal expires after 2012. But Zambrano, like any veteran, wants the opportunity to perform in a World Series before his career is over. If the Yankees, who are in need of starting pitching, decide to approach the Cubs about Zambrano's availability, the veteran pitcher could change his mind. Losing is not fun for any player, but for a 10-year veteran like Zambrano, this might be his last shot at playing in a World Series.


The Yankees have been dealing with injuries to their pitching staff. Phil Hughes has been out for most of the season, and more recently, the resurgent Bartolo Colon went down with an injury. The Yankees bullpen also is depleted after the loss of Joba Chamberlain.


Although New York is loaded with talent, most observers believe they'll need more starting pitching if they're going to be able to keep up with the Boston Red Sox.


Zambrano's experience with Yankees pitching coach Larry Rothschild would also be considered an advantage for both sides. Rothschild was Zambrano's pitching coach for the first nine years of his career before taking the Yankees job in the offseason. Rothschild has seen the best and worst of Zambrano, whose domination on the mound has been mixed with frequent emotional tantrums.


Some of the Yankees top evaluators have more interest in Ryan Dempster than Zambrano, but the Cubs would not be interested in dealing Dempster. Zambrano may be another story, considering his volatility and inconsistency over the last 2 ½ years. Dempster is considered more consistent by some scouts, but Zambrano has pitched more innings this season. What the Yankees and other teams like about Dempster is he's averaged over 200 innings over the last three years.


The Cubs could get back some good, young talent and also divest themselves of all or some of the $27 million left on Zambrano's contract.


Alfonso Soriano had an interesting perspective on veteran players and how they should look at situations when a team might want to trade them.


"It's not the worst thing," Soriano said. "When I got traded from the Yankees [for Alex Rodriguez] to Texas, that was a difficult one. But when I got traded to Washington, that's just part of the game. We work for the team. They do what they want to."


Soriano said that players should be objective when teams comes to them about a possible trade.


"I expect to stay here," said Soriano, who also has a full no-trade. "This is my fifth year, but if they say they want to trade me, then why wouldn't I want to go somewhere else. I wouldn't stay here."
December, 17, 2010
12/17/10
8:52
PM CT

By Jon Greenberg
ESPNChicago.com
Archive
CHICAGO -- It's been sort of a rough off-season for the
Chicago Cubs
.
Really, it's been a rough two years.
OK, it's been a rough century. Happy now?
With 2008's regular season run a distant memory, what is the Cubs' identity going into 2011?
They are a nine-figure payroll team with scant momentum and eroding public enthusiasm. The days of filling every seat in cool April evenings might not be over, but there are no guarantees.
Take the Cubs Convention, for example. It used to sell out in a day. But it's been on sale since Nov. 3, with seemingly plenty of tickets left. I guess even the guys who tuck their
Greg Maddux
jersey in their Lee jeans aren't jazzed about this team after a losing season.
In their first full offseason as owners of the Cubs, the Ricketts family has struck out like
Carlos Pena
, who incidentally was their only free agent addition until the triumphant return of
Kerry Wood
on Friday.
Read the entire column.