Chicago Cubs:

Chris Silva
August, 21, 2011
8/21/11
11:32
PM CT
CHICAGO --
Rodrigo Lopez
's outing on Sunday was forgettable but certainly not a first.
The
Chicago Cubs
right-hander, who was going for his third straight win of the season, instead left with his third straight loss to the Cardinals, this one a 6-2 drubbing.
Lopez, acquired from the
Atlanta Braves
earlier this season, surrendered 10 hits and gave up four home runs, which he's done four times in his career.
[+] Enlarge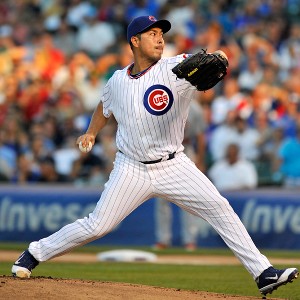 David Banks/Getty ImagesCubs starter Rodrigo Lopez gave up 10 hits, including four home runs, to the Cardinals on Sunday.
Cardinals slugger
Albert Pujols
snapped an 0-for-9 skid by belting one of those homers, his third of the season off of Lopez. Pujols hit a game-winner of Lopez in the Cubs' 10-inning, 3-2 loss on June 5.
Cubs manager Mike Quade said catcher
Geovany Soto
was set up to pitch Pujols off the plate, but Lopez couldn't execute.
"I don't know," Lopez responded when asked to explain his misfortune against Pujols this season. "He probably figured me out already, making bad pitches like today....The last two hits off me, they were ground balls. He's Pujols. He's one of the best hitters in the game."
Sunday also marked the second time this season that Lopez gave up back-to-back homers, this time to
Jon Jay
and
Yadier Molina
in the second. Molina clubbed two homers off of Lopez, the first a hanging change-up and the second a high fastball.
"It's just tough when you're a finesse guy," Quade said. "It was just very little room for error. When you mess up out over the plate it's tough to compensate for that."
August, 21, 2011
8/21/11
11:30
PM CT
Starlin Castro
drew criticism from ESPN broadcaster Bobby Valentine for a lack of awareness in the field after cameras showed the Cubs shortstop digging in his back pocket for sunflower seeds and appearing unprepared before a pitch.
Read the entire story.

August, 21, 2011
8/21/11
10:08
PM CT
CHICAGO -- Here's a quick look at the Chicago Cubs' 6-2 loss to the
St. Louis Cardinals
on Sunday at Wrigley Field.


How it happened
: Right-hander
Rodrigo Lopez
has lost each of his last three outings against the Cardinals, which included one relief appearance. On Sunday, he surrendered five earned runs on 10 hits, including four home runs, over 5 1/3 innings. Lopez was hit hard early and often. He gave up back-to-back second-inning home runs to
Jon Jay
and
Yadier Molina
, who hit another homer off Lopez in the sixth.
Albert Pujols
hit his third homer of the season in the fifth.
Aramis Ramirez
drove in both Cubs' runs.
What it means
: The Cubs won the series against the Cardinals but failed to earn a home sweep of their division rival for the first time since a four-game series in late July 2006. The Cubs will host a four-game set against the Wild Card-leading
Atlanta Braves
starting on Monday.
Outside the box
: When asked on Sunday's "Baseball Tonight" broadcast whether
Carlos Zambrano
will pitch again for the Cubs, team chairman Tom Ricketts said, "I have a hard time imagining that." Ricketts on Friday backed the decision to place Zambrano on the disqualified list for 30 days.
What's next
: Cubs right-hander
Ryan Dempster
(10-8, 4.61) will face Braves right-hander
Jair Jurrjens
(12-5, 2.84) on Monday at 7:05 p.m.
August, 21, 2011
8/21/11
6:45
PM CT
August, 21, 2011
8/21/11
6:24
PM CT
CHICAGO -- Interim general manager Randy Bush respects the fact that
Cubs
chairman Tom Ricketts will target outside candidates for the vacant GM position, but Bush on Sunday alluded that the new regime could very well include some old blood.
While the Cubs' front office positions remain in limbo, Bush said that Ricketts has continued to speak highly of the work that vice president of player personnel Oneri Fleita and director of scouting Tim Wilken have done.
"Tom has spoken about how happy he is and impressed he is with our scouting departments and player development," Bush said before Sunday's game against St. Louis. "He's happy with Oneri's leadership and Tim Wilken and I expressed to them that he has those feelings about the job that they're doing and that certainly we could see a path we go down where you could see a lot of the things that are in place would stay in place."
Fleita has held his current post since October 2007 and oversees the organization's minor league system and international scouting operations. Wilken has been in his position since December 2005 and has helped sign and develop players such as
Darwin Barney
,
Casey Coleman
and
Andrew Cashner
. Ricketts gave Wilken the green light to sign the Cubs' recent draft class to a combined $12 million in bonuses, the most the organization has spent on any draft class.
Bush said he had a conference call the other day with Ricketts and the Cubs' scouting and player development personnel and Bush followed up today with another call to those same departments in an attempt to assure them he would do everything possible to provide a smooth transition in the interim.
Meanwhile, Bush said the team's scouts are remaining on their regular assignments and have not been taken off the road. Asked what message he would give to the next Cubs general manager, Bush gave another endorsement to the scouting and player personnel departments.
"I would tell him that I believe we have done a great job recently of acquiring talent, that Mr. Ricketts has made a commitment both domestically and internationally to pursue the top talent available," Bush said, "and that our player development people have done a great job of moving those players along at the right place to get them here where they'll be here for a long time."
August, 21, 2011
8/21/11
3:17
PM CT
August, 21, 2011
8/21/11
11:10
AM CT
CHICAGO -- During spring training, several Cubs posed in combat boots as a sign of support for the Boot Campaign, a grassroots military appreciation campaign that spreads awareness of the needs of military personnel who return home from combat.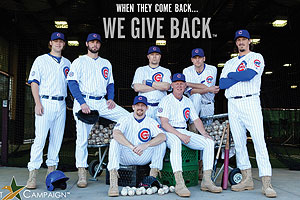 Courtesy of Cubs' media relationsRandy Wells and the Cubs are supporting America's troops through the Boot Campaign .
Pitcher
Randy Wells
was among the group. He has since taken his involvement in military appreciation and awareness to another level.
Wells got introduced to the Boot Campaign by way of friend and country singer Stoney LaRue, who performed a charity event last offseason for the Lone Survivor Foundation, which provides therapeutic, health and wellness support to wounded soldiers. The foundation stems from the book The Lone Survivor, an account of a deadly SEAL mission co-authored by SEAL Marcus Luttrell.
The book inspired the Boot Campaign, which through the help of its Boot Girls encourages people to purchase signature combat boots, with all proceeds going to charity partners that assist in things such as specialty clothing for veterans and soldiers who return home with Post-Traumatic Stress Disorders.
"I went to a charity event, met Marcus and knew right away I wanted to be involved in this," Wells said. "It's just a really good deal, friends helping friends. You wear your boots, somebody'll ask you why, you tell them the story and they'll say it's awesome. Then they'll buy a pair and it spreads like wildfire."
Wells has since planned a benefit concert with Stoney LaRue and the Midnight River Choir to be held at Joe's on Weed St. in Chicago on Oct. 21.
"I'm just trying to get people involved with it," Wells said. "All of the money goes to the Boot Campaign, the Lone Survivor Foundation and the Wounded Warrior Project."