Chicago Cubs:

Hall of Fame
July, 27, 2014
7/27/14
7:11
PM CT

By Doug Padilla
ESPNChicago.com
Archive
COOPERSTOWN, N.Y. -- Just like he carved up opponents from 60 feet, 6 inches away, Greg Maddux moved through his Hall of Fame speech Sunday with deft precision.
There was family to thank, teammates and coaches he appreciated and a few people who were key to his development at a young age. He showed love and respect to his wife Kathy for holding down the fort at home. He explained why his Hall of Fame plaque won't have a logo on the cap since he was unable to choose between the
Chicago Cubs
and
Atlanta Braves
.
[+] Enlarge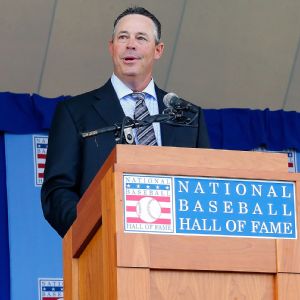 Jim McIsaac/Getty ImagesGreg Maddux's Hall of Fame speech was short and sweet, done with precision, which was similiar to his approach to pitching during his career.
He even sprinkled his own deadpan humor into the proceedings, talking about flatulence, how he was mistaken for the batboy before his first major league game, and how he spent much of his time with the Braves watching John Smoltz's hairline recede.
Appropriately at the head of the rotation among Hall of Fame inductees, it took less than five minutes for Maddux to mix in a little potty humor during what he called the first speech of his life.
"My brother, Mike, led by example," he said about his sibling who is also the pitching coach of the
Texas Rangers
. "Everything I was about to do on and off the field, he had already done. I was very fortunate to have a brother that I could learn from. He even taught me a little bit about science. It has to do with a little methane and a lighter, and I still get a huge kick out of it today. That's funny, huh? OK."
In his more serious moments, Maddux expressed appreciation to the four franchises for which he pitched, focusing most on the Cubs and Braves, obviously. He ended his career with the
San Diego Padres
and
Los Angeles Dodgers
.
"With the Cubs, I had the opportunity to play with Andre Dawson, Rick Sutcliffe, Ryne Sandberg and two fine catchers, Damon Berryhill and Joe Girardi," he said. "The city of Chicago and the Cub fans were awesome, maybe the best in baseball."
The comment managed to bring out some groans from a large contingent of Atlanta fans in the crowd estimated to be 48,000 strong. He made up for it seconds later when talking about his free-agent move from Chicago to Atlanta.
"I picked Atlanta because I finally wanted to get a World Series ring and start a family," he said. "All right, sorry, Chicago, but yeah."
Maddux eventually did get that ring in 1995, with his career bringing him back to Chicago in 2004.
"I love Chicago so much," Maddux said. "The first time I played there, that I was very grateful that Gary Hughes and Jim Hendry brought me back over to Chicago. That would give me a second chance to win there, and maybe retire where it all started, but I wouldn't be a Cub if I couldn't handle a little heartache and we missed the postseason by one game my first year back.
"I was thankful I got a chance to play for Dusty Baker and work with Larry Rothschild. I enjoyed throwing most of my games to Henry Blanco and Michael Barrett, and again, it was even funnier when they would get hit in the face [with foul tips]."
For a first speech, Maddux handled the moment with aplomb. He didn't have to explain why he will go in to the Hall of Fame without picking the Braves over the Cubs or the Cubs over the Braves. He did anyway.
"People ask me why I have no Hall of Fame plaque, no logo, or why my Hall of Fame plaque has no logo," he said. "I spent 12 years in Chicago, 11 in Atlanta and both places are very special to me. Without experiences in both cities, I would not be standing here today."
July, 26, 2014
7/26/14
4:58
PM CT

By Doug Padilla
ESPNChicago.com
Archive
COOPERSTOWN, N.Y. -- Greg Maddux didn't use a blazing fastball to have one of the best pitching careers in major league history, yet he was intimidating nonetheless.
He crafted 355 victories over a storied 23-year career that at its peak earned him four consecutive Cy Young Awards from 1992-95.
[+] Enlarge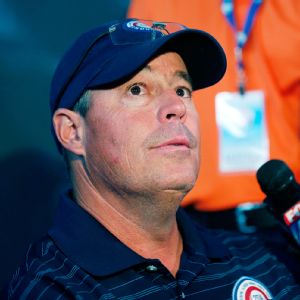 AP Photo/Mike GrollGreg Maddux used precision to the highest level during his 23-year career, and his Hall of Fame speech figures to follow a similar blueprint.
Maddux was a study in consistency, and he was never above the subtle tricks of the trade, when he needed that little extra something to get to where he needed to go.
If quick-pitching a batter who didn't quite have his feet set could get Maddux back in the count, or get the out he needed, he wouldn't shy away from such a tactic.
"You're always looking for any edge you can get," Maddux said Saturday. "You're always trying to find out what's the easiest pitch to throw in any situation."
His savvy approach will lead to his Hall of Fame induction Sunday, and in typical Maddux fashion, the low-key pitcher will keep it short and sweet. He has 10 minutes to give his speech, but Maddux estimates he will only need seven.
Why take a long time to finish off what can be done so much sooner? Like his pinpoint precision from the mound, the speech figures to be precise and won't deal with too much fluff.
His gift of precision, though, wasn't just something he inherited.
"It's something you're always working on," he said of his ability to throw a ball wherever he wanted, whenever he wanted. "It wasn't like, 'Oh yeah, I can do it.' You're always constantly working on it and trying to improve.
"I think if you look at your delivery from the time you entered the game to the time you left the game, it's obviously a lot better when you left. It's a continuous thing where all you're really trying to do is get better."
Despite his accomplishments in the game, baseball still gives him a thrill. He had a memorable encounter as recently as Friday night.
"I got a chance to talk to Tom Seaver and that was pretty cool," Maddux said. "He played for the Reds and he was a good pitcher and somebody I tried to watch when he pitched. I wish maybe the games back then were more than just Saturdays."
He no longer has any more Saturdays on the field, but he continues to have the love from the two cities where he spent the bulk of his career. Maddux spent his first seven seasons with the
Chicago Cubs
and the next 11 with the
Atlanta Braves
, before returning to Chicago for 2½ more years.
"I appreciate both cities," he said. "I had two careers, one in Chicago and one in Atlanta when it boils down to it. I love both places."
Everywhere else and everybody else he loves will be mentioned Sunday in the most precise of speeches.
"I never wrote a speech before. I've never given a speech before so to sit here and have your first speech be at this event, I'll wish I went to class those days when you had to get up and give a speech," Maddux said. "I'll say what I want to say and hopefully the people I mention in the speech understand that I wouldn't be here today if it wasn't for them. I took a piece from everybody. Everybody in that speech I took a piece from."
February, 26, 2013
2/26/13
5:17
PM CT

By Jesse Rogers
ESPNChicago.com
Archive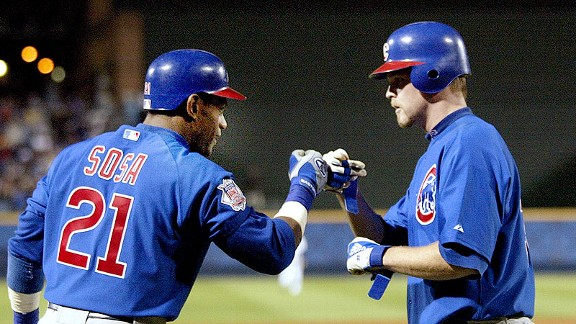 Craig Jones/Getty ImagesKerry Wood said Sammy Sosa was more relaxed playing in a winning atmosphere in 2003.
MESA, Ariz. -- Former
Chicago Cubs
pitcher
Kerry Wood
thinks
Sammy Sosa
should be in the Hall of Fame and the Cubs should consider retiring his number.
"I don't see how you can't consider it," Wood said about retiring No. 21. "No matter what we think was going on or wasn't going on, we don't do it (penalize) in a court of law until you're proven guilty.
January, 9, 2013
1/09/13
1:53
PM CT

By Jesse Rogers
ESPNChicago.com
Archive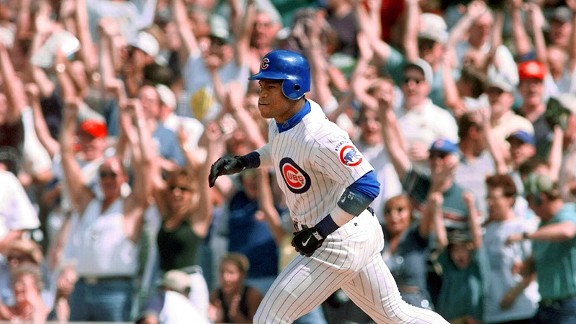 AP Photo/Beth A. KeiserSammy Sosa received just 12.5 percent of the vote in his first year on the ballot.
The Hall of Fame voters have spoken, and former
Chicago Cubs
great
Sammy Sosa
isn't getting in -- at least not this year.

When
the Hall of Fame announced on Wednesday
there would be no inductees for the first time since 1996 it said as much about the steroid era as it did about anything else. Sosa's link to this era -- and his abnormally increased power numbers during it -- undoubtedly kept him out.
He received just 12.5 percent of the vote while fellow first-timers such as
Barry Bonds
(37.6) and
Roger Clemens
(36.2) earned considerably more (75 percent of the vote is needed for induction). Sosa's home run rival during that era,
Mark McGwire
, earned 16.9 percent in his seventh year on the ballot. That might be the best indication Sosa has a longshot of making the Hall of Fame.
July, 22, 2012
7/22/12
4:35
PM CT
COOPERSTOWN, N.Y. -- Ron Santo's wife, Vicki, made an eloquent speech in accepting the iconic
Chicago Cubs
third baseman's plaque as he was inducted into the Baseball Hall of Fame on Sunday afternoon.
Santo, who passed away one year before being elected, was honored during a two-hour ceremony that included the induction of
Cincinnati Reds
shortstop
Barry Larkin
.
[+] Enlarge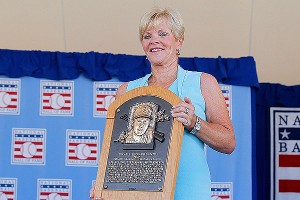 Jim McIsaac/Getty ImagesVicki Santo shows the Hall of Fame plaque of her late husband, Cubs great Ron Santo.
Vicki never mentioned the heartbreaking experience of the numerous Hall rejections that Santo had to deal with while he was still alive.
"It doesn't matter at all," she said. "He would have been thrilled to be here and it doesn't matter how long it took to get here because this was a dream of his."
She also alluded that the timing of the election was meant to be.
"I think things happen for a reason and his speech would have been about his career, the way it should have been," she said. "I couldn't talk about that but I think there was a message in his journey and that's what I tried to get across to the fans who he loved more than anything. I feel this was for them, the closure that they were all right behind him wishing he could get in and it happened."
Santo spent a good portion of her speech talking about her husband's fight with diabetes and the $65 million he had raised for JDRF, a special charity that he had spent years in working with trying to find a cure. Santo played his entire major league career as an insulin-dependent diabetic.
"The whole last decade of Ron's life was very emotional," Vicki said. "I loved him, he was my husband and I wanted the best [care] for him. Baseball was his love and it also kept him alive the last 10 years of his life. It is emotional that he was not here but from the situation of his life he was ready [to pass]."
It was estimated that 3,000 Cubs fans made their way to the induction ceremony, which included a five-minute film tribute to Santo covering his career as a player and broadcaster. Long-time friend and Hall of Fame catcher Johnny Bench put on a Cubs jersey and did a Harry Caray impression while paying tribute to Santo in between acceptance speeches.
July, 22, 2012
7/22/12
3:24
PM CT
By ESPN.com news services
ESPNChicago.com
Archive
July, 22, 2012
7/22/12
12:40
PM CT
COOPERSTOWN, N.Y. -- The iconic
Chicago Cubs
Hall Of Fame players who made their way to upstate New York for Ron Santo's induction seem relieved that the nine-time All-Star has finally received credit for his extraordinary career.
"Ronnie was deserving of this a long time ago," his former teammate Fergie Jenkins said. "The writers missed the essence of his great play because of little national attention."
Jenkins of course refers to the era in which he and Santo played when people only saw teams from other cities on the game of the week. Santo's Cubs never made the playoffs and that in itself limited exposure to his great ability.
"You know I would have liked to see him enjoy it because he would have been the happiest man on earth during that time he would have been up there," Ryne Sandberg said. "To have witnessed that… I know we are all missing out on something special, but to have his family do it is the next best thing."
Billy Williams was the most aggressive champion of Santo's Hall of Fame credentials over the past 15 years.
"This is great because we were not only teammates we were great friends," Williams said. "We came through minor league baseball together and he hit third and I hit fourth. We had Rogers Hornsby [HOF second baseman] as our hitting coach and he told us we would both be outstanding major league hitters. It is great to have him with me, Fergie and Ernie [Banks] as teammates in this great place, all together again."
Santo said when his number was retired by the Cubs five years ago that was his Hall of Fame.
"He didn't mean that," Williams said. "I know he wanted to be here with his teammates. In his heart he did not mean it, so now he can take his rightful place with the rest of us."
December, 6, 2011
12/06/11
4:37
PM CT

By Gene Wojciechowski
ESPNChicago.com
Archive
Thirty-two heartbreaking and unnecessary years. That's how long it took for Ron Santo to be elected -- finally -- to the National Baseball Hall of Fame.
Santo had toupees older than that. He might not have been a first-ballot candidate, but he sure as hell shouldn't have been a 20th-ballot one.
Read the entire post.
December, 5, 2011
12/05/11
3:20
PM CT
By Nick Pietruszkiewicz
ESPNChicago.com
Archive
Ron Santo wanted this day for so long, and now that it's finally here, he isn't. The Hall of Fame call, the one he waited for and agonized over pretty much his entire adult life, came on Monday, but he's no longer with us to answer the phone and hear this: "Ronnie, welcome to the Hall of Fame." And that's not right.
He was asked once, on one of the many days a new group of inductees was announced and he wasn't among them, if he'd be OK getting a spot in Cooperstown, even if it came after he died. And, in that style that endeared him to generations of Cubs fans, he said "I don't want to go in post-humorously." Of course, he meant posthumously, but then an E-5 on words was part of what made Ron Santo.
Read the entire story.
December, 5, 2011
12/05/11
2:35
PM CT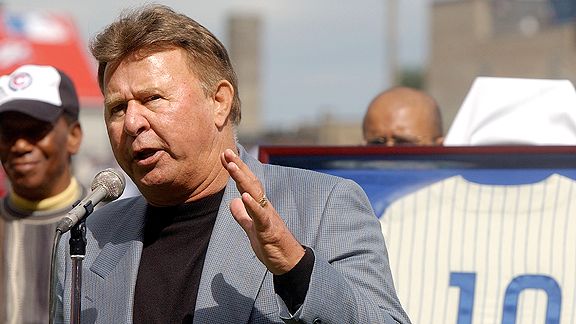 Jonathan Daniel/Getty ImagesPeople who met Ron Santo for the first time felt like they were longtime friends.
The Hall of Fame is a better place today with Ron Santo in it.
For reporters like myself who became friends with Santo over the years before he died last December, Monday was certainly a great day as the legendary
Chicago Cubs
third baseman was voted into the Hall of Fame.
I always laughed at the arguments against Santo being in the Hall of Fame, and about his credentials.
Growing up in the years Santo was a star, no one ever questioned that he was among the elite players in the game. And that was during baseball's golden era of the 1960s.
Santo was a great defensive player and power hitter long before the steroids era. The captain of those outstanding Cubs teams in the late '60s and early '70s, he played hard on the field and lived life to its fullest off the field.
The hard work he did for Juvenile Diabetes Research Fund and his fundraising showed the real person Santo was, and how deep his commitment was to finding a cure for the disease he battled for most of his life.
Santo's life was all about people and his love and respect for them. I can't tell you how many times people stopped him in my presence and walked away feeling like they had known him for years.
Ron had a special gift, and that was his big heart.
On the other side, he had no filter, which meant if he disagreed with you he'd argue it until he either changed your mind or you walked away.
One time we were discussing the greatest pitcher he had ever faced, Santo said hands down it was Sandy Koufax. I argued that as great as Koufax was, Warren Spahn did it for 25 years and won 363 games. Koufax pitched 10 and won 165.
"You never played, what would you know about it?" Santo said to me. "But let me tell you, nobody could hit Koufax. Not Mays, Aaron or Ernie, when Koufax was on, and he was on most of the time. By far he was the best."
I said, "Ok, then how did you do against Spahn."
"Not too (blanking) good," he said, as we started laughing.
That was the beauty of Ron Santo, funny, honest, always in your face.
I asked him once why he never complained about his health issues. He said, "I live in the here and now, and there are a lot of people who have things a lot worse than I do. Why should I complain?"
Santo's life changed forever in the early 1960s when his mother and stepfather were killed in an automobile accident on their way from Seattle to Mesa, Ariz. to watch Santo in spring training.
"You never get over something like that," he told me in 2010. "Maybe that's why I'm always happy to meet people and to have a nice experience with them. You just can't take this life for granted, or the people in it."
Santo used to listen to me on the radio at times, and when he thought I was full of nonsense, he'd grab me aside and say, "Hey, you really do it know it all don't you? In fact, you may know more than anybody about baseball."
I always got the message when he'd say something like that to me. I became a little more humble every time I was around him.
Wherever you're at Ronnie, this Bud's for you. And tell some of those Hall of Famers up there with you who didn't vorte for you to get in, where to go.
December, 5, 2011
12/05/11
10:30
AM CT
It took 32 years, but former Chicago Cubs third baseman Ron Santo was elected to the Baseball Hall of Fame on Monday with at least 75 percent of the vote from the Golden Era committee.
Read the entire story.