November, 12, 2014
Nov 12
8:42
PM CT

By Jesse Rogers
ESPNChicago.com
Archive
PHOENIX – It was a simple question, but baseball mega-agent Scott Boras doesn't do simple.
Boras usually makes one public appearance for the media at events like this week's general managers meetings and will entertain questions about his star clients and the game of baseball itself. And then he provides entertaining answers that are so blatantly pro-player and anti-system that you almost know what's coming before it happens.
Boras is the agent for high-profile
Chicago Cubs
clients like
Kris Bryant
and
Jake Arrieta
, so his opinion matters, considering he gives it to his clients as well as the rest of the baseball world.
[+] Enlarge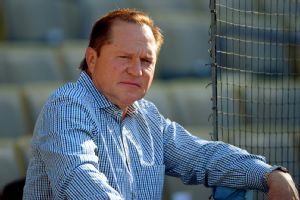 Kirby Lee/USA TODAY Sports"If any fan base in Chicago deserves 'now' and not 'tomorrow,' it's the Chicago Cubs," said agent Scott Boras, whose Cubs clients include Kris Bryant and Jake Arrieta
He's saved some of his best rhetoric in recent years for the Chicago Cubs -- specifically ownership. Boras has a healthy respect for the Cubs' front office, but his needling during the Tom Ricketts ownership era has produced a laugh or two among the throng of media present for his diatribes.
Back to the question at hand. It lasted a matter of seconds. The answer went on for over seven minutes.
Boras was asked the following on Wednesday afternoon in the lobby of the Biltmore Hotel after meeting with teams:
"Did you get a gauge of how willing the Cubs are to spend some of this cash they have sticking out of their pockets?"
"When you sit back and look at things that are going on, there are some things that are rather interesting," Boras began. "In the new ownership grouping there really have only been seven out of 30 that have won a world championship. What we're finding is the course of conduct to win one is now almost something we have to re-examine. So few are doing it. Then those that are doing it seem to be doing it in threes, whether it be the Yankees or Red Sox or Giants.
"We have 14 new ownership groups since 2003. Fourteen. None of them have won a World Series. Zero. In looking at that, it's either that it takes a long time to do this or it's due to our infrastructure change. In looking at what's gone on with qualifying offers and the draft there is this dynamic that goes on that says 'you can't use free agency and the draft in unison to win.' You have to pick one or the other and therefore it's the shadow approach, 'if I'm not using free agency then I have to use the draft system and basically I'm noncompetitive for a period of time.'
"

You almost have to lose seven or eight years in a row to develop enough draft-pick currency.

"

- Agent Scott Boras, on incentives for teams to tank.
"And there are grand incentives to tank a season. To go and move my club into a losing mode in August and September so that I can win the higher dollar awards in draft currency. It's very clear that 'draft dollars' are readily more valuable than dollars themselves. And so to lose No. 1 draft picks and lose dollars by signing free agents, that means we can't do that and build our franchise for the future. So we can't be competitive currently, so we have the ready-made excuse to say 'we don't want to lose draft picks so therefore we're out of competition currently.' That's a problem. That's a real problem. I think we have to address that to make the system more competitive so we have owners coming into the game that can do both, who can readily invest their resources in free agency and also have the ability to utilize the draft and scouting and developing so they're not parallel universes. I think the major reason when a lot of new owners come in, the demand to win, is far less than it is for someone that's been at it a long time. You almost have to lose seven or eight years in a row to develop enough draft-pick currency."
That's this year's not-so-veiled shot at the Cubs' rebuilding strategy, and frankly it's one that many fans have made as well. The Cubs will argue their way will produce more sustained success, and with playoff upsets an annual ritual, they believe yearly entries into the postseason are the answer to breaking through to a championship -- or several. Maybe that's why only a few ownership groups have won. They've created sustained success. In any case, Boras was quick to point out how much the Cubs have increased in value since Ricketts purchased the team in 2009.
"That's a reason to invest in your resource because you're sitting on something that's made you 200 times, 300 times your investment," Boras said. "That in itself is reason for ownership to look at this asset. They're taking positive steps. If any fan base in Chicago deserves 'now' and not 'tomorrow,' it's the Chicago Cubs."
He has hope that the cheaper days of the Cubs are behind them. It starts with the hiring of the new manager.
"I told [Joe Maddon] he's the only guy I know that goes on a vacation in his RV and comes back and makes $20 million," Boras said.