August, 15, 2011
8/15/11
4:33
PM CT
By ESPNChicago.com
ESPNChicago.com

Chicago Cubs pitcher Carlos Zambrano has received text messages of support from people such as Sammy Sosa and Ozzie Guillen, according to a Comcast SportsNet Chicago reporter.
Zambrano made headlines Friday when he cleaned out his locker in Atlanta's Turner Field after being ejected. He told people he was retiring, although his agent Barry Praver told Cubs general manager Jim Hendry a couple of hours later that Zambrano wasn't retiring.
Read the entire story.
July, 26, 2010
7/26/10
2:32
PM CT
By ESPNChicago.com
ESPNChicago.com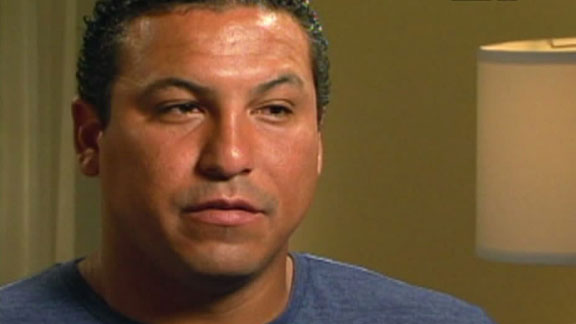 Cubs
pitcher
Carlos Zambrano
apologized on Monday for his dugout tirade last month, professed his love for Chicago and thanked the team for helping him receive therapy for anger management issues.
Read the entire story
.
July, 18, 2010
7/18/10
4:31
PM CT
July, 13, 2010
7/13/10
1:51
PM CT
[+] Enlarge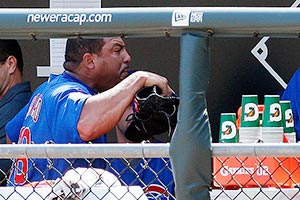 Jerry Lai/US PresswireCarlos Zambrano figures prominently in the Cubs' memorable moments from the first half.
The Cubs' record may be forgettable at 39-50, but the first half was not without notable moments for the North Siders. Here are 10 to remember:



April 22: Due to an excessive amount of starting pitching, and a floundering bullpen, Lou Piniella designates Carlos Zambrano from the rotation into the primary set-up role. A month later, Zambrano returns to the rotation, but he's scheduled to go back to the pen when he returns from the restricted list.


May 7: Top prospect Starlin Castro makes his major-league debut in Cincinnati. The 20-year-old shortstop hits a home run and triple in his first two at-bats, driving in a record six runs.


June 13: Left-hander Ted Lilly and White Sox righty Gavin Floyd match each other with no-hit baseball through six innings. Lilly takes his no-hit bid into the ninth before yielding a lead-off single to Juan Pierre.


June 18: Piniella responds to criticism from Steve Stone, who said Piniella should be playing Tyler Colvin regularly. Piniella soon inserts Colvin as an everyday outfielder. Despite 76 fewer at-bats than Atlanta's Jason Heyward, who was touted as the preseason rookie of the year favorite, Colvin has one more home run than Heyward's 11 at the break.


June 25: Carlos Zambrano explodes in the visitors dugout in U.S. Cellular Field. After surrendering four first-inning runs to the White Sox, Zambrano berated his teammates and challenged Derrek Lee in front of a national TV audience. Manager Lou Piniella sends him home, and he's suspended indefinitely. He's later moved from the suspended list to the restricted list in a negotiated deal with the Cubs, Major League Baseball, the players union and Zambrano's agent. Zambrano agrees to see anger management counselors as part of the deal.


June 29: Left-handed set-up man John Grabow, who was signed to a two-year, $7 million before the 2010 season, goes on the DL for the second time after reinjuring his left knee.


July 4: Outfielder Marlon Byrd is named the team's lone All-Star. Byrd was the most consistent performer for the 2010 Cubs in the first half.



July 6: After slumping all season, and suffering through a thumb injury, Cubs third baseman Aramis Ramirez has his first two-home run game in almost two years, against the Diamondbacks.


July 10: Lou Piniella receives his first ejection of the season after he perceived close calls continuously being given to the Los Angeles Dodgers during a four-game series. Umpire Brian Runge throws out Piniella for arguing a play at first.


July 11: New owner Tom Ricketts is asked if he'll assess Jim Hendry's job after the season. He didn't say yes or no, but he did say: "The fact is, right now, Jim is our general manager. I support him, and I think he does a great job. After that, we'll take it one day at a time."
July, 1, 2010
7/01/10
3:33
PM CT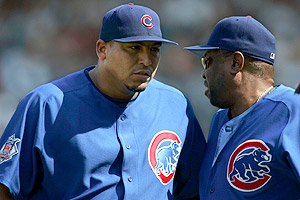 Mark Cowan/Icon SMIDusty Baker said there were times he had to pull Carlos Zambrano into his office, but he understands what it's like to have a temper.
Cincinnati Reds manager Dusty Baker is no stranger to Carlos Zambrano's temper tantrums.


Baker, who managed the Cubs from 2003-06, had to leave the bench during a spring training game in 2006 to chase down Zambrano after the volatile pitcher had stared down teammate Matt Murton twice in the same game. Murton was unable to make two defensive plays behind Zambrano.


"We had quite a few conversations about things," Baker said. "That's contrary to the thought that, 'Dusty is just an easygoing guy.'"


Baker chased Zambrano into the Cubs' clubhouse at Ho Ho Kam Park in Mesa, Ariz. on that March day, and he read the pitcher the riot act about how he needs to be a better teammate, and showing up teammates would not be accepted.


"I never had any problem pulling someone into the office," Baker said. "It's just that you don't let people know you had someone in there. Here [in Chicago], everyone wants to know everyone's business. I'm not one to spread everyone's business around.


"That's my military training. That's how they train you in the Marines. You have a beef with somebody, you keep it where it belongs, you don't have to take it outside."


Baker was asked for his reaction to Zambrano's latest incident. Zambrano was suspended after a dugout tirade directed at teammate Derrek Lee on Friday at U.S. Cellular Field. Manager Lou Piniella sent Zambrano home, and general manager Jim Hendry suspended him. After consultations with Major League Baseball, the players union and Zambrano's representative, the Cubs announced he would be undergoing evaluations by doctors mutually agreed upon.


"It saddened me," Baker said. "He's a good guy, I know where he's coming from, because I fought most of my adolescent life. I'll tell you about temper. My own dad cut me from my Little League team three times. He said, 'If you can channel that energy into a positive direction, you can be something. Until then, you're going to get cut again.' "


There are 45 million reasons, the money remaining on Zambrano's contract, why the Cubs won't be able to hand out discipline like Baker's father did.


I like Big Z," Baker said. "I hate that the whole thing happened and got to this point."