Chicago Cubs:

Jesse Rogers
May, 20, 2014
May 20
10:50
AM CT
CHICAGO -- The
Chicago Cubs
host the
New York Yankees
for two games beginning on Tuesday night.
Pitching matchups
•
Tuesday:
Jason Hammel
(4-2, 3.06) vs.
Masahiro Tanaka
(6-0, 2.17), 7:05 p.m. CT
•
Wednesday:
Jeff Samardzija
(0-4, 1.62) vs.
Chase Whitley
(0-0, 0.00), 1:20 p.m. CT
They meet again:
The Cubs will be the first team to face Tanaka for a second time this season as they'll try again to beat the pitcher they tried to sign in the offseason. Tanaka was dominant in their first meeting last month, going eight innings while giving up just two hits and a walk. Will seeing his splitter a second time be an advantage for the Cubs? Not likely considering Tanaka went through the lineup several times back in April and the Cubs couldn't figure it out. He struck out 10 in the 3-0 win.
Shark watch:
While Tanaka can't lose, Samardzija can't win. His miniscule ERA without earning a victory has been well documented as has the two runs of support per game he's getting. One theory says the Cubs have faced the opponent's top pitchers when Samardzija takes the mound, but that won't be the case on Wednesday. Whitely was a 15th-round pick in 2010 and will be making just his second career start. He threw 4 2/3 innings of shutout ball in his debut against the
New York Mets
last week.
Soriano returns:
The $136 million man returns for the first time since being traded to the Yankees last summer. Soriano spent six and a half years with the Cubs, earning a better reputation as the years went on. He struggled in the postseason in 2007 and 2008 but became a mentor to younger players and improved greatly on defense in his final two seasons in Chicago.
May, 9, 2014
May 9
12:55
PM CT
The
Chicago Cubs
and
Atlanta Braves
begin a three-game series on Friday night in Atlanta:
The series
•
Friday, 6:35 p.m.:
Jason Hammel
(4-1, 2.43) vs.
Julio Teheran
(2-2, 1.80)
•
Saturday, 6:10 p.m.:
Jeff Samardzija
(0-3, 1.62) vs
Ervin Santana
(3-0, 2.41)
•
Sunday, 12:35 p.m.:
Edwin Jackson
(2-2, 4.57) vs
Alex Wood
(2-5, 3.00)


Samardzija on Saturday:
All eyes will be on the right-hander as he starts for the first time since throwing a career-high 126 pitches on Monday. The Braves were interested in Samardzija last offseason and presumably they will be again as the trade deadline approaches. Seeing how he responds to that heavy workload will be a nice scouting moment for teams.
Who's Hot/Who's Not:
He may not be hot in the traditional sense, but
Mike Olt
has two home runs and three hits over the past two games. That's about as hot as he's been all season. His batting average is .184, but he says a new approach has him going in the right direction. Reliever
Justin Grimm
is struggling. He couldn't finish the game on Thursday against the White Sox despite an eight-run, ninth-inning lead. He was pulled after giving up a run and loading the bases. He suffered the loss on Monday against the Sox giving up two 12th-inning runs.
April, 22, 2014
Apr 22
12:00
AM CT
CHICAGO -- Forget about
Jeff Samardzija
for a moment. If the
Chicago Cubs
don't lock up starter
Travis Wood
to a long-term deal sometime soon, their rebuilding plans will really take a hit.
At 27, Wood is younger by two years and certainly won't be looking for the same kind of a mega-deal Samardzija wants. Plus, he's proving to be every bit the pitcher that his teammate is -- and right now he might be one of the Cubs' better hitters. Wood homered and doubled, driving in four runs in Chicago's 5-1 victory over the
Arizona Diamondbacks
on Monday night.
Oh, and he threw seven innings of one-run ball while striking out a career-high nine. His ERA is 2.52 in the opening month.
"He's another guy that's Steady Eddy," manager Rick Renteria said afterward. "He goes out there and does his thing. He gets better every year."
That he does. Wood was an All-Star last season, and he's picking up right where he left off. Monday he did it with his fastball, striking out seven of his nine victims with that pitch.
"You don't have to get funny," Renteria said. "It was well located."
But just as a season ago, Wood impressed as much with his bat and athleticism as with his arm. Since last May, he has a solo home run, a two-run shot, a three-run homer and a grand slam, according to ESPN Stats & Information. After Monday's first two hits, he came up with the bases loaded in the sixth inning, prompting Diamondbacks manager Kirk Gibson to make a pitching change. How often does that happen with the opposing hurler at the plate?
"I guess it feels good that they kind of respect you up there and you're doing your job," Wood said. "I'm just not in the 9-hole to fill a spot. You have to try and be as best you can at it."
He grounded into a double play after admittedly swinging for the fences. Wood is more than adequate at the plate, as his seven career home runs attest. Add it all up and he's become a keeper in the Cubs' rotation. They need as much pitching as they can get, especially if Samardzija is on the move. Renteria was asked if he would like to be able to pencil Wood into the rotation for the next five years.
"I think everyone would," he responded.
Wood is one year behind Samardzija in terms of arbitration -- he has two more years after this one before he becomes a free agent --- so there's no real hurry, but the Cubs have shown a propensity to lock players up, as long as the players give a hometown discount to the team.
Unlike Samardzija, Wood might be willing to do that, considering he hasn't made nearly as much in his career to date.
After winning his first game of the season almost single-handedly, it might be a good idea to start discussing options with the left-hander. And maybe think of batting him higher in the lineup until reinforcements come.
"He's really coming into his own," Renteria said.
Wood has become a keeper. That much we know.

August, 22, 2013
8/22/13
7:31
PM CT
CHICAGO -- Here's a quick look at the
Chicago Cubs
' 5-4 loss to the
Washington Nationals
on Thursday:


How it happened:
Denard Span
doubled to open the 13th inning and later scored what proved to be the winning run on a groundout. Earlier,
Donnie Murphy
's two-out, two-run home run ruined a gem by
Stephen Strasburg
, who took a 4-1 lead into the ninth inning.
Nate Schierholtz
scored on an infield single by
Junior Lake
to cut the score to 4-2. Murphy's eighth home run tied the game and knocked out Strasburg, who struck out eight in 8 2/3. The Nationals got to
Travis Wood
to the tune of three runs over the first two innings before he settled down, but the runs turned out to be more than enough.
Ryan Zimmerman
homered in the first and Strasburg and shortstop
Anthony Rendon
drove in runs in the second. The Nats added a run in the seventh on a Steve Lombardozzi home run before Wood's day was done.
What it means:
Wood hasn't been the same pitcher who earned an All-Star bid in the first half. Still, he's learning to battle without his best stuff and that counts for something as he kept his team in the game after a rough start. But the Cubs don't score for him.
Outside the box:
The start of the game was delayed two hours because of rain. Injured players
Luis Valbuena
and
Ryan Sweeney
are headed to Mesa, Ariz., to start rehab assignments while
Scott Baker
gets a start at Class A Kane County on Friday.
What's next:
The Cubs head out on a six-game trip starting with a series in San Diego on Friday.
Edwin Jackson
is scheduled to face
Edinson Volquez
in the series opener at 9:10 p.m. CT.
March, 23, 2013
3/23/13
7:09
PM CT
MESA, Ariz. -- Cut-down day in spring training brings elation for some and frustration for others. The immediate fate of two
Chicago Cubs
players -- pitcher
Casey Coleman
and outfielder
Dave Sappelt
-- was decided on Friday as Coleman was sent to the minors while Sappelt survived.
For Coleman, "frustrated" is definitely the right way to describe his frame of mind after getting the news.
"It's a tough one to swallow," Coleman, the Cubs' 15th-round pick in 2008, said Saturday morning. "They have a plan, they have guys here with no options that have pitched well in the big leagues. You came in here throwing no runs, no walks and felt like you did everything you could, perfect. Knowing there are some other teams out there you could have made."
Though he sounds upset, Coleman isn't holding any grudges. By now he knows what this business is all about. He has been up and down from the minors 11 times in three years. And after throwing 6.1 innings this spring, without giving up a run or even a walk, Coleman thought he'd at least last until the final round of cuts.
"I'm not going to lie, it's frustrating when you do put up those numbers and nothing happens," he said. "You feel like you just didn't get the opportunity from the get-go."
He probably didn't get that opportunity as much for business reasons as anything else. Teammate
Michael Bowden
is out of options -- meaning he can't be sent to the minors without clearing waivers. And Rule-5 pick,
Hector Rondon
, can't just be sent down either. Those are part of the rules of baseball, but it doesn't make Coleman feel any better. He wants to be one of those guys "you can't just send" down someday.
"You never know there are scouts at every game, maybe there is a trade, you never know what can happen," Coleman said. "My confidence is high still, when you're pitching that well. That's when you want to be in the big leagues."
February, 26, 2013
2/26/13
5:17
PM CT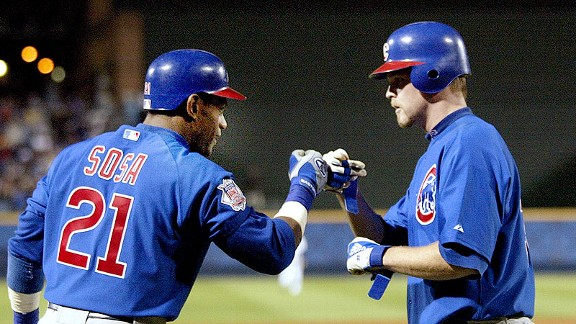 Craig Jones/Getty ImagesKerry Wood said Sammy Sosa was more relaxed playing in a winning atmosphere in 2003.
MESA, Ariz. -- Former
Chicago Cubs
pitcher
Kerry Wood
thinks
Sammy Sosa
should be in the Hall of Fame and the Cubs should consider retiring his number.
"I don't see how you can't consider it," Wood said about retiring No. 21. "No matter what we think was going on or wasn't going on, we don't do it (penalize) in a court of law until you're proven guilty.
October, 28, 2011
10/28/11
8:59
PM CT
CHICAGO -- One took over a storied Chicago franchise at age 36, the other at 37. One helped end nearly a half-century of futility while the other is starting work on a team that hasn't won in more than 100 years.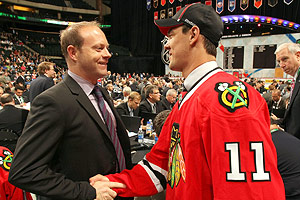 Dave Sandford/NHLI/Getty ImagesStan Bowman, pictured here with 2011 draft pick Adam Clendeningv, has transformed the Hawks into one of the NHL's top organizations.
Those are just some of the similarities between Chicago Blackhawks general manager Stan Bowman and Theo Epstein, the new President of the Chicago Cubs.
Bowman has been where Epstein and his lieutenants are now.
"Fortunately for him he's come from a big market," Bowman said recently to ESPNChicago.com "He had a lot of scrutiny there. The one thing is the people from Chicago, the media and the fans are passionate. It's something that's exciting to be part of, a sports team in Chicago."
Bowman knows the form that passion can take. He was part of the organization when the Hawks were losing a lot of games, drawing few fans and off basically an afterthought in the sports landscape of Chicago. But he was also part of the turnaround, which resulted in a Stanley Cup championship in 2010, the first for the franchise in 49 years, and over 150 consecutive sell-outs.
"When I looked at it from the Blackhawks perspective you can't change what's happened," Bowman said of the years of futility. "If you let that get into your mindset at all, all it does is distract you. You have to look forward. We talked internally a lot about that. You have to learn from the things that have happened even within a season and move on.
"You can't be focusing on 'gee, its been so many years since we won.' So much has happened you were never a part of, of that whole history. It becomes a distraction if you focus on it."
Epstein might heed those words. He's bound to hear about curses, the years of losing and 'Cubbie Occurrences.' Bowman says to tune it all out and focus on the future. The head-start Epstein has is he's done it already in Boston.
"You have a long term plan but you want to see improvement in the short term," Bowman said. "There is no shortcut to success and you want to have sustained success. Even though there may be certain things which could give you immediate results but wouldn't be conducive to sustained success, you have to be able to balance that."
It might be Epstein's hardest task. There could be an urge -- if it's even possible -- to "buy" a championship and get the century old monkey off the Cubs' back, but there is no guarantee of it working and then the Cubs are right back where they are now.
Bowman says the key is the people around you.
"That's the most important thing I've tried to do," he said. "I learned that from [former Cubs' and current Hawk' President] John McDonough and my dad kind of said the same thing years ago.
"Knowing what you don't know is probably the most important thing. Identify what your strengths are and fill-in around that, with people that are really good in their given areas."
Epstein seems to have done that already, hiring general manager Jed Hoyer and Jason McLeod to head his scouting department.
As for being a young executive, Bowman says results matter, not age.
"I don't know if you can focus on it that way," Bowman stated. "Ultimately your success is going to win people over. I don't get caught up trying to please people. Winning is the easiest way to win people over. If you cater to them it's almost like a mirage. You may get their favor for period of time but at the end of the day you have to get results. So may as well focus on what matters. Team success."
Bowman learned that being in charge doesn't mean having to do everything, hence hiring good people around you.
"Typically people that succeed realize they don't have to do everything myself," Bowman said. "Its still a skill to manage those people. You have to orchestrate it but you need those people. I'm sure Theo knows that."
Media-wise Bowman thought Epstein might have it easier than some other markets, maybe even Boston.
"The media here is very fair," he said. "There are markets in the U.S. that are unfair. I don't see it here [Chicago]. The media here can give you a hard time but at the end of the day they understand the passion of the fan base they are catering too. There is going to moments for sure you scratch your head sometimes but in general it's a good place to work."
And as for the passion of the fans, it can cut both ways.
"When you're struggling you can see the pain," Bowman said. "When you have success you can see the people care."
Bowman admires Epstein for what he's accomplished. In fact, the Hawks have tried to employ some of the 'Moneyball' tactics -- as they relates to hockey -- Epstein helped perfect.
"I haven't had a chance to meet Theo yet but I'm looking forward to that actually," Bowman said. "He seems like a really bright guy and I think I could probably learn some things from him."