May, 13, 2013
May 13
3:44
PM CT
By
Staff
| ESPNChicago.com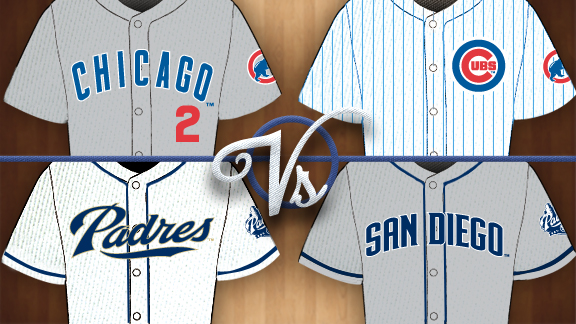 ESPN Illustration
Jerry Seinfeld famously said that because of the way players constantly change teams and teams occasionally change cities, sports fans are actually rooting for clothes.
"You are standing and cheering and yelling for your clothes to beat the clothes from another city," he said. "Fans will be so in love with a player, but if he goes to another team, they boo him. This is the same human being in a different shirt, but they hate him now. 'Booo!!! It's a different shirt! Booo!!!!'"
Well, he's right about that. We do root for clothes. And against clothes. As well we should. If Yankees pinstripes or red socks or Dodger blue or, worst of all, those powder blue alternate Royals tops don't get your blood boiling, then you're not a true fan.
Which is why we're holding our Battle of the Uniforms. As Seinfeld said, what is most important is not the player but what the player is wearing. And no, we're not just talking about Kevin Youkilis, but that's a good example.
It's the uniform that is most important. After all, your team may stink. It may not have had a winning record in 20 years. It may not have reached the postseason in your lifetime. It may not have reached the World Series in your grandparents' lifetimes. But chances are your closet is still overflowing with your team's replica jerseys that you proudly wear to the ballpark, the office or the nightclub.
We can look at the standings and know which teams are on top, but which teams have the best uniforms? Which designs have stood the test of time, and which are as dated as the grunge look? Do you prefer the classic look of Detroit's old English "D" on the chest and the Yankees pinstripes? Or do you appreciate the South Beach neon look of the Marlins' jerseys? Should the bill of a cap be as profoundly curved as Christina Hendricks or as flat as the Marlins' offense? Should socks be visible to midcalf, to the knee, or tucked under baggy pants legs?
All this is for you to decide. We've seeded all 30 teams based on their standard home and road uniforms and placed them in a bracket. Throughout the week, you'll have new matchups to vote on each day until only one uniform is left standing. We'll announce the winner next Monday.
Until then, we'll also provide stories and lists about such things as what caused the god-awful '70s look, the rules for when and how to wear replica jerseys, and the good, the bad and the ugly of uniforms throughout the decades.
So check out the bracket. Read our style analysis. Vote for your favorite uniforms. Vote against the ones you hate. And keep checking back each day to see which teams advance and who ultimately tops your best-dressed list.
One request: We know people can get pretty passionate about uniforms, but please keep things civil. If the fashion police can't maintain order, we may have to call in the security in those Padres camouflage jerseys.
--Jim Caple
Note: Detroit Tigers and St. Louis Cardinals have first-round byes; first-round polls close at
9 a.m. Tuesday, and the next round begins shortly thereafter.
Check out the complete bracket and vote!
Mobile users: To vote,
click here
.
May, 10, 2013
May 10
11:46
AM CT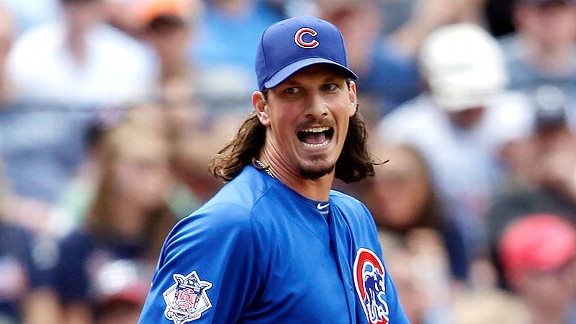 AP Photo/John Bazemoretbd
CHICAGO -- Baseball players aren't as tough as football players.
When it rains, baseball players dash for cover in the dugout (unless the commissioner is in attendance and it's the World Series). If it snows, they might not even venture onto the field in the first place, instead staying in the clubhouse watching TV and sitting on leather couches. They sit out games after they injure themselves by
sleeping in the wrong position
or
getting a "painful" tattoo
or just plain
sneezing too hard
.
Football players, meanwhile, play without complaint in frigid, single-digit whiteouts that blanket the field. They suffer through vicious, blindside hits that crunch and bend bones and twist and tear ligaments. They play with broken ribs and punctured lungs. Playing through intense pain is simply part of the sport -- Ronnie Lott once had doctors
amputate the tip of his finger
so he could continue playing.
Which is why a mere bloody finger didn't stop
Jeff Samardzija
two weeks ago. He's a baseball player, yes -- a pitcher for the Cubs. But he's also a former wide receiver at Notre Dame. Facing the Reds in Cincinnati, the 28-year-old Cubs starter fielded a comebacker off the tip of his right index finger, which ripped a cut under the fingernail. He had to wipe the blood off on his uniform so frequently the rest of the game that he went through two pairs of pants and two shirts.
"It wouldn't close up because it was under the nail," Samardzija says. "They couldn't suture it. They couldn't close it. All we could do is mask the bleeding. It probably stopped later that night or the next day. It was pretty nasty. … Yeah, it hurt like a bitch."
Read the entire story here
.