All-nighter ends with Coleman on mound
May, 12, 2012
5/12/12
4:55
PM CT
MILWAUKEE -- The stares and frowns from fellow airline passengers, as well as airport security personnel, couldn't damper Casey Coleman's enthusiasm.
[+] Enlarge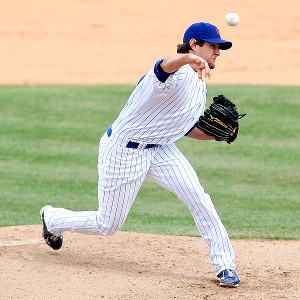 Jake Roth/US PresswireCasey Coleman's journey to Milwaukee Saturday was an eventful one.
Carrying your belongings in a garbage bag might not be the preferred way of travel, but Coleman wasn't about to worry about it. He was on his way back to the big leagues and would have carried his stuff piled up in his outstretched arms if he had to.
"Yeah, I got a few looks," Coleman said. "That's alright. It was worth it."
Coleman replaced an injured Carlos Marmol on the roster Saturday, arriving in the sixth inning after an interesting all-night cross-country adventure. One inning after showing up, on no sleep, he was in the game, managing to give up just two runs over his two innings of work.
Coleman was charting pitches in the stands for Triple-A Iowa at Fresno, Calif., on Friday night when he heard about the Cubs' 13-inning game in Milwaukee and Marmol's hamstring injury. Just 30 minutes after Iowa's game was complete, Coleman got the word that he was going up to the major leagues.
That's when the adventure began. There was no way to get on a red-eye flight from Fresno, so he bused with the team to Sacramento. He was able to get in a shower before jumping in a taxi and heading to the airport for a 5 a.m. flight.
He changed planes in Denver and landed in Milwaukee well after the Cubs and Brewers had started playing at Miller Park. All the while he carried his clothes, glove and cleats in a trash bag.
"I didn't have a carry-on bag with me," he said. "They said to pack your cleats and glove with you on the plane."
By carrying his stuff on the plane it eliminated the wait for his luggage after the flight, or the chance that it might get lost.
No quicker did he get to the ballpark and put on his uniform than he was warming up and then in the game.
"It is tough," Coleman said. "I think after the first inning the adrenaline was pumping. I was throwing pretty hard and making good pitches. Then we had a long inning and you have to regroup, settle down and just pitch. I was trying to go off the adrenaline too much and left a few pitches up and they were able to get some singles."
It wasn't the ideal way to welcome somebody back to the major leagues, but the Cubs didn't have much of a choice. Everybody in the bullpen pitched Friday night and Kerry Wood and Rafael Dolis were off limits after each throwing two innings.
As for what is expected of him now that he has arrived, Coleman said he had yet to hear from anybody. He was still in the midst of a whirlwind 13-hour stretch.
Manager Dale Sveum said when Coleman does enter games it will be for at least two innings, but offered nothing past that.
"I got here got in the game and got that one out of the way, the first one of the year," Coleman said. "Now be ready the next time they need me."