Three possible scenarios exist in the Milton Bradley saga. The first and most unlikely scenario would have Bradley returning to the Chicago Cubs and start spring training in Mesa, Ariz. in February.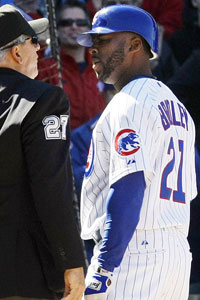 AP Photo/Charles Rex Arbogast
Milton Bradley's best fit might be with a small-market, American League team.
This situation would require Bradley admitting he was wrong in his actions and assessments of Chicago and its fan base. The defensive behavior the Cubs outfielder displayed in his first season with the team would have to be rectified through either contrition, therapy or both.
The second and most realistic scenario would be for the Cubs to trade Bradley to an American League, small-market club. Bradley would do well in anonymity, being a small fish in a small fishbowl. That type of situation would suit the enigmatic baseball player.
Before Jim Hendry signed Bradley to a three-year deal in January, agents Sam and Seth Levinson were taking offers from the Tampa Bay Rays and the Texas Rangers. Tampa is a small enough market where success wouldn't be hard to envision for Bradley.
However, Texas might be the best fit due to the fact Bradley already enjoys a comfort zone there, having played for the Rangers and leading the AL in OPS in 2008.
Rangers hitting coach Rudy Jarmillo might be the only guy out there who can help Bradley regain and master his hitting form with his left-handed swing.
The good news for the Cubs is Bradley stayed healthy for most of the season, accruing almost 500 at-bats. When other teams begin trade talks with the Cubs, the health issue, especially for AL clubs where Bradley can DH, will not be a major issue.
The third scenario is the team's new owner, Tom Ricketts, asks his baseball people to release Bradley and pay off the $20 million remaining on the deal for the 2008 All-Star. Ricketts won't want to deal with controversy in his first days as the team's owner, therefore he might give the general manager a window of time to trade the outfielder. Let's say that window would be around mid-December, after the Winter Meetings conclude in Indianapolis.
Bradley can be a positive contributor to a team in the future, but he already proved that a big-market club like Chicago or Los Angeles is just too much for his psyche.