[+] Enlarge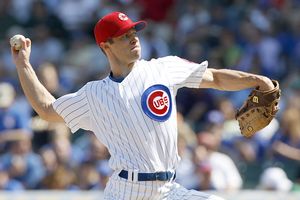 AP Photo/Jim Prisching
Lou Piniella said Rich Harden will miss a start, maybe two, but not the rest of the season.
Chicago Cubs right-hander Rich Harden was surprised to hear a Tribune report stating that he's being shut down for the season.
"No, I guess that was just one person who decided to run with that," Harden said. "They're not shutting me down and I am still feeling good and looking forward to getting back out there."
The plan is for Harden to miss Monday's start in Milwaukee and then get together with manager Lou Piniella and pitching coach Larry Rothschild to decide if he'll pitch Sept. 26 in San Francisco.
"He'll miss one turn for sure, and possibly two," Piniella said. "I plan on pitching him in San Francisco or when we get back home."
Harden is a free agent after this season and will most likely be allowed by the Cubs to test the market.