Cubs' Rizzo has simple formula for success
July, 5, 2012
7/05/12
7:03
PM CT
ATLANTA --
Anthony Rizzo
doesn't care to see a recent graphic that shows the pitch location of his first 10 hits since joining the Cubs.
[+] Enlarge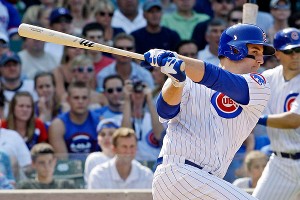 AP Photo/Nam Y. HuhAnthony Rizzo prefers to keep his approach at the plate as simple as possible.
He doesn't care to know that the pitchers were either in the middle portion of the plate or on the outside edge.
He doesn't want to see spray charts, anything that acknowledges tendencies or bullet point presentations on the best way to attack a pitcher.
To Rizzo, baseball is a simple game and he would like to keep it that way.
"I think looking into too much stuff like the charts and where you're hitting balls and how you're not doing this or that (is dangerous)," Rizzo said. "You have to make it as simple as possible in this game because if you start thinking about this and that and what this person said, you're going to try something else and it won't be who you are."
Rizzo knows that scouts are gathering the data on him and figures pitchers will start coming inside on him soon enough. But until that adjustment comes he's going to stick with what has worked so far.
"A lot of times I've hit with Starlin (Castro) on base or guys on base, and pitchers have to bear down," he said. "Sometimes they can try a little too hard. That's the part of the game where people think too much about. I just try to keep it as simple as possible."
He kept it simple enough Wednesday when he turned on a fastball and hit a low line drive into the right field seats for his third home run. Manager Dale Sveum was asked if the lower half of Rizzo's swing supplies the power to have a ball leave the ballpark in less than three seconds.
"I don't know if it's as much his hips as his hands," Sveum said. "His mechanics are pretty good anyway. It's his weight shift. Basically the new swing he has will play at this level. Hitting the fastball and finishing low with his swing and the lower hands and everything has played way more into the ability to hit a major-league fastball more consistently."
That new swing, where his hands are now lower, has helped, but so did his stint with the
San Diego Padres
last season.
"I think a lot has to do with another year of experience and being in my second big league camp this spring," Rizzo said. "Getting traded was much easier this time. Obviously the swing and the hands there are a lot of things different this year than last year and pitches this year that I did not even sniff last year, even down in the minors."
Being able to turn on the fastball has helped Rizzo make a smooth transition to major-league life.
"It's no secret last year that I couldn't hit an 88 mph fastball right down the middle," he said. "It was no secret that I was struggling with that especially in the big leagues."
It's no coincidence that the Cubs started playing better as soon as Rizzo arrived. His run production has been key in the middle of the lineup.
And even Sveum has admitted that he wonders what the team would have been like had Rizzo been around and doing what he is doing now from the start of the season.
"I'd be lying if I said I didn't," Sveum said. "It's obviously a more dynamic offensive team especially so far since he's been here eight games. Obviously we're getting to that plateau of scoring four or more runs in a game which gives you a heck of a lot better chance, especially with the stat we have."
That stat: When the Cubs score four or more runs, they are 23-15.
"Sure you think about it," Sveum said again about Rizzo being on the roster all season. "You think about if (Luis) Valbuena was here all year being able to produce like he has and play the defense he has. You think it but that's not how baseball usually works."