Barney matches NL errorless streak at 113
August, 28, 2012
8/28/12
10:41
PM CT
CHICAGO – If Darwin Barney can do for his offensive game what he has done for his ability to play defense, the Chicago Cubs are looking at a potential first-rate second baseman.
[+] Enlarge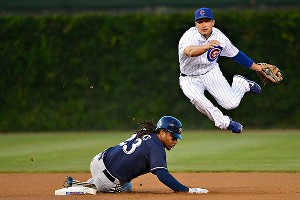 Brian Kersey/Getty ImagesGold Glove candidate Darwin Barney is making impressive strides after only two years playing second base.
Barney played his 113th consecutive errorless game at second base Wednesday, tying a National League record and giving him an accomplishment he never would have imagined.
"It was one of those things where when I was younger I always thouht that defense was my weakness so I put a lot of effort into working on it and getting it as solid as I could," Barney said.
The feat ties Barney with David Eckstein, who had 113 consecutive errorless games in 2010 with the San Diego Padres. Barney set the Cubs' mark for consecutive errorless games from a second baseman in one season when he passed Ryne Sandberg's mark of 90 games. Sandberg has the Cubs' overall record of 123 games set between the 1989 and 1990 seasons.
If he plays every day without an error, Barney would be in position to match Sandberg's mark on Sept. 7 at Pittsburgh. There would still be enough time before the end of the season for Barney to catch the all-time record for errorless games from a second baseman, set by the Tigers' Placido Polanco at 141.
Adding to the impressive nature of the accomplishment is the fact that Barney has only been a full-time second baseman for two seasons. His tireless work, not only in the offseason, but during spring training and then continuing on into the regular season has helped to make his second-base defense more second nature.
"I don't think it about it as much as last year," he said. "Last year, making that transition there were a lot of plays that I felt were not as comfortable, primarily turning double plays. But we came in with a plan to fix those things and to work on the plays I had trouble with and secured that up."
Barney has the chance to win his first Gold Glove, but it will be tough to unseat the Reds' Brandon Phillips, who has won the award in each of the last two seasons and three times overall. Phillips won it in 2010 despite Eckstein's record.
The only defensive disappointment Tuesday came when Barney and Starlin Castro were unable to complete a successful rundown between first and second on Rickie Weeks. Weeks stayed alive long enough for teammate Norichika Aoki to score from third base.
"It's unfortunate," Barney said. "We have to keep our eye on that guy at third. That's our primary target at that point and unfortunately that didn't work out for us."