Cubs making 2012 miserable on Cards
September, 21, 2012
9/21/12
6:31
PM CT

By Doug Padilla
ESPNChicago.com
Archive
CHICAGO -- Don't try telling the
St. Louis Cardinals
that the
Chicago Cubs
have endured one of the worst seasons in their franchise's history.
Darwin Barney
's game-tying home run in the ninth inning Friday, followed by
David DeJesus
, game-winning single in the 11th was just the latest example of the Cubs being a thorn in the side of the defending World Series champions.
It started with the first meeting of the season between the two clubs and has continued into the last series the two will play against each other in 2012.
[+] Enlarge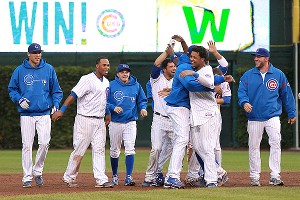 Phil Velasquez/Chicago Tribune/MCT via Getty ImagesDavis DeJesus is congratulated by his Cubs teammates after singling in Brett Jackson in the 11th inning.
On April 13, the entire city of St. Louis was giving itself one giant hug when the Cardinals received their World Series rings before their home opener. But the party ultimately fizzled when the Cubs rolled to a 9-5 victory.
The Cubs were only getting started. On April 23 and 24, the Cubs managed back-to-back walk-off victories over the Cardinals, one finished off by
Joe Mather
and the other by
Alfonso Soriano
. The Cubs were just 6-12 to that point, but three of those six victories were at the expense of the Cardinals.
There would be more walk-off heroics to come like
Anthony Rizzo
's first game-ending home run on July 29 that gave the Cubs a 4-2 victory in 10 innings.
In that context, it should have come as no surprise that even when they were down to their last strike on Friday, the Cubs found a way to tweak their rivals yet again.
The light-hitting Barney said he was just trying to make contact when he lifted a pitch into first row of the left-field bleachers to tie Friday's game at 4-4.
"I'm just trying to get Rizzo up," said Barney, who was batting in the No. 2 spot Friday. "That's my job is to get those three, four, five guys up there and move runners along. Fortunately he threw me another fastball there and I got to it. I was worried about the wind but it went."
Upon seeing the ball land safely into the seats, Barney gave a fist pump that probably was more emphatic than if he had tied the game late against any other club. His roar as he stepped on first base was probably a little louder as well.
"I think if we're not playing a contender that's fighting, you're not as excited as you are right there," Barney said. "That's what's fun right now for us. We played ourselves out of it early and now we have a chance to play games that matter to somebody. That's what you're looking for this time of the year is those kind of games and the atmosphere was definitely fun."
DeJesus, who played most of his career with the
Kansas City Royals
, knows all about operating in the spoiler role.
"Whenever you have the chance to be that other team, and I have been on that other team a lot in my career, it's always great to try and do some damage to one team or another," DeJesus said. "It helps you play up to the level of the game."
Barney has only been around for a few years, but by wearing his heart on his sleeve as his home run cleared the wall, he showed some of the Cubs rookies what success against the Cardinals means.
"Obviously we have a lot of young guys on the team so right now (the rivalry) has to be built up a little bit," manager Dale Sveum said. "But a rivalry is a rivalry whenever you're playing a game between these cities. It's more because that's a big game for us to get closer to our goal (of not losing 100 games) and to knock somebody possibly out of the playoffs because of a big comeback win right there."