2012 Cubs recap: Front Office
October, 24, 2012
10/24/12
9:01
PM CT

By Doug Padilla
ESPNChicago.com
Archive
Doug Padilla reviews the Cubs by position. Today he focuses on the front office.
CHICAGO -- Any front office that oversees a 101-loss season hardly deserves high praise. And looking at the straight facts, 2012 was as bad as it could get for the
Chicago Cubs
.
The team was overmatched in the bullpen, didn't have much offense from Day 1 and had a rotation that was targeted to be dismantled by midseason, which it was.
[+] Enlarge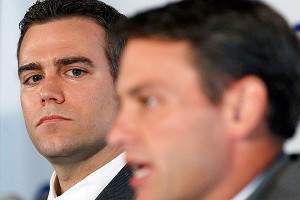 AP Photo/Charles Rex ArbogastIf there's a bright spot for Theo Epstein, left, and Jed Hoyer, it's that they started to make changes to create a winning future in the Cubs.
In that sense, the Cubs should be glad their 101-loss season wasn't a 121-loss debacle.
The joy that came from the arrival of club president Theo Epstein from the
Boston Red Sox
, as well as the arrival of general manager Jed Hoyer from the
San Diego Padres
, was tempered considerably even before the season started.
The Cubs brought a flawed roster to spring training and ultimately it showed.
There was more at work, of course. All the losing was essentially a necessary evil as Epstein and Hoyer tore the roster down to its foundation, did the same to the front office and made sweeping changes to the player development side.
If Epstein and Hoyer were to get any credit for the 2012 season, give them this: They had a bold vision about what it would take to turn the Cubs into a consistent winner and started to make the necessary changes.
The talent in the minor leagues appears to be improving and a strategy for smart spending has been implemented, but the results of their changes won't be known for some time.
Completely assessing the 2012 season can't legitimately be done until a few years pass. The additions of prospects like Jorge Soler and Albert Almora give hope, but nothing is guaranteed. Trading for prospects during the season was necessary, but Ryan Dempster's veto of a deal to the
Atlanta Braves
limited the talent received in return.
Cleaning house in the front office to have like minds making decisions is perfectly sensible, although nothing is assured.
What is certain is that changes needed to happen. Having guys with a track record like Epstein and Hoyer making those changes provides at least a sense of comfort.
With this week's announcement of mass hires in the development and scouting departments, Epstein feels like he has the internal team he needs to provide the team the fans want.
Epstein has already been to Arizona this month to look at how the organization is proceeding in the instructional league. And he liked what he saw, with new director of player development Brandon Hyde and new field coordinator Tim Cossins running the show.
"I was really ecstatic about how instructional league went," Epstein said. "Just being down there, there was a tremendous amount of energy and there was a real unified direction. There was one-on-one instruction and I felt like players got better with all the teaching that was going on. I thought the morale of the players was fantastic.
"It was a group that was proud to be Cubs, and I think they understand they are the primary focus of the organization. They took pride in the uniform and generally liked to be around each other. I think they know they are pretty important to us. It was just a great atmosphere down there."
And Epstein said he is hearing more of the same.
"I had a couple of coaches, some uniform folks who have been with the Cubs for a long time come up and say they really appreciated the energy and felt it was a great instructional league," he said. "It was one of the most talented groups we had. And actually, scouts from other teams told me we were as talented as any group in Arizona, which was really nice to hear."
The future looks bright. However, the question remains: How long does it take to get here?