"SportsCenter" looks back at 15 years of good, bad and ugly renditions of Wrigley Field's seventh-inning stretch tradition.
The St. Louis Cardinals recalled left-hander Tyler Lyons from Triple-A Memphis to start Tuesday night against the Chicago Cubs and optioned rookie right-hander Sam Tuivailala to Memphis.
Lost in the Chicago Cubs' meltdown on the mound Monday night against the St. Louis Cardinals was a breakout performance by the Cubs' offense.
The fact of the matter is the Cubs' starting staff isn't holding up its end of the bargain, either.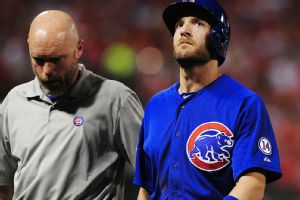 Cubs outfielder Chris Denorfia will go on the 15-day disabled list with a pulled hamstring after leaving Monday's 10-9 loss to the St. Louis Cardinals in the third inning.
The Chicago Cubs lost to the St. Louis Cardinals 10-9 on Monday night. Here's a quick look at the game.
Cardinals rally from 5 down to beat Cubs 10-9
The Chicago Cubs are close to getting help in the middle of their bullpen as rehabbing reliever Justin Grimm is on the verge of returning
The Astros and Cardinals look to pad their division leads; the Red Sox pitching staff looks to get on track and might not be that far off.
Jorge Soler is second in baseball with 38 strikeouts, but hit .304 in the Chicago Cubs' past six games.
Tristan H. Cockcroft and Derek Carty get you ready for daily fantasy baseball by giving advice and answering your questions, starting at 6:15 p.m. ET.
1d
ESPN Stats & Information
The St. Louis Cardinals host the Chicago Cubs on Monday night with the teams in first and second place in the NL Central. It's the first time they have faced off while in first and second place this late in the season since Sept.