The Chicago Cubs and Ryan Theriot most likely will go to arbitration some time between Feb. 8-20 in St. Petersburg, Fla.
[+] Enlarge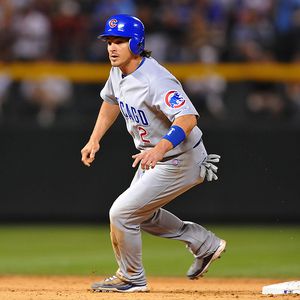 Ron Chenoy/US Presswire
Ryan Theriot is the first Cubs player to go to arbitration since 1993, when Mark Grace lost his case.
Major League Baseball and the players union usually refuse to give out dates to the media in advance of arbitration hearings. The reason is both sides want the independent arbitrator to not have any knowledge or be able to research the cases they will hear. Arbitrators are given cases randomly on the day the case is heard.
Theriot's agents are asking for $3.4 million. The Cubs' offer was $2.6 million. Only the two sides can settle for a different salary amount.
Once the case begins, the arbitrator must pick either figure, with no exception.
Theriot made $500,000 in 2009. This will be his first year of arbitration.
The sides have cut off negotiations at this point, so it appears the case will go through the process.
The Cubs last went to arbitration in 1993 when they offered Mark Grace $3.1 million, and Grace asked for $4.1 million. The arbitrator chose the Cubs' figure.