Five Cubs most likely on contenders' radar
July, 16, 2011
7/16/11
4:33
PM CT

By Bruce Levine
ESPNChicago.com
Archive
Chicago Cubs
general manager Jim Hendry should be a busy man, fielding calls on some of his more desirable players, as the trading deadline quickly approaches on July 31.
Here's a list of players who are most likely to be sought after by contending teams.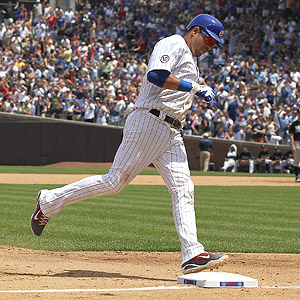 Jonathan Daniel/Getty ImagesAramis Ramirez hit a three-run homer in the Cubs' loss to the Marlins on Saturday.
Aramis Ramirez: There is lots of interest in the 33-year-old first baseman. The Detroit Tigers, New York Yankees, Los Angeles Angels and Cleveland Indians are his most likely suitors. This weekend, one of the Tigers' top scouts is watching the Cubs, and in particular, Ramirez. The Tigers have had interest in Ramirez for six weeks. The Yankees have had at least one scout watching the Cubs for at least three series in a row. With the tenuous state of Alex Rodriguez's return from knee injury, an insurance policy like Ramirez makes a lot of sense for the Yanks.

Contrary to what has been widely reported about Ramirez's contract, there is not an option year that kicks in if he's traded. Here's the thumbnail sketch of Ramirez's contract. He has roughly $7 million left in salary for 2011. He, as well as the Cubs, hold an option for 2012 at $16 million dollars. If the team doesn't exercise its option, Ramirez is owed $2 million as a buyout. If he's traded to another team, Ramirez receives a $1 million relocation bonus.

Ramirez has been on record that he won't waive the no-trade clause in his contract, however, there are rumblings that he may change his mind and accept a deal to a Midwest or East Coast team around the time his family returns to the Dominican Republic on Aug. 10. The Cubs also have to decide if they want to hold onto their top RBI man or consider working an extension due to the fact that there are very few run-producing third baseman at the major league level.


Kosuke Fukudome: Fukudome has been a decent leadoff man for the Cubs this season before a recent slump has taken down both his average and his on-base percentage. Until early July, the 33-year-old outfielder had a batting average close to .300 and an on-base percentage over .400. Every contending team will be looking for left-handed hitting and Fukudome is an ideal platoon player.

The Cubs still owe Fukudome almost $6 million. He is a free agent after this season. It appears that the Cubs would eat some of Fukudome's contract if they got a decent prospect in return. Fukudome is in the last year of a four-year, $48-million contract. He has a limited no-trade clause to a handful of teams.


Marlon Byrd: This baseball overachiever could help any number of teams as a starter or a super utility outfielder. Byrd will bring a lot of positive energy and hustle with him wherever he goes. The Atlanta Braves and the Philadelphia Phillies have scouted Byrd extensively. Both teams have a need for a right-handed-hitting outfielder.

Byrd has roughly $2 million left on his 2011 contract and is owed $6 million in 2012. Although Byrd will be an attractive player for anumber of teams, the Cubs may hesitate to move him knowing that Alfonso Soriano's days as a starting outfielder may be coming to an end and that Fukudome's contract is expiring. Some veteran presence will be needed to guide Brett Jackson and Tyler Colvin in 2012 when they try to establish themselves as regular outfielders.


Carlos Pena: The Cubs' power-hitting first baseman would be a big help for a young contending team like the Pittsburgh Pirates, who are looking to boost their offense. The short porch at PNC park would be an inviting target for this pull hitter. The intangibles that Pena brings to a team -- like his positive approach as a teammate and his playoff and World Series experience in Tampa -- must be considered.

Even if Pena is traded, the Cubs could pursue him again when he becomes a free agent this fall. Pena is still owed roughly $4.5 million dollars of his $10-million deal.


John Grabow: An unstable knee has prevented the Cubs veteran bullpen pitcher from being the reliever he once was. That said, Grabow can still get lefties out and multiple teams, including the Yankees, are hungry for bullpen help. Grabow threw three straight scoreless innings before giving up three runs in Pittsburgh on July 10.

The Cubs owe Grabow roughly $2 million for the rest of his 2011 contract. He is a free agent after this season.