Free agency preview: Who will be back?
October, 28, 2011
10/28/11
10:31
PM CT

By Bruce Levine
ESPNChicago.com
Archive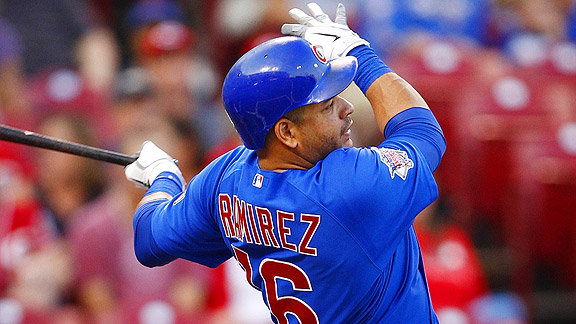 John Grieshop/Getty ImagesAramis Ramirez led the Cubs with 93 RBIs and batted .306 with 26 home runs in 2011.
Now that the World Series is over, free agency for major league players begins. Here is a quick look at the Chicago Cubs players who may be moving on and my percentage chance of their return.
1. Aramis Ramirez, 3B:
In a weak free agent market for third baseman, Ramirez will seek upwards of four years on a contract. The Cubs have had their chance to negotiate with his agent Paul Kinzer exclusively for the last five weeks. Instead they have decided to wait and let their new top baseball executives make that decision. The Cubs have a $16 million option on Ramirez's contract for 2012 or a $2 million buyout if they reject it. Ramirez has his own option where he can declare free agency regardless of what the Cubs do. If Ramirez leaves he will leave a gaping hole offensively in the third spot in the lineup where he had the second-most at-bats last season. He hit .306 with 26 homers and a team-leading 93 RBIs. He also led the Cubs in slugging percentage (.510). Unless Theo Epstein and Jed Hoyer believe Ramirez is worthy of a long-term deal, his career as a Cub may be over. Defensively, Ramirez can be replaced by D.J. LeMahieu, but replacing the power numbers is another issue.
Chance of return:
10 percent
2. Carlos Pena, 1B: Pena will be a free agent for the second straight season. The Cubs were satisfied with his season as he delivered 28 home runs and 80 RBIs. Defensively, Pena saved 50 bad throws from Cubs infielders, turning them into outs. He led all of baseball in that category, according to ESPN Stats & Info. He was a $10 million bargain for the Cubs despite his .225 batting average and 161 strikeouts. He set an all-time mark for Cubs first baseman with 101 walks. Epstein and Co. will have to decide if they want to put $200 million toward free agents Albert Pujols or Prince Fielder or bring back Pena. Right now the only other first base option in the organization appears to be Bryan LaHair, who led the minors with 38 home runs in 2011. One thing to keep in mind is that Pena is represented by Scott Boras, who also represents Fielder. Knowing Boras' track record, he will let Pujols set the bar for Fielder. Once Fielder is signed he will dangle Pena. Chance of return: 50 percent

3. Kerry Wood, RP: The 34-year-old inked a one-year, $1.5 million deal prior to the 2011 season. Wood turned down the White Sox's two-year, $8.5 million offer in order to return to his roots. The right-hander had a so-so season, which was marred by an 18-day stint on the DL due to blisters on his right index finger. Wood's season ended prematurely on Sept. 19 after he tore the meniscus in his left knee. The Cubs pitcher had arthroscopic surgery on Sept. 29. Money will not be the deciding factor as to whether Wood returns or not in 2012. The franchise icon said in late September that he'd rather retire than pitch elsewhere. It will be up to president of baseball operations Theo Epstein and GM Jed Hoyer to determine if Wood returns. Chance of return: 80 percent


4. John Grabow, P: The soon-to-be 33-year-old left-handed reliever had two disappointing seasons with the Cubs after being obtained in a trade from the Pittsburgh Pirates in July 2009. A severely damaged left knee took away some of Grabow's ability over the past two years. In 2011 he was 3-1 with a 4.76 ERA. He was not used in an important role by manager Mike Quade. The Cubs are well fortified with lefties, including Sean Marshall, James Russell, John Gaub and Scott Maine. Grabow will sign elsewhere. Chance of return: 0 percent


5. Reed Johnson, OF: The Cubs' Energizer Bunny turns 35 in December and was one of the most productive bench players in the National League in 2011. The only downside for Johnson was that he closed the season in an 8-for-50 skid. Johnson still hit .309 and had an OPS of .815, third-highest on the team. He hit .410 with a 1.208 OPS from April 12 through June 15. Defensively, he is still above average at all three outfield positions. A clutch hitter, Johnson hit .324 from the seventh inning on in 2011. The Cubs' new front office should take a hard look at bringing him back to fortify the outfield depth. Chance of return: 65 percent


6. Rodrigo Lopez, P: The 36-year-old pitcher gave the Cubs some solid innings as a starter after Carlos Zambrano walked away from the team on Aug. 12. Lopez could be a solid swingman between the bullpen and rotation if they decide to invite him back in 2012. A decision on Lopez wouldn't come before the winter meetings ended. Chance of return: 10 percent


7. Ramon Ortiz: After a non-descript stint with the Cubs, Ortiz would appear to pitch elsewhere in 2012. Chance of return: 0 percent