MESA, Ariz. -- I was able to watch Cubs prospects Starlin Castro and Josh Vitters over the last couple of days in the Arizona Fall League.
[+] Enlarge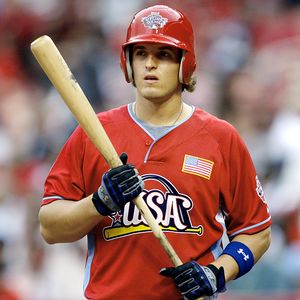 Jerry Lai/US Presswire
Baseball scouts have rated Josh Vitters' arm a 6 on a scale of 1-7.
Castro, 19, is the heir apparent to take over at shortstop for the North Siders, no later than 2011.
As of Tuesday, Castro is leading the AFL in hitting with a .420 average. Defensively, it appears he has the tools to be one of the top infielders in baseball in the future.
Vitters, who is the Cubs third baseman of the future, is hitting .320. The former first-round pick displayed good instincts for his position, which includes a strong arm one that the scouts call a 6. Baseball scouts rate tools of players 1-7, with 7 being the best grade for any particular tool.
After playing from March until now, I asked Vitters how he's holding up physically.
"We had a month off in between the season and the beginning of our AFL season," Vitters said. "So I'm feeling pretty refreshed right now.
"They only start us two out of every three games, so it's not like they're wearing us out at all."
I asked Vitters what his timetable is to play for the Cubs.
"Honestly, I don't think about things like that, but probably 1-2 years," Vitters said. "That will be enough time to work on my game and be ready to play at that level."
Former major-leaguer Billy McMillon is the hitting coach for the Mesa Solar Sox, the team that Castro and Vitters play for. I asked his impressions of the two future Cubs stars.
"Both guys are impressive kids," McMillon said. "Even though they've had some success here already, they both take instruction well."
McMillon said he sees progress from both players during the batting practice sessions, more than game situations.
"I think with Josh, he's going to be more of a power hitter than Castro," McMillon said. "Castro may hit a little higher, but both have really good swings that they're working with."
According to the scouts I talked to down here, they feel Castro has excellent speed. As soon as he learns how to read pitchers, he could be an effective base stealer.
At 19, Castro is not quite ready to play at the big-league level. But remember, Lou Piniella had a 19-year-old shortstop in Seattle in 1995 who he brought along slowly. Things worked out pretty well for Alex Rodriguez from that point on.
I'll see both the Cubs and White Sox players in a doubleheader on Tuesday.
Sox outfielder Jordan Danks is making a strong impression on the scouts down here. Sox minor-league director Buddy Bell told me that Danks already is the best defensive outfielder in the organization.
Update: Castro hit his first home run of his AFL season in the fourth inning in Peoria, Ariz.