Samardzija seeks redemption as a starter
April, 12, 2012
4/12/12
8:26
PM CT
By
Sahadev Sharma
| ESPNChicago.com
CHICAGO -- Jeff Samardzija is well aware of what his critics have said about him.
[+] Enlarge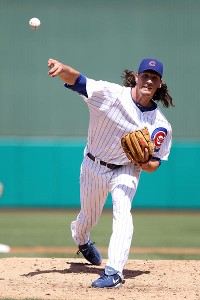 Christian Petersen/Getty ImagesJeff Samardzija is hoping to build on the success of his first start against the Cards on Friday.
He's been labeled a $10-million bust and questioned for his desire to become a starter when he finally showed some success as a reliever. Then, of course, everyone's favorite go-to zinger, "He's not much of a pitcher, but he may be the best wide receiver in the city."
"Obviously I hear all that, but personally it's just living up to the goals I set for myself," the former Notre Dame pass-catcher said. "I always knew what kind of pitcher I could be and I still don't feel like I'm there yet, there's still some room to go. It's nice just to see that the work you're doing is putting you in the right direction. All the hard work I've done in the offseason ... to see that it's physically paying off, that you're getting better and improving as a pitcher, that's what it's all about. It keeps you going, it keeps you hungry to keep improving. I just like where I'm at right now, I'm excited that it's just the beginning of the year and obviously it continues with Friday's start."
Though his critics were harsh, entering the 2011 campaign, they really weren't that far off base. In 53 appearances from 2008-2010 (only five of them starts), Samardzija tossed 81 2/3 innings, posting a 5.95 ERA and a measly 1.10 strikeout to walk ratio. Those are hardly numbers to justify the mega deal the Cubs gave him to focus solely on baseball after being picked in the fifth round of the 2006 draft.
Samardzija turned things around in 2011, putting up a respectable 2.97 ERA in 88 innings out of the bullpen. He struck out 87 batters during that time, yet still battled his command at times, giving up 50 free passes. However, after finally tasting some success, Samardzija was determined to start 2012 in the Cubs rotation.
During an offseason of hard work, what might have been the most important step has been refining his repertoire. Samardzija has always possessed a powerful four-seam fastball – in his 8 2/3 innings, one run, eight strikeout gem on Sunday against the Washington Nationals, he was still hitting 96 mph on the gun in the ninth inning -- he has finally added more weapons to his arsenal. He's showing some consistency with his slider (an issue he's struggled with since giving up football), and he's added a cutter and very impressive sinker as well.
"I think it's just attacking early," Samardzija said of the difference between pitching as a starter and a reliever. "As a reliever you get an inning to really let it go and come out and do what you got to do. As a starter you have to face these guys three or four times a day. You just have to stay on your toes and understand how you've attacked them earlier in the day, how they've responded it to it and make adjustments throughout the game. Whereas with relieving you can just stick with your same game plan throughout the year."
Samardzija said he can't rest on his laurels after one great start. To keep the critics at bay and avoid being labeled a one-start wonder, he'll have to go out and deliver a strong performance on a consistent basis. The job doesn't get any easier, as he makes his next start Friday afternoon against a red-hot St. Louis Cardinals' offense. The Cardinals lead the league in numerous offensive categories including runs (37), on-base percentage (.371), slugging percentage (.514), home runs (12) and extra-base hits (27), helping them get off to a 5-2 start.
Don't expect Samardzija to look to reinvent the wheel when he faces the Cubs archrivals.
"Keep the same approach, just attack the zone," Samardzija said of his game plan on Friday. "Obviously we have a scouting report and what we feel like the best way to attack them is, but mostly just pound the zone and get some quick outs and some quick innings."
If Samardzija can stick to the plan and deliver a performance even close to the one from last Sunday, he'll take one more step in a long journey. One more step in finally being known more for his ability to throw a ball, rather than catching it.