PODCASTS
ESPN Chicago
Play Podcast ESPNChicago's Jesse Rogers talks with Cubs infielder Mike Olt about his big game against the Mariners, the cure to his eye problems and when he might play third base.
Buster Olney, MLB
Play Podcast ESPN MLB Insider Buster Olney talks about his tweet bashing the Cubs, his column about MLB future power rankings, the top three future teams and more.
Carmen & Jurko
Play Podcast Jeff Samardzija joins "Carmen & Jurko" to discuss his contract status, his outlook for the season and more.
ABOUT THIS BLOG

Jesse Rogers
Jesse Rogers covers the Chicago Cubs for ESPN 1000 and ESPNChicago.com.
50 GREATEST CUBS OF ALL TIME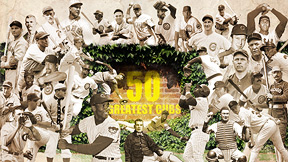 An ESPN Chicago panel of experts compiled its list of the 50 Greatest Cubs of all-time. Take a look at our list and put together a list of your own. Gallery

Rank 'em »


BLOG ARCHIVE:
CATEGORIES:
FANMATS Chicago Cubs Printed Car Mats 2-Pack Shop »
UPCOMING GAMES
| | W-L | HM | AW | STK | L10 |
| --- | --- | --- | --- | --- | --- |
| CHC | 7-8 | 3-5 | 4-3 | W1 | |
| KAN | 7-7 | 2-4 | 5-3 | L1 | |
| | W-L | HM | AW | STK | L10 |
| --- | --- | --- | --- | --- | --- |
| NYM | 6-8 | 2-5 | 4-3 | L1 | |
| CHC | 7-8 | 3-5 | 4-3 | W1 | |
| | W-L | HM | AW | STK | L10 |
| --- | --- | --- | --- | --- | --- |
| CLE | 12-2 | 7-2 | 5-0 | W3 | |
| CHC | 7-8 | 3-5 | 4-3 | W1 | |
2014 CACTUS LEAGUE STANDINGS