Chicago Cubs:

2014 Cubs draft
June, 7, 2014
Jun 7
8:32
PM CT
By Sahadev Sharma
Special to ESPNChicago.com
Archive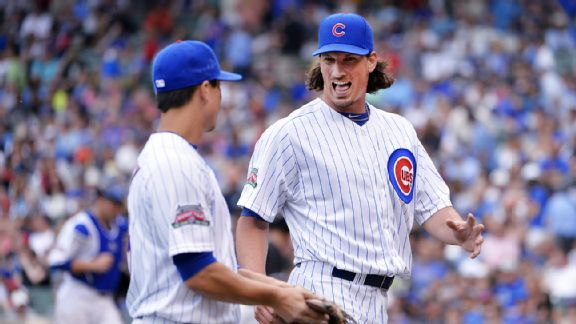 Brian Kersey/Getty ImagesJeff Samardzija allowed two runs in seven innings Saturday as the Cubs' win streak hit five.
CHICAGO – The
Chicago Cubs
have put together a nice five-game winning streak -- Saturday's 5-2 defeat of the
Miami Marlins
the latest in that string -- and earned their third and fourth series victories of the season in the process. They're getting strong starting pitching; their young, powerful bullpen arms have delivered impressive performances; and the offense has given the fans some excitement with a pair of walk-off wins.
However, the focus this weekend wasn't on the suddenly strong play of the big league club. A Cubs organization that is still squarely focused on the future wrapped up 40 rounds of the draft Saturday afternoon, the first 10 of which might turn out being one of the stronger in all of baseball.
Scouting director Jason McLeod seemed pleased with how things turned out.
"It's been a good couple days for us," McLeod said. "We're excited about the guys we were able to draft over these three days. We felt [Friday] we were able to get some high-upside, talented, young high school pitchers mixed in with the college group that we did. I said a couple days ago that we were going to make a run on pitching and certainly we've done that."
The Cubs used eight of the first 10 selections on pitchers and at one point drafted nine consecutive arms. Many expected the run on pitching heading into the draft; the surprise was the selection of Kyle Schwarber, a catcher out of Indiana University, with the fourth overall pick.
It was suggested that the Cubs made the pick with the intention of signing Schwarber under his slot value while targeting a high-upside, over-slot high school arm in the second round. While Schwarber will likely come at a discount, the Cubs were adamant that the pick was made based on talent and not financials. However, they were certainly high on polished high schooler Jack Flaherty, but the Cardinals selected the California right-hander with the 34th pick. Unfazed, the Cubs quickly changed directions and took senior Jake Stinnett out of the University of Maryland with their second-round pick.
Normally in the draft, when a college senior is chosen, it's assumed that the pick was made so the team could save some money and redistribute those funds toward other selections. However, Stinnett is a rare case.
"He was an athletic kid who was a conversion -- he went into Maryland as a third baseman/pitcher," McLeod said. "So he doesn't actually have as many innings under his belt as a lot of college pitchers do. This year was actually his first full season as a starting pitcher and he goes out and leads the ACC in strikeouts, big-time ground-ball rate, throws a lot of strikes. He's already a physical guy that's athletic and he's a younger kid, for a fourth-year player in college, he's actually at junior-age, he's only 21. We felt all of those things lead to someone who's still on the rise as a pitcher."
[+] Enlarge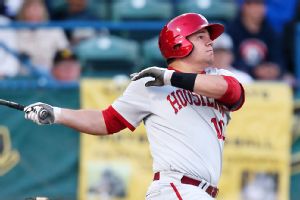 Larry Goren/Four Seam Images/AP ImagesKyle Schwarber appears headed for a corner-outfield spot when he enters the professional ranks after playing catcher and outfield at Indiana.
Chicago's focus on high-upside high school arms began in the fourth round with the selection of lefty Carson Sands. The Cubs tabbed another lefty in Justin Steele in fifth and right-handed fireballer Dylan Cease in the sixth. All three were rated higher than where they ended up being selected, with Cease possibly the best of the bunch, with a fastball that touches 97 and a solid curveball and changeup.
When picking high school players who fall in the draft due to contract demands, there's always a concern about whether they'll end up signing. Not only would failing to sign a player mean a wasted pick, but any player chosen in the first 10 rounds has a specific amount of money tied to his draft position. If such a players goes unsigned, the team loses both the player and its slot money, meaning the club won't be able to redistribute those funds toward other picks.
"These are kids that were rated very highly and had strong college commitments," McLeod said. "But, through the due diligence of our scouts -- communication [is important], certainly in this system of the draft, you have a pool of money, you have to work hard to make sure it fits within the parameters. And we did and we feel like we got three talented young players that we think we'll be able to sign."
Cease missed most of the season after suffering an elbow injury and opted to have platelet-rich plasma injections rather than surgery. However, McLeod said the team believes he'll likely have to undergo some surgical procedure, possibly Tommy John, and made the pick with that in mind.
"We also know that coming into the year he was arguably a top-15-type pick in the draft," McLeod said. "Where we were in that area of the draft, we felt that looking at who we selected, if we use our money wisely it's an opportunity there to hit real big. We know that there's risk, he's a high school right-hander, will probably have to have some sort of procedure on his arm. But to get that kind of talented player in the sixth round, we certainly felt it was worth it."
McLeod also appeared quite optimistic that the Cubs would be able to sign their 22nd-round pick, Joey Martarano, a third baseman with huge power, who plays football at Boise State.
"We're going to make a good run at him," McLeod said of Martarano, who is slated to be a redshirt freshman linebacker in the 2014 season. "It's a different situation there in that they don't have baseball at that school, but he is a guy that was well-known on the amateur circuit in high school because he's so strong, physical, right-handed power. That one actually is one that we're going to try. It might be a situation where he plays football still and goes down and plays baseball in the summer."
The selections of Martarano and Cease, along with the other high school arms, were all made possible by the fact that the Cubs took Schwarber and Stinnett early. However, McLeod reiterated that they didn't reach for either, particularly Schwarber. McLeod surprised many Thursday when he said the powerful lefty was second on their draft board behind No. 1 overall pick Brady Aiken.
"I've always said, beauty is in the eye of the beholder, that certainly holds true in the draft," McLeod said. "There may have been teams that had Kyle Schwarber 10th or 15th on their list, but, like I said, he was No. 2 on ours. You do your work on the signability, for sure, and what you think a player will sign for, you have those kinds of discussions. But that's not what's going to be the determining factor for us on where we're going to place a guy on the board or if we'll pick him."
Despite being pretty athletic for his 240-pound build, it's likely Schwarber will have to move from behind the plate and into a corner outfield spot, with left field being the probable destination. After selecting Schwarber on Thursday, McLeod admitted that he might move quickly through the system, but cautioned about setting expectations too high.
"I think Kris Bryant has set the bar high and really we need to step back and look at some reality," McLeod said after Thursday's first round. "I don't want people think he's going to be in double-A, doing what Kris is doing, this time next year. But we do feel, with his profile and the way that he handles himself as a hitter, that he can move pretty quickly."
Bryant, one of the top prospects in all of baseball, continues to light up the Southern League and went 3-for-3 with a home run, a double and a walk Saturday, bringing his season line up to an eye-popping .353/.460/.701.
Despite their recent winning ways,
Jeff Samardzija
, who tossed seven strong innings in Saturday's victory over the Marlins, and the rest of the big league Cubs aren't bothered that the attention appears to be focused on the kids. In fact, they look forward to the day when guys like Schwarber and Bryant get to Wrigley nearly as much as the fans.
"I think we all know what we have coming in the minor leagues and I think everyone's excited to show what they have," Samardzija said. "Then when they start coming, we're all a part of it. That's what everyone wants. You don't want to put all this hard work in and battle to where we've been to where we are now with help coming, then not be a part of it. So everybody's excited and is just ready to keep this going."
While he took an optimistic tone Saturday, it'd be an upset if Samardzija is around when the kids arrive, as many expect him to be dealt this summer. However, with the likes of
Anthony Rizzo
and
Starlin Castro
producing at a high level, there appears to be some legit talent at the big league level for the kids coming through the system to complement.
And though the Cubs still sit nine games below .500 and near the bottom of the National League, a five-game winning streak and a fruitful draft left many pointing toward a future that could be bright sooner rather than later at Wrigley Field.
June, 6, 2014
Jun 6
6:53
PM CT
CHICAGO -- The
Chicago Cubs
filled some needs on Day 2 of the amateur draft Friday as they selected a catcher and seven pitchers in Rounds 3 through 10. Including Day 1, they've addressed only two positions. It's not a secret the Cubs are thin in quality catchers in their system and still have a need for pitching, especially starters.
Here are their Day 2 selections:
Round 3:
C Mark Zagunis, Virginia Tech
Round 4:
LHP Carson Sands, North Florida Christian High School
Round 5:
LHP Justin Steele, George County (Mississippi) High School
Round 6:
RHP Dylan Cease, Milton (Georgia) High School
Round 7:
RHP James Norwood, St. Louis University
Round 8:
LHP Tommy Thorpe, University of Oregon
Round 9:
RHP James Farris, University of Arizona
Round 10:
RHP Ryan Williams, East Carolina University
The most intriguing player from the later rounds might be sixth-round pick Cease. He suffered an elbow injury in the spring that resulted in his dropping from the top couple of rounds, but when healthy he can light up a radar gun. ESPN.com already dubbed him the player with the highest upside of any drafted in the Central Division on Friday. Sands was 11-1 with a 0.58 ERA his senior year of high school.
Some of the younger pitchers -- particularly Cease -- might forego college if the Cubs can pay them a little more than slotted, which seemed to be the strategy coming out of Day 1, where their first two picks should save them money. The Cubs were transparent about their strategy -- and it might have paid off as they collected an intriguing list of arms Friday.
June, 6, 2014
Jun 6
1:46
PM CT
CHICAGO -- The
Chicago Cubs
took their second catcher of the Major League Baseball first-year player draft when they selected Mark Zagunis from Virginia Tech in the third round Friday afternoon. They followed that with a fourth-round selection of left-handed pitcher Carson Sands from North Florida Christian High School.
According to MLB.com, Zagunis was a three-year starter at Virginia Tech and is athletic enough to move positions if need be, but the Cubs are short on catchers in their organization. Catcher Kyle Schwarber, the Cubs' first-round pick on Thursday, is likely to move positions which means Zagunis might stay behind the plate.
The 6-foot, 195-pound Zagunis is not projected as a huge power hitter but had a career on-base percentage of .430 in college while hitting .338. His strikeout to walk ratio improved each year as well.
Sands is a highly regarded high school player who has committed to Florida State, but the Cubs might be able to lure him to pro ball with money saved on earlier picks. According to mlb.com, his rise in prep rankings is associated with the jump in velocity on his fastball. He throws in the mid 90's now.
He was 11-1 this season to go along with a 0.58 ERA for North Florida Christian.
June, 5, 2014
Jun 5
11:31
PM CT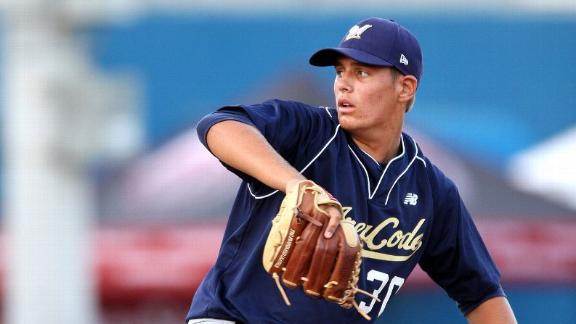 CHICAGO -- The naysayers will definitely be out when it comes to the
Chicago Cubs'
early-round draft picks. But their first-round pick, catcher Kyle Schwarber from Indiana, and second-round pick, pitcher Jake Stinnett from Maryland, might be the most easily signable top two picks for any team in baseball.
This means the Cubs can save some money and potentially use it elsewhere. And when director of scouting Jason McLeod declares Schwarber the "best hitter -- hands down -- in this year's draft," those are hard words to ignore.
Maybe the Cubs think they took the left-handed version of Kris Bryant, their up-and-coming slugger who went No. 2 overall last season. As much as pitching wins games, there's still a price for power these days.
"It lines up perfectly because he is hitting from the left side, and we don't have many of those players," McLeod said Thursday. "We feel this is an impact bat that can hit in the middle of the order."
That makes sense, but the question remains whether Schwarber is really as good as McLeod believes. McLeod flatly said his team would have taken Schwarber ahead of pitchers Carlos Rodon and Tyler Kolek. However, Rodon could be fast-tracked to the majors for the White Sox, while it's the Cubs who are desperate for pitching, which makes it hard to believe they would have bypassed Rodon for Schwarber.
[+] Enlarge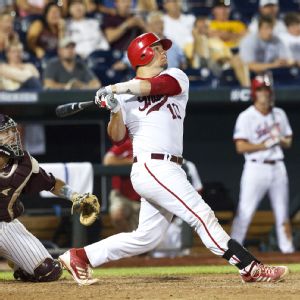 Andrew Woolley/Four Seam Images/AP ImagesIn lefty-hitting Kyle Schwarber, the Cubs get "an impact bat that can hit in the middle of the order," scouting director Jason McLeod said.
But Bryant gives the Cubs some currency: They claimed he was the best hitter in the draft, and he's proving as much in the minors this season. Gaining the two best hitters in the draft in back-to-back years can only be a good thing -- whether for production at Wrigley Field or for use in trades down the line, presumably for some pitching.
Maybe that's the way the Cubs are going about their rebuild. McLeod said that picking as high as they have lately demands taking impact players. That said, he admitted they were "enamored" with high school lefty Brady Aiken, who went No. 1 to the
Houston Astros
, so pitching was on their minds, but after Aiken it was all about Schwarber.
"Everything came back [to] just what type of person he is," McLeod said. "That's the type of people we're trying to bring into the organization."
The same could be said about other hitters in the draft, such as Oregon State outfielder Michael Conforto, on whom the Cubs passed. The bottom line is almost no one had Schwarber rated this high. He isn't the sure thing Bryant looked to be, but the Cubs get the benefit of the doubt because of their seemingly brilliant choice of Bryant over a pitcher in last year's draft.
The problem might be where Schwarber plays. More than one scouting report said first base might be his best option, as it's doubtful he'll remain at catcher. If he does stay, he becomes a valuable commodity; hitting catchers are hard to find. Otherwise, he'll move to left field, where he doesn't project to be one of the better players defensively.
But, as McLeod said, the Cubs drafted him for his bat. If he hits, they'll find a place for him and prove the naysayers wrong.
June, 5, 2014
Jun 5
10:39
PM CT
CHICAGO -- With their second-round pick -- 45th overall -- in Major League Baseball's amateur draft Thursday, the
Chicago Cubs
took right-handed pitcher Jake Stinnett from the University of Maryland.
As a senior he's 7-6 with a 2.65 ERA in 15 starts. He gave up 70 hits in 112 innings pitched while striking out 130. Stinnett was drafted by the
Pittsburgh Pirates
in the 29th round last year but chose to return to school and led the Terrapins to the NCAA super regionals.
Stinnett is listed at 6-foot-4, 215 pounds from Vista, California. Scouting reports say he needed his four years at Maryland, because he has been a full-time pitcher for only two seasons after being converted from third base.
June, 5, 2014
Jun 5
7:24
PM CT
CHICAGO – Here's a quick look at the
Chicago Cubs
' first-round pick, No. 4 overall, in Major League Baseball's amateur draft.
The pick:
Kyle Schwarber
, catcher/outfielder, Indiana University, 6-foot, 240 pounds.
His stats:
Schwarber hit 18 home runs in 2013 then followed that up with 14 in 2014 while hitting .358. His on-base percentage rose in each of his three years at Indiana, landing at .464 his junior season. He walked 44 times while striking out 30 his final year at Indiana. He registered a .992 fielding percentage and threw out 16 of 43 runners this past season.
His background:
Schwarber, a native of Middletown, Ohio, was a second-team all-state linebacker his senior year in high school and led the Greater Miami conference in hitting with a .474 batting average.
ESPN draft guru Keith Law's take:
In a draft light on power-hitting bats -- particularly in terms of college prospects -- Schwarber might have the most raw power of any prospect in the class, showing plus-plus power to right field thanks to tremendous lower-body strength and strong wrists. He transfers his weight well and has the type of raw power that could produce 30-plus homer seasons if he's able to play every day. He shows good feel at the plate, and a willingness to work pitches and get on base via walk, but doesn't have elite bat speed, and there's a lot of swing-and-miss in his bat as well.
[+] Enlarge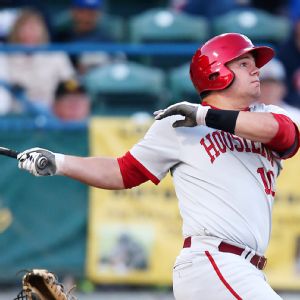 Larry Goren/Four Seam Images/AP ImagesKyle Schwarber's on-base percentage improved in each of his three seasons at Indiana.
What it means:
He could have a similar trajectory to the one Kris Bryant is on, as both were college juniors when drafted. That means time at rookie ball as well as Class-A later this summer. It's yet to be determined if he'll play outfield or catcher, though the Cubs need players at both positions.
"We feel he's a really good, underrated athlete that could certainly move to an outfield position, in the corner," Cubs director of scouting Jason McLeod said. "His bat is obviously why we drafted him."
The decision:
The Cubs claim Schwarber was No. 2 on their board after pitcher Brady Aiken, the left-hander who went first overall to Houston. That's how highly they think of Schwarber's bat.
"We felt Kyle was the best hitter -- hands down -- in this year's draft," McLeod said.
The Cubs are loading up on bats, especially with their high draft picks, as they can be game-changers. And the fact that he's lefty is a huge need, too.
"These last three years we've been picking so high," McLeod said. "When you're picking up that high in the draft, you have a chance to get a talented, impactful player. That was no different this year."
Signability:
McLeod made it clear that Schwarber shouldn't be a tough signing and it would leave the Cubs with extra money to spend elsewhere in the draft. He was selected higher than most mock drafts indicated so the Cubs could get him at their price. Those selected right after him could get more.
"We expect this to be a very quick process and get him out and playing in the organization and spend some money elsewhere," McLeod said.
Schwarber's reaction:
He was at a golf course with friends and family Thursday when he got the news. He said he realized in the past few days that the Cubs had serious interest in him when area scout Stan Zielinski reached out recently. Schwarber met with Cubs baseball operations president Theo Epstein in February during a college trip to Arizona.
"Right now, I'm really embracing the moment," Schwarber said on a conference call. "The Cubs organization has a very rich history and I got a taste of it when we were there with Team USA this past summer. That was the first time I was at Wrigley. I fell in love with the place right away."
Schwarber said he loves to catch, but he's open to a position change if the Cubs ask. Epstein told him to enjoy the moment -- and at the proper time they'll talk about signing a contract.