Chicago Cubs:

A.J. Pierzynski
May, 27, 2013
5/27/13
8:02
PM CT
CHICAGO -- Gone are the days when former
Chicago White Sox
manager Ozzie Guillen would instigate a near riot between Cubs and Sox fans before the Crosstown Classic.
The major buzz that once was a part of this 16-year-old interleague rivalry has been replaced by a more businesslike approach in this season's four-game home-and-home matchup.
"I don't think it is quite what it used to be," said White Sox setup man
Matt Thornton
, who has participated in every Crosstown Classic since 2006. "I still think it means a lot, but for whatever the reason it doesn't have the same feel to it."
May, 6, 2013
5/06/13
8:23
PM CT
CHICAGO --
Texas Rangers
pitching coach Mike Maddux has been thrilled with his tandem of former Chicago catchers. Veterans
A.J. Pierzynski
and
Geovany Soto
have worked hand in hand with Maddux on the daily preparation of his pitching staff.
"The success so far of our pitching staff has a lot to do with A.J. and Soto," Maddux said. "Those guys are great quarterbacks behind the dish."
April, 16, 2013
4/16/13
10:39
PM CT
CHICAGO --
A.J. Pierzynski
returned to the city he called home for eight seasons Tuesday evening, but with a new team. After leaving the
Chicago White Sox
as a free agent, the catcher signed a one-year, $7.5 million deal with the
Texas Rangers
. Coming back to play the
Chicago Cubs
has a little less meaning, according to the feisty competitor.
"That series -- the Cubs and Sox is special," he said before Tuesday's game. "For that, the city turns it up a notch. Everyone here is either a Cub or Sox fan. You are on one side or another, you can't walk down the middle. It was always fun to come here, it was always fun to play on the other side of town. It was a special series."
Pierzynski had some big games against the Cubs in the past. That included a game-winning home run off of
Ryan Dempster
and a fistfight with Cubs catcher
Michael Barrett
after a home-plate collision.
"It was always very special when you were on the White Sox side coming here," he said. "That was especially true when I first got here because the Cubs were really good. When both of us were really good, it was really fun to play these games. Everyone expected something special to happen, and most of the time it involved something that I had to do. People were just waiting for something to happen."
The Cubs fans always seemed to save their loudest jeers for Pierzynski when he played for the crosstown Sox. "It was always great and always very fun," he said. "The fans here have always been great to me. Yeah, they boo, they yell and stuff, but they never cross the line here. They were always very cordial and fun. I expect nothing less."

June, 18, 2012
6/18/12
10:04
PM CT

By Scott Powers
ESPNChicago.com
Archive
CHICAGO -- Here's a quick look at the
Chicago Cubs
' 12-3 win over the
Chicago White Sox
at U.S. Cellular Field on Monday.


How it happened:
The Cubs abused White Sox pitchers on Monday.
Bryan LaHair
,
Starlin Castro
,
Alfonso Soriano
,
Geovany Soto
and
Luis Valbuena
all hit home runs for the Cubs. The Cubs sent 11 hitters to the plate and scored six runs in the seventh inning. Cubs leadoff hitter
David DeJesus
was hit twice by pitches in the inning. Cubs starter
Matt Garza
improved to 3-5 after allowing three runs in six innings. White Sox pitcher
Zach Stewart
struggled in his first start of the season. He allowed nine hits, six runs and four home runs in 5 2/3 innings.
Paul Konerko
and
A.J. Pierzynski
hit home runs for the White Sox.
What it means:
The Cubs snapped the White Sox's three-game winning streak over them. The White Sox have now lost five of their last seven games. The
Cleveland Indians
, who defeated the
Cincinnati Reds
on Monday, moved within half a game of the Sox for first place in the American League Central.
Outside the box (White Sox):
Konerko has often produced during interleague play. With Monday's home run and two RBIs, he's up to 57 home runs and 162 RBIs in interleague play. He's second all-time in both categories in interleague play.
Outside the box (Cubs):
Castro had consecutive games of at least three hits for the first time this season. The last time he had three hits in consecutive games, he did it in three straight Aug. 1-3 of last season, all in games against the Pirates. That was in the midst of a run when he had four three-hit performances in a span of five games. Castro's three hits Sunday, combined with his fifth-inning home run Monday, gave him the cycle over two days.
Play of the game:
White Sox shortstop
Alexei Ramirez
dove for a grounder up the middle, fielded it, spun on the ground and threw out
Darwin Barney
at first base in the second inning.
Up next:
Jake Peavy
(6-2, 2.91) will start for the White Sox on Tuesday, and the Cubs will counter with
Travis Wood
(0-3, 4.58). Game time is 7:10.
May, 19, 2012
5/19/12
11:19
PM CT

By Jon Greenberg
ESPNChicago.com
Archive
CHICAGO -- With Secretary of State Hillary Clinton and other world dignitaries taking time out of their busy schedule to watch
Koyie Hill
swing some lumber, I was tempted to ask them when NATO was meeting to decide the fate of the
Chicago Cubs
.
My advice: Send in the armed drones!
On second thought, forget government intervention. Cubs fans should emulate the rabble-rousers protesting around the city during the NATO summit.
"What do we want? Wins! When do we want them? Before Theo is done rebuilding the farm system in 2015!"
Read the entire column.

May, 19, 2012
5/19/12
9:12
PM CT

By Doug Padilla
ESPNChicago.com
Archive
CHICAGO -- The
Chicago White Sox
made it two consecutive victories in the Crosstown Classic with an easy 7-4 victory over the
Chicago Cubs
on Saturday.


How it happened:
The White Sox did what the Cubs haven't been able to do much of this season at Wrigley Field: hit home runs in clusters.
Dayan Viciedo
,
A.J. Pierzynski
and
Adam Dunn
all got into the act by going deep as the White Sox have now taken the first two games this series. Using a lineup dominated by right-handed bats, something that hasn't brought much success, the Cubs were no match for White Sox lefty
John Danks
, who gave up just three hits in 6 1/3 innings.
Alfonso Soriano
and
Joe Mather
each hit two-out two-run homers for the Cubs in the ninth off Sox reliever
Zach Stewart
to break up the shutout.
What it means:
The White Sox's victory means they have won six of the last seven games in the cross-town series. The only game they lost in that stretch was the final meeting between the teams last season. Going back to 2009, the White Sox have now won 13 of the last 17 games between the teams.
Outside the box (Cubs):
After giving up a combined four earned runs over his first five starts,
Ryan Dempster
has now given up four runs in each of his last two outings. His lack of support continued. Dempster entered by getting three or fewer runs of support over five of his previous six starts. His 2.52 runs of support per game dating back to Aug. 16 of last season was the second lowest in the major leagues.
Outside the box (White Sox):
Saturday's victory guaranteed the White Sox their first winning series in nearly a month. The White Sox have gone 0-5-3 in their previous eight series. The last series they won came in a three-game sweep of the
Seattle Mariners
from April 20-22.
Up next:
In the series finale, the White Sox will send right-hander
Jake Peavy
(4-1, 2.65 ERA) to the mound on Sunday. The Cubs will go with left-hander
Paul Maholm
(4-2, 4.35) in the 1:20 p.m. start from Wrigley Field.
November, 23, 2010
11/23/10
10:28
AM CT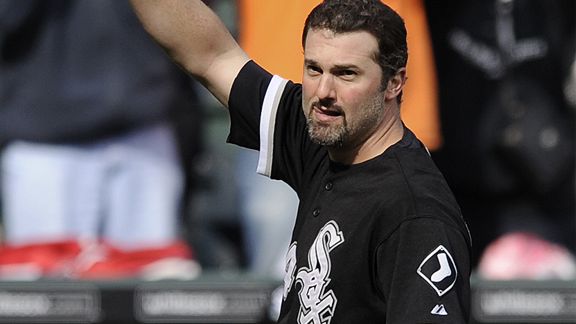 AP Photo/Paul BeatyLook for the White Sox to offer Paul Konerko arbitration by the end of Tuesday.
By the end of business Tuesday, the
Chicago Cubs
and
Chicago White Sox
must decide whether to offer arbitration to their eligible free agents.
For the Sox, that list includes
Paul Konerko
,
A.J. Pierzynski
,
J.J. Putz
and
Manny Ramirez
.
The Cubs only have one free agent in
Xavier Nady
.
Here's the scorecard for the Sox today: I look for them to offer arbitration to Konerko and Putz, and not offer to Pierzynski and Ramirez.
The Cubs will not offer arbitration to Nady. He has no ranking, therefore there would not be compensation.
The system works this way: if the Sox offer arbitration to Pierzynski, and he signs elsewhere, because he's a Type-A free agent, the team that signs him would give up a No. 1 pick from the June draft of 2011 if they're ranked in the top 15 record-wise from June 10. If the team signing Pierzynski ranks 15-30 by record, that team only surrenders a No. 2 pick and the Sox would receive a third-round pick from the MLB draft not impacting the signing team.
The Sox would also be on the hook for a guaranteed year to Pierzynski if he decides to accept arbitration. The Sox would have to pay him between $6-$7 million in 2011.
The White Sox most likely will not offer arbitration to Pierzynski, although the Sox would miss out on compensation if he signs elsewhere. It gives Pierzynski a better chance to sign with another team.
In the case of Konerko, the Sox most likely will offer arbitration. Konerko is a Type-A free agent. He made $12 million in 2010. If he would accept arbitration from the White Sox, his arbitration number would come in between $14-$15 million in 2011.
According to sources, the Sox also will offer Putz arbitration on Tuesday. He made $3.125 million last season, and Chicago would be tickled if he decided to take arbitration and sign a one-year deal. Putz is a Type-B free agent, meaning no compensation would be forthcoming from the signing club.
The Sox will not offer arbitration to Ramirez, who made $20 million in 2010.
Players offered arbitration must respond by Nov. 30. Teams must offer their own players under contract arbitration by Dec. 2.
Because of a rule change three years ago, teams are still allowed to sign their own arbitration-eligible free agents even if they don't offer them arbitration.