Chicago Cubs:

Aaron Miles
December, 3, 2009
12/03/09
8:50
PM CT
Chicago Cubs general manager Jim Hendry's offseason got moving Thursday with a peripheral trade that sent IF/OF Jake Fox and IF Aaron Miles to Oakland for two young pitchers and a position player.
Within the framework of the trade, Hendry was able to save $1.7 million of the $2.7 due Miles in 2010.
Fox, a fan favorite early in his Cubs tenure, mostly likely will benefit from the DH role that will be available to him in Oakland. The former college catcher never was able to establish himself at any one position after shuffling between third, first and left field.
Miles was a disaster on the North Side in 2009, hitting just .185 in 74 games. The 32-year-old IF was on the DL twice with shoulder and elbow injuries. Off-the-field personal issues plagued Miles from spring training throughout the entire season.
Right-handed pitcher Jeff Gray will vie for a position in the Cubs' bullpen next season.
Right handed pitcher Ronny Morla and left-handed hitting outfielder/first baseman Matt Spencer are further away from helping the Cubs than is Gray.
Hendry was excited about getting Gray.
"He doesn't have experience in the eighth or ninth innings," Hendry said. "But he throws the ball very hard, and he throws a lot of strikes.
"Our scouts felt he throws a lot like [Angel] Guzman, a hard-throwing type guy on the verge of getting better. It's up to him to compete for a job. If not, he's got an option [to be sent to the minors without becoming available to other teams] left."
Hendry was firm that this deal had nothing to do with the Cubs trying to move Milton Bradley.
"We've been given a very fair budget in the last couple of years," Hendry said. "We're just in a year where if our budget is in the same place it's been the last 12 months, we have to maximize the opportunities, be creative and make some trades. This deal didn't have anything to do to put toward Milton. It didn't' really play into it."
According to major league sources, the Cubs are listening to offers and trying to "be creative" -- as Hendry said -- possibly involving three or four teams in a deal that could send Bradley to Tampa, Pat Burrell to the Mets or another team unknown at this point, and Luis Castillo going to the Cubs. Castillo is a 35-year-old switch-hitting second baseman.
Bradley will make $21.5 million over the next two seasons, Castillo is owed $12 million total for 2010 and '11, and Burrell has one year left at $9.5 million.
Hendry's goal all along was to save as much as he could on Bradley's contract. But even more importantly, get a viable player back to help contribute in 2010.
August, 5, 2009
8/05/09
4:16
PM CT
The Chicago Cubs will activate infielder Aaron Miles off the disabled list.
In a corresponding move, the Cubs will move a relief pitcher Jeff Stevens to Triple-A Iowa.
Miles, who was placed on the DL with an elbow injury on June 30, will back up second and short. He was hitting .286 in his last 10 games at Iowa.
June, 29, 2009
6/29/09
3:47
PM CT
The Chicago Cubs will put infielder Aaron Miles on the disabled list with a hyperextended elbow, league sources told ESPNChicago.com's Bruce Levine.
Outfielder Sam Fuld, who is batting .286 with 20 steals for Triple-A Iowa, will be called up.
The moves will be announced before Monday night's game against the Pittsburgh Pirates.
June, 29, 2009
6/29/09
11:06
AM CT
The Cubs will put infielder Aaron Miles on the disabled list with a hyperextended elbow, league sources told ESPNChicago.com's Bruce Levine on Sunday.
Bobby Scales, the 31-year-old rookie who has split time between the Cubs and the minor leagues this season, is a candidate to replace Miles on the roster, according to sources. Outfielder Sam Fuld, who is batting .286 with 20 steals for Triple-A Iowa, could also get the call.
The move will not be announced until before the game in Pittsburgh on Monday.
May, 27, 2009
5/27/09
10:30
AM CT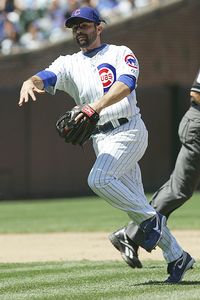 Rob Grabowski/US Presswire
Aaron Miles is being put on the disabled list.
The
Chicago Cubs
changed the mix of their ball club, recalling three players Class AAA Iowa while demoting two from the big-league team and putting infielder
Aaron Miles
on the disabled list with a sore right shoulder.
Left-handed relief specialist Neal Cotts, formerly the key set-up man for the 2005 World Champion Chicago White Sox, was optioned to Class AAA Iowa after numerous below-average outings.
Left-hander Jason Waddell was called up to replace Cotts.
Infielder Bobby Scales, who had been unavailable due to severe flu symptoms the last two days, also was optioned to Class AAA.
Shortstop Andres Blanco was brought up from Class AAA Iowa to replace Scales.
With Miles unavailable for at least two weeks, Blanco will play some shortstop to give everyday shortstop Ryan Theriot some time off. Blanco was hitting .314 at Iowa.
Fox has been the hitting sensation of the minor leagues this year, batting .423 with 17 home runs and 50 RBI through Tuesday night.
Manager Lou Piniella mostly likely will use him in the outfield and occasionally at third or first base, although defense has been a question mark for Fox, who's a converted catcher.