Chicago Cubs:

Alan Trammell
April, 4, 2011
4/04/11
3:44
PM CT
[+] Enlarge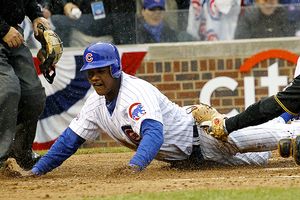 AP Photo/Charles Rex ArbogastStarlin Castro said Alan Trammell was an important instructor for him with the Cubs.
Former
Chicago Cubs
bench coach Alan Trammell returned to Wrigley Field on Monday as the bench coach for the
Arizona Diamondbacks
, and he's happy to see the development in at least one of his former pupils.
Trammell worked hard with Cubs shortstop
Starlin Castro
during the 2010 Cubs season, and he seems happy to see his former protege get off to a good start.
"He just turned 21 a few weeks ago, and there will be some growing pains," Trammell said. "But the sky is the limit [for Castro]. He's a good student.
"I saw him today and he thanked me. Even though I won't be there anymore, I'll be following him for the rest of his career. He's a solid kid. But there are going to be some growing pains still."
Castro said that Trammell was instrumental in helping him become a better player.
"He helped me a lot with baseball and also as a person," Castro said. "I'm going to miss having him around."
Trammell also has kept in touch with former manager Lou Piniella.
"I talked to him a couple of times," he said. "He's doing fine. He's missed it, but now in his new job it's a way for him to stay involved in the game and stay at home. I'm happy for him."
Piniella was hired as a special assistant for
San Francisco Giants
general manager Brian Sabean during the offseason.
Trammell was asked if he thought Piniella would ever manage again. "I've been around long enough to say 'never say never,' but it would really have to be something he wants."
Trammell has no negative feelings toward the Cubs franchise.
"Everybody was up front with me, Trammell said. "I'll be honest with you guys, if [Cubs' manager Mike Quade] would have been named manager before the season was over, or within a few days after it ended, I most likely would have stayed."
Trammell had a discussion Cubs general manager Jim Hendry during the Cubs' last road trip of the season, and was told that although he might be offered the job for the 2011 season, he was free to check out any other possibilities.
October, 26, 2010
10/26/10
4:17
PM CT
The
Chicago Cubs
officially bid adieu to bench coach Alan Trammell on Tuesday. He officially signed with the
Arizona Diamondbacks
to become their bench coach in 2011.
The door was open for Trammell's possible return to the Cubs staff. However his relationship with Arizona manager Kirk Gibson was the deciding factor for Trammell.
When Trammell was the
Detroit Tigers
manager, Gibson was one of his coaches, and they were teammates on the 1984 world champions.
Meanwhile, the entire Cubs coaching staff has been asked to return in 2011. Only special assistant to the manager Matt Sinatro wasn't offered a contract.
Besides Larry Rothschild as pitching coach and Rudy Jaramillo as hitting coach, Lester Strode will be the bullpen coach, Ivan DeJesus will be the third-base coach and Bob Dernier will be at first base.
The moves leave only the vacant bench coach job on Mike Quade's staff.
The Cubs also informed Triple-A manager Ryne Sandberg that he's wanted back in the organization as the Triple-A manager, and that a coaching position would not be available to him at the major-league level.
The awkwardness of Sandberg being present on Quade's major-league staff after losing out on the manager's position would not be fair to Quade. If Sandberg had been chosen as the manager, Quade would not have been invited back on that staff, according to a major-league source.
The bench coach position will most likely be filled and announced after the World Series. Major League Baseball frowns upon any managerial or coaching changes during the World Series.
October, 19, 2010
10/19/10
6:30
PM CT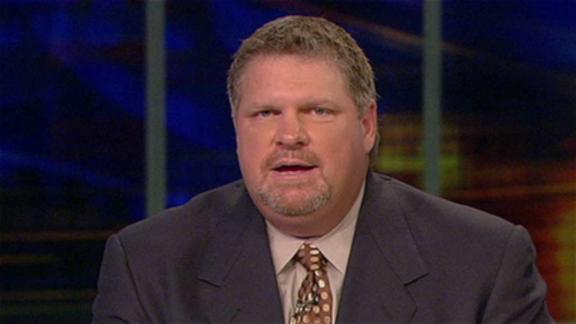 CHICAGO -- Mike Quade was torn between picking up a phone call from Cubs GM Jim Hendry and finishing cleaning the crab he caught during his Sunday fishing trip.
"You make a decision," Quade said. "Who's going to get these crabs? How quick can I pick up a suit and pack and get to Chicago to see if we can't work something out."
After spending part of the day Monday at Jim Hendry's house, the Cubs and Quade indeed worked out a deal that will pay Quade a total of $1.8-$2 million spread over the next two years to manage the Cubs, according to a major league source. The Cubs and Quade have a vesting option for 2013 based on performance -- it includes games won and playoff appearances among other factors. The Cubs were paying $3 million more per year to Lou Piniella.
Hendry's call to Quade on Sunday instructed him to get to Chicago, meet with him on Monday and to stay away from his regular apartment while preparing to be named the team's manager on Tuesday.
After winning 24 of the 37 games he managed in the final weeks of the 2010 season, Quade gave a short recipe for players he'll manage living in his world of work and discipline.
"You rarely don't know what I'm thinking," Quade said. "That doesn't mean you're going to like it, and it doesn't mean that things will always work in my favor. But at least you'll know where I'm coming from. Whether it's athletes or just people, handling people is the most important thing. If [players] can't handle that, then I'm not right for them or vice-versa."
Quade and the front office will sit down Wednesday to talk about next year's coaching staff and other personnel moves.
This much is known: Pitching coach Larry Rothschild will be back in his role for at least one more year, hitting coach Rudy Jarmillo has two years left on his deal, and bullpen coach Lester Strode will be back as well, according to a major league source.
First-base coach Bob Dernier, third-base Ivan de Jesus as well as bench coach Alan Trammell's fate will be discussed in the meeting. Trammell most likely will leave the Cubs to become bench coach for the
Arizona Diamondbacks
, which are managed by Trammell's former teammate Kirk Gibson. Gibson was on Trammel's staff when he managed the
Detroit Tigers
.
Washington Nationals
third-base coach Pat Listach may end up as either the bench coach or the third-base coach for Quade. Listach was a minor league manager for the Cubs before he left the organization to coach in Washington.
On a bigger, broader subject, Quade was asked if he'll ignore the ghost of 102 years of the Cubs not winning a World Series.
"I'm going to," Quade said. "But I've lived here, and I was raised here. I get it. You're totally aware of it. But it's not going to do us any good at all as a ballclub or me as a manager or me as a person, to have that anywhere near my thoughts on a daily basis."
Amazingly, the reverse has happened on the city's North Side. The "Gone Fishing" sign has come down and the back-to-work sign is up for Quade and the Cubs organization.
August, 12, 2010
8/12/10
8:21
PM CT
With 12 rookies on the roster, the faces may change from day to day, but the end result doesn't.
The Cubs continued their rush toward another 90-plus loss season, as the veterans who are left on the roster fight the good fight while watching their minor league teammates learn how to play at the big league level.
"It's about making adjustments," Marlon Byrd said following the Cubs' 29th one-run loss of the year on Thursday. "When they come in looking at the film, they have to figure out what they're looking at and fix it the next time out. If [they keep seeing the same things over and over again] it means you're not learning. The learning curve up here is tough. At the same time, people expect you to come up [to the big leagues] and produce. If not, you go back down to Triple-A."
Byrd's frustration is a common one for the veterans who thought they'd be in a penant race with seven weeks left in the season.
"It's not tough. It's not fun. You get sick and tired of losing," Byrd said. "Regardless of one-run games or 10-run games, it just gets old."
Interim manager Alan Trammell will gladly return the team to manager Lou Piniella on Friday in St. Louis. Trammell certainly hasn't enjoyed his pinch-hitting role for Piniella. His record during his two brief managing roles while Piniella tended to family business is now 1-6.
"Everybody knows that this time of the year, good teams execute better," Trammell said after the Cubs 8-7 loss Thursday. "I've talked to the guys a lot about it. We've done a lot of things not as well as we would like to. But [better execution] would be at the top of the list as far as giving teams opportunities. You just can't do that at any level. Let alone the big league level."
Notes
Shortstop Starlin Castro had multiple hits in each game of the four-game set with the Giants. His four hits on Thursday tied his career high, which he previously set on Aug. 4.
Derrek Lee returned to the team from Sacramento, Calif., after visiting with his seriously ill grandfather. He's able to come off the bereavement list Friday. With Lee rejoining the team, first baseman Michah Hoffpaur will be returning to Triple-A Iowa.
Besides Piniella rejoining the team, general manager Jim Hendry will also be on the St. Louis trip.
August, 11, 2010
8/11/10
6:04
PM CT
[+] Enlarge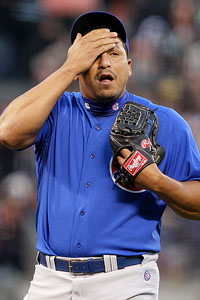 AP Photo/Ben MargotCarlos Zambrano left with the lead Monday agianst the Giants, but seven walks didn't sit well with Alan Trammell.
Being a professional and giving your all is something interim
Chicago Cubs
manager Alan Trammell stresses to all the players who are looking at 50 games of being the spoiler, and nothing else the rest of the way.
"Being able to wear a big-league uniform is an honor and a pleasure," Trammell said. "The game owes me nothing. I owe everything to the game. Every time I'm out on the field, I think back to when I was growing up, that was a dream of mine, to be a major-league ball player someday.
"I don't know too many better lives we can have."
Trammell was sending a message to the players who may somehow think about giving less than 100 percent effort, knowing the team is out of competition.
"You have to somehow trick your mind to motivate yourself to perform," Trammell said. "When you're having seasons like this, there are going to be X amount of players who won't be back, that's the reality of it. There are scouts up there writing reports. If the guy is hustling, he's going to write it down. If he's not, he's going to write that down, also."
Trammel is 1-4 as interim manager, pinch-hitting for Lou Piniella, who is tending to his ill mother in Tampa. Piniella returns Friday.
Trammell said recent call-up catcher
Welington Castillo
will catch against the
San Francisco Giants
on Wednesday evening.
"I do know he'll play [Wednesday]. We'll see how he does against [Barry] Zito, as to whether or not he plays against
Matt Cain
on Thursday. I'm going to refrain and reserve that right."
Castillo, 23, was hitting .251 at Triple-A with 30 extra-base hits and 57 RBIs in 65 games. He's from the Dominican Republic and signed with the Cubs as a non-drafted free agents on Dec. 4, 2004.
He's projected by the Cubs as a starting catcher in the majors.
Trammell has shown an aggressiveness and honesty and in his brief time as manager. It appears some of his previous experiences managing the Tigers and watching the Cubs play poorly this season are things are helping him. Even though the team won on Tuesday night, he took the players to task for shoddy defensive play. Trammell was honest about Carlos Zambrano's outing Monday, stating that although Zambrano competed, seven walks are not going to get it done in his future starts.