Chicago Cubs:

Andres Blanco
March, 27, 2010
3/27/10
4:53
PM CT
There were a number of reasons why the Cubs traded
Andres Blanco
to the
Texas Rangers
for a player to be named later on Saturday afternoon.
General manager Jim Hendry filled in some of those blanks.
"He was out of options; he couldn't go back to the minor leagues," Hendry said. "We felt like he wouldn't have gone through waivers and cleared, and even if he did, he would have been able to elect free agency, since he's been outrighted before. At least this way, we can get a player to be named later or cash considerations."
The Cubs decided earlier in the week that second baseman
Mike Fontenot
would be able to sufficiently back up shortstop
Ryan Theriot
. That decision made Blanco expendable, which also opened up a spot on the roster for either
Kevin Millar
or
Chad Tracy
to take. A decision on the other bench players, including Millar and Tracy will come sometime Tuesday, according to manager Lou Piniella.
March, 27, 2010
3/27/10
3:43
PM CT
The
Chicago Cubs
have traded infielder
Andres Blanco
to the
Texas Rangers
for cash considerations or a player to be named later, the team announced on Saturday.
Blanco, who will be 26 next month, appeared in 53 games for the Cubs in 2009, finishing with a .252 batting average, one home run and 12 RBIs.
Read the full story
.
March, 23, 2010
3/23/10
3:57
PM CT
[+] Enlarge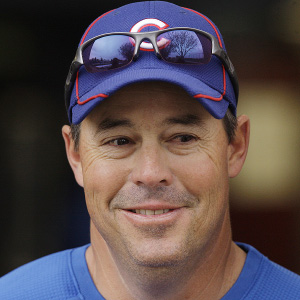 AP Photo/Ross D. FranklinCubs special assistant Greg Maddux has been "exactly what I wanted him to be," said general manager Jim Hendry.
Chicago Cubs
general manager Jim Hendry talked at length on Tuesday about the impact of special assistant
Greg Maddux
and his contribution during spring training.
"When Greg is on your team you're better," Hendry said. "He's exactly what I wanted him to be, and I have no doubt that he has helped a lot of people in this camp. He'd be the last guy to take any credit for that or talk about himself."
Hendry was pretty right-on about his commentary about Maddux. I asked the 355-game winner what spring training has been like for him.
"This has been a fun spring training, one I've enjoyed and learned a lot," Maddux said. "I enjoy being around the players and exchanging ideas. I hope to continue to keep learning at this level."
Hendry went on to talk about the impact Maddux has had during his first spring training as a front office executive.
"I'm thrilled he's here," Hendry said. "It's been a positive in every capacity. He's going to be capable of doing a lot of important jobs down the road, if he chooses. He's about as smart a player as we've ever seen."
Carlos Zambrano
,
Carlos Silva
,
Tom Gorzelanny
, and
Sean Marshall
are just a few of the pitchers who have given Maddux credit for technical and psychological support.
"He's the most successful non-promoting person I've ever met," Hendry said of Maddux.
Maddux will be with the Cubs' minor-league affiliates the first couple months of the season. He will also spend time with assistant general manager Randy Bush and super scout Gary Hughes, learning how to break down games from a scouting perspective. Maddux will also spend time with the Cubs' big-league team as well as have some flexibility to go back to Las Vegas and California for family time.
Hendry and manager Lou Piniella said the Cubs will trim the roster to around 30 players on Friday. At that time they are expected to also name their starting rotation and bullpen pitchers. A battle for the bench role will continue until late next week. The candidates include Chad Tracy, Micah Hoffpauir, Kevin Millar, Sam Fuld, Andres Blanco and Tyler Colvin. Fuld and Colvin are competing for the fifth outfield spot.- The Cubs had a front office and coaches meeting on Monday afternoon to go over roster moves and trade possibilities. Piniella said that the meeting lasted an hour and a half. Participants in the meeting were Piniella and his coaching staff along with Hendry, Bush, Hughes, Maddux and baseball administrator Chuck Wasserstrum. The Cubs usually have one or two of these meetings during spring training.
Xavier Nady will begin playing in the field over the next 10 days. The plan is for him to play in major- and minor-league games in the outfield and first base. Nady is still recovering from Tommy John surgery, replacing a ligament in his right arm for the second time in his career. The plan is for Nady not to overextend himself as far as throwing for now and in the near future. Nady will come out of games for defensive replacements in late game situations during the season in an attempt to prevent him from overthrowing as well as for the team to be able to protect one and two-run leads.
Piniella said Ted Lilly will pitch in his first minor-league game on March 27. The plan for now is for Lilly not to pitch in any Cactus League games. Lilly will continue to work on building his innings up in minor-league competition. His first outing he will be held to two innings pitched. Piniella said they are expecting Lilly back with the team some time in the second half of April.
March, 22, 2010
3/22/10
11:56
AM CT
MESA, Ariz. -- Chicago Cubs right-handed pitcher Carlos Silva will not miss any time after straining a lower quad muscle on his right leg Sunday.
Silva said the Cubs medical staff has been treating him with ice and ultrasound. The Cubs starter said he will throw a side session on Tuesday and prepare for his regular start on Friday.
Click here to read the entire story.
March, 7, 2010
3/07/10
10:48
AM CT
Chicago Cubs infielder Andres Blanco will miss 10-14 days after MRI results on his right knee revealed a mild to moderate sprain.


Blanco caught his spikes making a pivot in Saturday's game against the Chicago White Sox. He was given an MRI on Saturday.


February, 23, 2010
2/23/10
7:11
PM CT
First baseman
Derrek Lee
spent his first day in camp doing multiple interviews before and after the team's first practice. The veteran Cub said he wasn't interested in approaching the team about a contract extension.
Lee, a free agent after 2010, did say he'd be happy to listen to the Cubs if they did have any offers. He also said he'd prefer not to negotiate any contract during the season because he doesn't want it to become a distraction to the team.
[+] Enlarge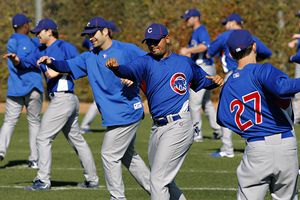 AP Photo/Matt YorkThe Chicago Cubs stretch during practice on Tuesday at their spring training facility in Mesa, Ariz.
Manager Lou Piniella said that Lee,
Ted Lilly
and Ramirez, all potential free agents in 2011, are no concerns of his. The Cubs skipper said he had no worries that any of the three would be distractions due to pending free agency, calling them consummate pros.
Team owner Tom Ricketts and his family spent the morning talking to the team and coaching staff about the present and the future of the organization. Ricketts, along with sister, Laura, and brothers, Pete and Todd, spent the afternoon looking at possible future sites for the Cubs' future spring training complex. According to sources, all the sites they looked at are in the East Mesa area, somewhere between eight and 10 miles from the current complex.
Utility man Kevin Millar continues to impress Chicago Cubs veterans and rookies alike with his uncanny ability to make people laugh and keep them loose. If Millar can beat out other candidates as the team's 25th man, it will be a big positive in a clubhouse that sorely needs the type of fun and leadership Millar brings to the game.
Third baseman Aramis Ramirez arrived in camp and admitted the Cubs' chemistry in 2009 was way off. Ramirez pointed to the offseason additions of Marlon Byrd and Xavier Nady as big improvements going into this season.
The team's second base competition will be between Mike Fontenot and Jeff Baker, according to Piniella. Fontenot will also get a look as a potential backup shortstop early in camp. The Cubs coaching staff wants to be able to determine if Fontenot is capable of playing shortstop well enough to back up starter Ryan Theriot. If the consensus is no, then either infielder Andres Blanco will get the job or the team will pursue a trade for a backup shortstop during Cactus League play
Nineteen-year-old prospect Starlin Castro made a strong impression on his new teammates and manager Piniella in his first day of camp. Piniella said Castro reminded him of a young Edgar Renteria.
Former Comcast producer and operations director Lissa Druss Christman was the point person for the Ricketts family's trip to Mesa, doing all the PR. Druss recently left Comcast to join the PR firm headed by Dennis Culloton, who handles all the PR for the Ricketts family.
Cubs radio broadcaster Ron Santo told me that he feels great and looks forward to 2010. Santo said his wife is planning a big birthday bash for him on Feb. 25 as Santo celebrates his 70th birthday. The likable Santo said 15 friends are flying in from Chicago for the party.