Chicago Cubs:

Angel Pagan
April, 4, 2014
4/04/14
12:55
AM CT
By ESPN Stats & Information
ESPNChicago.com
Archive
Who have been baseball's best hitters the first few days of the season? A couple of players staked their claims in wins on Thursday.
Bonifacio again off to a good start
You would be hard-pressed to find someone who had a better opening week than the newest Cubs infielder,
Emilio Bonifacio
.
Bonifacio is 11-for-16 with four stolen bases through the first three games of the season. In March and April the previous two seasons, he hit a combined .216; in the opening month of 2011, he hit .318. He started the 2009 season 14-for-24 (.583) in his first five games, but finished the season hitting .252.
The heat map below shows how Bonifacio has been effective from both sides of the plate with what is a very small sample. He didn't crack a .250 batting average from either side last season.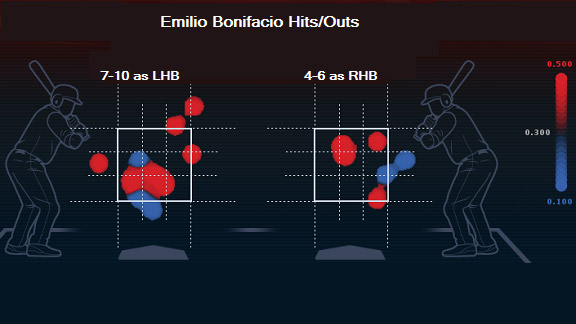 Pagan, Belt take Giants step forward
Angel Pagan
has been with the Giants since the start of the 2012 season, and the team has been far better when he plays.
In games that Pagan has appeared in, the Giants are 129-99 (.566). In the games Pagan has not played, they are 44-56 (.440).
Coincidence? Perhaps. And we're not going to make the case that he belongs on the list of the most indispensable players in baseball (we'll leave that to Dan Szymborski, who is writing on that topic in the near future).
But at the very least, Pagan is off to a good start in 2014.
Pagan was a notch behind
Brandon Belt
with regards to his value in the Giants' winning three of four from the
Arizona Diamondbacks
in Arizona. But Pagan had multiple hits and at least one RBI in all three wins.
On Thursday, he hit the go-ahead home run in the eighth inning against Diamondbacks reliever
Will Harris
. The homer was noteworthy because it came on the first pitch of the at-bat. Pagan hadn't hit a first-pitch homer in his time with the Giants before Thursday.
One of the things that Pagan brings to a lineup is a low rate of missed swings. In the past, Pagan's ability to put his bat on the ball has been overshadowed by a teammate who rates a bit better at that than he does --
Marco Scutaro
.
Pagan has missed on only three of his 29 swings so far this season. The average major league hitter misses about twice as often as Pagan does.
Pagan's six RBIs pace the Giants so far, one more than teammate Brandon Belt, who hit his third home run of the season on Thursday.
Belt thrived away from AT&T Park last season, particularly in the second half, when he hit .356 with four home runs in 28 road games. He's already just one homer shy of that total.
Belt's overall 2013 slash line of .289 AVG/.360 OBP/.481 SLG nearly mirrors Paul Goldschmidt's 2012 (.286/.359/.490). Goldschmidt (who has a 25-game hitting streak) was an MVP candidate in 2013. Belt has been one for the opening week of 2014.
July, 22, 2010
7/22/10
11:59
AM CT
By Derek Czenczelewski, ESPN Stats and Info
ESPNChicago.com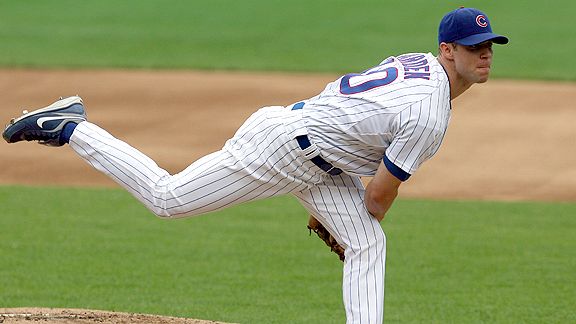 Jonathan Daniel/Getty ImagesIt turns out the price tag to acquire Rich Harden wasn't that high for the Cubs.
Hindsight is always 20-20 as they say, and that certainly holds true when wheeling and dealing. Trades excite fans, yet many times teams end up sacrificing their future for a shot at a proven commodity in hopes of a title run. Here is a look at how the Cubs fared in trades since 2005, using statistical analysis and the sabermetric WAR.
WAR stands for Wins Above Replacement and is a relatively complicated formula that in the end answers the question, "How much value would the team lose if a replacement player took his spot?" The calculation turns out an approximate win total the player holds.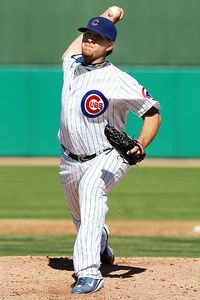 Lisa Blumenfeld/Getty ImagesAfter showing some potential with the Cubs, Sean Gallagher has bounced around the major leagues.
Best trade
July 8, 2008: Cubs trade Josh Donaldson, Sean Gallagher, Matt Murton and Eric Patterson to the Oakland Athletics for Rich Harden and Chad Gaudin. (Cubs' net WAR gain: 5.9)
This trade would have been better had the Cubs held on to Harden, who battled injuries with the Cubs as he has throughout his entire career. But when he pitched, he was electric. Harden compiled a 14-10 record and 3.31 ERA with the Cubs. He also averaged 11 strikeouts per nine innings pitched and a 4.0 WAR.
Gaudin pitched just one season for the Cubs, going 4-2 with a 6.26 ERA. Since 2008, Gaudin has pitched for four different teams. It's safe to say there were no hard feelings to see Gaudin leave town.
The Cubs lost very little in what they traded away, however. Donaldson was finally called up this season. The former first-round draft pick has 10 games under his belt, but has hit only .154. Gallagher (-1.3 WAR) has not pitched well for Oakland, San Diego or Pittsburgh while Murton is no longer in the majors.
Honorable mention: Dec. 18, 2009: Cubs trade Milton Bradley to the Seattle Mariners for Carlos Silva. (Cubs' net WAR gain: 2.5)

In his one season with the Cubs, Bradley managed to hit just .257 with 12 home runs and 40 RBIs. Silva was coming off two horrid seasons with the Mariners in which he went 5-18 with a 6.81 ERA.

In 2010, both players' careers took very different turns. Bradley is batting just .206 with a .289 OBP. Silva has performed very well for the Cubs, compiling a 9-3 record with a 3.45 ERA. He's also struck out 72 batters while walking only 19.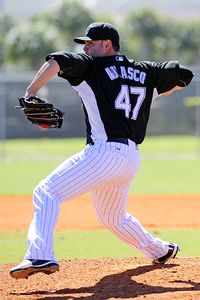 Steve Mitchell/US PresswireRicky Nolasco was the real loss for the Cubs in the Juan Pierre trade.

Worst trade
Dec. 7, 2005: Cubs trade Sergio Mitre, Ricky Nolasco, and Renyel Pinto to the Florida Marlins for Juan Pierre. (Cubs' net WAR loss: -1.3)

Mitre has battled injuries and inconsistency throughout his career. But he may have finally found his niche in the Yankees' bullpen this season with a 2.88 ERA in 25 innings. The real loss in this trade wasn't Mitre though. That honor goes to Nolasco (3.6 WAR), who has shown flashes of brilliance in his young career, compiling a 49-36 record with a 4.45 ERA. He's averaging just under eight strikeouts per nine innings and has struck out a total of 585 batters to only 158 walks. Over the past three seasons, Nolasco has averaged a 4.4:1 K:BB ratio.

Pinto (2.1 WAR) has been a solid reliever for the Marlins, throwing 231 innings while striking out 222 batters. He's also maintained a career 3.62 ERA.

Pierre, the Cubs' centerpiece of the deal, played just one season with the team in which he tallied a 3.3 WAR. And although it was a good season (Pierre hit .292 with 58 steals), it can't compare to what the Cubs could have had in Mitre, Nolasco and Pinto.
Honorable mention: Jan. 5, 2008: Cubs trade Angel Pagan to the New York Mets for Corey Coles and Ryan Meyers. (Cubs' net WAR loss: -7.4)Meyers and Coles are now out of baseball, while Pagan is a stalwart in the Mets lineup. Since being traded to the Mets, Pagan has hit .304 with a .357 OBP and has stolen 37 bases. He's also achieved a 7.4 WAR. It took Pagan until this season to establish himself as an everyday player. But at 28 years of age, Pagan has most likely reached his ceiling. Considering the return on investment the Cubs received, or lack thereof, this trade was definitely a mistake. While the Cubs "net WAR loss" was more substantial in this deal, the Nolasco deal will be more harmful long-term.

Day of Infamy
Dec. 7, 2006: Cubs draft Josh Hamilton from the Tampa Bay Rays in the Rule 5 Draft. His rights were then sold to the Cincinnati Reds. (Cubs' net WAR loss: -12.9)

Hamilton wasn't traded per se, but his rights were once held and then sold in the course of the same day by the Cubs. It's not as though Hamilton (12.9 WAR) ever played for the Cubs, and you could speculate that in theory they could have Edinson Volquez (5.1 WAR) if they made the same trade the Rangers completed with the Reds.