Chicago Cubs:

Arismendy Alcantara
March, 7, 2014
Mar 7
2:26
PM CT
If
Chicago Cubs
infielder
Darwin Barney
is feeling the heat of competition this spring, he's not showing it.
Barney is the incumbent starter at second base, but a slew of infield prospects are close to being ready for the major leagues. Until the season begins there's mostly one thing people think of when it comes to him: .208.
[+] Enlarge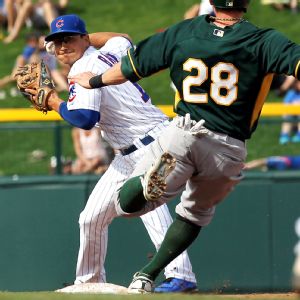 Lance Iversen/USA TODAY SportsDarwin Barney's defense has kept him in the lineup.
His 2013 batting average has many believing he's not long for a starting job, but this is a Gold Glove winner who hit .276 in 2011. And depending on whom you talk to, he isn't that far from getting back to some respectable numbers. He was at the top of the league in foul ball percentage last year as he battled pitchers, and he drove in 41, batting mostly eighth. But his overall results spoke volumes. They weren't very good.
"It's competition every day," Barney said recently. "There's a guy behind me, a guy behind him and two behind him. That's part of the gig."
Barney could be talking about a number of players, including top prospect Javier Baez or
Arismendy Alcantara
, or even late winter pickup
Emilio Bonifacio
. None of it fazes him -- at least not publicly.
"I look at Bonifacio or the other guys as teammates," he said.
That's because he knows the battle isn't with them -- it's with the game. It won't matter whom he's competing with if he repeats his .208 batting average and .266 on-base percentage. Barney wants to "be the same every day" at the plate. That wasn't the case last season.
"[Hitters] try to find something every day, to fix something," Barney said. "I'm trying to be the same every day with the approach and timing."
It will take a lot of mental toughness to stick with that approach even when the results aren't there, but Barney says he'll do it.
"Being consistent with my approach," he said. "The results will come. I'm confident about that."
Barney is off to a good start this spring as his compact swing has paid off. A day after Bonifacio tripled in his first at-bat as a Cub, Barney singled and homered. He's 4-for-11 going into Friday's games. And after
Starlin Castro
injured his hamstring recently, Barney moved over to shortstop for a start this week. It can only make him more valuable; right now, Barney and his defense are a pitcher's best friend.
"This early in spring I try to take as many ground balls as I can," Barney said. "I have a routine to get ready on defense as well."
Defense is the reason he has stayed in the lineup for as long as he has. It might make him a valuable trade commodity at some point, but if he can find his stroke again, there's nothing wrong with a .270-hitting, Gold Glove-winning second baseman.
Manager Rick Renteria has already declared him his starting second baseman, but things can always change when spring or regular-season results are analyzed.
For now, Barney just wants to do one thing at the plate.
"Being the same every day," he said.
As long as the results aren't the same.
March, 3, 2014
Mar 3
2:50
PM CT
The
Chicago Cubs
agreed to contract terms Monday with 19 players all with fewer than three years of experience, including catcher
Welington Castillo
, outfielder
Junior Lake
and pitcher
Jake Arrieta
.
Also signed were pitchers
Zac Rosscup
,
Chris Rusin
,
Dallas Beeler
,
Alberto Cabrera
,
Justin Grimm
,
Blake Parker
Neil Ramirez
,
Hector Rondon
and
Arodys Vizcaino
. Infielders
Arismendy Alcantara
,
Mike Olt
,
Christian Villanueva
and
Logan Watkins
as well as outfielders
Brett Jackson
,
Matt Szczur
and
Josh Vitters
were also signed to contracts.
Terms of the contracts were not disclosed.
February, 18, 2014
Feb 18
5:15
PM CT
MESA, Ariz. -- New
Chicago Cubs
manager Rick Renteria will address his team for the first time Wednesday as full squad workouts are set to begin. He says his speech won't be that different than the one he gave to pitchers and catchers last week: eliminate the distractions and do the work at hand.
"Many of the things that I'll say, I'll say over and over the course of the spring, over the course of the season," Renteria said Tuesday. "It will be redundant but what we're trying to do is change the way we think and do things."
The bottom line is that without championship-ready talent, the Cubs have to rely on doing things the right way. If they can take care of the little things, when the talent catches up to the attitude, they might just have a winner.
"You shouldn't fear having high expectations," Renteria continued. "A lot of times guys worry about creating this ceiling because how are they going to feel if they don't attain it."
Creating false expectations probably isn't the Cubs problem -- no player is promising anything for himself or the team right now. Still, Renteria wants nothing to stand in the Cubs way of playing the game the right way, not their record or what the date on the calendar is.
February, 14, 2014
Feb 14
10:00
AM CT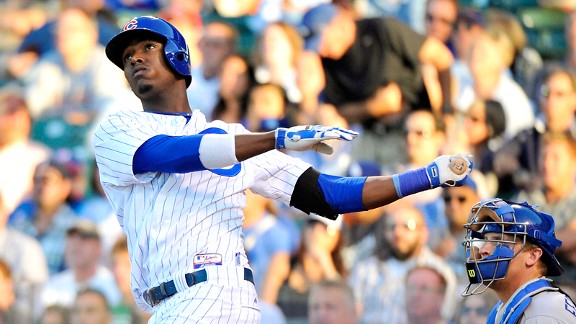 Rob Grabowski/USA TODAY SportsJunior Lake will have to prove this season that he can be a long-term answer for the Cubs.
MESA, Ariz. -- The biggest question facing the
Chicago Cubs
this season is how many young players can make their way into the core group.
In a very best-case scenario, prospects Javier Baez, Kris Bryant,
Arismendy Alcantara
,
Mike Olt
, Kyle Hendricks and possibly even
Jorge Soler
will be knocking on the door. Not all will make it to Chicago in 2014, and not all will be locks as long-term answers, but the Cubs don't need them all to be -- just a few. At the major league level, all eyes will be on
Junior Lake
in left field. Will he be a long-term answer, as well?

This question even supersedes the need for
Starlin Castro
and
Anthony Rizzo
to have big years. The next two seasons are critical for the Cubs' overall plan to work. These young position players have to start to make it to the big leagues and establish themselves or the plan is stuck in mud. At the same time, the Cubs need to find more pitching. It might come with the No. 4 pick in the draft this June, or it might come in the form of some pitching currently in the lower levels of the minor leagues.
Coming off a stellar 2013 (13-4, 2.00 ERA), Hendricks is next up among the starters. Without devastating stuff, he has to rely on his know-how, and for the Dartmouth graduate, it might be enough. But he still has question marks attached to his future, as do most of the Cubs prospects on the mound.
A best-case scenario has Olt producing right away at third base, Lake in left and Baez coming up to play second base with a rejuvenated Castro at shortstop. Or maybe Alcantara finds his way into the lineup. Then next year, the outfielders come in the form of Soler and Bryant -- assuming he switches position because of Olt's success -- followed by Albert Almora. Again, not all will make it, but at least the Cubs have several options at multiple positions. That's the key. Let competition among players help decide the future.
These are the big questions for 2014 (and 2015), but there aren't enough answers on the mound right now. Off the field, it's something the front office has to address. On the field, how the position player core shapes up is the biggest question mark.
And a fun one to watch.
February, 12, 2014
Feb 12
10:00
AM CT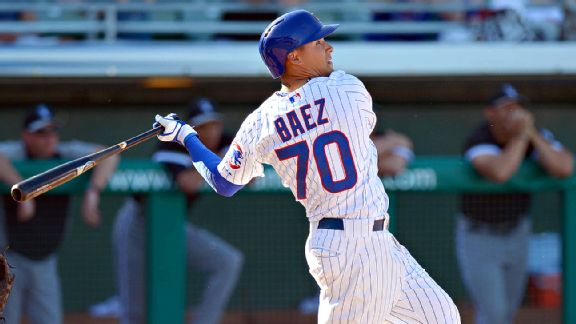 Jake Roth/USA TODAY SportsJavier Baez showed plate discipline as he moved up in he minor leagues last season.
With Chicago Cubs spring training set to begin Friday in Mesa, Ariz., we're taking an early look around the diamond.
Prospect candidates: INF Javier Baez,
Christian Villanueva
,
Arismendy Alcantara
,
Mike Olt
, C Rafael Lopez, P Kyle Hendricks,
Dallas Beeler
, OF
Brett Jackson
,
Josh Vitters
,
Jorge Soler
Best Bets: Baez, Alcantara, Hendricks

One thing is clear about the slew of prospects the Cubs should be seeing make it to the big leagues in the coming years: They won't be coming based on the needs of the major league club at that moment. The front office has repeated the notion that prospects need to dominate the level at which they're playing before any promotions occur. They also need to meet certain goals established by the club.
While it's doubtful any prospects who didn't play in the big leagues last season are expected to make the club out of spring training -- except perhaps Mike Olt -- there's a very good chance the Cubs will promote several throughout the season. And a few of them are considered elite names.
None are bigger than 2011 first-round pick Javier Baez.
After a monster season (37 home runs, 111 RBIs) at Single-A and Double-A in 2013, Baez is poised to see Wrigley Field for the first time by the end of 2014 -- if not sooner. He'll have to maintain the plate discipline he showed after being promoted last year, and considering his already violent and damaging swing, there's a good chance he could be in Chicago by late June. But the Cubs have been erring on the side of caution with their prospects so there's no guarantee. Then again, if he dominates at Triple-A Iowa they won't have a choice but to promote him.
There's also the issue of service time as the Cubs will probably follow the
Anthony Rizzo
timeline if a particular prospect doesn't make it out of spring training. It prevents them from having "Super Two" status and an earlier chance at arbitration. Rizzo came up from the minors on June 26, 2012.
Infielder Arismendy Alcantara is another candidate to come up midseason. His stock has risen as much as anyone's over the last 12 months or so. But unlike Baez, Alcantara might need a near full season at Triple-A before he gets his chance. Same goes for pitcher Kyle Hendricks. Like Baez, Hendricks also had a huge year in 2013 (13-4, 2.00 ERA) between Double-A and Triple-A. Those three players are next up to make it to the Cubs.
It still leaves others an opportunity if they indeed dominate. Infielder Christian Villanueva will play alongside Baez and Alcantara at Triple-A and there's always a chance former first-rounder Josh Vitters or even Brett Jackson find their groove.
Then there is the No. 2 overall pick of last year, Kris Bryant. He'll most likely start at Double-A Tennessee, but it might not take until mid-June to see him move up again. After all, he spent very little time at the Single-A level last year where he dominated, and then won Arizona Fall League MVP honors. If Bryant makes it to Iowa by June, there's a chance he's at Wrigley Field before season's end. It's not likely due to the Cubs conservative approach, but either way Bryant could be just one year away from being a big-league starter.
Jorge Soler is in the same boat as Bryant but might need more playing time as his 2013 season was cut short because of injuries.
All this is predicated on performance. Baez is the best bet because of his raw talent and his development when he moved up to Double-A last season. His plate discipline actually got better at the higher level. That's what the Cubs want to see. At the very least Hendricks and Alcantara should be September call-ups unless their performance dictates otherwise.
Olt remains a wild card because of his vision problems of last year -- though it was only two seasons ago he was considered untouchable within the
Texas Rangers
organization.
The Cubs are in the midst of transitioning from an older team to a much younger one. It started with
Junior Lake
in the second half of last season and it should continue with the eventual promotion of Baez.
And more are on their way.
January, 31, 2014
Jan 31
12:02
PM CT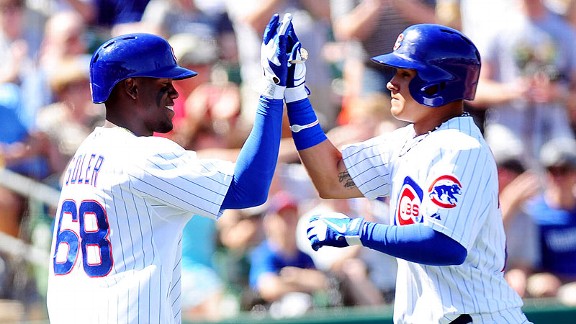 Jennifer Hilderbrand/USA TODAY SportsKeith Law ranks Javier Baez, right, as the Cubs' top prospect with Jorge Soler, left, No. 3.
This week ESPN.com Insider Keith Law released his annual prospect rankings both in terms of
players
and
organizations
. Not surprisingly, Law confirmed what we already knew about the
Chicago Cubs
: They're top heavy when it comes to potential impact bats but still could be lacking in impact pitching.
Having said that, the Cubs have improved their prospect base on the mound over the last 12 months, though it's still unclear if anyone in the system could be a clear No. 1 pitcher in the major leagues. Between that improvement and the drafting of impact bats over the last few years, Law ranks the Cubs' farm system No. 4 in all of baseball.
"It's always nice to read good things about your system," Cubs scouting director Jason McLeod said via email. "One of our goals is to acquire as many young, talented players as we can, and we feel good about where we are right now, but we also know that there is always room for improvement."
Let's start with the good news. The Cubs have four of Law's top 30 prospects in baseball. All four are position players, led by 2011 top pick Javier Baez. He checks in at No. 7 overall. Law writes:
Baez has the best bat speed of any hitter in the minors right now, and the ball explodes off his bat like he's splitting atoms with contact.
That analysis corresponds with many in the game who compare Baez's bat speed with former slugger
Gary Sheffield
, who had comparable minor league numbers at age 20 and never lost that bat speed as he came up to the majors. A little more plate discipline at Triple-A Iowa this season and Baez should be at Wrigley Field sometime this summer.
[+] Enlarge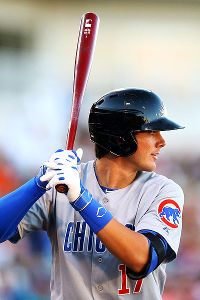 Mark J. Rebilas/USA TODAY SportsKeith Law says the Cubs can build around third baseman Kris Bryant.
Third baseman Kris Bryant is Law's No. 2 Cubs prospect and 15th overall in baseball. He's had the least time as a professional under his belt, but his prodigious size and power make him a near sure thing for the middle of any lineup. Law writes:
The kind of bat you stick in the cleanup spot so you can build your lineup around him.
Add to Bryant's resume his work ethic, intellect and a father who played professional baseball, and he has all the tools to move up quickly and be successful.
Like many observers, Law notes that
Jorge Soler
, his No. 26 overall prospect, had an incomplete 2013 season because of injury and suspension, but notes his body type and athleticism to go along with an above average understanding of the strike zone still make him a worthy prospect. Law writes:
I see explosive offensive potential, with easy plus power and enough feel for the zone to be a middle-of-the-order bat.
Albert Almora, the Cubs' first-round pick in 2012, checks in as the No. 28 overall prospect in the big leagues. Scouts agree with Law's assessment: He could play outfield in the majors right now. Law writes:
He gets some of the best reads off the bat I've ever seen from an outfield prospect, so although he's a below-average runner he still plays a plus center field.
But what about those pitchers?
Law ranks only C.J. Edwards (67) in his top 100 prospects and notes he's no sure thing as a top-of-the-rotation guy. Same goes with Pierce Johnson, who's ranked as the Cubs' seventh-best prospect in the system. And Edwards and Johnson could have size issues as they're slight of frame, listed at 155 and 170 pounds, respectively.
"Pitching is always an area of need for any organization," McLeod said. "I would say that we are still hopeful one of our guys makes that step forward in the coming year where they put themselves on the map as a potential top-of-the-rotation starter in the near future. However, we will continue our efforts in acquiring as much pitching as possible."
Law doesn't rank Cubs minor league pitcher of the year Kyle Hendricks in his top 10 in the organization despite a 13-4 season and 2.00 ERA in 2013. Law said via email he's probably no better than a fifth starter without a "high ceiling."
Hendricks might have been overlooked by Law, but McLeod says the Cubs have high hopes for him.
"Kyle doesn't get much love on the prospect lists because he doesn't have the mid-90's fb or the devastating breaking stuff," McLeod said. "However, he has advanced feel to command the zone and can get outs with multiple options. He has the attention and respect from our staff, I can tell you that."
Second baseman
Arismendy Alcantara
(No. 71) rounds out the Cubs' six prospects in Law's top 100. With Alcantara and Baez starting the season at Triple-A Iowa at second base and shortstop, and mainstays
Darwin Barney
and
Starlin Castro
playing those positions for the Cubs, it could make for a logjam later in the summer.
Too many players for too few positions is a problem the Cubs would love to have, and Law's prospect rankings show it could be a reality sooner rather than later. But top pitching still remains a mystery as the Cubs try to turn themselves into a winner in the coming years.
After striking out on Japanese star
Masahiro Tanaka
, continuing to be at a standstill in contract talks with
Jeff Samardzija
and having just one pitcher in Law's top 100 prospects in baseball, the Cubs might not have the answers they want for the most important part of the game.
November, 20, 2013
11/20/13
6:53
PM CT
CHICAGO -- The
Chicago Cubs
added infielder Arismendy Alcantara and pitcher Dallas Beeler to their 40-man roster on Wednesday, the final day such moves can be made before the Rule 5 draft next month.
Alcantara, 21, made the all-star team for Double-A Tennessee and hit.271 with 15 home runs and 69 RBI while stealing 31 bases. He also appeared in the Futures Game, hitting a home run. Alcantara has been on the rise within the Cubs organization and should start 2014 at Triple-A Iowa.
Beeler, 24, threw well in the Arizona Fall League after going 4-2 with a 3.13 ERA at Double-A while dealing with injuries. In Arizona, he was 4-1 with a 2.49 ERA in six starts. He started the championship game and gave up one run in five innings. His performance in Arizona may have vaulted him onto the 40-man roster.
Being added to the 40-man roster means those players are ineligible to be taken by another team during the Rule 5 draft, which takes place Dec. 12, the final day of the winter meetings.
Not all players in the organization are eligible to be drafted -- only those with enough service time in the minors who aren't on the 40-man roster. For example, prospects Kris Bryant, Javier Baez and Albert Almora can't be taken because they haven't logged enough service time.
The Cubs chose pitcher
Hector Rondon
last year from the
Cleveland Indians
in the Rule 5 draft, and he appeared in 45 games for Chicago. By rule, if a player is taken in the draft he must be put on his new team's 25-man roster for the upcoming season and remain there for the year. He also can be sent back to the team from which he was selected at any time, for half of the $50,000 it cost to pick him up.
The Cubs' 40-man roster now has 39 players on it.
September, 17, 2013
9/17/13
9:00
AM CT
By
Sahadev Sharma
| ESPNChicago.com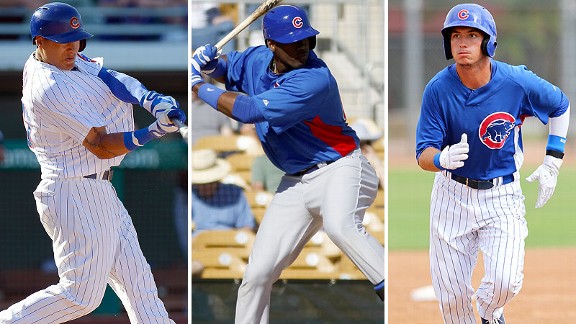 USA TODAY Sports, Icon SMIThe Cubs have plenty of promising position player talent in the minors with Javier Baez, Jorge Soler and Albert Almora.
With four players arguably among the top 30 prospects in all of baseball, the future looks bright for the
Chicago Cubs
.
Of course, it was just a decade ago that names like
Mark Prior
,
Angel Guzman
and
Juan Cruz
littered top-100 lists. But as the saying goes, there's no such thing as a pitching prospect, so it's likely a good thing the current Cubs system is heavy in high-ceiling offensive talent. They don't possess an elite, Archie Bradley-like arm, but through bulk-drafting and some shrewd trades, the Cubs have put together a solid group of pitchers, many of whom project as solid mid-rotation candidates or slightly better.
The fact is, if the topic of the Cubs system is brought up in front of opposing talent evaluators, one will quite often find oneself in a long conversation. Long gone are the days of people wondering who, beyond one or two players, has any real future impact in the Cubs system. In fact,
Brett Jackson
, who not so long ago sat atop the Cubs' prospect rankings, would find himself among the back half of a Cubs top 10, even if he were still at his peak prospect value.
A few things to remember here: This is not a top-10 list or even a ranking of any sort. It's just a quick glimpse at some players who range from superstar potential to role player. Trying to judge a minor league player on his statistics is a highly imperfect way of analyzing prospects. Minor league stats never tell the whole story. That's why, as always, much of the information provided here is gathered from discussions with scouts and front office members from around the league.
Javier Baez
Position:
SS
Age:
20
Highest level in 2013:
Double-A Tennessee
It's not often that broaching the topic of what a prospect could do at the major league level if everything goes right leads scouts to giggle with excitement, but that's what Baez's bat does to people. After struggling early at High-A Daytona, Baez quickly turned things around and forced a promotion by posting an .873 OPS with 17 home runs in 76 games in the pitcher-friendly Florida State League (FSL), then went on to terrorize opposing team's pitchers at Tennessee.
[+] Enlarge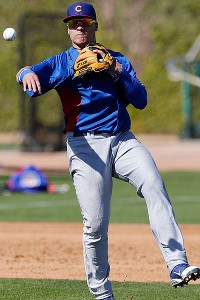 AP Photo/Morry GashJavier Baez's power is impressive but his defense is still a work in progress.
Baez has easy 70 power (on the 20-80 scouting scale) and those who are bullish on him can squint and see a future 70 hit tool (though a 55-60 rating seems to be the industry consensus). Throw in his knack for coming up big late in close games and it's easy to see why the list is short of minor leaguers who have a higher ceiling with the bat.
In 54 games at Double-A, Baez's elite bat speed continued to wow scouts, while delivering numbers to do the same. With a .294/.346/.638 line and 20 home runs and 15 doubles, it's clear why many believe Baez will be ready to send fastballs over the ivy at Wrigley Field at some point in 2014.
That's not to say that Baez is without his warts. Baez struck out 147 times with only 40 walks and committed 44 errors at two levels this season. Baez is an aggressive player who believes he can hit any pitch when he's at the plate and make any play while on defense. The defensive issues have nothing to do with fundamentals, but reining in his at times out-of-control play would do a lot in helping him reduce the errors.
As far as his aggressiveness at the plate, Baez has definitely taken some strides in 2013. The slider breaking low and away from him was quite often a bugaboo, but he's learning to stay away from the offering, forcing pitchers to come back over the plate and often making them pay for that decision. Baez also had numerous games in August in which he'd see 25 or more pitches in only four or five at-bats. Not only does seeing so many pitches wear down the opposition with a rising pitch count, but it increases the likelihood that Baez will see a pitch more to his liking. When that happens, good things usually follow.
Early in his career, there were questions about Baez's makeup, but those have quickly faded away and proven to be a non-issue. When watching Baez play, effort is never a question. In fact it's his intensity that sometimes gets the best of him.
What we saw from Baez this season was a big step forward. He still has work to do before the questions subside, but Baez has passed the biggest test a player will face at the minor league level by having a monster season at Double-A. Now it's just a matter of time before he has the opportunity to show what he can do at the big-league level.