Chicago Cubs:

Armando Rivero
August, 29, 2014
Aug 29
12:44
PM CT
With major league rosters expanding Monday, the
Chicago Cubs
intend to see as much of their young pitching as possible in the final month of the season.
General manager Jed Hoyer intimated in a radio interview Friday the Cubs could simply go to a six-man rotation. Or they could just piggyback starters in the same game. The point will be to see names such as
Jacob Turner
,
Felix Doubront
,
Dan Straily
and probably
Dallas Beeler
as the front office begins to make plans for 2015.
[+] Enlarge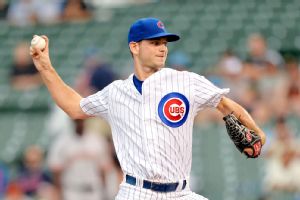 Brian Kersey/Getty ImagesJacob Turner will get a chance the rest of this season to state his case for a spot with the 2015 Cubs.
Turner, Doubront and Straily were acquired by the Cubs midseason amid various struggles, but there is hope one or more can emerge as a legitimate candidate for the rotation next year.
Turner, 23, had his first chance to start a game for the Cubs on Wednesday with mixed results. He went 3 ⅔ innings, giving up seven hits and six runs, but only three were earned. He also walked two batters and came out after a predetermined pitch limit (66). His fastball had some life and a slightly higher-than-normal average velocity, but it wasn't the sharpest of outings.
"He wanted to stay in there," manager Rick Renteria said after the game. "He made some pitches that we had trouble making plays on. He wanted to stay in there and try to get out of it, but he had reached his ceiling."
Turner added: "I would've liked to have gotten a little deeper in the game. That part is frustrating. I've got to get my pitch count up. I just didn't make a few pitches when I needed to. It's exciting to be starting for sure, but I would've liked to have performed a little better."
Turner should get another chance, as should Beeler and Straily, who have already started for the Cubs this season. Doubront will start in the first game of Saturday's doubleheader against the Cardinals, but he struggled in the minors after being acquired from the Red Sox, giving up nine runs in 14 innings for Double-A and Triple-A.
It's unclear what the plan is for veteran
Edwin Jackson
, who has struggled all season with a 6-14 record and a 6.09 ERA, when he comes off the disabled list. He's eligible to be activated later next week.
Missing from the list of September call-ups could be the Cubs' best two players in the minors this season. Third baseman
Kris Bryant
isn't expected to be promoted, and unless the Cubs decide to add reliever
Armando Rivero
to the 40-man roster, he won't be seeing Wrigley Field, either.
Bryant's exploits (43 home runs) are well-documented, but Rivero has taken big steps in his development, as well. After posting a 1.56 ERA and 10 saves for Double-A Tennessee this season, he's thrown well for Triple-A, going 3-0 with a 3.07 ERA and 1.22 WHIP.
Neither Bryant nor Rivero are on the 40-man roster, and the Cubs are on record saying they may need/want those roster spots this winter for new additions. Neither can be taken in the Rule 5 draft in December because of their short time in the minors, so they don't need to be added to the 40-man roster until necessary.
Of course, the Cubs have opened 40-man roster spots this season by designating players for assignment such as
Darwin Barney
and
Ryan Kalish
, and they could do so again with, say,
Josh Vitters
or several others. But the Cubs will probably make those moves this winter.
Some may have thought pitcher
Arodys Vizcaino
would have been back in the big leagues by now, but he hasn't quite dominated at Triple-A. After Vizcaino had a glove-popping spring training with his velocity hitting 100 mph, the Cubs took it slowly with him because of past arm problems. He had decent numbers at Class A and Double-A this season, but his Triple-A WHIP of 1.96 tells his story there, as does his 5.71 ERA. And he recently said he wasn't throwing as hard, but it wasn't clear if that was by design or some other issue. He's on the 40-man roster, so there's no harm in bringing him up.
In the meantime,
Junior Lake
and
Mike Olt
are expected back in September, along with the pitchers, though Olt is recovering from a hamstring injury. It's hard to see any other position players making it up unless the Cubs add a catcher to the 40-man roster. They already have enough young players to look at around the diamond in
Arismendy Alcantara
,
Javier Baez
and
Jorge Soler
.
In any case, the head start on 2015 has already begun and should enter another gear as the calendar turns to the final month of the regular season.
August, 18, 2014
Aug 18
11:15
AM CT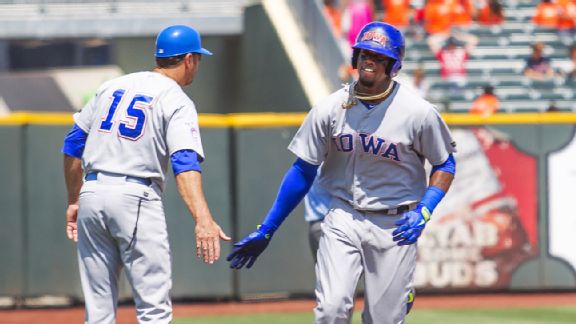 Michael Spomer/Cal Sport Media/AP ImagesTriple-A Iowa outfielder Jorge Soler is in a 2-for-24 slump through Sunday's games.
The
Chicago Cubs
begin the final six weeks of the season on Monday and, at 53-70 going into their game against the
New York Mets
, it's all about getting ready for next season. They might play spoiler along the way, but that's secondary to finding out more about them heading into 2015.
Here are six things we'd like to see in the final six weeks:
1. Call up Soler:
The Cubs have more than intimated that 22-year-old outfielder
Jorge Soler
will likely make it to the majors before season's end. The only question is when? At the time of outfielder
Matt Szczur
's call-up on Saturday in New York, Soler was in an 0-for-15 skid, so maybe that has delayed things. Just as likely was allowing the hard-working Szczur to make his debut not far from where he grew up in New Jersey and later became a two-sport star at Villanova. Soler is batting .329 with 12 home runs and 47 RBIs -- to go along with 28 walks -- in just 55 games this season in the minors. Arguably the most disciplined hitter of all the top prospects, Soler should get more than just a cursory look in September. The more at-bats he gets now, the better he'll be next season. He's one guy who will take a walk. Let's see if that carries over to the majors.
2. Adjust the lineup:
Manager Rick Renteria admittedly isn't putting guys in their long-term spots in the order. That's been all right considering the batting order might be the most over-argued notion in baseball. General manager Jed Hoyer often paraphrases statistician Bill James when it comes to the lineup: Put your good hitters near the top and everyone else near the bottom. Pretty simple. In the Cubs' case, it's just a reworking at the top that would be interesting to watch over the final six weeks. On Monday, Renteria had
Arismendy Alcantara
back batting leadoff. Good. Leave him there. Alcantara slumped when moved to the No. 6 hole. He just doesn't feel right there. He had an on-base percentage of .314 batting in the 1 or 2 spot when he first came up. It dipped to .196 hitting sixth. And it's time to move
Starlin Castro
out of the cleanup spot. Let's see Alcantara and Castro hitting first and second the rest of the season.
Anthony Rizzo
is fine at No. 3, then try
Javier Baez
at No. 4 and Soler at No. 5. If the Cubs wanted to debut Soler in the No. 2 hole, that would also make sense. They slotted Alcantara and Baez there when they arrived.
[+] Enlarge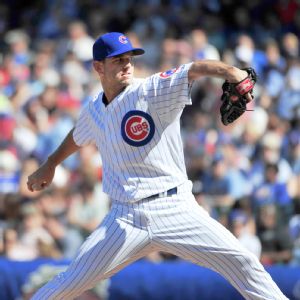 David Banks/Getty ImagesThe Cubs should find out what they have in 23-year-old Jacob Turner.
3. Start Turner:
Jacob Turner
looked good in his first relief stint for the Cubs since being acquired from the
Miami Marlins
, so let's see him in the rotation for a turn or two. Turner could step in if the Cubs could finally banish
Edwin Jackson
to the bullpen. Or they could just add a sixth starter as they just did in giving
Dan Straily
a turn. Turner's results won't matter as much as seeing his stuff. Pitching coach Chris Bosio needs a full offseason and spring training to get the most out of him, but a quick look wouldn't hurt the process.
4. Let others close:
The Cubs allowed
Pedro Strop
to close out a few games last season to see what he could do, so why not do the same this year with some other relievers? It has nothing to do with the job
Hector Rondon
(17 saves in 22 opportunities, 3.23 ERA) has done. He's been nothing short of fantastic considering his place in baseball entering this season, but it doesn't hurt to know who might have the mental makeup for the job other than Rondon.
Neil Ramirez
, who has three saves already, is an obvious choice to get a few more chances.
Blake Parker
has been the main closer at Triple-A Iowa, but the Cubs know what they have in him. Some might want to see how
Armando Rivero
would react or flamethrower
Arodys Vizcaino
. But the latter has struggled (6.06 ERA) since being promoted to Iowa, while Rivero has thrived (1.78). Either way, expect Rivero to be in a Cubs uniform soon.
5. Give Olt another shot:
With third base still lacking an everyday starter, there is no reason not to bring
Mike Olt
back up as the calendar turns to September, then play him every day. Olt has been tearing up Triple-A pitching. Maybe that's all he'll ever do, but he deserves another chance with no one standing in his way, at least over the next six weeks. Olt is batting .313 with a .361 on-base percentage, seven home runs and 24 RBIs in 26 games at Iowa. Maybe he's found his stroke again.
6. Leave Bryant at Iowa:
Bryant's misfortune could be Olt's gain because the Cubs say he's not coming up to the big leagues this season. Plus, he just hurt his toe, so he'll miss some time anyway. If you didn't know by now, leaving Bryant in the minors until at least mid-April next year would set him up to become a free agent after the 2021 season. Any earlier and free agency would come a year sooner. At this rate, it's better to accept that fate than lose sleep over it. Undoubtedly, he'll be named the minor league player of the year, which would add to an already stocked trophy case: He was collegiate player of the year in 2013, then won the MVP of the Arizona Fall League, won the home run derby title in Double-A this year and would top it off with his monster year in the minors, which has already produced 40 home runs and over 100 RBIs. Leave him where he is.
June, 19, 2014
Jun 19
1:29
PM CT
CHICAGO -- As days go for the
Chicago Cubs
and their fan base, Wednesday was one of the good ones, and not just because they won their second consecutive road series while completing a long trip with a 5-5 record.
The bigger steps in the rebuilding organization came when they promoted slugger Kris Bryant, along with pitchers
Arodys Vizcaino
and Armando Rivero, to Triple-A Iowa. A smaller step happened the day before when 2014 first-round pick Kyle Schwarber was sent to Class A Kane County after ripping up Northwest League pitching for a few days.
[+] Enlarge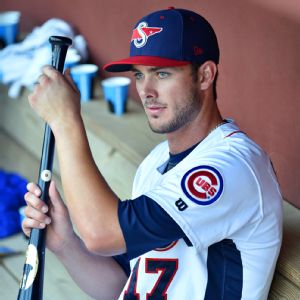 AP Photo/Tony FarlowKris Bryant made quick work of Double-A and earned a promotion to Triple-A Iowa.
The Cubs are on the move, but when it has a real effect in the major league standings is still anyone's guess. Javier Baez, Bryant, Vizcaino and others are just a phone call away from making it to Wrigley Field, and that's when the real progress begins. Could we see any of them in the majors before year's end? At the very least, the answer is a fluid one.
The only drawback to a Baez and Bryant September call-up involves service time. A player who accrues 172 days on the 25-man roster during the season uses up a year toward free agency. There's about 183 days in a baseball season, so a team can avoid using up a year by calling up a player a few weeks into the season. The
Houston Astros
took this approach with prospect
George Springer
this season.
Cubs first baseman
Anthony Rizzo
had a similiar path, as he accrued just fewer than 172 days of service after his first two call-ups in the majors, once for the
San Diego Padres
in 2011 and once for the Cubs in 2012. The Cubs also avoided Super Two status with him by calling him up in late June 2012. Teams can avoid arbitration for three years instead of two by calling a player up by a deadline that typically falls in late June or early July.
The details aren't as important as knowing this: If the Cubs want to save money down the line and still call them up in September, then they'll need to tack on those days to playing time in the minor leagues next season, unless the Cubs simply plan on starting them out of spring training, and that's not likely.
For example, 22 days of time in the big leagues this year basically means 22 more days in the minors next year to avoid a year toward free agency and/or Super Two status. It might be worth it, as the Cubs could leave a player such as Bryant in the minors for that long anyway. If both Baez and Bryant are actually going to break camp with the Cubs next spring, then getting them a cup of coffee with the team this season makes sense because service time won't matter. Most likely you'll see both next season, but not out of the gate.
However, team sources indicate the recent promotions aren't part of some long-term plan that was locked in months ago. Yes, the Bryant promotion made sense as the Southern League took its All-Star break, but Schwarber and Bryant were on track to spend more time on their respective teams.
The Cubs had obviously changed their minds when they concluded there was little more Schwarber needed to do to get his timing down while playing for the Class A Boise Hawks, so he got promoted after just a few days. And Bryant long ago proved he needed a bigger challenge than Double-A pitching, leading the Southern League in batting average (.355), home runs (22), RBIs (58), on-base percentage (.458) and slugging (.702).

So even if the Cubs aren't planning a call-up for their major prospects, it doesn't mean they can't change their minds. That's assuming performance dictates a promotion, of course. Bryant, in particular, has proven to be a fast learner. If his history has shown anything, it's that he'll have an adjustment period at Iowa, then once again prove he's a special hitter by turning the tables on Triple-A pitching.
If individual prospects are being dubbed as saviors, then Bryant is the face of the movement right now. His ability, work ethic and attitude are unmatched in the Cubs organization, and he could be the next great player in the major leagues. Of course, Baez was thought of in similar fashion until his struggles in Iowa this season so Bryant has one more thing to prove.
A reliever such as Vizcaino or a starter such as Kyle Hendricks are more likely to see the major leagues sooner rather than later. Impending trades should open a few spots on the staff, and a player such as Vizcaino was only really in the minors to get innings in after missing so much time with arm injuries. His sub-2.00 ERA this season combined with his electric arm screams another promotion before season's end. Hendricks might simply get a chance because he's next up among those getting ready to make their debuts.
Yes, Wednesday was a good day, but minor league promotions should never be the headline-makers they are for the Cubs. The next time the Cubs make that kind of news should finally have a real effect on the long-term plan because we'll see some of these players at Wrigley Field.
Then we'll really start to find out if the front office has chosen the right talent for their infamous rebuilding strategy. Until then, they're just minor league players, as much as they do generate headlines.
October, 23, 2013
10/23/13
3:33
PM CT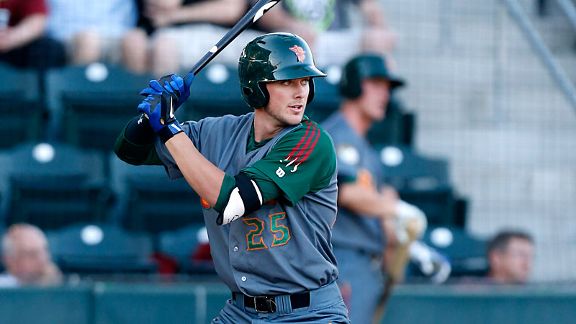 Larry Goren/Four Seam Images/AP ImagesKris Bryant's stock continues to rise with a dominant showing in the Arizona Fall League.
MESA, Ariz. -- It's hard to find an Arizona Fall League observer who will say anything negative about
Chicago Cubs
prospects Albert Almora and Kris Bryant. Both are creating a buzz that should reverberate all the way back to Chicago.
"You're looking at two special kids," Mesa Solar Sox manager Bill Richardson said. "Getting to know them now, they are great-makeup guys. Great workers. Almora is a baseball rat. Bryant has power that you don't see in young players."
Richardson works for the Angels so he has nothing invested in saying such nice things. Neither do the scouts who watch the games. No less than 10 who were polled say Bryant, in particular, is going to be a special player.
"He has total control of the strike zone, is very short to the ball and has power to all fields," one scout said.
Another added: "It's not an all-or-nothing swing. It's very controlled."
August, 27, 2013
8/27/13
2:30
PM CT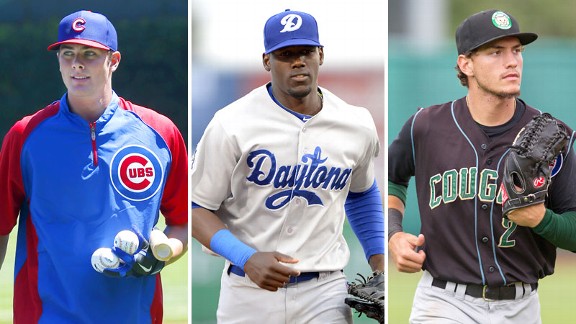 AP PhotoThe Cubs' future will be on display at the Arizona Fall League with players such as Kris Bryant, Jorge Soler and Albert Almora.
The
Chicago Cubs
will send eight players to participate in the Arizona Fall league this year, including three former No. 1 draft picks as well as Jorge Soler.
Shortstop Javier Baez (2011), centerfielder Albert Almora (2012) and third baseman Kris Bryant (2013) will join Soler and four pitchers to play for the Mesa Solar Sox in October. The pitchers are current Double-A prospects Dallas Beeler, Matt Loosen, Armando Rivero and the injured
Arodys Vizcaino
.
Almora has been designated a taxi-squad member and is only available to play on Wednesdays and Sundays.
Baez is ranked as the Cubs' top prospect and is finishing a huge season at Single-A and Double-A with a combined 35 home runs. Almora has battled injuries but is hitting .329 at Single-A Kane County, and Bryant has started his professional career on fire after being drafted in June. He's batting .368 with three home runs in 10 games for High-A ball in Daytona after hitting .354 for Boise in his pro debut.
Soler, who signed a nine-year, $30 million contract in 2012, has also battled injuries, but showed promise before being shut down this season with a stress fracture in his left leg. He was hitting .281 with eight home runs for Daytona.
The Arizona Fall League consists of six teams made up of prospects from all major league squads. They will play in five Cactus League stadiums, six days a week starting on Oct. 8. It will mark the first time the Cubs' top four prospects (Baez, Almora, Soler, Vizcaino, according to Baseball America) as well as Bryant (not rated yet) could be on the field at the same time on the same team.