Chicago Cubs:

Bill Mueller
November, 22, 2013
11/22/13
3:55
PM CT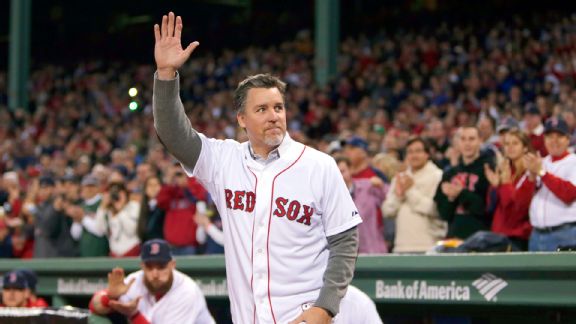 AP Photo/Charles KrupaBill Mueller's ability to get on base as a player is proven but can he teach it as a hitting coach?
CHICAGO -- Time will tell if the new
Chicago Cubs
coaching staff will lead the organization to better days, but on the surface, the collection of coaches under new manager Rick Renteria simply makes more sense than the previous staff under Dale Sveum.
At least on paper.
Three aspects of the hirings stand out, including hitting coach
Bill Mueller
, bench coach Brandon Hyde and the addition of another bilingual coach in Jose Castro.
Mueller has only a short time on his resume coaching players on a day-to-day basis, as he took over the interim hitting coach position with the
Los Angeles Dodgers
in 2007 before moving back to the front office. There really isn't a history of players to look at to determine his communication abilities. However, Mueller's career on-base percentage is an outstanding .373, and getting on base is a cornerstone of the Cubs' offense under this current regime.
Former hitting coaches James Rowson and Rob Deer didn't have that kind of success at the major league level, yet they did have more coaching experience. So the Cubs potentially traded experience for know-how, although assistant hitting coach Mike Brumley does have experience as a coach in the majors for several years. It's not a stretch to assume -- since Mueller knew the strike zone well as a player -- that he can impart that knowledge as a coach; this isn't a home run and strikeout guy such as Deer teaching players how to get on base. This is a guy who has done it. It makes sense.
Hyde makes sense being on the bench, as he's had a hand in overseeing some of the Cubs' top prospects. Many will be making their way to the big leagues, and with Hyde around, there's bound to be seamless communication between the dugout and front office where Hyde previously resided as the director of player development. Often a first-time manager will have a more experienced managerial type as a bench coach, but the Cubs probably aren't as interested in needing to max out every in-game scenario as much as they are in developing players with a winning attitude. That's the aspect of the job Renteria and Hyde bring.
As quality assurance coach, it simply means Castro is another coach on the field who will have a hand in many aspects of the team, not unlike Franklin Font and Mike Borzello. But the addition of Castro means three coaches will have bilingual capabilities, including the manager. Previously, only Font spoke Spanish. The Cubs have made no secret of the fact they need more of a Latin American presence -- or at least more Spanish-speaking coaches -- on the staff, as several key prospects are either Spanish-only speaking players or rely on it heavily.
The return of Chris Bosio as pitching coach comes as no surprise, as he did well with the staff he was given, especially the starters. Lester Strode's return as bullpen coach keeps at least one aspect of the Cubs consistent.
The changes -- all the way up to the manager -- undoubtedly were made to have a profound effect on the offense. Renteria's responsibilities to teach while keeping a positive clubhouse, along with Mueller's focus to get more guys on base, will go a long way in determining if the coaching moves made Friday were the right ones.
November, 12, 2013
11/12/13
6:52
PM CT
ORLANDO, Fla. -- Former
Chicago Cubs
third baseman Bill Mueller could be in line for a position on new manager Rick Renteria's staff, according to a source familiar with the situation. Mueller is a former hitting coach for the
Los Angeles Dodgers
and is a possibility to fill that role for the Cubs.
The source also believes Renteria will bring "at most two coaches with him from San Diego and probably just one." It's most likely that coach will not come from the major league staff. Roving minor league instructor Gary Jones is the leading candidate to accompany Renteria to Chicago, according to the source.
Mueller played for the Cubs in 2001-02, eventually making his way to Boston from 2003 to '05, where the current Cubs front office got to know him. He was the hitting coach for the Los Angeles Dodgers for a short time after retiring and still works for the Dodgers.
"As an organization it's pretty obvious we have to get on base more and that's something we're going to be talking about in those hitting coach interviews," Cubs general manager Jed Hoyer said Tuesday.
Mueller's career on-base percentage (.373) would rank 13th all-time for third basemen if he qualified.