Chicago Cubs:

Braden Looper
March, 22, 2011
3/22/11
8:35
PM CT
The battle for the Cubs' fifth starter spot continued Tuesday – just eight days before the team is scheduled to break camp.
[+] Enlarge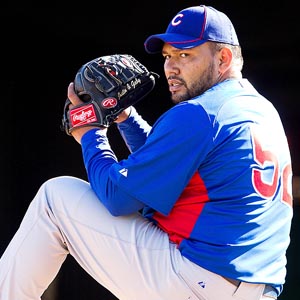 Allan Henry/US PresswireCarlos Silva is not yet out of the running to be in the Cubs' rotation.
Several weeks into the spring, no pitcher has risen above the others to claim the job. The next round of roster cuts could come as early as Thursday. One of the veterans still in consideration –
Carlos Silva
– will be the next pitcher to attempt to claim the rotation spot.
"Mr. Silva is starting against Oakland [on Wednesday]," Cubs manager Mike Quade said.
Silva has posted a 15.99 ERA for the spring to date. He has had issues both on and off the field and hasn't had a good outing at any point. His best showing was a five-inning effort in which he surrendered four earned runs and two homers on March 12 against the Reds.
"I never count anybody out," Quade said. "I'm anxious to see him pitch tomorrow. We still have some tough decisions. [We had] productive discussions today, nothing definitive. I have a lot to sleep or not to sleep on tonight. In the next couple of days, we got to get this thing down. The truck is leaving Sunday [for Chicago]. "
Right-hander Andrew Cashner had his chance to win the job outright on Monday. Cashner, however, couldn't get over the hump. He allowed seven hits and four runs in three innings during a rainout in Tempe.
The third contender, veteran right-hander Braden Looper, surrendered eight runs in two innings in his last outing on Saturday. He remains the team's third option for the vacant rotation spot.
Here are the three pitcher's logs for spring training: Looper has pitched 10 2/3 innings, allowed 17 hits, 13 earned runs, 2 walks, 8 strikeouts, 3 homers and a 10.97 ERA; Silva has pitched 11 1/3 innings, 29 hits, 20 earned runs, 2 walks, 3 strikeouts, 4 homers and a 15.99 ERA; Cashner has pitched 11 1/3 innings, 11 hits, 5 earned runs, 7 walks, 6 strikeouts, 1 homer and a 3.97 ERA.
"I think people have had good outings," Quade said. "But no one has been good start to finish battling for that fifth spot. No one battling for that spot has been consistent. That I will say."
March, 19, 2011
3/19/11
8:43
PM CT
PEORIA, Ariz. -- If the art of pitching is a slippery slope between success and failure, then
Chicago Cubs
right-hander Matt Garza's outing on Saturday was all of that in a literal and figurative sense.
Pitching against the
San Diego Padres
in Peoria, Ariz., Garza struggled with an uneven pitching mound and strained his left hamstring while trying to find a comfortable spot from which to release the ball.
[+] Enlarge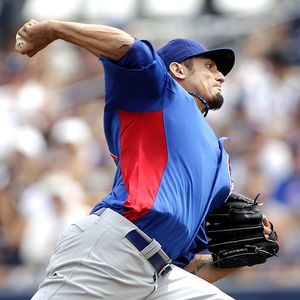 AP PhotoCubs starter Matt Garza couldn't get comfortable on the mound during Saturday's game against the Padres.
"In the bullpen, I was doing what I needed to do," Garza said. "But when I got out there I couldn't find the consistency. Because when I landed in the same place twice, I was sliding."
Garza ironically had his best outing this spring on the same mound on Monday against the Mariners.
"That's what I said, too," Garza said. But when I was out there today, that was completely different. I couldn't get over my right leg so I shortened my stride. Just a day I had to deal with crap. I haven't had a consistent [outing] so far, so why start now."
Garza, who walked three men in the third inning, allowed two runs and came out of the game after 57 pitches. The Cubs lost the game 14-4. The good news for Garza and the Cubs is that he went to a side bullpen and threw 20 more pitches where he reported no strain of the leg and he said his arm felt fine.
Manager Mike Quade was relieved to hear that Garza is all right.
"From the horse's mouth, from the trainer's mouth, everything is fine with Garza," Quade said. "A hole on the mound had him screwed up, landing-wise. We were concerned about some tightness, so there was no sense messing around. But the leg felt great in the bullpen. Everything I'm leaving here with tells me he's fine and we'll see him in five days."
Garza's next start in spring training will be March. 24 and his last should be March 29. He's scheduled to pitch against the
Pittsburgh Pirates
on April 3 at Wrigley Field in the third game of the regular season.
Pitching news continued to be a concern for Quade as veteran right-hander veteran
Braden Looper
, vying for a spot on the Cubs' staff, had his worst outing of the spring. The 11-year veteran, who is trying to make a comeback with the Cubs after retiring for one season, gave up eight runs in two innings of work.
"You just have to make pitches. I didn't. I didn't do that," Looper said. "I just have to show up tomorrow morning and keep working. [Making the team] isn't in my hands. I try to do the best I can and we will see what happens."
Looper's spring training composite now shows 10 2/3 innings pitched, 17 hits, 13 earned runs and three home runs allowed. Two of the home runs came on Saturday, one a grand slam by San Diego's
Chase Headley
.
March, 13, 2011
3/13/11
8:27
PM CT
SCOTTSDALE, Ariz. --
Braden Looper
's work on Sunday didn't hurt the right-hander's chances of securing a rotation spot when the Cubs break camp on March 30.
Looper went 3 2/3 innings, allowing one run while striking out two in the Cubs' 7-5 split-squad win over the
Arizona Diamondbacks
. Although the veteran pitcher is fighting for his professional life, the teammate inside of him can't help but hope the other candidates for starting spots do well.
"You can't play this game like that," Looper said. "Whether I'm talking to [
Andrew Cashner
] on the side about his pitching, or you can fill that name in with anybody, I'm always going to be that way. Yeah, I want to pitch, and I want to start. [But] if you can't do the other stuff, it's not worth it."
Looper is in a battle with
Carlos Silva
, Cashner,
Randy Wells
,
Casey Coleman
,
Todd Wellemeyer
and
James Russell
. Two from that group will fill the fourth and fifth rotation spots. Possibly one of two of the others will contend for the last bullpen position.
Looper has said from day one of spring training that he prefers to start.
"I've done both," Looper said. "I was a reliever eight years and then I started the last three. Right now I want to keep throwing, stay healthy, see what happens and then we'll go from there."
Looper hit his limit of 65 pitches in the fourth inning Sunday in his first start of the spring. He should get three more opportunities to pitch to win a spot before the regular season opens on April 1.
"He threw some good breaking balls. He was mostly on target," said Pat Listach, who is coaching the games in Arizona while Mike Quade handles the Las Vegas ones. "He threw the ball as well as he's thrown it all spring."
February, 28, 2011
2/28/11
12:17
PM CT
[+] Enlarge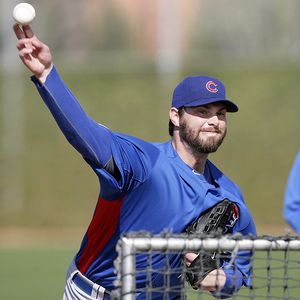 AP Photo/Paul ConnorsRandy Wells hopes he can revert back to his rookie form, when he won 12 games in 2009.
MESA, Ariz. -- Competition begins in earnest Monday for the fourth and fifth spots in the
Chicago Cubs
' starting rotation as
Randy Wells
and
Andrew Cashner
pitch back to back against the
Milwaukee Brewers
.
Wells, who is trying to relcaim a spot in the rotation, hopes to make this six-man battle for two jobs a relatively simple one.
"The way I'm looking at it now is absolutely I have something to prove," said Wells, who is competing with Cashner,
Carlos Silva
,
Todd Wellemeyer
,
Braden Looper
and
Casey Coleman
for two spots in the rotation. "I think I set the bar really high in 2009. However I don't look at last year as all that terrible of a year. I don't look at this as a competition. I see a chance every fifth day to go out and win a spot. Everytime I go out and do my best then April 1 we'll see what happens."
Wells, who had an 8-14 record with a 4.26 ERA in 2010, hopes to get back to the level he pitched at during his rookie season in 2009 when he won 12 games in 27 starts.
Cashner will begin to stretch out as a starter after pitching out of the bullpen last season as a rookie.
[+] Enlarge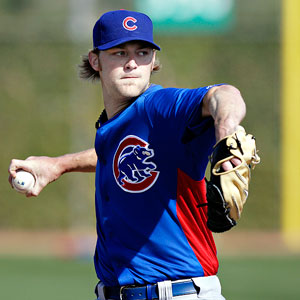 AP Photo/Paul ConnorsImproved command of his pitches will be key to Andrew Cashner winning a spot in the rotation.
"I'm excited to get this chance," Cashner said. "Sure I will be a little nervous, but I wouldn't be a competitor if I wasn't always just a little nervous."
Cashner, who signed as a No. 1 draft pick out of Texas Christian University in 2008, has started and relieved in his three seasons in the minors.
"The difference is working with all my pitches as a starter and getting as feel for all of them this spring," Cashner said.
Control and command will be the major issues for Cashner. Although he struck out almost one batter per inning last season, he also walked 30 in 541/3 innings. Controlling all three of his pitches -- fastball, slider and changeup -- will be key elements if Cashner is to be successfully stretched out.
"I only threw a few changeups last year, but I didn't throw enough to be effective with it," Cashner said. "I've been working on it a lot, but I'm certainly not going to go away from my fastball. The changeup is a pitch that I will use to keep hitters off my fastball. I'm looking forward to the challenge."
Cashner has the ability to be a dominant starting pitcher if he can command the strike zone. Wells is a much different pitcher, who relies on sinkers and sliders to get ground ball outs.
"After I put them to sleep with my sinkers and sliders then I will let Cashner blow them away with his [stuff]," Wells said. "That sounds like a good plan."
February, 25, 2011
2/25/11
4:39
PM CT
MESA, Ariz. -- The futures of veteran pitchers
Todd Wellemeyer
and
Braden Looper
will begin to be determined next week when they go against live competition for the first time this spring while trying to win a spot in the rotation.
[+] Enlarge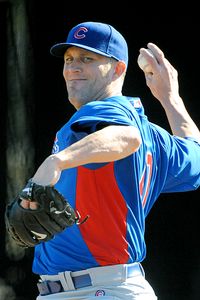 Kirby Lee/Image of Sport/US PresswireBraden Looper last pitched in the major leagues in 2009 with the Brewers when he won 14 games.
Looper missed the entire 2010 season after struggling with injuries in 2009 with the
Milwaukee Brewers
. He won 14 games in 2009 but that number is a bit deceiving because he allowed a league-leading 123 runs and a league-high 39 home runs coupled with a 5.22 ERA.
At 36, Looper is hoping to re-establish himself with the Cubs after signing a minor league deal on Jan. 27.
"This is the first time in a long time that I had to go to camp and make a team," Looper said. "Typically spring is more about doing things you need to do to get ready and to make sure your body is ready for Opening Day. I still have to do all of that but at the same time make sure I have good results here, so there is balance there, if you know what I mean."
Wellemyer is in the same position, after returning to the Cubs and signing a minor league contract on Jan. 24, The 32-year-old, who was originally signed by the Cubs after being selected in fourth round of the 2000 draft, managed to get a World Series ring last season with the
San Francisco Giants
even though he was on the disabled list a good majority of the time and released on Aug. 19.
Wellemeyer was 3-5 and started 11 games for the Giants. His best season was 2008 with the
St. Louis Cardinals
when he was 13-9 with a 3.71 ERA. Like Looper, Wellemeyer has no guarantees of a job out of spring training.
"I feel good," Wellemeyer said. "All I can do is go out there and command my pitches. I need to keep it simple. I'm not thinking about anything except that."
They are longshots, competing against
Carlos Silva
,
Randy Wells
,
Casey Coleman
,
Andrew Cashner
and
James Russell
for two spots in the rotation.
"This is my 10th spring training and third as a free agent," Wellemeyer said. "I've had to make teams before and that went pretty well. There's a lot of pitchers vying for just a couple of spots. It is what it is. You just kind of worry about yourself."
Both pitchers are realistic about their chances.
"If they decided they don't have a spot for me maybe someone else will," Wellemeyer said. "All I want to do is pitch and not worry about anyone else."
Looper, who said earlier in camp he wasn't sure if he wanted to pitch out of the bullpen, admits the reality of fighting for a job can creep into his mind from time to time.
"We are all human beings. You definitely go out there and try not to worry about making the team," Looper said. "But I would be lying if I said it didn't enter my mind every once in awhile. You try to keep it as simple as you can. It's all about execution."
The Cubs have no economic commitment to either pitcher. They can be released before the season without the Cubs being responsible for any compensation.
January, 27, 2011
1/27/11
4:03
PM CT
April, 21, 2010
4/21/10
4:51
PM CT
The Chicago Cubs had a scout and minor league pitching coordinator watch free-agent pitcher Braden Looper throw a side session on Monday in south suburban Chicago, according to a team source.
Read the entire story.