Chicago Cubs:

Brandon Hyde
October, 29, 2014
Oct 29
2:30
PM CT

By Jesse Rogers
ESPNChicago.com
Archive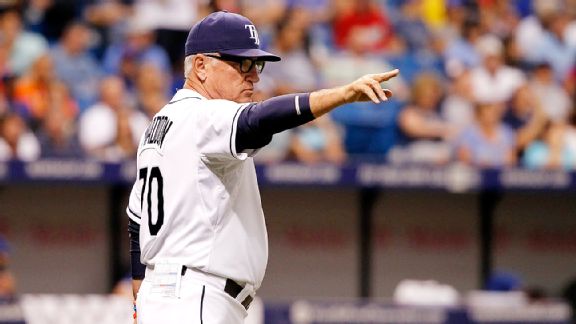 Kim Klement/USA TODAY SportsJoe Maddon may not have much say in who his coaches are -- at least early on -- if he joins the Cubs.
CHICAGO -- As the World Series comes to an end, so too should the Joe Maddon saga. One way or another, the
Chicago Cubs
will either pull the trigger on a deal or pass on the former
Tampa Bay Rays
manager by the end of the week, according to industry sources. They owe at least that much to current manager Rick Renteria.
As we await word from Wrigley Field, it's worth examining what a Maddon coaching staff might look like. Remember, it's not just the manager the Cubs said was coming back for 2015, they also invited almost everyone else back and already hired two new coaches in hitting coach John Mallee and first base coach Doug Dascenzo.
Most skippers are allowed to choose their assistants, but the Cubs aren't likely to fire their group to accommodate Maddon, according to an industry source. He'll have to manage with most, if not all, of the coaches already in place, at least for one year.
Let's start with pitching.
The Cubs kept pitching coach Chris Bosio, catching coach Mike Borzello and bullpen coach Lester Strode after dismissing Dale Sveum a year ago, so there is no reason to believe they would allow Maddon to move them out unless he insists his people from Tampa Bay would be better suited for the situation. That's not likely to happen and would probably be a deal breaker the Cubs would win out on. Theo Epstein has stated in no uncertain terms he loves the "pitching infrastructure" that's already in place.
And it's hard to imagine the newcomers would get canned before ever putting on a Cubs uniform, so Dascenzo and Mallee probably aren't going anywhere either. Eric Hinske was moved to assistant hitting coach and its doubtful Maddon would make a stand there. That leaves a couple of options for him to bring in his own people. Bench coach is usually the place where the manager gets his guy, so Brandon Hyde's job could be in jeopardy. He worked for the Cubs in a non-uniformed role before taking over on the bench last season, so he could always be kicked back upstairs in some capacity. Another option for a Maddon guy could be as third-base coach. Gary Jones came over with Renteria from San Diego, so he could potentially be moved out along with the current manager. Those two spots are the most likely options for Maddon, at least for 2015.
Would former Cub Dave Martinez be Maddon's choice for bench coach if he isn't hired by the Rays as their next manager? It makes all the sense in the world, considering both his ties to Maddon and the city. And both have the same Chicago based agent in Alan Nero. There's always a chance Maddon simply accepts the entire coaching staff as is, given the unique timing of his potential hire. Plus, the Rays have stated they want to keep as much of their staff in place after they hire a new manager as well. But that new skipper might want his own bench coach, making Martinez expendable.
No one is talking publicly about any of this yet, but behind the scenes these are some of the discussions that must be taking place if a deal with Maddon is to be done. Then the dominoes will fall.
Stay tuned.
December, 18, 2013
12/18/13
2:25
PM CT
By Sahadev Sharma
Special to ESPNChicago.com
Archive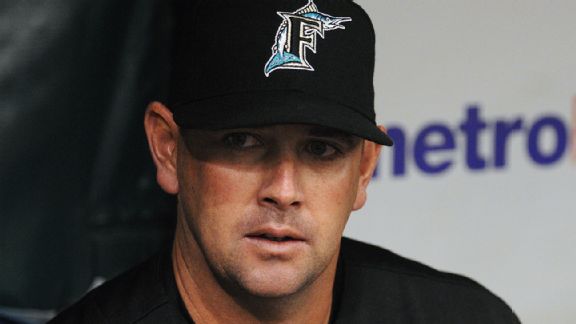 AP Photo/Phelan M. EbenhackBrandon Hyde spent nine years in the Florida Marlins system, including a year and a half as a bench coach.
Outside of the players on the field, the biggest turnover in the
Chicago Cubs
organization during Theo Epstein's tenure has occurred in the player development department.
Prior to last season, new Cubs bench coach Brandon Hyde was moved from minor league field coordinator into the front office as the team's new director of player development. Under his guidance, numerous changes were made to the minor league coaching staff and coordinators.
While it's debatable as to whether the Cubs' lack of homegrown talent over the past decade stems from a scouting or player development issue, the team clearly decided to focus on overhauling the latter department. During the 2013 season, Hyde oversaw arguably one of the most productive seasons for the Cubs farm system as multiple prospects took big steps forward, including Javier Baez, Pierce Johnson and
Arismendy Alcantara
.
Considering all the success he had in his role with the front office, the selection of Hyde as bench coach may seem a bit odd. It's not often that a front office member makes the leap to being the manager's right-hand man. But for the Cubs, moving Hyde to the bench to work alongside new manager Rick Renteria just made sense.
Why would the Cubs make a change in an area that has seemingly been a major issue for the organization for over a decade after finally finding a solution?
November, 27, 2013
11/27/13
3:13
PM CT

By Jesse Rogers
ESPNChicago.com
Archive
CHICAGO – New
Chicago Cubs
bench coach Brandon Hyde might have a leg up in his new job after spending time in the team's front office since joining the organization in 2011.
The Cubs have admitted their message to the major league team -- especially to hitters -- might not have always gotten through, but with Hyde holding the title of Director of Player Development over the last year and a half he was part of molding that message.
"This past year I got to watch big-league game with (Theo Epstein and Jed Hoyer) and be in the meetings with them," Hyde said in a phone interview. "I made sure that our message is being sent all the way through our minor league system. That was my goal this past year."
August, 29, 2012
8/29/12
3:50
PM CT

By Doug Padilla
ESPNChicago.com
Archive
CHICAGO -- The
Chicago Cubs
filled their farm director vacancy from within Wednesday, promoting Brandon Hyde from his previous position as minor league field coordinator.
Hyde earned the job over two other candidates: Alex Suarez, the Cubs' current coordinator of player development and internal operations, and Kurt Kemp, a pro scout with the
Pittsburgh Pirates
.
"The bottom line for us is we're just trying to develop impact big leaguers," Hyde said. "So whether that's pitching and hitting, we're trying to get the whole package. I don't want to single out one area. Just the bottom line is, our job is to get as many guys to play in Wrigley Field as we can that are impact players."
The spot was opened Aug. 15 when the Cubs fired Oneri Fleita, who had been with the organization since 1995 and had just signed a four-year extension last year.
"I spent the last year evaluating our system," Hyde said. "Obviously it's the first year with a lot of us coming over here. This opportunity is exciting for me to have the relationship we know we have with the front office as well as the field staff here and the scouting system. It's a good step going forward."
Officially, Hyde's title will be director of player development. The 38-year old is wrapping up his second year in the Cubs organization after spending the last nine years with the Marlins, where he held several jobs, including major league bench coach for 1½ seasons from June 23, 2010 to the end of the 2011 season.
Hyde has also served four seasons as a minor league manager, including one offseason as a manager in the Arizona Fall League where
Starlin Castro
was among his players. He spent four seasons as a catcher and first baseman in the White Sox's organization from 1997-2000.