Chicago Cubs:

Brandon Webb
December, 27, 2010
12/27/10
11:20
AM CT
[+] Enlarge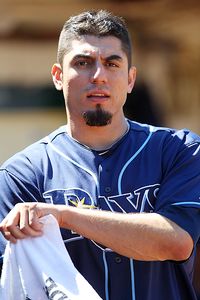 Brad Mangin/MLB Photos/Getty ImagesMatt Garza is scheduled to make close to $6 million in arbitration this season.
The
Chicago Cubs
, who are still in the hunt for starting pitching, lost out on one more candidate when
Brandon Webb
agreed in principle on a one-year deal with the
Texas Rangers
pending a physical.
The Cubs, along with the
Washington Nationals
and
Cincinnati Reds
, were the other teams pursuing Webb before he decided to take the Rangers' offer. The Cubs had Webb come to Chicago 10 days ago to take a physical and to allow their team doctors to analyze the pitcher's shoulder. Webb, the 2006 Cy Young winner, hasn't pitched in the major leagues since 2009 after hurting his shoulder on Opening Day.
Webb's shoulder was deemed stable although some minor complications continue to exist, according to major league sources.
The free agent market has pretty well dried up as far as starting pitching goes.
Carl Pavano
is the top pitcher still out there with the
Minnesota Twins
, Rangers and Nationals interested. Pavano has at least one two-year deal on the table but is looking for a guaranteed third year, according to a major league source.
Two potential pitchers may still be available via trade. The Cubs continue to have conversations with the
Tampa Bay Rays
about
Matt Garza
. It's unclear if Tampa will try to move Garza for minor-league talent or retain him. Garza, 27, is scheduled to make close to $6 million in 2011, his second year of arbitration.
Knowing the economic woes of the Rays, it would probably work in their benefit to trade Garza, who has two years left under team control before free agency in 2013. Garza could bring up to as many as three or four solid prospects in a trade. Tampa Bay wants a future shortstop and catcher that they can project to the big leagues in the next couple of seasons.
If the Cubs and Tampa are able to come to an agreement, minor league catcher Robinson Chirinos and shortstop Hak-Ju Lee would probably be in the deal. Chirrinos hit over .300 with 18 home runs and 74 RBIs in just 300 at-bats at Double-A Tennessee and Triple-A Iowa in 2010. Lee hit .282 at Single-A Peoria and is considered the top defensive shortstop in the system.
The Cubs believe Lee is a major league shortstop of the future and may eventually push his way into the Cubs lineup, moving
Starlin Castro
over to third base if he continues to develop and Castro gets bigger and stronger as he approaches his mid-20s.
Even though the Rangers signed Webb, they may be interested in trading for Garza as are Washington and the
New York Yankees
.
Cleveland's
Fausto Carmona
has been mentioned in trade talks as well. The Cubs and Indians had talks at one time about Carmona. However, the Indians are said to be asking for teams' top two prospects just to get started in serious discussions. Carmona, 27, had a breakout season in 2007, going 19-8 with a 3.06 ERA. He was 13-14 in 2010 with a 3.77 ERA after dealing with some arm problems in 2008 and 2009. Garza was 15-10 in 2010 with a 3.91 ERA.
December, 26, 2010
12/26/10
12:22
PM CT

By Jayson Stark
ESPNChicago.com
Archive
December, 21, 2010
12/21/10
4:50
PM CT
The Texas Rangers and Washington Nationals continued to show strong interest in Brandon Webb on Tuesday, while a third reported suitor, the Chicago Cubs, fell off the pace in their pursuit of the free-agent starter.
Read the entire story.
December, 8, 2010
12/08/10
9:08
PM CT
The Cubs continue to pursue acquiring players on all different fronts. (I've already highlighted that they are discussing a trade for Rays' starter Matt Garza, here.)
The team also is interested in middle reliever Jason Frasor of the Toronto Blue Jays, according to a scouting source. The Cubs did their best but failed to obtain Frasor last year in a trade.
Meanwhile, medical documents on former Cy Young winner Brandon Webb, a major league source said, have been sent to Cubs' team doctors to analyze. Webb has had arm issues since blowing out his shoulder on Opening Day 2009. Webb and the Cubs might be a good match on a one-year contract with incentives built in, if the doctors sign off on the medicals.
The Texas Rangers and Cubs still are talking about a deal that would send infielder Chris Davis to the Cubs. Minor-league catcher Robinson Chirinos and another prospect is what Texas is seeking in return. Chicago also wants right-handed pitcher Darren O'Day thrown into the deal. O'Day had a terrific year for the Ragners in 2010, with a 6-2 record in 72 appearances.
Right now, the Cubs' main focus is the Garza deal. The other situations are, for now, on the backburner.
December, 6, 2010
12/06/10
10:12
PM CT
Cubs general manager Jim Hendry is keeping his eye on the free-agent market and looking for trades at the same time.
"I think in our situation it doesn't make any sense dealing with clubs that don't fit exactly what we need," Hendry said. "We're not interested in making any deals that don't help our big-league club."
The Cubs, Washington and Pittsburgh all have interest in signing free-agent right-hander
Brandon Webb
, according to a major league source.
Webb, who has had shoulder problems since Opening Day 2009, pitched earlier in November in the Arizona Instructional League. At that time, the Cubs watched him pitch. One scout's radar gun had his velocity at 84-85 mph, a far cry from the 90-mph mark that Webb used to hit consistently as a Cy Young Award-winning pitcher in 2006.
Another source said the teams that are interested in Webb are looking at MRI images of his injured shoulder.
The Cubs have also talked to several teams, including Cincinnati, Toronto and Texas, about possible trade scenarios, numerous sources have told ESPNChicago.com. According to sources, the Cubs are kicking around a trade with Texas for first baseman
Chris Davis
, and Texas has interest in some of the Cubs' younger minor league catchers.
Mark Riggins was officially named the Cubs pitching coach of this afternoon.

Riggins, 53, was the team's pitching coordinator in the minor leagues over the past three seasons. Before signing with the Cubs, he worked for the St. Louis Cardinals for 29 years in various coaching capacities.

Riggins believes he and Cubs manager Mike Quade will be a good coaching team this season.

"I knew Mike from spring training the last three years," Riggins said. "As far as sitting down, spending a lot of time together, we haven't. But he and I signed [our first professional playing contracts] the same year, we are the same age, and we both have spent a lot of time [coaching] in the minor leagues before we got our opportunity. So I think we have a lot of things in common that we can share throughout our experience."

Riggins replaces Larry Rothschild, who was the Cubs pitching coach from 2002-2009 before taking the Yankees pitching coach position this season.

Riggins only has one year of major league coaching experience. In 1995 he was the pitching coach for the Cardinals.
December, 5, 2010
12/05/10
9:46
PM CT
As a sidenote to the
Adrian Gonzalez
trade debacle between the Padres and the Red Sox, one major league source told ESPNChicago.com that the Cubs did more than kick the tires when inquiring about the availability of the San Diego All-Star first baseman over the past few months.
The source said that there were conversations between the two teams, but it never got to the point where the Padres asked for specific Cubs prospects.
The Cubs were led to believe that San Diego was going to hold on to Gonzalez until at least the early part of the 2011 season to market the San Diego native in order to sell tickets after another solid season by Gonzalez and his team in 2010.
Super agent Scott Boras, the agent for first baseman Carlos Pena, has said that he's had conversations with the Cubs and numerous other teams about Pena's availability as a free agent.

"He's a Gold Glove caliber first baseman," Boras said. "He's a guy that gives you power and run production."

I asked Boras if he has had any recent conversations with the Cubs about Pena.

"There's a guy in Chicago [general manager Jim Hendry] that you should talk to about that," Boras said.

Pena is one of three or four still-unsigned, free-agent first basemen that the Cubs have interest in. Others include Lyle Overbay and Adam LaRoche.


The Cubs are among three teams in the bidding for fomer Cy Young award winner Brandon Webb. The Washington Nationals, who made the first big splash here at these meetings, signing Jayson Worth to a $126-million contract, are also said to be interested in signing Webb.

Nationals general manager Mike Rizzo originally signed Webb with the Arizona Diamondbacks when Rizzo was the team's scouting director. Webb has not pitched competitively in the major leagues since opening day 2009, when he developed shoulder problems.

The Cubs had a scout watch Webb pitch in the Arizona Instructional League in early November.


Washington Nationals manager Jim Riggleman expressed sadness at the passing of Ron Santo. Riggleman managed the Cubs from 1995-99 and appeared on a radio show that Santo hosted for the Cubs manager before every game.

"Ronnie loved the Cubs," Riggleman said. "That was the great thing about him, Ernie [Banks] and Billy [Williams]. They loved the team, even after they left. They always supported the Cubs. They never complained about how they were being treated. He was a legend. He was a great guy to be around. I'm just glad he's not in pain."
December, 5, 2010
12/05/10
1:35
PM CT
LAKE BUENA VISTA, Fla. -- The Cubs' needs going into the Winter Meetings are pretty easy to document. Solutions to those needs are another matter.
Here's a look at the biggest holes on the Cubs' roster: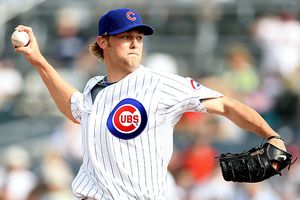 Christian Petersen/Getty ImagesThe Cubs could move Andrew Cashner into the starting rotation.
• Replacing
Ted Lilly
in the rotation: After the team traded Lilly to the Dodgers, a spot opened up for competition between
Tom Gorzelanny
,
Casey Coleman
and
Jeff Samardzija
for the fifth spot in the rotation. However, with the unknown status of
Carlos Silva
, who had a terrific first half of the 2010 season before heart issues and other injuries limited him in the second half, GM Jim Hendry must find innings eaters to pitch in the fourth and fifth rotation spots. Figuring that
Ryan Dempster
,
Carlos Zambrano
and
Randy Wells
are your top three pitchers, the Cubs must search for a diamond in the rough. They will scan former aces like
Brandon Webb
and
Jeff Francis
, both trying to revert to All-Star form after being sidelined with arm injuries. Webb, a former Cy Young winner, hasn't pitched in the Major Leagues since Opening Day of the 2009 season. A shoulder problem has persisted until recently for Webb. The Cubs watched the former Diamondback throw in the Arizona Instructional League in early November. Webb, at his peak, was a sinkerball master, but now he has lost some of his velocity. Cubs scouts had him topping out at 86 miles per an hour when they saw him in Arizona. If the Cubs can't find a functional veteran to plug in, the consensus is they'll move relief pitcher
Andrew Cashner
into the rotation. The Cubs also feel that pitching prospects Jay Jackson, Chris Carpenter (not the Cardinals pitcher) and Chris Archer will be a part of the pitching staff some time in 2011.
• Replacing
Derrek Lee
at first base: In this category the Cubs hope to find a first baseman who drives in runs and bats left handed. Numerous free-agent candidates still exist in the market place. However, the Cubs missed out on
Lance Berkman
, who signed with the Cardinals on Saturday for $8 million. The Cubs also offered $8 million to Berkman, but one source said there were deferred payments in the Cubs' offer. The Cubs really don't have a first baseman of the future in their minor-league system, so signing a veteran to a short-term deal would be the prudent thing to do at this point. As these meetings open, the Cubs were looking at former Blue Jay
Lyle Overbay
and former Tampa Bay Ray
Carlos Pena
. Overbay is just a moderate threat left handed. In 2010, he hit 20 homers with 67 RBIs in 154 games. His .767 OPS is far short of what most teams look for from first base. Overbay's 131 strikeouts are a concern as well. Pena is a terrific defensive first baseman -- though he came in under the Mendoza Line in 2010, hitting .196. That's a pretty pathetic batting average. However, his power numbers were still good with 26 homers and 83 RBIs. Strikeouts are also a big concern with Pena, who whiffed 158 times last season. Pena is considered a top-flight clubhouse man as well. The other option the Cubs have examined the past couple weeks is a possible trade for Texas first baseman
Chris Davis
. Davis has big-time power, but also is prone to big strikeout totals. The Rangers are looking for a catcher in return for Davis.
[+] Enlarge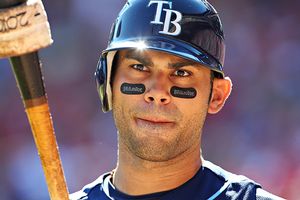 Matthew Emmons/US PresswireCarlos Pena had a .325 on-base percentage last season.
• Replacing a setup man with a setup man: Cashner, a rookie, looked as though he had turned a corner in the setup role late last season. But, as previously stated, the Cubs may move Cashner out of the bullpen into a starting role. The Cubs are going to have to guess on left-hander John Grabow's health and how effective he will be after returning from knee surgery. The team may need two middle-to-late inning relievers. The list of available, competent setup men is plentiful this offseason, but the salary base for middle relievers is another matter all together. With the signing of middle reliever,
Joaquin Benoit
by the
Detroit Tigers
, the price for an above-average middle reliever is around $5 million a year on the free agent market. Cubs icon
Kerry Wood
will be looked at as a possible addition. Wood will have to accept a setup role -- he was Cleveland's closer for the better part of two seasons before getting traded to the Yankees in July. Wood and the Cubs would seem to be a good matchup. However, money constraints might hurt the team's ability to bring back a reliever of Wood's caliber.
Hendry will be active but somewhat limited during these meetings due to little payroll flexibility. A small trade or two might take place before the Cubs sign a free agent. Outfielder
Kosuke Fukudome
will be shopped extensively at these meetings. The Cubs are hoping that someone will take at least half of the $13.5 million Fukudome is owed in 2011. Team president Crane Kenny said on ESPN 1000's "Talking Baseball" on Saturday that the team has ample cash and player resources for Hendry to add the components he needs for 2011. That type of bravado might be a bit of an overstatement, considering the Cubs already have close to 130 million committed to existing contracts and arbitration eligible players. Hendry might only have between $5-8 million to spend, after ownership cut payroll during their November budget meetings.