July, 16, 2011
7/16/11
2:15
PM CT
By
Sahadev Sharma
| ESPNChicago.com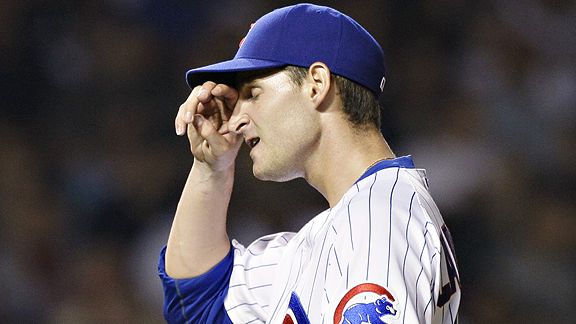 AP Photo/Nam Y. HuhAt least one scout believes Chris Carpenter is better suited for a set-up role.
Relievers are a crap shoot. In one season a guy can be lights out, the next he'll struggle to record an out. That's why when you find a shut down closer, you hold on to him for dear life.
However, unless your name is
Mariano Rivera
, even that so-called shut down closer will hit some bumps in the road.
With the Cubs 18 games under .500 and many veterans expected to be dangled before the trade deadline, the question must be asked if it would be worth it to the Cubs to gauge the market for struggling closer
Carlos Marmol
. If trading Marmol means the Cubs would acquire a top prospect who could help in 2012 and beyond, it might be the right move.
Of course then the issue then becomes who would fit into the closer's role for the Cubs in the future.
Sean Marshall
and
Kerry Wood
will be used in that capacity for the time being, but if Marmol is moved, Marshall and Wood may be holding the position for
Chris Carpenter
.
Carpenter, who was recently sent down to the minors to make room for
Carlos Zambrano
, has an electric fastball that every team covets for their closer. It's that second pitch that manager Mike Quade is looking for Carpenter to use effectively with more regularity.
"You see enough quality once in a while in [his slider] to be really excited," Quade said. "He's not consistent, but one out of every five or six he'll snap off where you'll go, 'Woah, that's like unhittable stuff.' When he can make that three or four out of six, look out."
Of course the Cubs once felt that pitchers like Kyle Farsnworth and
David Aardsma
would be closers of the future. While both have had moments of success in the big leagues as a closer -- Farnsworth is currently filling the role for the
Tampa Bay Rays
-- neither has proven to be capable of filling the spot on a long-term basis.
One NL scout familiar with Carpenter had a different outlook for his future than Quade.
"If you twist my arm, he's more of an eighth inning guy for me," said the scout. "He's always been a guy that's slower to adjust and he's never missed as many bats as you'd expect for how great his stuff can be. I think he will settle in and be a good late inning guy, but if I'm a manager, I feel better about him in the seventh or eighth rather than the ninth."
Marmol is suffering through some rough times right now. But Quade is confident he can get back to the dominant closer he showed he could be in 2010 when he converted 38 of 43 saves and racked up an eye-popping 16.0 K/9.
"It's a lot of fun to dominate the way he has for several years and it's no fun when you're not," Quade said. "It'll probably be tough on him a bit, but he'll get through it. He'll be the same guy at some point that he has been for some years."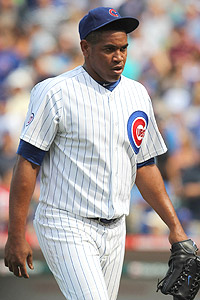 Jonathan Daniel/Getty ImagesMike Quade is confident Carlos Marmol will regain top form, but should the team move Marmol to make way for Chris Carpenter?
Quade indicated that Marmol's mechanics are off which is leading to a drop in the quality of his breaking ball as well as less velocity on his fastball, adding up to disaster when he's on the mound.
Marmol went through similar struggles in 2008 when he was the primary setup man for the Cubs. Prior to that season's All-Star break, Marmol made 12 appearances giving up 15 runs (11 earned) while walking 10 batters in 9 1/3 innings pitched.
Quade said this year's struggles are a bit different because in '08 his stuff was good but it was primarily command that was the issue. This season, he seems to have a dip in his stuff, and while he is issuing some walks, he's giving up more hits than he normally does as well. His .229 batting average against this year isn't horrible, but considering that his previous season high since becoming a staple in the Cubs bullpen was .170, it's definitely something to watch.
Marmol has lasted only three innings in his last six outings, giving up eight runs, seven walks and allowing all three runners he's inherited to score. What's most concerning about Marmol's recent struggles is that he has no strikeouts in that period.
"An alarm goes off, they're not swinging and missing the way they were," Quade said. "Normally that points to the depth of his breaking ball, the quality of his breaking ball because that's where he gets most of his strikeouts. He's just got to get that back, that's all."
Despite that fact that Marmol has been moved out of his closer's role, Quade reiterated that the move is expected to be just temporary.
"He's a closer," Quade said. "He's getting paid as a closer, he's got closer stuff. He's going through a rough time right now. "
It's clear the Cubs believe Marmol will regain the form that made him one of the most dominant strikeout artists in the history of the game. At 28, Marmol is still young and signed through the 2013 season. It's never an easy decision to trade a proven commodity to go with the unknown. However, for a team that's clearly looking towards the future, the Cubs' best bet may just be to move Marmol and take a gamble on Carpenter.
February, 24, 2011
2/24/11
4:26
PM CT
MESA, Ariz. -- Chicago Cubs closer Carlos Marmol believes his team's bullpen has the potential to be among the best in baseball.
Read the entire story.
May, 19, 2010
5/19/10
10:48
PM CT
March, 20, 2010
3/20/10
7:57
PM CT
Chicago Cubs
manager Lou Piniella made it official on Saturday -- rookie right-hander
Justin Berg
has made the pitching staff to start the 2010 season. Piniella said there's still a battle for the last bullpen spot between left-handers John Gaub, James Russell and Marcos Mateo, as well as right-hander
Mike Parisi
.
[+] Enlarge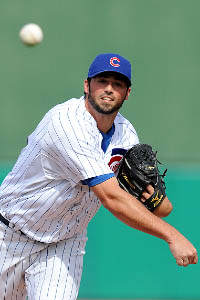 Lisa Blumenfeld/Getty ImagesCubs manager Lou Piniella said Justin Berg will be on the team's Opening Day roster.
Parisi was a Rule 5 acquisition. If he doesn't make the team, he has to be offered back to the
St. Louis Cardinals
for the waiver price.
Fuld vs. Colvin:
The Cubs are leaning toward keeping a defensive outfield specialist for their Opening Day roster. It appears it will come down to a battle between
Sam Fuld
and
Tyler Colvin
.
Colvin has been the team's hottest hitter this spring, however, there's some in the organization that aren't convinced he can handle center field for any extended period of time.
Fuld is a wizard at handling all three outfield positions and also adds a little more speed to the bench if he makes the team.
Millar vs. Tracy:
Veterans
Kevin Millar
and
Chad Tracy
are both trying to make the 25-man roster. For Piniella and his staff, it's a difficult choice to make. Piniella was asked if both could possibly make the team.
"It's hard," Piniella said. "I'm not saying it's not possible. We like both players a lot. There's a lot to say about contributions and leadership from your veterans."
The rotation:
Piniella and pitching coach Larry Rothschild have mapped out an Opening Day plan where the starters will get three starts apiece in April. After that, the Cubs are hoping that rehabbing left-hander
Ted Lilly
will be able to return to the rotation.
The leaders for the fourth and fifth spots appear to be left-hander
Tom Gorzelanny
and righty
Carlos Silva
. Piniella said he'll make a decision on the rotation by March 24.
March, 8, 2010
3/08/10
6:16
PM CT
The first start of the spring for right-handed pitcher
Jeff Samardzija
was either an audition for the rotation or more experience for preparing for the eighth-inning setup role.
Manager Lou Piniella and his staff have told the former Notre Dame All-American wide receiver that he has as good an opportunity as any of the other candidates vying to win the fourth or fifth starting slot.
[+] Enlarge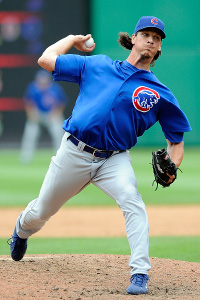 G Fiume/Getty ImagesJeff Samardzija threw two shutout innings on Monday against the A's in his spring debut.
The problem for the Cubs management group is figuring out a way to plug in the rotation holes until
Ted Lilly
gets back, as well as solidifying a somewhat iffy bullpen after the loss of
Angel Guzman
and the slow recovery of
Jeff Gray
.
Samardzija understands the Cubs' needs might find him filling either role.
"I'm just going to go by what they tell me," Samardzija said. "If they keep running me out there as a starter, I'll assume I'm a starter. It is unfortunate what's going on with [the bullpen], but injuries happen and we have a lot of good arms in camp and there's always an opportunity."
With all that in mind, Samardzija still knows that there are still plenty of roles to be won on the Cub 12-man pitching staff.
"I want to pitch and I think I can be pretty versatile," Samardzija said. "Right now, I feel good starting. Next time it will be good to come out and have a starter's approach instead of coming in in the fifth inning."
The Indiana native is a much more polished pitcher than he was when he made his major league debut in 2008. At that time, all that Samardzija features was a plus fastball and a splitfinger pitch. Spending a month in winter ball, Samar worked hard at establishing his slider and commanding a curve ball.
"I think I have the confidence that I could do it," Samardzija said. "It's hard. Everybody's out there cut-throat trying to play for a job and once you realize that, once you realize what you need to do to accomplish what you want to accomplish, it's a little easier. That takes time."
The Cubs' quandary is that Samardzija may, indeed, be a strong starting pitcher for the 2010 team, but his powerful arm might be necessary in the bullpen unless the team pulls off a deal for a veteran reliever.
Samardzija threw two shutout innings on Monday against the
Oakland Athletics
in Phoenix, allowing one hit, one walk while hitting a batter. It was actually a good day for the entire pitching staff.
Ryan Dempster
in his first spring outing retired all six batters that he faced.
Sean Marshall
and
Tom Gorzelanny
both got in two innings as well. The only blemish was a solo home run that Marshall surrendered to
Kurt Suzuki
and a two-run home run that Gorzelanny gave up to former Cub minor leaguer Josh Donaldson.
Esmailin Caridad
pitched the final inning for the Cubs as he continues to try and hammer down the eighth-inning setup role in the bullpen.
NOTES:
Second baseman Mike Fontenot played his first game at shortstop this spring, entering the game as a replacement for starter Ryan Theriot. Fontenot went 2-for-3 with two RBIs and handled the position flawlessly. Piniella said that with Andres Blanco down for the next two weeks that Fontenot will continue to have more playing time at short.