Chicago Cubs:

Chicago Bulls
April, 22, 2012
4/22/12
12:03
PM CT

By Scoop Jackson
ESPNChicago.com
Archive
ESPNChicago.com writer Scoop Jackson is spending this week trying to prove that when it comes to sports, there is no city like Chicago.
Saturday
The day I decide not to go to see the Cubs is the day
they
decide to ball.
But when one has choices as one has today...
Option 1:
Cubs
vs.
Reds
Option 2: Fire vs. FC (Toronto)
Option 3:
White Sox
vs.
Mariners
Option 4: Wolves vs. Rampage
Option 5: Rush vs. Mustangs
Option 6:
Bulls
vs.
Mavericks
Option 7:
Blackhawks
vs.
Coyotes
. Game 5
I don't know if any other city in America can claim days like this on the calendar when it comes to professional sports. Seven teams all in action on one day.
Options.
So try doing this:
Wake up at 5 a.m. to take youngest son to school on a Saturday because he's in the band and the band is in a competition that starts at 7 a.m. Go back home. Take other son to driver's education at another school at 10 a.m. Turn on WGN at noon to see what Cubs team is going to show up. Leave in the middle of the first inning to pick up kids. Return home, Cubs are winning 5-1. Find the Fire/Toronto match on TV. Scream "Goal!!!!!" 25 seconds into the match when the Fire score. Turn to White Sox game. Phil Humber looks good early. Go to get oil changed in the car. Come back, Humber still looks good. Leave home, head to United Center. Word is Derrick Rose might play. Get to UC, hear two words: Perfect game! Find out Rose is playing. Watch Bulls starting lineup start a game together for only the 13th time all season. Leave at halftime. Get home just in time for Game 5 puck drop. My son screams downstairs, "The Bulls are up by 10!" Go online to see Humber highlights. Text Kenny Williams. Check CN100 for Wolves update. They won. Eat dinner. Immerse myself into overtime No. 5. Goal! Text Blackhawks media relations coordinator for possible credentials to Game 6. Begin to write blog you are currently reading. Get response from Blackhawks: "See You Monday!"
The ability to watch, pay attention to or get locked into six professional games all in the same day? Unheard of. The chances of being a part of a day where the city you live in goes 7-0? Incredible. And, in the middle of it all, the 21st perfect game pitched in Major League history? Priceless.
We live for days like this. We live in Chicago
because
of days like this.
August, 8, 2011
8/08/11
11:14
AM CT
By ESPNChicago.com
ESPNChicago.com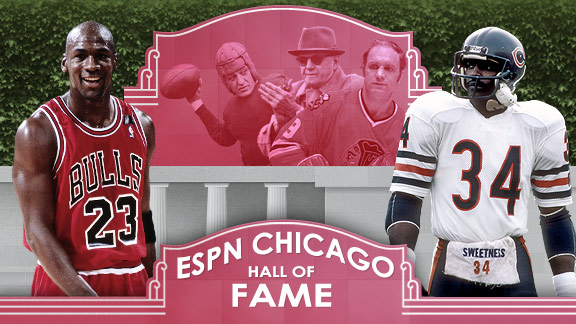 ESPN.com Illustration
Which legends belong in the inaugural class of the ESPN Chicago Hall of Fame? That's up to you.
Cast your votes!
June, 29, 2011
6/29/11
2:35
PM CT
By ESPNChicago.com
ESPNChicago.com

There are still three full months left in the season (and three seasons left on his contract), but there is no denying
Adam Dunn
has been a free agent bust for the White Sox so far. Dunn made our list of the
biggest free agent busts in Chicago history
, and you can
vote for your own lists of busts
.
Many of the busts on our list are easy. But a glance around Chicago sports today brings up several debatable cases with money and expectations playing major roles in determining whether they are busts. Here's a look at a few: