Chicago Cubs:

Chris Davis
December, 8, 2010
12/08/10
9:08
PM CT
The Cubs continue to pursue acquiring players on all different fronts. (I've already highlighted that they are discussing a trade for Rays' starter Matt Garza, here.)
The team also is interested in middle reliever Jason Frasor of the Toronto Blue Jays, according to a scouting source. The Cubs did their best but failed to obtain Frasor last year in a trade.
Meanwhile, medical documents on former Cy Young winner Brandon Webb, a major league source said, have been sent to Cubs' team doctors to analyze. Webb has had arm issues since blowing out his shoulder on Opening Day 2009. Webb and the Cubs might be a good match on a one-year contract with incentives built in, if the doctors sign off on the medicals.
The Texas Rangers and Cubs still are talking about a deal that would send infielder Chris Davis to the Cubs. Minor-league catcher Robinson Chirinos and another prospect is what Texas is seeking in return. Chicago also wants right-handed pitcher Darren O'Day thrown into the deal. O'Day had a terrific year for the Ragners in 2010, with a 6-2 record in 72 appearances.
Right now, the Cubs' main focus is the Garza deal. The other situations are, for now, on the backburner.
December, 8, 2010
12/08/10
3:17
PM CT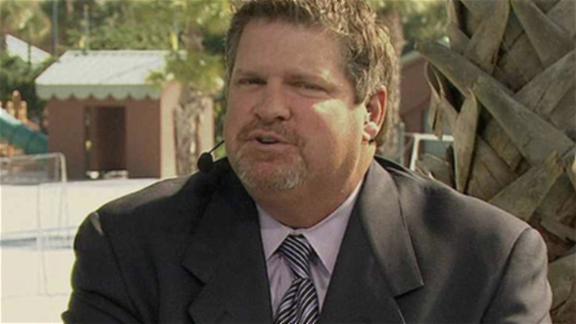 LAKE BUENA VISTA, Fla. -- Now that the
Chicago Cubs
have signed their first big free agent of the Winter Meetings, it will be interesting to see if
Carlos Pena
's old
Tampa Bay Rays
teammate -- starting pitcher
Matt Garza
-- will join him.
[+] Enlarge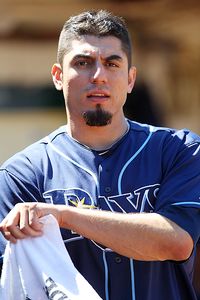 Brad Mangin/MLB Photos/Getty ImagesMatt Garza won a career-high 15 games for the Rays last season.
The Cubs are among numerous teams, including the
Milwaukee Brewers
and
Texas Rangers
, that have had meetings in Orlando about a possible Garza trade.
Pena is a big fan of his former teammate.
"Matt Garza is one of those pitchers that wherever he goes is going to be an incredible asset," Pena said. "It's no secret that he is extremely talented and the sky is the limit for a guy like him. I think he's got Cy Young potential, to be honest with you. His stuff is electrifying. I think anybody would like to have a guy like that."
Garza, 27, was 15-10 with a 3.91 ERA in 32 starts last season.
The Rays are in the mode of re-tooling their team while paring down salary for next season. One major league source said the Rays are looking for minor league talent that can be projected to be ready for the major leagues in the near future.
Pena said the plantar fasciitis problems that plagued him last season are in the past, and he is 100 percent after getting some new insoles in his shoes.
The real reason that Pena and agent Scott Boras wanted the one-year deal was to have the potential for Pena to hit the jackpot next season with a long-term deal. Milwaukee Brewers first baseman
Prince Fielder
, also a Boras client, will be a free agent next season. Boras will use Fielder's contract, which should come in somewhere between $20-$25 million, to set the bar extremely high for a left-handed-hitting first baseman.
Pena will be the only other left-handed hitting first baseman eligible for free agency, according to future projections.
The Cubs would have gone longer on the deal. However, this gives the team flexibility in 2012. Pena will be paid $5 million in 2011 and $5 million in January 2012 as part of a deferment for his one-year contract.
Meanwhile, the Cubs continue discussions with the Texas Rangers and
Detroit Tigers
on possible trade scenarios. As mentioned here on numerous occasions, the Cubs would still like to add Texas infielder
Chris Davis
as well as reliever
Darren O'Day
.
Detroit is interested in Cubs starter
Tom Gorzelanny
. They are offering starting pitcher
Armando Galarraga
in return.
December, 8, 2010
12/08/10
9:31
AM CT
LAKE BUENA VISTA, Fla. -- The
Chicago Cubs
are in the mix for
Tampa Bay Rays
right-handed pitcher
Matt Garza
. They are one of four teams talking to Tampa about a trade for the arbitration-eligible starting pitcher, according to a major league source.
Garza was 15-10 in 2010 with a 3.91 ERA in 32 starts.
Tampa Bay is interested in prospects in return, according to a source. The Cubs are known to have met with Tampa during these meetings as have numerous other teams.
The Cubs have also continued to kick the tires on a trade with the
Texas Rangers
for first baseman/third baseman
Chris Davis
. Even with the signing of Pena, Davis could be a valuable player coming off the bench for the Cubs next season. Texas is interested in 27-year-old catcher Robinson Chirinos, who played at Double-A last season.
Also said to be in the mix in a Davis deal is right-handed pitcher
Darren O'Day
, a relief specialist who was 6-2 with a 2.03 ERA in 72 games with the Rangers in 2010.
The Cubs have also had conversations with the
Detroit Tigers
about trading pitchers for pitchers. Detroit has asked for left-hander
Tom Gorzelanny
while offering right-handed pitcher
Armando Galarraga
, best know for the 2010 perfect game that wasn't after a bad call by first-base umpire Jim Joyce. Galarraga season was less than stellar, going 4-9 with a 4.49 ERA last season.
November, 17, 2010
11/17/10
11:04
PM CT
ORLANDO -- This has been an active general manager meetings for the
Chicago Cubs
and
Chicago White Sox
.
Cubs GM Jim Hendry met with
Carlos Zambrano
's agent Barry Praver for a 30-minute session on Wednesday.
"I can tell you that Carlos has not asked to be traded and the Cubs haven't asked us to waive his no-trade clause," Praver said after the Wednesday afternoon meeting.
The two sides did talk about Zambrano, however trading him never came up in the conversation. Part of the meeting was for Praver to talk about closer
Carlos Marmol
, whom he also represents. Marmol is eligible for salary arbitration again in 2011. Marmol made $2.1 million in his first year of arbitration and will get a hefty raise somewhere between $4 million-$5 million this time.
At some point the Cubs will want to talk to Praver about a long-term deal for Marmol, who will be eligible to become a free agent after 2012.
[+] Enlarge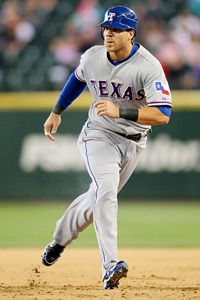 Otto Greule Jr/Getty ImagesThe Rangers' Chris Davis would be a cheap option at first base for the Cubs.
Hendry has had numerous meetings with representatives for free agents and has talked to other teams about trade possibilities. The Cubs and
Texas Rangers
were scheduled to get together to talk about possible matchups. Texas has a need for catching and the Cubs have two solid young catchers in
Welington Castillo
and Robinson Chirinos. Texas has an abundance of good hitting in their organization and they have excess at first base, a position where the Cubs have a need.
Left-handed hitting
Chris Davis
is a home-run hitter who turns 25 in March. Davis only played 45 games for the Rangers in 2010. However, in 2008 and 2009 combined he hit 37 home runs in 193 games. The Cubs could make Davis their everyday first baseman and put the money they have available this offseason toward starting pitching and the bullpen.
"This year we obviously need a first baseman for sure," Hendry said. "But there is a large group of free agents and there are trade possibilities as well. I think there is going to be more volume at that position than what people need at that position."
The Cubs have not talked to the agents for
Adam Dunn
. However, they expect to talk to them at some point soon. Dunn is still the center of attention for the Chicago White Sox. But on Wednesday the
Detroit Tigers
were said to be ready to throw big money at Dunn, whose bidding begins at three years and $40 million.
The White Sox are serious bidders in the Dunn derby. GM Kenny Williams tried to trade for Dunn before the July 31 trading deadline. The White Sox should have the resources to sign Dunn, especially if they don't bring back
Paul Konerko
and
A.J. Pierzynski
. Williams told Japanese media members in Orlando on Tuesday that the Sox are interested in
Hideki Matsui
, the former Yankee and Angel slugger.
The White Sox made a run at Matsui last year at this time before he signed with the Angels.
On Wednesday ESPN.com Jayson Stark reported the White Sox and
Philadelphia Phillies
have been talking about a trade that would send
Carlos Quentin
to Philadelphia. A White Sox source told ESPNChicago.com that the Sox are not shopping Quentin at this time.