Chicago Cubs:

Crane Kenney
January, 17, 2015
Jan 17
6:42
PM CT
CHICAGO -- There might be hope for
Chicago Cubs
fans who want to watch games but live outside the Chicagoland viewing area. President of business operations Crane Kenney detailed two avenues the team and its television partners are exploring to allow those fans to see games broadcast on WLS-TV and WGN-TV.
In most parts of the country, those games would be available online via MLB.TV for a fee. But in places such as Iowa and downstate Illinois, they're blacked out, so those fans currently don't get Cubs games on TV or online.
The first option, Kenney explained, is for an affiliate of WLS-TV (ABC) to pick up the games in its local community. For example, the ABC channel in Des Moines, Iowa, would have that option. In WGN-TV's case, it would be the local CW channel. WGN America is no longer carrying Chicago sports, so they wouldn't be picking them up.
Kenney said the television stations are working on those deals, but if they fall through, the Cubs will then ask Major League Baseball to lift the blackout restrictions.
"If there is a market they don't serve, we can go to baseball and ask them to lift the blackout in that community only," Kenney said Saturday at the Cubs convention. "We can probably push them there."
Kenney agreed there probably isn't a downside for Major League Baseball, as they'll get new subscribers to MLB.TV. The bottom line, though, is those markets that were getting games on WGN America will now have to pay a fee to watch online ... if deals for local syndication fall through.
Kenney also said he's hopeful that in the very near future, local games will be streamed online within markets, so fans can view the Cubs on their personal devices, including phones and tablets.
The team signed a five-year television agreement with WLS and WGN this season. WLS-TV will air 25 games, and WGN-TV will broadcast 45 games. The rest will air on ComcastSportsNet unless picked up by a national rights-holder, such as ESPN or FOX.
November, 26, 2014
11/26/14
1:06
PM CT

By Jon Greenberg
ESPNChicago.com
Archive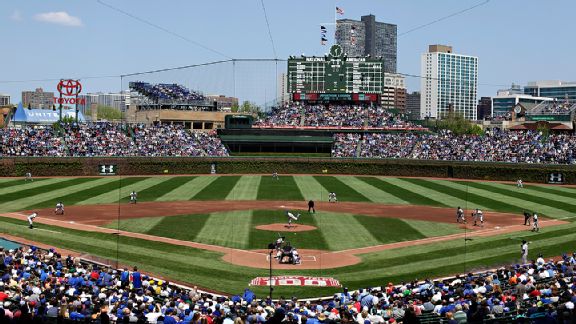 AP Photo/Kiichiro SatoWrigley Field is undergoing a big renovation, and some parts might not be finished by Opening Day.
The
Chicago Cubs
are opening the 2015 season at 7:05 p.m. on ESPN2. But one of the most iconic parts of Wrigley Field might not be ready for its closeup.
Speaking to a group of Cubs bloggers Tuesday, Cubs president of business operations Crane Kenney said there have already been delays in the gutting and total reconstruction of the left and right field bleachers, and that those sections might not be fully open for the start of the season, according to several writers who attended the forum and wrote about the question-and-answer session.
"I think there is a chance that some of the bleachers are not open for opening night," Kenney told the group, according to a transcript posted by Wrigley Renovations, a blog dedicated to the estimated $600 million
Wrigley Field renovation project
.
Cubs vice president of communications Julian Green said the delays are "more the nature of the business than it is a concern," citing weather and infrastructure concerns, among other obstacles. The Cubs have a contingency plan in place for season ticket holders in that area and don't anticipate a long hold-up in finishing those sections.
"As we progress in this project, there are things we know about and things we don't know about and we'll have to adapt," Green said in a phone call with ESPN Chicago.
Weather has been an obvious concern, one the team and its construction firm has obviously planned for, including recent high winds that prevented use of heavy machinery for a day.
May, 31, 2014
5/31/14
5:31
PM CT
By Associated Press
ESPNChicago.com
Archive
CHICAGO --
Chicago Cubs
president of business operations Crane Kenney says he has agreed to a five-year contract extension through 2019.
He announced the deal during an interview Saturday with Chicago's WSCR-AM.
Kenney, in his 21st year with the Cubs, has drawn criticism from fans during that time, particularly when it comes to the team's dealings with the neighboring rooftop owners over the long-awaited renovation of Wrigley Field.
He acknowledged that during the interview, saying, "Thank God it's not a popularity contest" with ownership. He then said chairman Tom Ricketts gave him an extension through 2019.
The Cubs released a revised plan for the ballpark's renovation Tuesday that calls for new signs and warns that the franchise would consider moving to another site.
January, 19, 2014
1/19/14
5:05
PM CT
CHICAGO -- Looking back, it was a bit of a subdued
Chicago Cubs
convention this year as the weekend didn't have a marquee player or moment to seize upon.
There were no big introductions of new star players, nor even the buzz of a recent Hall of Fame electee,
Greg Maddux
, walking around. He had prior commitments.
Last year the Cubs made headlines on convention weekend by unveiling their ambitious Wrigley Field renovation project, but this year all they could tell their fans was it's getting closer to starting -- that is if the final hurdle with rooftop owners can be overcome. It's little news that they announced a four-year offseason project instead of five, considering the first year was eaten up by politics anyway.
Having all their top prospects in one place while celebrating the 30th anniversary of the division-winning 1984 team felt nice, but those things should have been the icing on the cake -- not the cake itself. Having a new manager and coaching staff to introduce to fans produced some interest, but even then the buzz wasn't exactly loud. It might be a good staff, but it's not one well known to the average Cubs fan. Only
Bill Mueller
and possibly
Eric Hinske
bring some name recognition.
The irony of the weekend is the most talked about player -- and the one who can create the biggest buzz of the offseason -- is the one the team talked very little about: Japanese free-agent pitcher Masahiro Tanaka.
"I'm going to respect the request of confidentiality that's come from the agent and the player, just let things play out," team president Theo Epstein said on Friday.
December, 13, 2013
12/13/13
2:51
PM CT
CHICAGO -- Former
Chicago Cubs
player
Ron Coomer
was named as their radio analyst on Friday, the team and WGN Radio announced.
Coomer, 47, spent nine years in the major leagues including the 2001 season with the Cubs. He's a native of the Chicago area and has most recently been serving as an in-studio analyst for the
Minnesota Twins
.
"What a great homecoming for Ron," Crane Kenney, president of business operations for the Cubs, said in a statement. "I enjoyed getting to know Ron during the process and am a fan of his work in the Twin Cities. His knowledge of the game is vast and he will be a great complement to Pat (Hughes) in the WGN booth."
Coomer replaces Keith Moreland, who resigned after last season.
January, 15, 2012
1/15/12
8:33
PM CT

By Jon Greenberg
ESPNChicago.com
Archive
CHICAGO -- The biggest craze at the 27th annual Cubs Convention was, as predicted, Theobowing.
Theobowing replaces Hendrification, which was the promise that money would fix everything. It is exactly what it sounds like, except there's no need to go to one knee, Tim Tebow style, to Theobow. Just find someone with a Chicago Cubs nametag and open your wallet. Faith will take care of the rest.
Prayer isn't what's driving the Cubs' front office. Research and advanced analysis is driving both the baseball side and business side of the club.
I listened to fans Theobow for a solid hour Saturday morning when Cubs president of baseball operations Theo Epstein took questions from Cubs broadcaster Len Kasper and a legion of obsequious fans.
Read the entire column.
January, 14, 2012
1/14/12
8:24
PM CT
By ESPNChicago.com
ESPNChicago.com

A dramatically-overhauled roster won't be the only fresh look at Wrigley Field next season.
The Cubs announced plans to reconfigure the right-field bleachers by elevating seating in the newly-constructed Budweiser Patio section. The new design was revealed on Saturday at the team's annual fan convention.
Read the entire story.
December, 3, 2011
12/03/11
4:47
PM CT
Chicago Cubs chairman Tom Ricketts came out in strong support of his president of business operations Crane Kenney on Saturday, to the point that he said the team is working on a contract extension for the at times maligned executive.
Read the full story.
June, 21, 2011
6/21/11
10:45
PM CT

By Gene Wojciechowski
ESPNChicago.com
Archive
CHICAGO -- The
Chicago Cubs
have lost their way. And worse yet, team chairman Tom Ricketts is having trouble reading the directions on his baseball Garmin.
His franchise is headed south. It has been pointed that way for a while, but the hope was that the new Ricketts' ownership regime would change that. So far, nothing. Absolutely nothing.
Forget about reversing the curse. How about reversing the growing concerns about Ricketts' ability to make a difference, about having the stones to make a hard decision?
Somehow, Ricketts has forgotten the essential truth about running a sports franchise, especially a franchise such as the Cubs with its special history and special, perpetually heartbroken following. And that truth is this: winning makes all things possible.
I'm not saying Ricketts isn't interested in winning. Or that he doesn't care. I'm saying that he hasn't done anything of substance to convince people that he's trying to win.
Read the entire column.
January, 15, 2011
1/15/11
3:34
PM CT
Chicago Cubs
president Crane Kenney and other top team executives took part in a question and answer session with fans on Saturday as part of a management seminar.
Kenney talked about increasing revenue streams, so the Cubs can make more money without asking the fans to pay exorbitant ticket prices.
"We've increased our attempts to bring in revenues through concerts and other events," Kenney said. "We are doing well [selling advertisements] with our new Spanish radio broadcasts and we have switched many of our games from WGN-TV to Comcast, because we get more money per broadcast."
A major league source told ESPNChicago.com that the Cubs and
Chicago White Sox
will each get $450K per Comcast broadcast in the 2011 season. That price has continued to go up every year since the Cubs, Sox,
Chicago Bulls
and
Chicago Blackhawks
, along with Comcast, became partners in Comcast SportsNet.
The Cubs are also in the midst of trying to purchase property in the Wrigleyville area, where they can make money as landlords for retail business, or redevelop and rezone areas for new business ventures, possibly in the hotel industry. The Ricketts family recently gained control of one of the buildings and skyboxes on the Sheffield side of the ballpark near the right field foul pole.
The Cubs and Kenney were pleased to announce that in 2011 the ballpark will have free Wi-Fi, and all cellular phones will be able to access the internet at Wrigley Field. AT&T has put $5 million into technological upgrades at the park.
Vice president of community relations Mike Lufrano said that the team will carry on the tradition of Ron Santo's pledge to raise money for JDRF -- the Juvenile Diabetes Research Foundation -- and will have a fundraiser in the spring for the charity.
Marketing director Wally Hayward said there is no timetable set for hiring a new Cubs radio broadcaster to replace Santo. However, Kenney did say that one candidate was interviewed on Saturday. It is thought that Gary Matthews, Doug Glanville, Keith Moreland and Dave Otto are the finalists for the job.
November, 19, 2010
11/19/10
12:46
PM CT
[+] Enlarge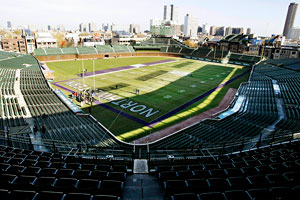 AP Photo/Charles Rex ArbogastThe Cubs said all safety precautions were made and approved when the design and execution of the design were executed.
The
Chicago Cubs
sounded surprised -- and perhaps not happy -- with the Big Ten's sudden decision Friday to dramatically change the rules regarding the Northwestern-Illinois game at Wrigley Field.
Because of safety concerns regarding the proximity of the right-field wall to the east end zone, whichever team is on offense will head east.
The following is the Cubs' statement:
"The Chicago Cubs are surprised by the Big Ten's last-minute statement regarding changes for tomorrow's Northwestern-Illinois football game at Wrigley Field. Let there be no doubt: the safety of the student-athletes has been – and remains – the number one priority since the concept of this game was first discussed more than a year ago, and all parties have gone to complete lengths to ensure student-athlete safety for this contest.
"The essential item in our negotiations to host the football game at Wrigley Field was obtaining approval of both universities and the Big Ten for the field dimensions as related to player safety issues. The field dimension layout was delivered to the Big Ten approximately eight months ago and was approved by the conference. Last month, the field was built exactly to the dimensions previously approved by the Big Ten. Last week, a Big Ten official performed an on-site visit at Wrigley Field, participated in a field walk-thru and raised no issue with the field dimensions, painted lines and boundaries previously approved by the Big Ten.
"This game would not have been scheduled if it did not pass the strict and meticulous standards of everyone involved, a process that began more than a year ago. All are in agreement Wrigley Field is a safe venue to host a football game. Other baseball parks, including tomorrow night's game in Yankee Stadium, feature similar football field-to-venue grid dimensions and rule changes are not considered for football games played in other baseball parks.
"We have reached out to the Big Ten to further discuss the playing field. While we are surprised by this morning's last-minute statement, all agree that tomorrow will be an historic event and a wonderful experience for the fans, the schools and the student-athletes."
March, 11, 2010
3/11/10
1:26
PM CT
[+] Enlarge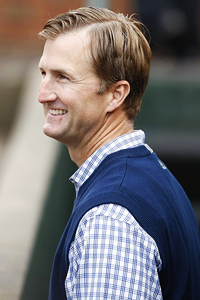 Joe Robbins/Getty ImagesCubs president Crane Kenney talked with reporters for 45 minutes on Thursday.
MESA, Ariz. -- The future of the
Chicago Cubs
on and off the field was a part of a 45-minute discussion with Cubs president Crane Kenney on Thursday morning.
In addressing the complex issue of the new spring training facility for the Cubs in east Mesa, Kenney said a new site should be chosen by the Ricketts family in the next 14 days.
Kenney told ESPNChicago.com that the Cubs are in full support of the Arizona legislature and any method that it believes is proper to raise funds for their $84 million facility as well as others in the Cactus League.
If Arizona chooses to use a ticket tax as part of the state's fundraising, Kenney said the Cubs would have their full support, and the club is willing to pay any tax on their tickets as well.

Kenney said the Cubs will spend between $20-$30 million of their own money developing non-baseball areas around the new complex.

"The plan for our facility can be managed through the Mesa property tax referendum that will happen in November, and the car rental tax," Kenney said. "The ticket tax is not needed for what we're building. But ... [Mesa and the state of Arizona] seem to have our needs well in hand."

Kenney said the A's and Brewers have renovation needs that will require funding in their near future.

"[The state of Arizona is] talking about what the appropriate long term vision is for the Cactus League," Kenney said. "This isn't just about the Cubs. This is about the other teams in the league as well."

Other points of discussion Kenney talked about, included a new chief financial officer, who already has been chosen but will be named on April 1.

The surface of the Wrigley Field marquee on the outside of the ballpark is in the process of getting an overall facelift some 70 years after an any extensive external work had been done on the famous sign.

Other exterior upgrades include removing some chain link fences around the building, and stripping down some concrete slabs that are part of the exterior as well.

The "Triangle Building" that will be constructed on the Clark St. side of Wrigley, where parking lots now exists, should begin to be constructed after the 2010 season. Kenney said the Ricketts family vision is to have that building, which will house the team's front office, and will include retail stores, restaurants and a hotel site, renovated by 2014.

The Triangle Buiding and the renovation of Wrigley Field could cost between $200-$300 million, and the hope is that all the construction will be done in time to celebrate the 100 –year anniversary of the original construction of the ballpark. The Cubs originally moved into Wrigley in 1916.

Kenney said the Cubs' baseball budget should not be impacted by the $200-$300 million renovation plans that ownership has on the board. He also said the issue of baseball operations will be addressed in a proper time frame.

He said the amount of money spent on baseball operations in the future will be directly correlated to the team's ability to generate new revenue streams.

He said the Cubs are impressed with general mangaer Jim Hendry's front office.

"I think Jim has a nice team round him," Kenney said. "Randy [Bush] has been a really great addition, and Greg [Maddux], I've already heard stories what it means to have Greg in the house."

Kenney was asked about Cubs manager Lou Piniella's tenure with the team.

"Lou's done a great job," Kenney said. "If he feels well and he wants to keep going, we'll have an interesting conversation. I think he's done a great job … and he's raised the bar. That's a little bit of a burden we carry now. But that's a lot better than being picked fourth or fifth."
February, 18, 2010
2/18/10
9:23
AM CT
Chicago Cubs
owner Tom Ricketts and his family will be the first people fans see in line on Friday morning as they try to purchase individual game tickets for the Cubs' 2010 season. According to team President Crane Kenney, the Ricketts will be handing out coffee and donuts to some of the people in line and also expressing thanks for the their loyalty.
Kenney said the Ricketts will go to Mesa, Ariz., next week to spend a few days around the front office and the team. Ricketts' schedule will not allow him to stay in Arizona the entire six weeks, but he will be able to make frequent trips once the spring training games begin March 4.