Chicago Cubs:

D.J. LeMahieu
December, 3, 2011
12/03/11
6:23
PM CT
As the Chicago Cubs' newly installed front office, led by president of baseball operations Theo Epstein and general manager Jed Hoyer, head to this year's winter meetings, here's a look at some of the team's most pressing questions.
[+] Enlarge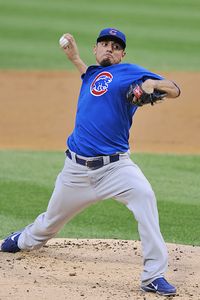 David Banks/Getty ImagesThe Cubs may be fielding offers for Matt Garza.
1. How will the Cubs go about rebuilding the starting rotation?
The Cubs' rotation is in need of a major upgrade and new direction under soon-to-be-introduced pitching coach Chris Bosio. During the 2011 season, starting pitchers Andrew Cashner and Randy Wells both went down with arm injuries the first week of April. The organization had no viable options to replace them. Epstein is on record as saying he'll want to know not only who his first five pitchers are but also six through nine. In other words, he wants depth.
Addressing the organization's lack of pitching depth may come at a high cost, so the team may take a step backward before moving forward. A large number of team's are likely to enquire about the availability of 28-year-old righty Matt Garza.
Although Ryan Dempster may be the leader of the staff, Garza is the ace of the team's group because of his stuff. Please ignore his 10 wins in 2011, Garza left seven other starts with a lead but ended up a no-decision. Garza's 3.32 ERA in 31 starts was significantly better than the staff's overall ERA 4.43. Garza still managed to throw 197 innings, striking out 197 hitters despite missing three starts with an elbow contusion.
Tampa Rays president Andrew Friedman found out last year that established pitching can get you back a ton of prospects. Garza's value to teams like the Rangers, Yankees and Red Sox is obvious. He is under contract control for two more seasons. He'll make between $8.5 and 9 million in 2012 through arbitration.
Ironically for the Cubs, Garza is the one pitcher on the roster who could be a building block. Still, the team can take a giant step toward rebuilding its future by dealing him to the highest bidder. A major league source has already indicated that the Rangers have asked about Garza's availability.
Looking at the top free agent pitchers, it's doubtful the Cubs would pay the $120 million free agent lefty C.J. Wilson is seeking. The asking price for 33-year-old Mark Buehrle also appears to be rising. Industry sources believe Buehrle will get at least three years and $40 million on the open market. It appears more likely the Cubs will go after free agents like Aaron Harang, who might come at a more reasonable price.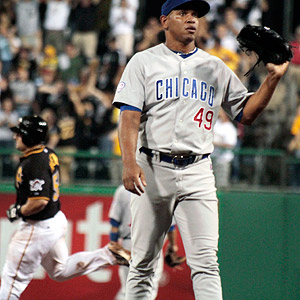 AP Photo/Keith SrakocicCarlos Marmol is coming off an unremarkable 2011 campaign.
Will the Cubs shuffle around their bullpen?
The Cubs' bullpen was a strength last season, as lefty Sean Marshall continued to lead the way. Right-hander Jeff Samardzija and lefty James Russell continued to grow into their bullpen roles. Samardzja has let team officials know that he'd like to get a chance at the rotation this spring. He grew as a pitcher by leaps and bounds in 2011.
It's possible Samardzija ends up as the team's closer if the Cubs move Carlos Marmol. Numerous scouts told ESPNChicago.com that Marmol should bounce back in 2012, after blowing 10 of 44 save opportunities this past season. The baseball talent evaluators point to Marmol's 313 relief appearances since 2008 – a major league high during that span -- as the determining factor for his down 2011 season. If the Cubs look to trade Marmol, Cashner, Samardzija and prospect Chris Carpenter could all be groomed for the closer role.
What type of players will the Cubs add to fill out the roster?
The signing of David DeJesus last week shows that the Cubs will put a premium on versatile, athletic players this offseason. The Cubs will be looking for more left-handed hitting, and Carlos Pena's return at first base in 2012 is a possibility. Pena was offered salary arbitration by the club and has until Dec. 7 to accept. If he does, he will have a one-year guaranteed deal with the team. Second and third base will also be assessed as the team moves forward. Darwin Barney and D.J. LeMahieu are possibilities at both spots.
[+] Enlarge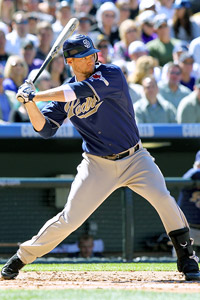 Doug Pensinger/Getty ImagesChase Headley may fit the Bill Mueller type that Theo Epstein likes in his third basemen.
That said, the team's top free agent need may be a versatile third baseman. Sources say that Colorado's Ian Stewart and San Diego's Chase Headley could be trade targets for the Cubs over the next week. The Cubs like both players, and Headley played for Jed Hoyer over the past two seasons in San Diego.
Is Soto still in the plans?
Numerous teams may approach the Cubs about the availability of Geovany Soto. He is coming off a disappointing 2011 season in which he struck out 124 times and led all catchers in errors (13), but the Cubs may hesitate to move him with a dearth of suitable replacements available. Soto will make at least $4 million through arbitration. The Pirates and Giants inquired about Soto at last year's trade deadline, and the Pirates still may have interest. The Cubs have up-and-comers Welington Castillo and Steve Clevenger in their system. Neither, however, appears ready for full-time duty.
Outside of a wild shot at Prince Fielder, whose agent (Scott Boras) is seeking a seven-year deal, and Buehrle or Wilson, the Cubs may decide to spend their time in Dallas looking for trades and adding more players like DeJesus who are versatile and less costly.
September, 5, 2011
9/05/11
2:56
PM CT
CHICAGO – The Chicago Cubs on Monday activated right-handed pitcher Andrew Cashner from the 60-day disabled list.
[+] Enlarge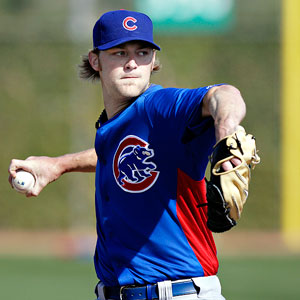 AP Photo/Paul ConnorsAndrew Cashner made just one start this season before getting injured.
Cashner is expected to be in uniform Tuesday, but he is unlikely to pitch until Wednesday at the earliest. He has been throwing every third day as part of his rehab.
Cashner was placed on the DL on April 8 (retroactive to April 6) with a right rotator cuff strain. He re-aggravated the injury while rehabbing in mid-May. He is expected to stay in the bullpen for the remainder of this season.
Cashner's activation could be one of many roster moves the team makes in the coming days.
Infielder D.J. Lemahieu and relief pitcher John Gaub are expected to be called up Tuesday from Triple-A Iowa. After that, the team likely will wait until the end of the Double-A playoffs before promoting two players on the Tennessee Smokies. Right-handed pitcher Rafael Dolis and catcher Steve Clevenger are on track to get promoted after the conclusion of those playoffs. Clevenger must be added to the roster before he is eligible to play in the major leagues.
Cashner's coming off the DL and Celvenger's eventual addition will max out the Cubs' 40-man roster. With that, the team may consider designating players currently on the 40-man roster for assignment.
One player who will not be ascending to the 40-man roster is outfielder Brett Jackson. Rated as the organization's top prospect, the Cubs have decided to keep Jackson in the minors for the remainder of this season. The team also canceled Jackson's Arizona Fall League slot. The young outfielder will instead play with Team USA in the Pan Am Games this fall.


A few other names who are unlikely to see the 40-man roster: pitcher Scott Maine, catcher Wellington Castillo and pitcher Chris Carpenter. All were candidates for call-ups, if not for injuries.
On Sunday, Sept. 11, a roster spot will have to be opened for Carlos Zambrano's return to the active roster. Zambrano will be coming off the disqualified list after 30 days. He will not re-join the team, however.
August, 30, 2011
8/30/11
4:53
PM CT
By ESPNChicago.com
ESPNChicago.com

Pitcher
Andrew Cashner
and outfielder Brett Jackson are among six players the
Chicago Cubs
will send to play in the Arizona Fall League.
Joining Cashner and Jackson are infielders Junior Lake and
DJ LeMahieu
as well as pitchers Trey McNutt and
Chris Carpenter
.
Cashner injured his right rotator cuff in his first major league start on April 5. He was put on the disabled list on April 8. During a rehab session on May 16, Cashner re-injured the rotator cuff and had not pitched competitively until last week. He is pitching out of the bullpen at Triple-A Iowa and is expected to re-join the Cubs sometime in early September.
Jackson, the Cubs's first-round pick of the 2009 draft and the organization's top prospect, is batting .319 with six home runs, 25 RBIs and six stolen bases at Triple-A Iowa. He split the 2011 season between Iowa and Double-A Tennessee.
LeMahieu is batting .316 overall between Double-A Tennessee and Triple-A Iowa. He hit .243 in 23 games with the Cubs earlier this season.
Lake is batting .281 with 12 home runs, 51 RBIs and 36 stolen bases overall this season in stints at Single-A Daytona and Double-A Tennessee.
Carpenter had a 2.79 ERA in 10 games with the Cubs earlier this season. McNutt is 5-5 with a 4.35 ERA in 22 starts with Double-A Tennessee.
Pitcher Jeff Beliveau is on the taxi squad, meaning he's eligible to play Wednesday and Saturdays.
June, 3, 2011
6/03/11
11:52
PM CT
ST. LOUIS -- Entering Friday's game with a five-game winning streak at Busch Stadium was of no help to the depleted
Chicago Cubs
.
Home runs from
Lance Berkman
and
Albert Pujols
made it a short night for right-hander
Ryan Dempster
in a 6-1
St. Louis Cardinals
victory.
[+] Enlarge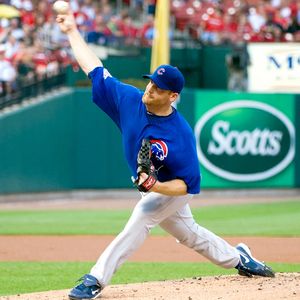 Scott Rovak/US PresswireCubs starter Ryan Dempster allowed six runs on eight hits in a loss to the Cardinals on Friday.
Dempster, who lost for the fifth time in 2011, has given up 13 home runs in 13 starts this year.
Berkman's three-run homer got the Cardinals going in the first inning.
"A three-run homer in the first really puts your team in a hole," Dempster said. "I did not execute a fastball in, and paid for it."
Pujols' two-run home run came on a breaking ball in the Cardinals' fifth.
"I threw a slider to Pujols that stayed up a little bit," Dempster said. "He hit it out. When you throw three pitches to him at the same speed [and] you don't get the third one where you want to, he's going to hit it."
Dempster gave up four home runs to Pujols in 2010 and seven total in his career.
Cardinals starter
Jaime Garcia
did the rest on Friday, allowing just four hits and one run in eight innings to post his sixth win this season.
One of the few bright spots for the Cubs was third-baseman D.J. LeMahieu's first major league hit.
LeMahieu, who was starting at third base in place of the injured
Aramis Ramirez
, got an infield single off of Garcia in the eighth inning.
"I always hit lefties pretty well," LeMahieu said. "He was changing speeds very well. He looked pretty good out there."
The Cubs have lost six of their last seven games and four straight. The Cardinals now lead the fifth-place Cubs by nine games in the National League Central.

June, 3, 2011
6/03/11
9:55
PM CT
CHICAGO -- A quick look at the Chicago Cubs' 6-1 series-opening loss to the
St. Louis Cardinals
on Friday night at Busch Stadium.


The good:
Left fielder
Luis Montanez
had the Cubs' first hit and RBI of the game in the fifth inning. Cardinals starter
Jaime Garcia
had retired 13 straight before walking
Carlos Pena
that inning. Pena then scored on Montanez's double. Rookie D.J. LeMahieu recorded his first major league hit on an infield single in the eighth inning.
The bad:
Cardinals sluggers took advantage of right-hander
Ryan Dempster
as both
Lance Berkman
and
Albert Pujols
went deep. Pujols has five home runs in his last 10 at-bats against Dempster, going back to 2010.
Beyond the box score:
Cubs right-hander
Matt Garza
threw a solid bullpen session on Friday and will most likely come off the disabled list and pitch on Monday in Cincinnati.
Up next:
Randy Wells
(1-1) takes on the Cardinals'
Kyle Lohse
(7-2) on Saturday afternoon.
May, 30, 2011
5/30/11
2:07
PM CT
The young talent in the Cubs' farm system is finding its way to Clark and Addison much faster than the organization anticipated.
Infielder D.J. LeMahieu, who joined the team Monday, is the latest minor leaguer to get called up by the team.
The Cubs needed an infielder to replace Jeff Baker, who was put on the DL with a left groin strain. LeMahieu was told yesterday by Brian Harper, his manager at Double-A Tennessee, that he was going to Triple-A Iowa.
"Two hours later I got a phone call from [Cubs Oneri Fleita. He said 'forget about Iowa,' you're on your way to the major leagues," LeMahieu said.
LeMahieu was hitting .358 at Double-A Tennessee with 27 RBIs in 50 games with 20 doubles. It's also noteworthy that he was batting .459 against lefties – that fact is key because he's replacing Baker, who also had been dominant against left-handed pitching.
"This young man knows what his strengths are and knows what his weaknesses are," Fleita said. "However, we believe he has enough to compete at this level."
The Cubs selected LeMahieu out of LSU in the second round of the 2009 draft. He played for LSU in the College World Series as a freshman in 2006.
"When you've gone through a quality program like the one at LSU and you played in the College World Series, you've paid your dues," Fleita said. "He's well prepared and was way ahead of some other players that were drafted and developed in our minor leagues."
LeMahieu was hoping that experience will help his transition to the big leagues.
"Playing in front of crowds and going to Omaha [in the 2006 College World Series] the adjustment to the minor leagues wasn't as big and hopefully [playing in the majors] is somewhat similar," he said.
Manager Mike Quade said he's not sure if LeMahieu will get a start in the near future but he won't hesitate to use him off the bench.
May, 29, 2011
5/29/11
11:27
PM CT
By Sahadev Sharma and Bruce Levine
ESPNChicago.com

CHICAGO -- The Chicago Cubs will place Jeff Baker on the 15-day disabled list on Monday with a left groin strain, major league sources confirmed late Sunday night.
Read the entire story.