Chicago Cubs:

Dillon Maples
October, 14, 2011
10/14/11
2:16
PM CT
By Sahadev Sharma
ESPNChicago.com
Archive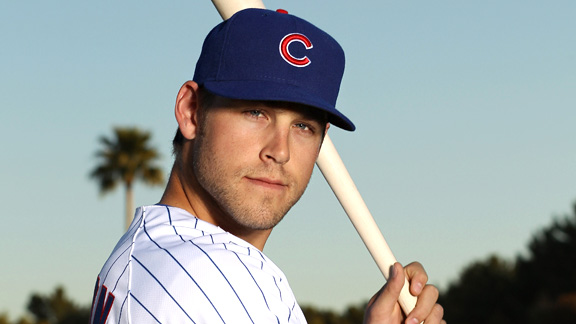 Ezra Shaw/Getty ImagesIf he's not traded to Boston for Theo Epstein, Brett Jackson figures to be playing for the Cubs in 2012.
With Theo Epstein likely coming to town to try to save the
Chicago Cubs
, speculation as to how he will reshape the organization and rumors about how he will do it have already started.
Keep in mind that the man hasn't even been officially introduced as the new general manager.
As Chairman Tom Ricketts has stated all along, building a strong farm system is one of the top priorities for this team and Epstein is the perfect man to help do so, as his work in Boston proves.
Some seem to believe that the Cubs farm system is barren of high-ceiling talent, but that's a bit off. It's true that impact talent at the higher levels of the minors is few and far between, but when looking at Single-A ball and below, the Cubs have some intriguing names that could eventually crack many top 100 prospect lists in the coming years.
When evaluating bats, Epstein's philosophy has often been to emphasize patient hitters that will drive up the oppositions' pitch count, draw walks, and have some power. He often looks for athletic players with some upside on the defensive end. As for pitchers, there really hasn't been a consistent trend from Epstein during his Red Sox days, but as any talent evaluator would tell you, the ability to strike people out is always at a premium.
Below is a list of players in the Cubs organization that fit the mold Epstein and his staff will be looking for down the road. As always, this analysis is based upon information gathered from scouts and front office executives that have evaluated the players in question.
BRETT JACKSON
Age:
23 |
Position:
CF |
B/T:
L/R |
Highest level in '11:
Triple-A Iowa
Jackson is definitely the obvious choice when it comes to Epstein-type players in the Cubs system. He's also the most major-league ready, it's nearly a certainty he'll be playing every day in the Wrigley Field outfield at some point next summer. Cubs fans have been hearing about Jackson for so long that the hype has likely overtaken his actual value. Although Jackson is a five-tool player, none of those are at an elite level. His eye-popping 23.9 percent minor league career strikeout rate is of concern, but his ability to take a walk and hit for some power along with good defense in center field should counteract the strikeouts enough to make him a solid above-average regular.


---
[+] Enlarge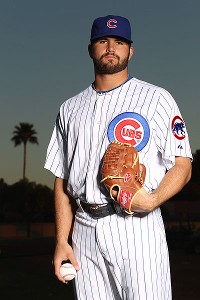 Ezra Shaw/Getty ImagesTrey McNutt's poor 2011 season can be written off because of injuries.
TREY MCNUTT
Age:
22 |
Position:
P |
B/T:
R/R |
Highest level in '11:
Double-A Tennessee
A 32nd-round pick in the 2009 draft, McNutt was a hot name entering the 2011 season. After posting a 2.48 ERA, with 132 strikeouts and only 37 walks in 116 1/3 innings through three levels in the minors in 2010, McNutt seemed to be on the fast track to the majors. However, an injury plagued 2011 (a finger blister on his throwing hand and later on bruised ribs) led to inconsistent performances, command issues, and a worrisome decrease in strikeouts (65 Ks in 95 innings). However, scouts tend to remain very encouraged by his stuff -- a power fastball, strong breaking ball and a developing changeup -- and most seem to agree that McNutt's 2011 is a bad year that the Cubs can just write off due to injuries.


---
ZEKE DEVOSS
Age:
21 |
Position:
2B |
B/T:
S/R |
Highest level in '11:
Low-A Boise
This is where we start to mine the lower levels of the minors to find the future of the Cubs. DeVoss is an obvious choice as someone Epstein will be happy to have in his farm system considering the Red Sox drafted him in the 38th round out of high school in 2009. DeVoss nearly signed with Boston for an over-slot deal, but ultimately honored his commitment to play at the University of Miami. The Cubs drafted DeVoss in the third round of this past summer's draft and found themselves an athletic speedster who profiles as a future lead-off hitter and a legit stolen base threat. DeVoss has shown in a very small sample to be an extremely patient hitter (.449 on-base percentage in 187 plate appearances at two levels). While he has very little pop (no home runs in 42 minor league games) it's possible he may develop enough power to be comparable to other second basemen. Whether he can play second every day, as opposed to eventually moving to center, is another question. But he's athletic enough that he'll be given every opportunity to remain in the infield.


---
DANIEL VOGELBACH
Age:
19 |
Position:
1B |
B/T:
L/R |
Highest level in '11:
Arizona Rookie League
Vogelbach was a 2011 draftee like DeVoss, but Vogelbach didn't sign until the Aug. 15 deadline. The Red Sox were interested in him, but that's where the similarities end. Vogelbach has battled weight issues throughout his high school career, but it never stopped him from hitting monstrous home runs. Along with the prodigious raw power (a 70 on the 20-80 scouting scale), Vogelbach brings extreme patience, racking up high walk totals. With his power and body type, the Prince Fielder comparisons are obvious, but on the downside, the name Bob Hamelin has been mentioned as well. He is unexpectedly light on his feet and is a good runner for his size. If Vogelbach can continue to keep his weight in check (he is said to be at 250 pounds as opposed to the 280 he was carrying a year ago), the Cubs may have found their first baseman of the future.


---
DILLON MAPLES
Age:
19 |
Position:
P |
B/T:
R/R |
Highest level in '11:
None
A 14th-round draft pick, Maples received $2.5 million from the Cubs, who lured him away from the University of North Carolina. He is going to be relied upon heavily in an organization with a dearth of talented young pitchers. Maples has an above average fastball that sits at 92-94 mph -- and sometimes ticks up a bit higher -- to go along with a really good, hard curveball. He has a stiff, upright delivery that can lead to command issues and will likely need some cleaning up. However, some scouts feel that due to his athleticism (in addition to playing baseball, Maples was recruited to punt for the UNC football team) it's worth the risk that he'll make the adjustments necessary to take advantage of his above-average stuff.


---
MATT SZCZUR
Age:
22 |
Position:
CF |
B/T:
R/R |
Highest level in '11:
High-A Daytona
[+] Enlarge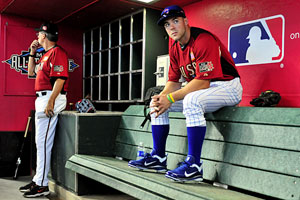 Barry Gossage/MLB/Getty ImagesMatt Szczur has great speed but will he develop as a hitter?
Another two-sport star that the Cubs paid big money for, the speedy Szczur recently gave up playing wide receiver at Villanova to concentrate solely on baseball. Scouts seem to be pretty split on Szczur's potential, since he's 22 and still hasn't progressed past A-ball. However, the fact that he's just now focusing on baseball leads some to believe that he can finally tap into his vast potential. Szczur was quite strong at low-A Peoria in 2011 (.314/.366/.431) but struggled when he was promoted to high-A Daytona (.260/.283/.410). Szczur is clearly a wild-card as expectations seem to range from comparisons to Jacoby Ellsbury all the way down to a fourth or fifth outfielder whose swing will never produce much more than slap singles. What isn't debatable is his elite speed, which many scouts have put an 80 label on.


---
BEN WELLS
Age:
19 |
Position:
P |
B/T:
R/R |
Highest level in '11:
Low-A Boise
Wells is a projectable, unfinished product, but his upside is what attracted the Cubs to him. They were thrilled to get someone of his talent in the seventh round of the 2010 draft, but it definitely came at a price. They gave Wells $530,000 to keep him from going to the University of Arkansas. Wells has a big fastball and impressive feel for his curveball considering his age. He's mostly an upside guy, and upside guys -- especially pitchers -- are risks, but it's an educated gamble that's worth taking on the Cubs part.


---
LOGAN WATKINS
Age:
22 |
Position:
2B/SS |
B/T:
L/R |
Highest level in '11:
High-A Daytona
Watkins has gotten off to slow starts the past two years, but seems to really take off in the second half. Regardless, he still managed a respectable .281/.352/.404 line this season. While he's not yet a great base runner, he's just a tick slower than DeVoss. He's also more likely than DeVoss to remain at second, and there are some who believe he could handle shortstop, which makes him all the more valuable. Like most of the kids on this list, Watkins is extremely athletic with a very polished approach at the plate.


---
JEIMER CANDELARIO
Age:
17 |
Position:
3B |
B/T:
S/R |
Highest level in '11:
Dominican Summer League
Pretty much an unknown at the age of 17 and playing in the Dominican Summer League, Candelario could turn out to be a star or may never be heard from again. But regardless of the competition he's facing, Candelario drew 50 walks in 305 plate appearances, leading to a .443 OBP. That's a rare display of patience by someone at that age. When he did swing the bat, Candelario did some damage, batting .337 with 16 doubles and five home runs. With power being one of the last things to develop for a prospect and adding to that the fact that he bats from both sides of the plate, Candelario is surely an intriguing prospect. Again, take the numbers with a grain of salt as they're at the very lowest level of competition associated with major league baseball, but he's definitely a name to file in the memory bank as he continues to progress through the Cubs system.
August, 21, 2011
8/21/11
8:40
PM CT
By Chris Silva
ESPNChicago.com
Archive
CHICAGO -- New
Cubs
prospect Dillon Maples was taken back at first when he heard the news of Jim Hendry's firing.

Maples
Maples said the former Cubs GM played a key role in getting him to sign with the organization rather than fulfill a football scholarship with North Carolina Tar Heels. But at the end of the day, Maples was confident a deal would have been worked out with or without Hendry.
"Because I'm new and I'm coming in, I had built kind of a relationship with him because my dad was talking a lot to him throughout the draft and all that," Maples said during his visit to Wrigley Field on Sunday. "So him being let go, I mean, it made me feel a little less comfortable, I'd say, but you've got to move forward."
The immediate future will have Maples in Arizona on Sept. 9 to prepare for the Instructional League. Maples recorded 117 strikeouts and a 0.95 ERA last season at Pinecrest (N.C.) High. He attributed a lot of those strikeouts to his curveball and described himself as a
Zack Greinke
-type of pitcher.
Maples said he attended summer school in Chapel Hill, where he also went to training camp before making a decision to sign with the Cubs. His commitment to the Tar Heels was a reason that many teams shied away from drafting him in the early rounds. The Cubs got him in the 14th round, but gave him a $2.5 million signing bonus.
"I can always go back and play football if this doesn't work out," he said, "but hopefully I won't have to do that."
August, 16, 2011
8/16/11
8:00
PM CT

By Bruce Levine
ESPNChicago.com
Archive
HOUSTON -- It didn't take
Chicago Cubs
chairman Tom Ricketts long to let the fan base see his commitment to the future.
The Cubs spent $12 million signing draft picks this summer, including a $2.662 million payout to No. 1 pick Javier Baez, an infielder, and $2.5 million to No. 14 pick Dillon Maples, a right-handed pitcher.
Ricketts, who is expected to speak about the near future of the team within the week, is following through on the first speech he made after buying the Cubs. The Cubs owner said then that he would put his future profits back into the team. In this case, Ricketts redirected the bulk of the money that he cut from the 2011 payroll ($144 million in 2010 and $130 in 2011) to the team's draft picks.
Scouting director Tim Wilken called this year's draft the best that he's had since taking the position in 2006.
"Spending-wise, this year we are in the top third of baseball instead of the bottom third like we've been in the past," Wilkens said.
In the past, the Cubs had never spent more than $6 million dollars in one year on any draft, although
Mark Prior
received $10.8 million over four years in 2000.
Wilkens said that Ricketts has a mandate to the Cubs that begins with scouting and development.
With a new collective bargaining agreement on the table between the Players Association and MLB, baseball people are unclear if a slotting system, in which each player drafted would receive comparable money to the others selected in his round, may be negotiated as part of the deal.
"I think if it's the same draft or similar, Tom would be (spending a lot of money) because that's been his stance all along," Wilkens said. "That's been his stance all along, to build the organization up. I think he truly believes in that and I know I do."
The Cubs signed 20 of their top 22 picks, including Shawon Dunston Jr., an outfielder out of Northern California. Dunston is the son of former Cubs shortstop
Shawon Dunston
, who was the team's No. 1 draft pick in 1982.
For the Cubs, Maples was the sleeper in the draft. Ricketts got involved in the negotiations because he had heard about the North Carolina native's upside.
The Cubs drafted Maples knowing there was a possibility he would go to
North Carolina
and kick for the football team. Before the draft, Maples' representatives were telling teams that he wouldn't sign for less than $3.5 million.
The Cubs feel that they got a first-round quality pick by signing Maples.
Earlier in the week, Trevor Gretzky, son of hockey legend Wayne Gretzky, signed a $375,000 contract with the Cubs. He had originally committed to
San Diego State
.