Chicago Cubs:

Eric Jokisch
September, 7, 2014
9/07/14
10:31
PM CT
CHICAGO -- Two pitchers possibly headed in opposite directions took the mound on Sunday for the
Chicago Cubs
-- though one was making only his major league debut.
Eric Jokisch
isn't the household name that
Travis Wood
is, after the latter made the All-Star team a year ago, but he shined in his first appearance despite the Cubs losing 10-4 to the
Pittsburgh Pirates
. Wood, on the other hand, continued a season-long slump that saw his ERA rise to 5.15.
[+] Enlarge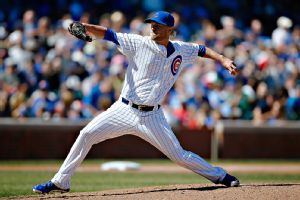 AP Photo/Andrew A. NellesEric Jokisch, making his major league debut, was a bright spot on the day, giving up one run on six hits while striking out four in 6⅓ innings.
"If I missed a pitch, they hit it out of the park. If I executed one, they hit in through a hole," Wood said after lasting just 1⅔ innings.
That statement could sum up his whole season, as he has simply been pounded by the opposition. There have been some good moments, but few and far between. Wood was at a loss for words after giving up nine hits in less than two innings, including three that left the park. In 15 starts this season, he has given up seven hits or more. He did that eight times all of last year.
"Obviously something is different, whether it's the hitter's approach off me or not being able to execute pitches like I did last year," Wood said.
He simply left pitches up and in the hitting zone too often. He has done that a lot. Wood relies on pinpoint control, but for some reason he has been less precise on more occasions than the Cubs would like.
"I think it's been a little bit of hit and miss," manager Rick Renteria said before the game. "I think he would be the first one to tell you he would have wanted a much better season to this point."
Wood doesn't disagree, and now his ERA is among the worst in baseball. Between him and
Edwin Jackson
, the Cubs have had to navigate around 40 percent of their starting staff coming up way short. And these are veterans, not youngsters.
That leads us to Jokisch and what it all means for next year. Jokisch was an 11th-round pick in 2010 and received high praise when called up earlier this month.
"An outstanding minor league career," Cubs president Theo Epstein said at the time. "What's helped him turn the corner is he's become a true three-pitch pitcher. Has a slider that he can locate. And he still has the swing-and-miss changeup."
All of it was working for him when he came on in relief of Wood in the second inning. Jokisch pitched the next 6⅓ innings, giving up a run on six hits without walking anyone while striking out four. He struck out the reigning National League MVP,
Andrew McCutchen
, using his fastball, a curve and a slider.
"It all happened so fast, I didn't really have time to think about it," Jokisch said of his nerves.
Once he got out of the second inning he was able to settle in and showed why Epstein called him a "long-term starting candidate in the organization."
The Cubs have a few of those kinds of players as
Jacob Turner
,
Felix Doubront
,
Kyle Hendricks
and now Jokisch have made their way to the mound for them this year. And several may be around when spring training breaks next season.
There's an assumption that Wood would be around as well, but times are changing for the Cubs. Let's put it this way: Can you picture both Wood and Jackson going into spring training as the incumbents in the five-man rotation? Jackson's contract -- two more years at $22 million total -- might say he is, but the Cubs can't really believe that's the route to go. And they may end up thinking the same of Wood, who's still arbitration eligible after making $3.9 million this year. He made $527,500 in 2013, the year he made the All-Star team. That's how baseball works.
"We just have to get Woody back to Woody," Renteria said. "Whatever that is, we'll try to figure it out."
Like others who struggle --
Mike Olt
and
Junior Lake
-- the leash probably won't be as long. Production has to come as the Cubs try to put their losing ways behind them. There are enough candidates that no one who has pitched this poorly should be safe.
"Not near as consistent as last year," Wood said. "That will be something to take into the final two starts and into the offseason."
April, 22, 2014
4/22/14
11:23
AM CT
The
Chicago Cubs
might wait until later in the summer to bring up any of their top hitting prospects from the minors, but that doesn't mean a pitcher or two couldn't make an appearance at Wrigley Field sooner than that.
[+] Enlarge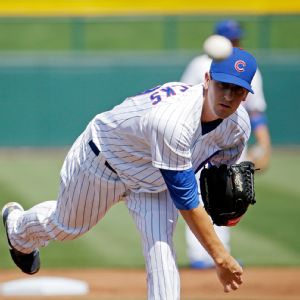 AP Photo/Morry GashKyle Hendricks has recovered from a shaky first start with three straight victories at Triple-A Iowa.
It's common to see a hurler come up for a start because of an injury or heavy workload on the major league staff and then sometimes head right back to the minors. Best case is he sticks around for a little while. When
Jake Arrieta
completes his rehab assignment,
Carlos Villanueva
will return to the bullpen. It also means the Cubs could dip down into the minors if they need a spot start instead of trying to stretch Villanueva out again in the future.
In the first month of the season, it's the Cubs' pitching prospects who have impressed. Here's a look at what's happening down on the farm:
Triple-A Iowa starter
Kyle Hendricks
arguably threw his best game of April on Monday night when he beat Round Rock (Texas) and former Cub
Scott Baker
. Hendricks improved to 3-1, giving up just two hits and two walks in six innings, striking out six. His ERA is 3.65 after winning his third straight start following a shaky opening day. That coincides with Hendricks' spring training where he struggled early but finished strong. And it's consistent with his scouting reports, as well: He's a quick learner.
The most impressive starter at Iowa so far is
Tsuyoshi Wada
. He leads the Pacific Coast League with a 0.84 ERA and a 0.56 WHIP, having giving up just 12 hits/walks in 21 innings on the mound. Unlike Hendricks, Wada did not look good in the spring, but as a lefty, he could be used in a very specific situation if the Cubs need him. It's early, but Wada is off to a nice start after a rough time in Arizona in March.
Lefty
Eric Jokisch
throws Tuesday afternoon. In two of three starts this season, he's given up zero earned runs, but he got hit hard in the other one, as has
Chris Rusin
so far this month. His ERA is 6.32 after giving up four runs in six innings over the weekend. Rusin did have one decent relief appearance for the Cubs in St. Louis recently.

At Double-A Tennessee, top pitching prospect
C.J. Edwards
is coming along nicely. He earned his first win Sunday, and opposing hitters have a .187 batting average against him in four starts. He's walked eight and struck out 20 in 20 innings.
Ivan Pineyro
, acquired for
Scott Hairston
last season, has a 1.15 ERA after three starts and has looked as good as he did after the trade to the Cubs last year.
At Class A Daytona, flamethrower
Arodys Vizcaino
earned his first save Monday night. He's given up one run in six innings. The Cubs want him in warm weather to start the season, and he could make a jump to the big leagues later, as well. Even at Class A Kane County, there is a wave of pitchers off to good starts.
Jen-Ho Tseng
and
Duane Underwood
have been impressive in the early going.
As for the hitting prospects, some of the headlines haven't been as big as they were in the spring.
Javier Baez
(.152, two homers, three RBIs) is just back from an injury and had a slow first couple of weeks of the season.
Jorge Soler
remains sidelined with a hamstring problem.
Kris Bryant
(.284, 4, 10) is doing well at Double-A and might be one of the first to get a promotion to Triple-A if he keeps it up.
Albert Almora
(.286, 1, 7) is progressing nicely at Class A, as well.
But it's the pitchers who have stood out, and because of the nature of the game, they might be the first ones to make big league appearances. Rusin is a good example. He threw five innings in relief and then was sent right back down. Expect a cup of coffee for some of the above names as the season progresses. After all, the Cubs need all the arms they can find.
March, 25, 2014
3/25/14
11:00
AM CT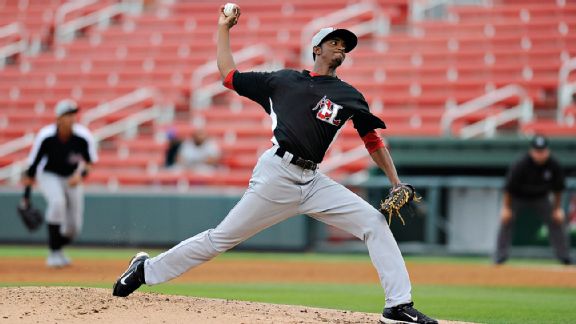 Tom Priddy/Four Seam Images/AP ImagesC.J. Edwards, last season's top minor league pitcher, is set for his Cactus League debut Tuesday.
MESA, Ariz. -- The
Chicago Cubs
will get a look at their future in more ways than one when top pitching prospect C.J. Edwards takes the mound against the
San Diego Padres
on Tuesday night in his Cactus League debut.
Playing shortstop will be Chicago's top overall prospect, Javier Baez, who was sent down to minor league camp just days ago. Players sent down can still participate in Cactus League games, and the Cubs have a need for bodies due to a day/night doubleheader Tuesday.
All eyes, however, will be on Edwards, the minor league pitcher of the year in all of baseball last season after posting a 1.86 ERA in Class A last season pitching for both the Texas and Chicago organizations. The 22-year-old right-hander was traded from the Rangers with infielder
Mike Olt
and fellow pitchers
Neil Ramirez
and
Justin Grimm
for Cubs pitcher
Matt Garza
in late July.
"I've watched C.J. Edwards pitch a lot," Olt said Tuesday morning. "Every time I watch him pitch I'm even more impressed. He has something pitchers don't have. Basically he has an invisible fastball. No one can hit it. It's pretty incredible to watch. He'll do well (Tuesday)."
It's a trade Rangers general manager Jon Daniels told the Arizona Republic this week might be one that's "got a chance to haunt us and haunt me." Garza was a two-month rental, going 4-5 with a 4.38 ERA as the Rangers missed the playoffs. He left as a free agent to the
Milwaukee Brewers
while the Cubs gained four prospects, including the dynamic Edwards.
"He's made a lot of good trades in the past; there's always one that can stick in his head more than others," Olt said. "Knowing I could be part of one that haunts him is a weird feeling I guess but hopefully we do."
Recently, Cubs spring instructor Rick Sutcliffe raved about Edwards' mechanics and his devastating cutter. He has put on about 10 pounds over the past year -- the lone criticism of Edwards having been his slight frame. He has a chance to be a top-of-the-rotation pitcher after being drafted in the 48th round in 2011. Edwards will start the season at Double-A Tennessee, while Baez will be at Triple-A Iowa.
Also scheduled to pitch in the game is lefty Eric Jokisch, who is making noise in camp as well. He didn't given up a run in either intra-squad action or Cactus League play this spring, and he'll get another chance against big league hitters after Edwards throws his three innings.
"I'm looking forward to hitting," Edwards said casually Sunday.
Baez, meanwhile, impressed fans and scouts with his monster home runs (five) this spring, but manager Rick Renteria was most happy with the adjustments he made at the plate within games and from game to game. If all goes well, by season's end, Baez could be in the majors -- possibly with Jokisch -- while Edwards might get an in-season promotion to Triple-A Iowa.
Cubs brass says if a prospect "dominates" his league in the minors, he'll move up. For a day, all three players will get a promotion to the majors.
How long until it's permanent?
March, 22, 2014
3/22/14
1:01
PM CT
MESA, Ariz. -- The reigning minor league pitcher of the year in all of baseball,
Chicago Cubs
prospect C.J. Edwards, will pitch in his first Cactus League game Tuesday night when the Cubs take on the
San Diego Padres
.
Edwards, a 48th-round pick of the
Texas Rangers
in 2011, went 8-2 with a 1.86 ERA combined for the Rangers and Cubs playing for Single-A Hickory and then Daytona last season. He was acquired midseason as part of the trade that sent pitcher
Matt Garza
to the Rangers. The Cubs also received third base prospect
Mike Olt
in the deal.
Edwards helped pitch the Daytona team to the Florida State League championship and is ranked 67th among all prospects, according to ESPN.com. Edwards will start this season at Double-A Tennessee. Also pitching Tuesday night is Triple-A prospect Eric Jokisch, who performed well in major league camp before being sent down.
March, 16, 2014
3/16/14
3:01
PM CT
MESA, Ariz. --
Chicago Cubs
pitching coach Chris Bosio gave some insight into the team's thinking regarding its starting staff for the beginning of the regular season, which starts two weeks from Monday in Pittsburgh.
"History tells us the last couple of years our starters have not done well on the sixth or seventh day so we'll take that into account," Bosio said on Sunday.
That sounds like the Cubs will try to keep their starters throwing every fifth day as much as possible. With three off-days in the first 15, that won't always be the case.
Jeff Samardzija
will pitch opening day on March 31 and if he stays on schedule his next game would come on April 5 at Wrigley Field against the
Philadelphia Phillies
. Everyone else would get an extra day between starts as April 1 and April 7 are off-days. It means a fifth starter would be necessary on April 6 and April 12.
"I'll have a couple plans of attack to give to Rick (Renteria), Jed (Hoyer) and Theo (Epstein) and we'll plan accordingly," Bosio said.
March, 15, 2014
3/15/14
4:31
PM CT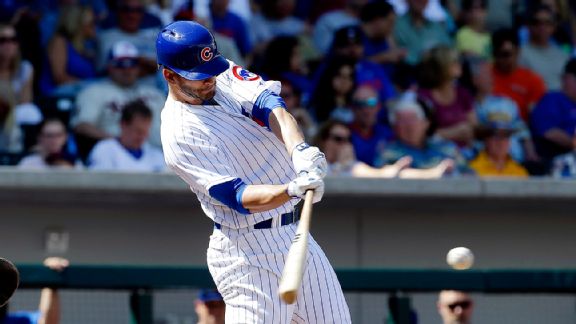 AP Photo/Morry GashCould Cubs manager Rick Renteria have found his clean-up hitter in Justin Ruggiano?
MESA, Ariz. -- You've heard about some of the major storylines in
Chicago Cubs
camp this year like Mike Olt's attempt to win a roster spot and Javier Baez' extraordinary power. Here are three storylines that have flown under the radar:
Closer Jose Veras:
In four innings of work, he's given up five hits and four runs while walking one and striking out two. He was fortunate to get out of a rough inning Friday against the
Los Angeles Dodgers
when he picked off a runner at second because he was getting hit hard. Four innings isn't enough of a sample size but his stuff hasn't looked great so far. One scout watching didn't love the look of his fastball and when you consider how the Cubs back-end of the bullpen performed in April last year, any concern is justified.
Carlos Marmol
had a 6.97 ERA in the spring and lost the closer's job by the end of the first week. Veras has a 9.00 ERA and will certainly get more chances over the final two weeks to show his stuff, but Marmol got worse as the spring went along last year; Veras needs to go the opposite way. This is only his second year as a closer and yes, it's still somewhat early and he's a veteran, but those were the same things being said about Marmol last year at this time. Something to keep an eye on.
Justin Ruggiano:
If the spring means anything, manager Rick Renteria may have found his clean-up hitter. Ruggiano is hitting a cool .500 going into games this weekend with an on-base percentage of .550. He's shown pop with his two home runs and a double to go along with a team-leading eight RBIs. We can argue about the importance of protection in the order but there's no arguing production. The Cubs need it.
Anthony Rizzo
takes his share of walks so it wouldn't hurt to have a run producer behind him in the lineup. If Ruggiano is a Cub from start to finish, he could end up having the most at-bats of any outfielder. After hitting .222 last year with a devastatingly long drought (0 for 42) mid-season, Ruggiano could use some positive results no matter when they come. He's just a season removed from hitting .313, where he hit lefties and righties nearly equally as well. Ruggiano might not be a long-term answer but the Cubs need something from their outfield now that
Alfonso Soriano
is gone and Ruggiano could provide that kind of pop if his spring carries over to summer.
Eric Jokisch:
As pitching prospects go, Kyle Hendricks gets more publicity as do the pitchers at the lower levels of the minors like CJ Edwards. But Jokisch has opened some eyes over the last 12 months. He threw a no-hitter at Double-A Tennessee last year and pitched as well as anyone in spring camp before being sent to the minor league side. He was an 11th round pick in 2010 and didn't give up a run in six innings of spring work and pitched effectively against his own club in an intrasquad game as well. Jokisch and Hendricks have a chance to pitch for the Cubs this season if things break right.
March, 13, 2014
3/13/14
2:04
AM CT
PEORIA, Ariz. -- Veteran
Seattle Mariners
pitcher
Randy Wolf
had no idea who
Chicago Cubs
prospect Javier Baez was before he gave up a long home run to him Wednesday night in Seattle's 8-7 extra-inning victory over the Cubs.
Wolf knows him now.
Baez belted a 2-2 pitch deep into the left-field grass, just missing the scoreboard in the process. It was hit well more than 400 foot and brought teammates -- and opponents -- to their feet.
"I've never seen anything like him," Cubs first baseman
Mike Olt
said. "But I'm used to it by now. He's in my batting practice group every day."
It was Baez's third home run of the spring, tying him for the team lead with Olt, who homered twice in the game.
Baez's bat speed often is compared to former slugger
Gary Sheffield
. Wolf understands the comparison.
"The distance on the home run was comparable," he deadpanned.
Despite Baez's success this spring, he's still slated to start the year at Triple-A Iowa. The Cubs haven't wavered from that plan.
McDonald's outing:
James McDonald
was happy to just get back to competing, even though his stat line wasn't impressive on Wednesday. McDonald walked five and hit a batter in 2 2/3 innings while giving up two runs.
"It's not always going to be 1-2-3, 1-2-3," he said after his night was done. "That's what you eventually want. One thing I can control is my effort and the way I competed."
At this point McDonald is probably a long shot to make the starting rotation if
Jake Arrieta
isn't ready by Opening Day.
Russell pitches:
Lefty reliever
James Russell
made his spring debut after a bout of dead arm to open camp. He admits it could be tied to his heavy workload in the past, but he's feeling fine after throwing an inning on Wednesday. He did give up a home run to left-handed hitter
Brad Miller
.
"The arm is good," Russell said. "One mistake. Made some good pitches. Felt great."
Renteria replay challenge:
The Cubs'
Ryan Kalish
was called out on a close play at first base in the fourth inning, so Cubs manager Rick Renteria asked for a video replay, his first of the spring. The ruling was upheld. But replays showed the umpires still might have got the call wrong.
Day off:
The Cubs have their lone day off of the spring on Thursday, and Renteria is asking his team to get away from baseball for a day.
"I probably shouldn't have to say it, but some of those guys are going to want to be around it," he said. "We're pushing them a lot. They need a break."
Renteria will probably report to work himself, because pitchers
Jason Hammel
and Eric Jokisch will pitch against Cubs minor leaguers to stay on schedule.
The quote
"Something that involves animals. Try to go to the zoo. I think I'll go to the aquarium. Just walk around. I'm a big people watcher." -- Cubs pitcher
Carlos Villanueva
on what he'll do on his day off.
February, 23, 2014
2/23/14
4:42
PM CT
MESA, Ariz. -- Baseball players get asked it all the time, but for
Chicago Cubs
third base prospect
Mike Olt
the question has more meaning.
"How are you seeing the ball?"
Olt had vision problems last spring, which helped derail his season with the
Texas Rangers
before he was traded to the Cubs. He didn't fare much better at Triple-A Iowa, hitting .168 in 39 games.
All that's behind him now.
"I don't mind answering that anymore," Olt says. "Last year was so stressful because we didn't know what was going on. I don't mind answering that this year because I'm better."
August, 6, 2013
8/06/13
9:04
PM CT
Chicago Cubs
prospect Eric Jokisch threw a no-hitter against Jacksonville on Tuesday in a 10-0 victory for the Double-A Tennessee Smokies.
Jokisch struck out eight and walked four, improving to 9-10 on the season and lowering his ERA to 3.53.
Jokisch, 24, was an 11th-round pick out of Northwestern in 2010 after attending Virginia High School in Virginia, Ill. He has a career 31-22 record in four seasons in the Cubs organization.
Also on Tuesday, top prospect Javier Baez was 4-for-6 with three RBIs in the victory.