Chicago Cubs:

Felix Doubront
December, 1, 2014
Dec 1
1:23
PM CT
CHICAGO -- Despite his down year in 2014, expect
Chicago Cubs
left-hander
Travis Wood
to be tendered a contract before a Tuesday night deadline, according to a source familiar with the situation.
[+] Enlarge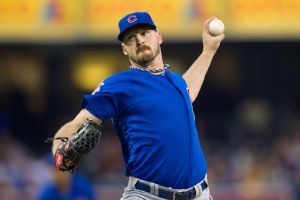 AP Photo/Fre/Sean M. HaffeyTravis Wood struggled in 2014, finishing with an 8-13 record and 5.03 ERA.
Wood, 27, is one of 10 Cubs players who are arbitration-eligible this offseason, and the team must tender contracts to all of them by 11 p.m. CT on Tuesday or else they become free agents.
Jake Arrieta
is the highest-profile player in the group, but given his breakout year in 2014 there's little doubt he'll be tendered. Wood wasn't necessarily a slam dunk considering his 8-13 record and 5.03 ERA last season.
But given Wood's age and the fact he's just one year removed from being an All-Star –- plus he's left-handed -– he will get tendered. However, with the return of lefty
Tsuyoshi Wada
at $4 million for next season the Cubs could still move one of their lefties in a trade this winter. Wood is slated to make about $5.5 million in arbitration, according to MLB Trade Rumors, after making $3.9 million last season.
Wood is a control pitcher who's at his best when painting the corners while working both high and low in the strike zone. That wasn't the case as much in 2014, when he walked 10 more batters and gave up 27 more hits in 27 fewer innings pitched than the year before. According to ESPN Stats and Information, his line drive percentage went from 19 percent in 2013 to nearly 25 percent in 2014. That was 7th highest of 88 qualified starting pitchers.
One industry source recently indicated a potential signing of catcher
Russell Martin
would have helped Wood more than anyone else on the Cubs staff. Martin's receiving skills plus his veteran knowledge would helped the lefty regain his footing after the league adjusted to his breakout year in 2013. But Martin signed with the
Toronto Blue Jays
, leaving the Cubs with two catchers from last season, who are both under team control.
Catchers
Welington Castillo
and
John Baker
are among the 10 players who need to be tendered, along with pitchers
Wesley Wright
,
Pedro Strop
and
Felix Doubront
. Outfielders
Justin Ruggiano
and Chris Coughlan, as well as infielder
Luis Valbuena
, join Wood and Arrieta on the arbitration-eligible list as well.
Contracts with these players can be negotiated at any time and don't need to be completed by Tuesday's deadline. The sides can go to arbitration before spring training but usually one-year deals are negotiated before a hearing takes place.
August, 29, 2014
Aug 29
12:44
PM CT
With major league rosters expanding Monday, the
Chicago Cubs
intend to see as much of their young pitching as possible in the final month of the season.
General manager Jed Hoyer intimated in a radio interview Friday the Cubs could simply go to a six-man rotation. Or they could just piggyback starters in the same game. The point will be to see names such as
Jacob Turner
,
Felix Doubront
,
Dan Straily
and probably
Dallas Beeler
as the front office begins to make plans for 2015.
[+] Enlarge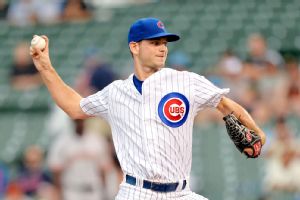 Brian Kersey/Getty ImagesJacob Turner will get a chance the rest of this season to state his case for a spot with the 2015 Cubs.
Turner, Doubront and Straily were acquired by the Cubs midseason amid various struggles, but there is hope one or more can emerge as a legitimate candidate for the rotation next year.
Turner, 23, had his first chance to start a game for the Cubs on Wednesday with mixed results. He went 3 ⅔ innings, giving up seven hits and six runs, but only three were earned. He also walked two batters and came out after a predetermined pitch limit (66). His fastball had some life and a slightly higher-than-normal average velocity, but it wasn't the sharpest of outings.
"He wanted to stay in there," manager Rick Renteria said after the game. "He made some pitches that we had trouble making plays on. He wanted to stay in there and try to get out of it, but he had reached his ceiling."
Turner added: "I would've liked to have gotten a little deeper in the game. That part is frustrating. I've got to get my pitch count up. I just didn't make a few pitches when I needed to. It's exciting to be starting for sure, but I would've liked to have performed a little better."
Turner should get another chance, as should Beeler and Straily, who have already started for the Cubs this season. Doubront will start in the first game of Saturday's doubleheader against the Cardinals, but he struggled in the minors after being acquired from the Red Sox, giving up nine runs in 14 innings for Double-A and Triple-A.
It's unclear what the plan is for veteran
Edwin Jackson
, who has struggled all season with a 6-14 record and a 6.09 ERA, when he comes off the disabled list. He's eligible to be activated later next week.
Missing from the list of September call-ups could be the Cubs' best two players in the minors this season. Third baseman
Kris Bryant
isn't expected to be promoted, and unless the Cubs decide to add reliever
Armando Rivero
to the 40-man roster, he won't be seeing Wrigley Field, either.
Bryant's exploits (43 home runs) are well-documented, but Rivero has taken big steps in his development, as well. After posting a 1.56 ERA and 10 saves for Double-A Tennessee this season, he's thrown well for Triple-A, going 3-0 with a 3.07 ERA and 1.22 WHIP.
Neither Bryant nor Rivero are on the 40-man roster, and the Cubs are on record saying they may need/want those roster spots this winter for new additions. Neither can be taken in the Rule 5 draft in December because of their short time in the minors, so they don't need to be added to the 40-man roster until necessary.
Of course, the Cubs have opened 40-man roster spots this season by designating players for assignment such as
Darwin Barney
and
Ryan Kalish
, and they could do so again with, say,
Josh Vitters
or several others. But the Cubs will probably make those moves this winter.
Some may have thought pitcher
Arodys Vizcaino
would have been back in the big leagues by now, but he hasn't quite dominated at Triple-A. After Vizcaino had a glove-popping spring training with his velocity hitting 100 mph, the Cubs took it slowly with him because of past arm problems. He had decent numbers at Class A and Double-A this season, but his Triple-A WHIP of 1.96 tells his story there, as does his 5.71 ERA. And he recently said he wasn't throwing as hard, but it wasn't clear if that was by design or some other issue. He's on the 40-man roster, so there's no harm in bringing him up.
In the meantime,
Junior Lake
and
Mike Olt
are expected back in September, along with the pitchers, though Olt is recovering from a hamstring injury. It's hard to see any other position players making it up unless the Cubs add a catcher to the 40-man roster. They already have enough young players to look at around the diamond in
Arismendy Alcantara
,
Javier Baez
and
Jorge Soler
.
In any case, the head start on 2015 has already begun and should enter another gear as the calendar turns to the final month of the regular season.

August, 13, 2014
Aug 13
9:48
PM CT
CHICAGO -- The
Chicago Cubs
beat the
Milwaukee Brewers
4-2 on Wednesday night. Here's a quick look at the game.
How it happened:
The Cubs scored twice in the first inning as
Chris Coghlan
led off with a double,
Javier Baez
followed with a single, Anthony Rizzo hit a sacrifice fly and then
Starlin Castro
drove in the second run with an RBI hit. Baez and Rizzo went back-to-back in the third inning as the former put a ball onto Waveland Avenue for his first Wrigley Field home run. Cubs starter
Tsuyoshi Wada
had few issues with the Brewers until the seventh inning when they went back-to-back as well, with
Rickie Weeks
and
Martin Maldonado
hitting homers. Wada's night was done, but the bullpen finished the job.
Hector Rondon
earned his second save in as many nights.
What it means:
The top of the Cubs' lineup was devastating as Brewers starter
Kyle Lohse
was pounded in the early going. It's a sign of things to come as Baez and Rizzo brought the crowd to its feet with their home runs on consecutive pitches. And while Castro didn't go deep, he extended his hitting streak to 12 games despite a hurt knee. He had three hits and the top four in the Cubs' lineup went 9-for-15. The good news is all those players will be part of next year's lineup -- barring a trade -- including Coghlan.
First pitch Rizzo:
Rizzo extended his major league lead on first-pitch home runs with his 11th of the year and 27th overall. He was hitting .396 coming into the game when putting the first pitch in play.
Lohse leaves:
Brewers start Kyle Lohse left the game after three innings when he tweaked his right ankle during an at-bat.
Ailing Cubs:
Castro tweaked the outside of his left knee running the bases earlier in the week but hasn't missed time. ... Outfielder
Justin Ruggiano
has a groin strain but was available.
Doubront update:
Recently acquired left-hander
Felix Doubront
will make at least one more rehab start at Triple-A Iowa after lasting four innings on Tuesday.
"We look at it like [Jake] Arrieta was," general manager Jed Hoyer said before the game. "He's had moments of success in the American League East. He was struggling when he came over. Getting his confidence and stuff back is important. We know he has potential. We just have to bring it out of him."
What's next:
The series concludes on Thursday afternoon when
Edwin Jackson
(6-12, 5.61) opposes
Mike Fiers
(1-1, 1.80).
August, 11, 2014
Aug 11
8:00
AM CT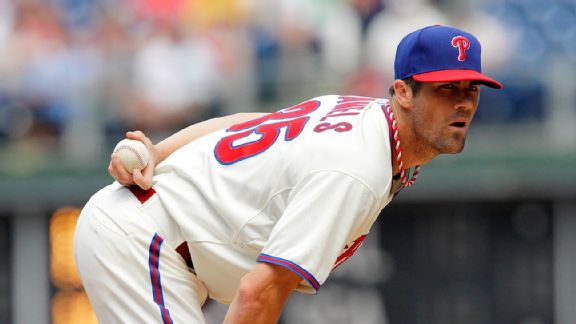 Hunter Martin/Getty ImagesThe Cubs' interest in Cole Hamels might have been as much about gauging the pitching market.
CHICAGO -- By now you know that the
Chicago Cubs
are in search of pitching to augment their position-player prospect base. The Cubs could fill out a starting eight of prospects -- and then some -- but finding a five-man rotation to help them compete in the coming years is still a work in progress.
Any fan knows this by now, and when the Cubs traded
Jeff Samardzija
and
Jason Hammel
earlier this season, that task became larger.
Jake Arrieta
is coming along, as is
Kyle Hendricks
, but neither is worthy just yet of a World Series Game 7. We don't even know if the Cubs have Series starters 1 through 5 on the team, or in the system, right now. They need plenty more and have acknowledged as much. The plan is to keep acquiring as much pitching talent as they can while looking for that big fish.
"We've been open about the fact we'd like to add an impact pitcher," team president Theo Epstein said recently. "If you look over the next 18 months or so, it's certainly a priority for us.
"Whether we develop one from an unlikely spot like Jake Arrieta or acquire someone who's already at those heights remains to be seen."
In the meantime, the Cubs are taking advantage of their position in baseball. As one of the majors' worst teams, they get early claim on players going through waivers -- where priority goes in reverse position of the standings. So in recent weeks, the Cubs have grabbed
Felix Doubront
from the
Boston Red Sox
and
Jacob Turner
from the
Miami Marlins
.
[+] Enlarge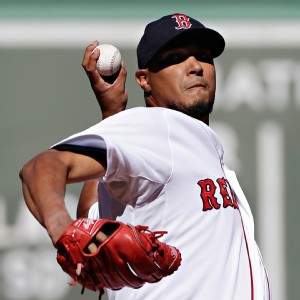 AP Photo/Steven SenneAdding a young lefty like Felix Doubront, 26, gives the Cubs a chance to build pitching depth -- and perhaps strike gold on a reclamation project.
"Just 23 years old with a really good arm," Epstein said of right-hander Turner. "We feel like we got him at a low point of value. There's plenty of upside left with him. ... He was one of the better starting-pitching prospects in all of baseball as recently as a couple years ago. We feel like that talent is still in there."
Left-hander Doubront, 26, and Turner have a couple of things in common, starting with their youth and the fact that they've struggled recently. It's given the Cubs a chance to get them for next to nothing and integrate them into the pitching infrastructure team brass likes so much.
"We've had some success with talented pitchers who've gone through tough periods," Epstein said. "Getting them here, let them reset a little bit. Give them some things to think about."
The Cubs are buying low right now because they can. Why not take fliers on guys who need a change of scenery and see if pitching coach Chris Bosio can work some magic? In the coming years, the Cubs hope the team is good enough that they aren't drafting high or the first to put in waiver claims.
"We've always been aggressive for talent wherever we can be," Epstein said.
That brings us to the Cubs' reported claim on
Philadelphia Phillies
lefty
Cole Hamels
last week. The 30-year-old is a major step up in class from the Doubronts and Turners of the world -- and so is his contract. With Hamels owed at least $90 million over the next four seasons, it seemed a peculiar time for the Cubs to grab their No. 1 starter. More than likely, the claim was a fact-finding mission, as a deal between the Cubs and Phillies never materialized and Hamels was pulled back off waivers.
It can't hurt the Cubs to gauge now what it will take to land a big name come the offseason. They'd rather do it without giving up young talent, but they need to be prepared for all scenarios. Names never leaked, but the Cubs should have an idea of what other teams think of some of their prospects and how many of them it might take to bring in a No. 1 pitcher. At the very least, they know what the Phillies want for Hamels.
So as the Cubs catch the minnows with their high position in the claiming process, they've always got their eye on the big fish. The Cubs are being deliberate while uncovering every rock to find pitching. The only question is, where and when do they acquire the Game 7 starter?

August, 9, 2014
Aug 9
6:18
PM CT
CHICAGO – The
Chicago Cubs
lost to the
Tampa Bay Rays
4-0 on Saturday afternoon. Here's a quick look at the game.
How it happened:
The Rays put up two runs in the fourth and sixth innings while starter
Jake Odorizzi
was mowing the Cubs down en route to Tampa Bay's second straight win.
Evan Longoria
and
Yunel Escobar
had RBI hits in the fourth and Escobar drove in two more in the sixth. Odorizzi struck out nine while giving up just three hits in six innings of work. Between the first and second innings he struck out five in a row, whiffing
Javier Baez
,
Anthony Rizzo
,
Starlin Castro
,
Luis Valbuena
and
Arismendy Alcantara
. The Cubs struck out 15 times overall.
Edwin Jackson
lasted six innings and gave up four runs (three earned) on five hits and three walks.
What it means:
The strikeout totals are starting to pile up for Baez, who ended a run of six in a row with a sixth-inning double. The Cubs' all-time record is nine consecutive strikeouts. Baez looked to get out of his rut by doubling to cap off a 10-pitch at-bat in the sixth, but he struck out again in the ninth. That's seven strikeouts in the series so far.
The Cubs' defense hasn't been great in the first two games of the series, but Alcantara's play in center field continues to impress. He made a sliding catch of a
Kevin Kiermaier
ball in the third inning and a diving grab on
James Loney
in the fourth. Both came with men on base.
Doubront throws:
Pitcher
Felix Doubront
is back throwing as he recovers from a calf strain.
"He continues to progress," manager Rick Renteria said before the game.
Turner coming:
Newly acquired pitcher
Jacob Turner
is scheduled to join the team Sunday and will more than likely head to the bullpen, though Renteria isn't certain what the right-hander's role will be yet. The Cubs have not announced whose roster spot he will be taking.
What's next:
The Cubs will try to avoid getting swept with
Travis Wood
(7-9, 5.08 ERA) scheduled to take the mound against
Alex Cobb
(7-6, 3.52) Sunday in a 1:20 p.m. CT start.