Chicago Cubs:

Ferguson Jenkins
December, 13, 2010
12/13/10
11:54
AM CT
OTTAWA -- Baseball Hall of Famer Ferguson Jenkins is getting his own stamp for his 68th birthday.
The former Cubs pitcher watched on Monday as Canada Post conducted a print run of stamps bearing his image that will commemorate Black History month in February.
Read the entire story
.
December, 3, 2010
12/03/10
2:29
PM CT
[+] Enlarge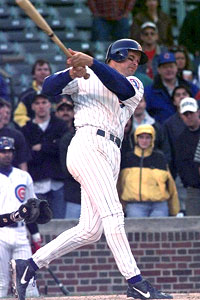 AP Photo/Fred JewellMark Grace said one of his favorite people in the world is no longer with us.
Reaction from around baseball to Ron Santo's death:
Bud Selig
This was a guy who there was never any question about his love for the Cubs and Wrigley Field. In fact, I was there the last Friday of the season, sitting with him in the dugout for a while, talking about things. He would call me from time to time.

It's just one of those things you knew was coming. The last time I saw him, I said 'I will see you in Arizona.' So to the Santo family, my deepest condolences. Baseball just isn't going to be the same without him.

In my opinion, yes [Santo should be in the Hall of Fame]. I think if you look at his numbers, he was a marvelous player with a terrific personality. I've articulated this to many people, and yes Ron Santo should be in the Hall of Fame.

My mother was in Arizona, and they bumped into Ron. They told him they have this granddaughter who loved him, so he stopped and signed something for her. There was just something so special about Ron.


Mark Grace
"It's a tough day. One of my favorite people in the world is no longer with us. And having just lost my father six or seven months ago, I feel like I lost another father figure. And this was the guy people all over this country claim to be the biggest Cubs fan in the world. The biggest fan was Ron Santo and just his passion for the team, his passion for the game, his love for those blue pinstripes, I think it was unmatched.

"I'll just sit back and just reflect on some of the good times I had with Ron. And it didn't take much to get that Italian temper going. I tried a number of times getting him in a rage and I succeeded. It was a lot of fun being with him."

Hall-of-Fame Cub Ernie Banks:
"It certainly is a sad day for everyone who knows and loves Ron Santo," said Banks. "Ronnie has been a friend of mine for more than 50 years and is like a brother to me. Ronnie's entire life was dedicated to his wonderful family, the Chicago Cubs and their outstanding fans.

"On the field, Ronnie was one of the greatest competitors I've ever seen. Off the field, he was as generous as anyone you would want to know. His work for diabetes research seemed unparalleled. Ronnie was always there for you, and through his struggles, he was always upbeat, positive and caring. I learned a lot about what it means to be a caring, decent human being from Ron Santo."

Hall-of-Fame Cub Billy Williams:
"Ronnie's passing is a tremendous loss, not only for the Cubs but for all of baseball," said Williams. "He is a man who devoted his entire life to the game, to the Cubs and to the great Cubs fans. He's going to be missed by a lot of people.

"What I learned from Ronnie is he loved the game, he loved the people in the game and he loved the fans of the game – he enjoyed every moment until the last day of his life. When it came to his beloved Cubs, you never had to look at the scoreboard to know the score of the game – you could simply listen to the tone of his voice. Ronnie was a great friend and will be greatly missed."

Hall-of-Fame Cub Ferguson Jenkins:
"This is a very sad day for Cubs fans and baseball fans everywhere," said Jenkins. "Ronnie, number 10, was and always will be a Chicago legend. He was a tough player, he wanted to play and contribute every day, and he never let any obstacles stand in his way.

"Ronnie was one of the leaders on our team. Leo Durocher made him the captain, and he took that role very seriously. As an announcer, Ronnie wore his heart on his sleeve. Off the field, his contributions to diabetes research were unmatched. Ronnie will always be remembered as one of the best third basemen the Cubs have ever had, and his number 10 flag flies above Wrigley Field as a tribute to Ronnie."

Cubs chairman Tom Ricketts:
"My siblings and I first knew Ron Santo as fans, listening to him in the broadcast booth," said Cubs Chairman Tom Ricketts. "We knew him for his passion, his loyalty, his great personal courage and his tremendous sense of humor. It was our great honor to get to know him personally in our first year as owners.

"Ronnie will forever be the heart and soul of Cubs fans. Our thoughts and prayers today are with his wife Vicki and their family and we share with fans across the globe in mourning the loss of our team's number one fan and one of the greatest third basemen to ever play the game.

Chicago Blackhawks Team President John McDonough:
"The thoughts and prayers of the entire Chicago Blackhawks organization are with the Santo family. Ron was an inspiration to everyone as his life was defined by overcoming obstacles. It is a sad day for all of Chicago and everyone in the sports world. His incredible passion for the Cubs was unmatched. I was honored to have shared many years of friendship with Ron and will remember those days fondly. Although we collectively are grieving over his passing, we should also celebrate his incredible life."