Chicago Cubs:

Greg Maddux
January, 19, 2014
Jan 19
5:05
PM CT
CHICAGO -- Looking back, it was a bit of a subdued
Chicago Cubs
convention this year as the weekend didn't have a marquee player or moment to seize upon.
There were no big introductions of new star players, nor even the buzz of a recent Hall of Fame electee,
Greg Maddux
, walking around. He had prior commitments.
Last year the Cubs made headlines on convention weekend by unveiling their ambitious Wrigley Field renovation project, but this year all they could tell their fans was it's getting closer to starting -- that is if the final hurdle with rooftop owners can be overcome. It's little news that they announced a four-year offseason project instead of five, considering the first year was eaten up by politics anyway.
Having all their top prospects in one place while celebrating the 30th anniversary of the division-winning 1984 team felt nice, but those things should have been the icing on the cake -- not the cake itself. Having a new manager and coaching staff to introduce to fans produced some interest, but even then the buzz wasn't exactly loud. It might be a good staff, but it's not one well known to the average Cubs fan. Only
Bill Mueller
and possibly
Eric Hinske
bring some name recognition.
The irony of the weekend is the most talked about player -- and the one who can create the biggest buzz of the offseason -- is the one the team talked very little about: Japanese free-agent pitcher Masahiro Tanaka.
"I'm going to respect the request of confidentiality that's come from the agent and the player, just let things play out," team president Theo Epstein said on Friday.
January, 18, 2014
Jan 18
5:02
PM CT
CHICAGO – Missing from this weekend's
Chicago Cubs
convention are Hall of Fame players
Greg Maddux
and Ryne Sandberg. Both were invited but had prior commitments. Former outfielder
Sammy Sosa
, on the other hand, still needs to mend fences with the team before returning.
"Sandberg has a personal thing, and Maddux had something with the (Texas) Rangers," Cubs Director of Marketing Alison Miller said Saturday. "We're also inviting them later in the season. Sandberg will be hard, given his manager duties."
Maddux was elected to the Hall of Fame earlier this month and is employed by Texas, while Sandberg is manager of the
Philadelphia Phillies
. It could have made for an awkward return to a fan convention, but the Cubs are celebrating the 30th anniversary of the division-winning 1984 team. Sandberg won MVP that season.
Maddux will return during the season as the Cubs are inviting former players back as the team celebrates the 100th anniversary of Wrigley Field.
"Maddux said he would love to come," Miller said. "He's expressed interest in coming to a game in early April."
April 23rd is the date the team will actually celebrate the 100th anniversary of the first game, and Miller is hopeful Maddux can attend.
As for Sosa, the organization and player ended things on bad terms in 2004 when he left Wrigley Field before the end of the final game of the season. The Cubs traded him the following January. Owner Tom Ricketts believes Sosa will return to the organization one day.
"We have to work through some things before that happens," he said.
May, 21, 2012
5/21/12
11:19
AM CT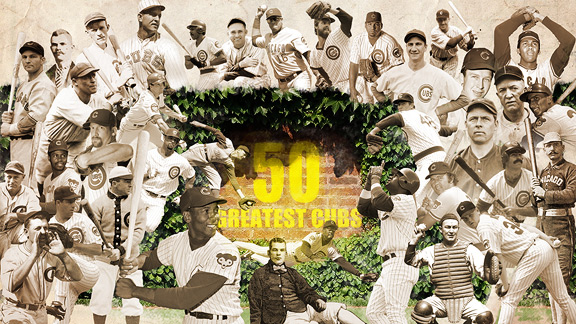 ESPN.com IllustrationIt's amazing how many Hall of Famers played for a team that has so few championships.
A panel of ESPNChicago.com experts ranked the Top 50 Cubs of all time.
Here is a gallery of our Top 50.
Who did we miss?
Did
Kerry Wood
belong? Randy Hundley?
Should
Shawon Dunston
have been left off?
For a team with so few championships, there is no shortage of Hall of Famers who have donned the Cubs jersey.
November, 29, 2011
11/29/11
4:54
PM CT
Greg Maddux is leaving the Chicago Cubs again.
Maddux joined the Texas Rangers, where his brother Mike is the pitching coach, as a special assistant.
"Yeah, it's true. I'm going to go work with my brother in Texas," Maddux told ESPNChicago.com's Bruce Levine. "I really enjoyed my time with the Cubs, and I'm going to miss the people over there.
"But I can't pass on an opportunity to work with my brother and the Texas Rangers."
Read the entire story.
November, 3, 2011
11/03/11
9:50
PM CT
Part of the Cubs' process in finding a new manager is an innovative way of interviewing candidates.
The Cubs' team of executives will have the candidate watch video and break down game simulations. The candidate will then tell the front office team -- president of baseball operations Theo Epstein, GM Jed Hoyer and VP of scouting and player development Jason McLeod -- what they would do in those situations. Questions could range from asking the candidate whether he'd pinch hit or bring in a reliever or make a defensive change.
[+] Enlarge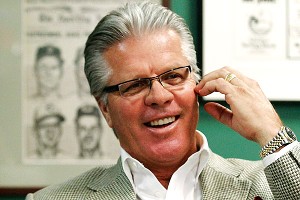 AP Photo/Winslow TownsonPhillies bench coach Pete Mackanin will be the first candidate for the Cubs job to go through their battery of tests.
"In Boston we started with the process of trying to find the right person to manage the club, not just right person to impress during an interview," Epstein said. "The reason is because it doesn't always match up. There is a certain conventional interview you have to do where you can cover a lot of ground, but we try to incorporate some other elements to gain some insight on how the manager would actually do.
"We created some game simulations where we hand them stats and lineup cards as well as the history of the bullpen use. Then we have them watch key innings of this game. At that point we kind of walk them along through the game, then we stop [the video] and try to create a real life situation. Now he can see first and third and one out so he knows who's available in the pen and he knows who the other manager has available for pinch-hitting situations."
Written tests are also part of the process.
"We incorporate lists, some we want an immediate answer to, some we give a hour to kind of compose their thoughts," Epstein said. "It's kind of a fun process where we got to know the candidates really well. We'll have a different process with different personnel involved [this time], but we will incorporate some of those same aspects."
The system was developed by Epstein in Boston in order to get a better feel for the managing technique of each individual. The Red Sox, under new GM Ben Cherington, have continued to use the same techniques in their interviews now.
The logic behind this type of interview is that it helps to determine how people perform in real game situations under pressure. The Red Sox chose Terry Francona from that process, Tampa Ray manager Joe Maddon finished second.
The Cubs do not have a direct time table on hiring a manager. My best guess is that the process will take at least two weeks. Chairman Tom Ricketts and his family will be brought into the equation as the Cubs' top executives get close to making a decision.
The Cubs and Red Sox agreed to continue to try to solve the issue of proper compensation for Epstein leaving Boston. The two sides are hopeful something will get worked out this week. Reports have indicated that progress toward a solution has been slow. Major League Baseball will get involved and make a decision if the two sides can't resolve the matter. The only precedent for this type of situation involving a GM was when the Twins got a minor-league pitcher and $200,000 compensation for Andy MacPhail, who left to become president/GM with the Cubs in October 1994.


The Cubs were all good with Carlos Zambrano pitching in Venezuela this winter. Zambrano, according to an MLB source, asked the Cubs for the OK before pitching in his native country. He will begin pitching on Nov. 5 and is expected to make nine starts. The Cubs have a scout in Venezuela who will monitor Zambrano's outings.


Members of the new Cubs' front office have had conversations with special assistant Greg Maddux within the past week. Maddux told the Cubs he had some personal issues to deal with before making any decisions on his future.
August, 12, 2011
8/12/11
7:27
PM CT
ATLANTA -- Long-time Atlanta Braves manager Bobby Cox had his No. 6 jersey retired during a ceremony before Friday's game. Cox had two stints as manager and one as GM with the franchise. He won five pennants and one World Series.
One of the guest speakers for the presentation was Chicago Cubs front office employee Greg Maddux, who pitched for Cox from 1993-04.
Maddux discussed Cox as a quality manager and a quality person.
"Everybody respected him," Maddux said. "He was honest with his players. He was very good at giving players credit when we won and taking the blame when we lost. He handled the media well. And he always had something positive to say to get you ready for your next [game]."
Maddux, like many of Cox's former players, was always happy to see the same guy day in and day out.
"He was very consistent with his attitude," Maddux said. "He was very even keel. Never waivered, whether it was winning 2-1 or losing 2-1. He relaxed us, allowed us to have fun off the field, and when the game started, we were ready to play."
Maddux is finishing his second year as a special assistant to Cubs GM Jim Hendry. For now, he'd like to stay in that role.
"I want to do exactly what I've been doing," Maddux said. "I want to do the same things for now, let the kids grow up and then make a decision."
Maddux toured the minor leagues for the Cubs as part of his job over the past two seasons.
"I enjoy the job," Maddux said. "Being in the minor leagues again this season, I was glad to see some progress from the players. Nice to see them grow and mature. Hopefully most of them keep getting better."
Maddux was asked if he thought any Cubs prospects he saw were ready for the big leagues.
"A couple of good relievers," he said. "They can help, I believe. But you never know what they are going to do until they go out and do it. The potential is there. You just have to go out and do it."
September, 23, 2010
9/23/10
6:23
PM CT
Newly hired Arizona Diamondbacks general manager Kevin Towers said on Wednesday that he would love to incorporate Chicago Cubs special assistant to the general manager Greg Maddux on his team's coaching staff next season.

Towers said during his initial interviews after taking the Diamondbacks job that Maddux would be a great pitching coach or bench coach.

Cubs GM Jim Hendry, who was in Scottsdale, Ariz. on Tuesday and Wednesday to interview Ryne Sandberg for the Cubs' managerial job, also spent time with Maddux in Mesa, Ariz. on Tuesday and Wednesday.

"I spent the last couple of days with Greg, and quite a bit of time with him this summer," Hendry said. "Greg and I have a real good work relationship. Greg's intent is to stay with the Cubs and do what he's doing now. And I'm sure we'll have some more expansive duties for him. I've had numerous conversations with him since Lou [Piniella] left, including the managerial process."

Hendry was asked about his reaction to Towers' comment.

"Kevin and I are friends," Hendry said. "It didn't really bother me, because I already knew what Greg was going to do. I don't blame anybody for wanting Greg Maddux. We're thrilled Greg has chosen to be with the Cubs. He and I months ago addressed what he wanted to do next year."

Hendry hired Maddux as a special assistant before the 2010 season. The 355-game winner began his career in the Cubs organization in 1986 and pitched with them until 1993, when he signed a free-agent contract with the Atlanta Braves. Maddux returned to win his 300th game as a Cub when he signed a free-agent contract in 2005.

March, 23, 2010
3/23/10
3:57
PM CT
[+] Enlarge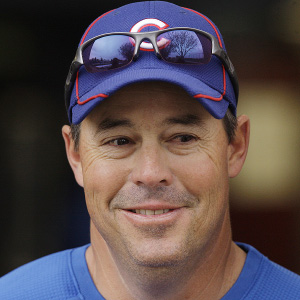 AP Photo/Ross D. FranklinCubs special assistant Greg Maddux has been "exactly what I wanted him to be," said general manager Jim Hendry.
Chicago Cubs
general manager Jim Hendry talked at length on Tuesday about the impact of special assistant
Greg Maddux
and his contribution during spring training.
"When Greg is on your team you're better," Hendry said. "He's exactly what I wanted him to be, and I have no doubt that he has helped a lot of people in this camp. He'd be the last guy to take any credit for that or talk about himself."
Hendry was pretty right-on about his commentary about Maddux. I asked the 355-game winner what spring training has been like for him.
"This has been a fun spring training, one I've enjoyed and learned a lot," Maddux said. "I enjoy being around the players and exchanging ideas. I hope to continue to keep learning at this level."
Hendry went on to talk about the impact Maddux has had during his first spring training as a front office executive.
"I'm thrilled he's here," Hendry said. "It's been a positive in every capacity. He's going to be capable of doing a lot of important jobs down the road, if he chooses. He's about as smart a player as we've ever seen."
Carlos Zambrano
,
Carlos Silva
,
Tom Gorzelanny
, and
Sean Marshall
are just a few of the pitchers who have given Maddux credit for technical and psychological support.
"He's the most successful non-promoting person I've ever met," Hendry said of Maddux.
Maddux will be with the Cubs' minor-league affiliates the first couple months of the season. He will also spend time with assistant general manager Randy Bush and super scout Gary Hughes, learning how to break down games from a scouting perspective. Maddux will also spend time with the Cubs' big-league team as well as have some flexibility to go back to Las Vegas and California for family time.
Hendry and manager Lou Piniella said the Cubs will trim the roster to around 30 players on Friday. At that time they are expected to also name their starting rotation and bullpen pitchers. A battle for the bench role will continue until late next week. The candidates include Chad Tracy, Micah Hoffpauir, Kevin Millar, Sam Fuld, Andres Blanco and Tyler Colvin. Fuld and Colvin are competing for the fifth outfield spot.- The Cubs had a front office and coaches meeting on Monday afternoon to go over roster moves and trade possibilities. Piniella said that the meeting lasted an hour and a half. Participants in the meeting were Piniella and his coaching staff along with Hendry, Bush, Hughes, Maddux and baseball administrator Chuck Wasserstrum. The Cubs usually have one or two of these meetings during spring training.
Xavier Nady will begin playing in the field over the next 10 days. The plan is for him to play in major- and minor-league games in the outfield and first base. Nady is still recovering from Tommy John surgery, replacing a ligament in his right arm for the second time in his career. The plan is for Nady not to overextend himself as far as throwing for now and in the near future. Nady will come out of games for defensive replacements in late game situations during the season in an attempt to prevent him from overthrowing as well as for the team to be able to protect one and two-run leads.
Piniella said Ted Lilly will pitch in his first minor-league game on March 27. The plan for now is for Lilly not to pitch in any Cactus League games. Lilly will continue to work on building his innings up in minor-league competition. His first outing he will be held to two innings pitched. Piniella said they are expecting Lilly back with the team some time in the second half of April.
March, 3, 2010
3/03/10
6:50
PM CT
Chicago Cubs
outfielder
Alfonso Soriano
has yet to push his leg 100 percent. Soriano told me on Wednesday his goal is strengthen his surgically repaired left knee and then go full bore the last two weeks of spring training.
[+] Enlarge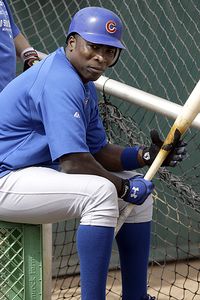 AP Photo/Paul ConnorsAlfonso Soriano will sit out the Cubs' first two Cactus League games.
The Cub outfielder also told me he's hoping to play in a lot of games this year. He was surprised when I told him he only played 117 last year and 107 in 2008.
"If I'm healthy, I'll put up some numbers," Soriano said.
Manager Lou Piniella said Soriano will be held out of the team's first two Cactus League games. Piniella said Soriano will start against the
Chicago White Sox
on Saturday in Mesa. The Cubs manager also reiterated that multiple positions are open to win on the team's 25-man roster.
"There are some jobs to be won here," Piniella said. "I think as many as five jobs can be won here."
Piniella needs to fill two bullpen slots, two bench roles and two starting rotation slots, but the Cub manager said one or two of the contenders for the starting pitching spot will most likely end up in the bullpen.
Piniella also said that his lineup is "pretty well set."
"We do have some competition at second base and we'll see how that works out," he said.
The Cub skipper said the job will be split between
Mike Fontenot
and
Jeff Baker
and there are no other contenders in camp.
Piniella had a quick thought on Soriano and his expectations for the outfielder.
"Hitting in the six hole will save his legs a little more," Piniella said. "What we need from Alfonso is more power and RBI production and the six hole is a really, really nice hole ... in a National League lineup. I know he's comfortable with [hitting sixth] because I asked him."
Piniella was asked about his thoughts on the Cubs' new spring training facility and how that would affect the work that the players get in on a daily basis.
"First of all, you don't have two moves to make from [Fitch Park to Hohokam Park, approximately one mile]," Piniella said. "I remember the years I was with Seattle we had four major league fields and we had two minor league fields. We had six fields we could do our working."
Asked about the Hohokam setup, Piniella said, "It's limited, but it's a workable thing. Look, we haven't [lost] because of the facilities here, but you can get more work done with a newer, more functional complex."
I asked Piniella if he could imagine Cactus League play without the Cubs.
"Well, they have been an institution here," Piniella said. "A lot of your Midwestern people come to Arizona because of Cub baseball here, but a lot of Midwesterners go to the West Coast of Florida, too. I know that because I've lived there my whole life. Yeah, it would be hard to imagine baseball here without the Cubs being a mainstay."
Right handed pitcher Randy Wells will start the Cubs' first Cactus League game on Thursday. The Cubs pitcher has had some productive skull sessions with Greg Maddux, who's working in camp for the first time as a team executive. "Greg has talked to me about setting up hitters," Wells said. "He's talked to me about thinking two or three pitches ahead of where I'm at. It's been great to have him in camp. He's been available to all the guys."
January, 11, 2010
1/11/10
6:24
PM CT
The hiring of Greg Maddux as a special assistant to Chicago Cubs general manager Jim Hendry might be the best personnel addition any team has made this season. Job description-wise Maddux will work with players at the major and minor league levels during spring training and then put on his evaluating hat throughout the season as he roams the organization's minor league teams and gives advice to Hendry and assistant general manager Randy Bush on trades and signings.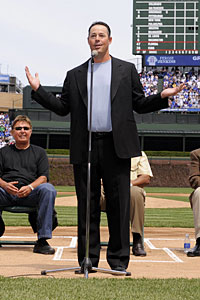 Ron Vesely/Getty Images
The Cubs retired No. 31 in honor of Greg Maddux and Hall of Famer Ferguson Jenkins at a May 3, 2009 ceremony at Wrigley Field.

I asked Maddux if this new job is a prelude to a managing career.


"No, not right now," Maddux said. "I'm just going to slowly get back involved in the game."


Maddux, however, did leave the door open on a possible managerial career in the future.


"Things might change down the road," Maddux said. "But right now I just want to help in areas I can help in."


Maddux did tell me last summer on the day he and Hall of Fame pitcher Ferguson Jenkins had their No. 31 jersey retired by the Cubs that he'd like to manage one day. He also told me at the time he'd like to watch his kids grow up a bit, so he thought his time table to manage would be three to four years.


The new gig for Maddux will incorporate the best of both worlds of baseball and home life.


"There's a lot of room to maneuver in the job," Maddux said. "I'm not going to be putting in the time the coaching staff does or Jim himself. I will have some time to get away to try and balance [baseball and home life]. I love baseball and I miss the game. I'm looking forward to getting back into it. I'm going to do what I can to balance work and home life."


Last summer, Braves manager Bobby Cox, who will retire after 2010 having spent 21 consecutive years managing the team, told me that if Maddux managed, he'd like to work for him.


" You tell Greg if he's going to manage I'd like to be his bench coach," Cox said.


Cox went on to tell me that Maddux is the brightest baseball man he'd ever been around.


Maddux' s new boss, Hendry , doesn't argue with Cox's analysis of the future Hall of Fame pitcher.


"I totally agree with Bobby," Hendry said. "Greg's a cut above all the people I've met in the game and what he can bring to the table. Like I said before, when Greg Maddux walks through your front door as an employee, you just got a lot better."


I asked Hendry what role Maddux will play in the way of being an adviser.


"I see him fulfilling a tremendous variety of roles," Hendry said. "When we discussed him coming aboard he was very adamant about the fact that he wanted to be a very productive employee. This isn't a personal services contract or 'show up at an appearance and sign balls' situation. This is something Greg really wants to sink his teeth into. He'll help our minor league people at every level and he'll evaluate and assist [assistant general manager Randy Bush] in trades. He'll have input at all levels of our organization, including our big league staff."


Maddux had this comment about St. Louis Cardinals hitting coach Mark McGwire and his statement admitting to steroid use:


"He's going to be the hitting coach of the Cardinals," Maddux said. "So maybe he's trying to clean up the past a little bit and move forward. I had a lot of respect for him as a player. He was one of the most intimidating hitters I ever faced and he was one of the toughest outs in the game. There was always a lot of speculation that guys were on that stuff. [As a pitcher] you had to do the best you could to pitch around it."
The Chicago Cubs may have made their most important acquisition of the offseason Monday by adding a future Hall of Famer.
The organization will announce Monday afternoon that 350-game winner Greg Maddux has been signed to become a special assistant to general manager Jim Hendry in 2010.
Maddux's duties will include helping with instruction for both major-leaguers and minor-leaguers during spring training, as well as scouting duties throughout the season.
According to a source with knowledge of the signing, Maddux will be at the beck and call of Hendry during the season to evaluate minor-league affiliates and give the general manger input when trades or free-agent signings are being considered.
Maddux retired after the 2008 season with the San Diego Padres. A four-time Cy Young Award winner, the right-hander had two stints with the Cubs. Originally Maddux came up through the Cubs organization, making his major-league debut in 1986.
He left as a free agent in 1993 after winning his first Cy Young in 1992. From '93 to 2003, Maddux pitched for the Atlanta Braves, who made the playoffs every season with Maddux.
He returned to the Cubs in 2004 and was traded at the tail end of the 2006 season to the Dodgers for shortstop Cesar Izturis. Maddux won his 300th game as a Cub on the road in San Francisco during the 2005 season.
Among baseball people, Maddux is considered one of the best and brightest when it comes to the thinking man's part part of the game.
Maddux called many a pitch for catchers during games he wasn't pitching. Urban legend has Maddux calling every pitch for Cubs starter Frank Castillo during his four-hit, one-run performance in a game in 1992.
The 43-year-old Las Vegas native will be eligible for Hall of Fame voting in Jan., 2014. He, along with Ferguson Jenkins, had his Cubs No. 31 retired last summer in Wrigley Field.