February, 25, 2010
2/25/10
3:09
PM CT

By Bruce Levine
ESPNChicago.com
Archive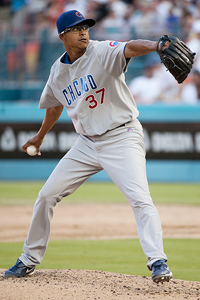 Ronald C. Modra/Getty ImagesAngel Guzman has been plagued by injuries his entire Cubs career.
Injury news continues to dominate the early part of Chicago Cubs camp. On Thursday it was revealed that right-handed pitcher Angel Guzman, already on the shelf due to knee surgery, has come up with an achy right shoulder. Guzman tried to throw and get loose on Wednesday during pregame drills but complained to trainer Mark O'Neal about pain in his shoulder.


"He had some discomfort in his shouldfer," Cubs general manager Jim Hendry said. "We just felt coming off of the [arthroscopic meniscus surgery] he's had on and off difficulties in the past, so we thought that we were just going to take the precautionary route."


Guzman said he expected to be ready to go on the field in a week to 10 days.


"I still think I will be back in a week or week and a half," Guzman said. "My knee is the main thing. I don't think the shoulder is anything I have to worry about."


The Cubs are still pursuing other veteran pitchers such as the Toronto Blue Jays' Jason Frasor and San Diego Padres' Luke Gregerson to help out their paper-thin bullpen. The Padres will trade closer Heath Bell at some point during the season, but the combination of Bell's upper echelon salary and the Cubs' lack of money available make trading for him remote.


Guzman would have been one of the top candidate for the Cubs' eighth-inning setup role if he hadn't been injured again. He has had nothing but injuries during his Cubs career.


Other injury updates: Right-handed reliever Jeff Gray still has no exact timetable to return to pitching. Gray incurred a groin strain early in camp. Hendry said he expects him to be ready to pitch sometime next week.


Ted Lilly, recovering from left shoulder surgery, missed the last couple of days of camp with a high fever. "He's been really sick for the last two days," Hendry said. "One hundred and two or 103 fever."



The Cubs hope Lilly will be in camp Friday or Saturday to throw again.
February, 9, 2010
2/09/10
3:46
PM CT

By BRUCE LEVINE
ESPNChicago.com
Archive
[+] Enlarge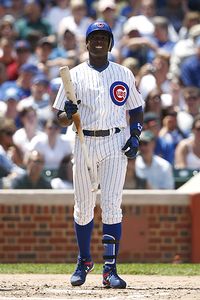 Joe Robbins/Getty Images The Cubs are hoping Alfonso Soriano can bounce back from a tough 2009 season under new hitting coach Rudy Jaramillo.
As the Chicago Cubs' spring training truck prepared to leave for Mesa, Ariz., on Tuesday, general manager Jim Hendry talked about his club, which he hopes will be among the best in the National League this season.


Hendry first addressed the need to add depth to their 25-man roster.


"Obviously, we're always on the lookout," Hendry said. "Maybe it's something we will do in camp. We do like our club. We have a pretty good roster, body-wise, and we also have more people coming to camp internally (minor-leaguers invited to big-league camp) than we ever had. There will be opportunities for some of our young players to make the club."


Asked if additions are forthcoming outside of the organization, Hendry said: "We'll keep our eyes open. We have some ideas of people we want to scout in camp. But if something got going before we started camp, in the next week or two, we'd certainly look into that."


According to league sources, the Cubs have had contact with any number of teams in pursuit of solidifying their middle relief situation. We've been reporting fo six weeks that the San Diego Padres and Toronto Blue Jays have talked to numerous teams, including the Cubs, about moving some of their middle relievers, including Toronto left-hander Scott Downs and right-hander Jason Frasor. San Diego will converse with any team about closer Heath Bell and setup man Luke Gregerson.


The Chicago Cubs continue to look for a top-flight right-handed hitting outfielder, a bullpen pitcher and a veteran starter.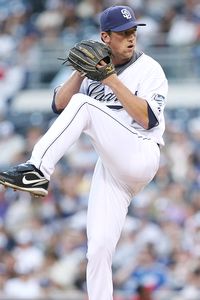 Stephen Dunn/Getty Images
Luke Gregerson is someone the Padres might be willing to trade.
Ongoing conversations continue with San Diego and Toronto. Both teams have bullpen pitchers to trade.
The Padres will talk to Cubs about Luke Gregerson and possibly closer Heath Bell. The Jays are dangling right-handed pitcher Jason Frasor, a product of the Chicago area.
Off the free agent list, the Cubs have begun to look past outfielder Jemaine Dye, who must decide whether to take a 60 percent cut in pay or retire. Dye was recently hoping to sign with the Texas Rangers before Vladimir Guerrero signed a $6 million deal.
Other free-agent outfielders the Cubs have interest in include Reed Johnson, Xavier Nady and Rick Ankiel. Nady is an intriguing possibility because of his past power numbers. The former Yankee, Padre and Pirate has had two Tommy John surgeries on his right elbow.
The Cubs also have a had a few talks with agent Jamie Torres, who represents former White Sox starter Jose Contreras. The team talked to the agent for reliever Kiko Calero, but they have no interest in him at this point.
Although the Cubs are looking for right-handed outfield help, they will keep their eye on the left-handed hitting Ankiel. The former St. Louis center fielder is coming off a season in which he hit .233, and he and his agent Scott Boras have watched his stock and asking price drop in a slow-moving free-agent market.
The Cubs have three players left to sign who have filed for an arbitration hearing: shortstop Ryan Theriot, left-handed pitcher Sean Marshall and closer Carlos Marmol. Of the three, Theriot is the most likely to go through the process without settling.
The last Cubs player to go through an arbitration hearing was former first baseman Mark Grace in 1993.
December, 8, 2009
12/08/09
2:52
PM CT

By Bruce Levine
ESPNChicago.com
Archive
The Chicago Cubs may be on the verge of cutting a deal that would move Milton Bradley as soon as Tuesday.
According to sources, others teams besides the usual suspects (Tampa bay Rays, New York Mets, Texas Rangers and Los Angeles Angels) have been brought into the Bradley discussions over the past 24 hours. Trading Bradley is a multi-faceted situation. Any team that is going to trade for him is going to want to talk to Bradley and his agent about the acceptability of a new home for the veteran outfielder.
It is assumed that the Cubs will get back a contract in the trade that they may have to move as well. But if the Cubs are able to pull off a deal at this point, it would open up some other areas for Cubs general manager Jim Hendry to add some depth.
Hendry talked to the Colorado Rockies recently about some of their outfield depth. It is unknown exactly whom the Rockies would be willing to trade.
The Padres will trade closer Heath Bell, but the Cubs may not have the young prospects the Padres would want for their all-star closer. It is known however that the Cubs are looking to add a veteran pitcher to their bullpen.